Messerschmitt Bf 109 E-7 Trop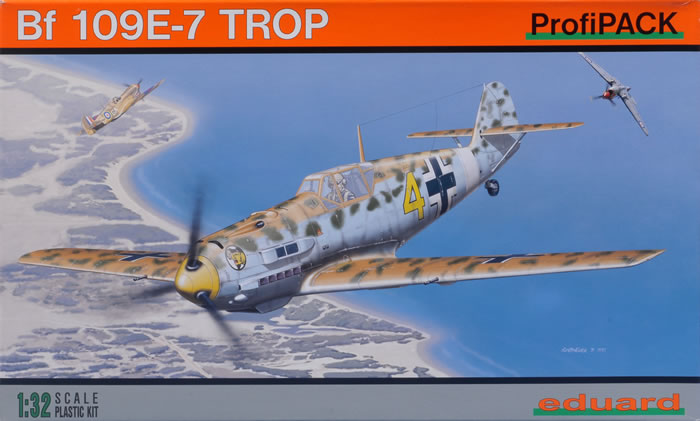 Eduard, 1/32 scale
S u m m a r y

Catalogue Number:
Eduard Kit No. 3004 - Messerschmitt Bf 109 E-7 Trop
Scale:
1/32
Contents and Media:
176 parts in olive coloured plastic; nine parts in clear; two photo-etched frets (one in colour); canopy masks; markings for five aircraft plus full stencil data.
Price:
USD$74.95 available online from Eduard
and hobby retailers worldwide
Review Type:
FirstLook
Advantages:
Very high level of detail including optional engine; restrained and impressive surface features; separate control surfaces including flaps and leading edge slats; colour photo-etched parts; corrected canopy parts; corrected wheels; excellent quality decals with colourful options
Disadvantages:

Slight bulge in upper side of fuselage spine; leading edge slats too deep.

Conclusion:

The best Messerschmitt Bf 109 E in 1/32 scale.

Reviewed by Brett Green


Eduard's 1/32 scale Messerschmitt Bf 109 E-4/7 Trop will be available online from Squadron.com

Background
The Messerschmitt Bf 109 A, B, C and D were powered by the Junkers Jumo engine. The Spanish Civil War presented the opportunity to test these revolutionary fighters in action, and they proved their worth in combat with Legion Condor over the skies of Spain.
The Messerschmitt Bf 109 E series was the first of the family to be fitted with the Daimler Benz DB601A engine, resulting in a significant improvement in performance.
Two variants were manufactured in parallel - the lightweight Bf 109 E-1 which retained the wing-mounted 7.9mm machine guns of the earlier Bf 109 B, C and D; and the Bf 109 E-3 which was fitted with one 20mm MG FF cannon in each wing. Both variants featured two additional 7.92mm machine guns in the cowl.
The Messerschmitt Bf 109 E-4 shared the armament of the E-3 but introduced a number of improvements, including a revised canopy.
The Bf 109 E-7 incorporated lessons learned during the Battle of Britain - in particular the fighter's relatively short range. The E-7 permitted the installation of a 300 litre centreline drop tank plus the ability to carry bombs.

A tropicalised version was also developed for use in the Meditteranean Theatre, and especially in North Africa. The Bf 109 E-7/Trop was easily distinguished by its long filter in front of the supercharger intake.
Eduard released their all-new 1/32 scale Messerschmitt Bf 109 E-1 in February 2009. This excellent kit was well detailed and generally very accurate, including an engine that could be displayed, nicely detailed cockpit and gorgeously subtle surface features. A detailed review of this kit, including images of all the parts, may be found by following this link.
I also built the Bf 109 E-1 kit back in March. You can find a Construction Feature on this model by following this link.
Next up was Eduard's 1/32 scale Bf 109 E-4, released in April 2009. I built this one too.
Eduard's 1/32 scale Messerschmitt Bf 109 E-7/Trop is substantially similar to the E-4 kit, with most parts in common. There are a few important differences though. .
---
What's New
Eduard's new 1/32 scale Messerschmitt Bf 109 E-4 comprises around 176 parts in olive coloured plastic, nine parts in clear, two photo-etched frets (one in colour), canopy masks, markings for five aircraft plus full stencil data.
The most noticeable difference in this kit is the inclusion of all the parts for the tropical filter. These were partially present in the previous kit.
The ETC rack and 300 litre drop tank are supplied, although once again these appeared as "bonus parts" in the E-4 kit too.
Probably the most pleasing change is the canopy. In the Bf 109 E-4, the canopy parts were noticeably too narrow at the top. Eduard has completely remoulded the parts to a much more accurate shape. These new parts look really good.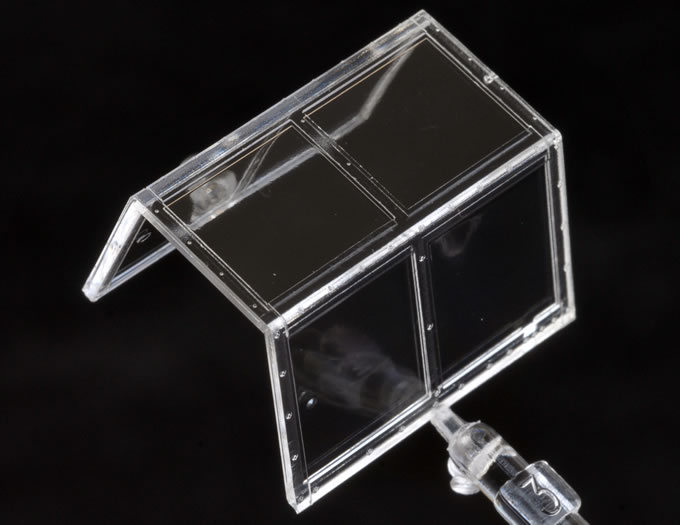 As in the previous release, Eduard has supplied two styles of windscreen (one standard, and one with a hole for Adolf Galland's unique ZFR-4 telescopic gun sight), and two styles of opening section. One of these is the lightweight version, and the other has the heavier frames.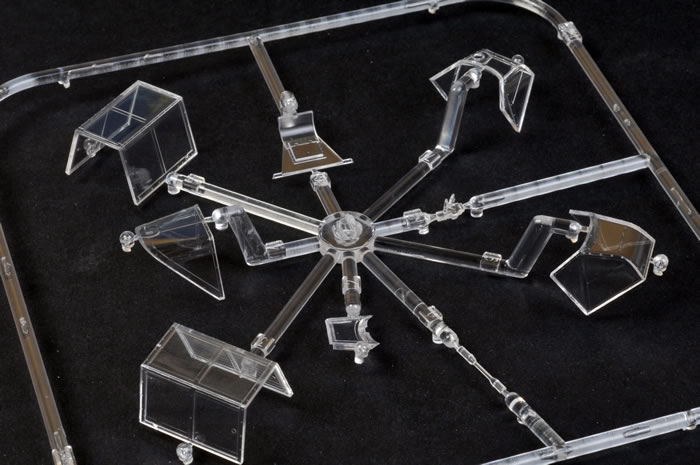 These parts are thinly moulded and crystal clear. A new section of pilot's head armour is also moulded in clear, presumably to fit the new wider canopy.
Another big improvement is the main wheels, which were thin and flat in the earlier Bf 109 E-4 kit. These reworked multi-part wheels, which first appeared in Eduard's 1/32 scale Bf 109 E-3, are much better detailed and feature more three-dimensional hubs.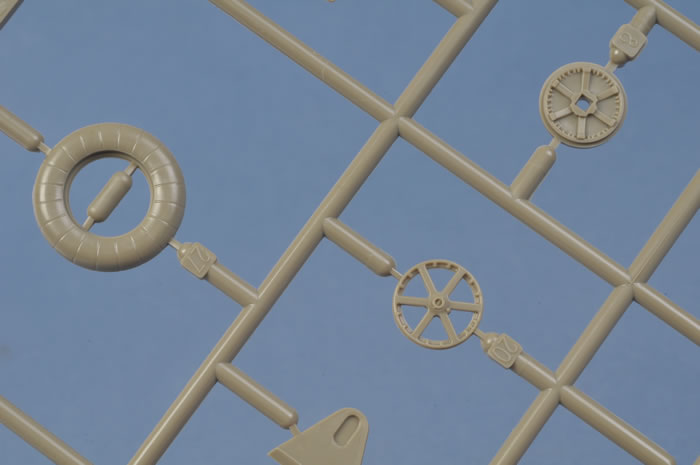 Two new photo-etched frets are supplied specifically for this variant.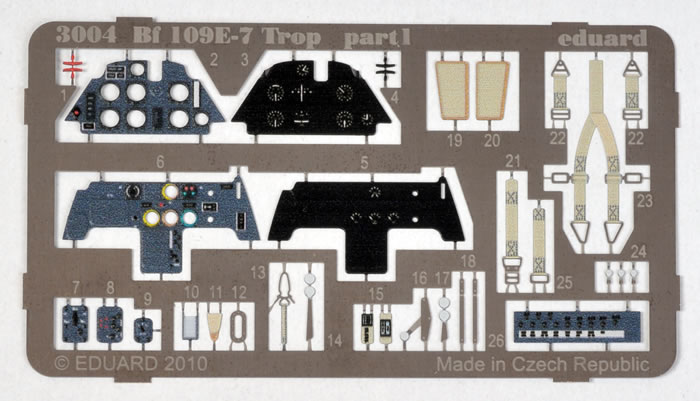 Colour photo-etched parts include the instrument panel sandwich, fuse panel and harness straps.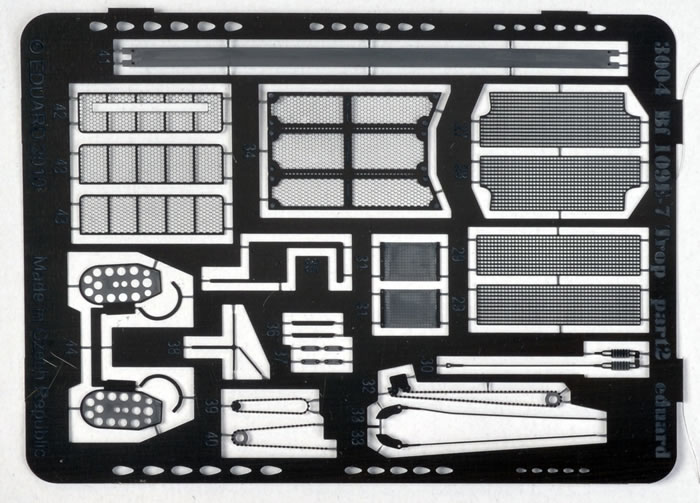 If you don't like the colour photo-etched instrument panel, a plastic alternative is also provided.
The nickel plated fret provides the mesh cover for the tropical filter plus other details for the interior and exterior.
Five tropical marking options are included for this release:
3./JG 27, Ain-el-Gazala, Libya, 1941

Stab I./JG 27, Ain-el-Gazala, Libya, 1941

2./JG 27, Ain-el-Gazala, Libya, 1941

2./JG 27, Ain-el-Gazala, Libya, 1941

I./JG 27, Ain-el-Gazala airfield, Libya, Summer 1941
Decals have been printed by Cartograf. Register is perfect, colours are rich and opaque, and visible carrier film is non-existent. They don't come much better than these. I particularly like the interpretation of RLM 04 Yellow on this sheet .
---
The kit in detail
With the specifics of the new kit covered, let's take a look at the contents in general.
Plastic parts are very well moulded, with only a few shallow sink marks that will be visible on the finished model (most notably the front of the top wing halves near the wing roots).
Surface detail is state-of-the-art. Finely recessed panel lines are supplemented with even finer rows of rivets. These are barely visible at some angles, and are consistent over the whole airframe. Very nice indeed. Control surfaces feature raised "fabric strips" and stitching. Lighting for photography seems to exaggerate the effect, but they look great on the sprues. Even so, if the fabric sag is too much for your personal taste, it will be a simple matter to fill the recesses with Mr Surfacer, or lightly sand the raised ribs.
Accuracy is generally very good. There are only two nitpicks remaining now that the wheels and canopy have been fixed. First, there is a slight bulge on each side of the mid-rear fuselage spine. This is only visible when viewing from the top three-quarter. The leading edge slats are also slightly too deep. This should be a fairly easy fix if it bothers you.
Detail is excellent. The plastic cockpit parts are combined with colour and nickel-plated photo-etch to deliver an authentic front office.
A full engine is supplied, but this is an optional element. Eduard has taken notice of customer comments about the complexity of some of its earlier kits including the 1/48 scale Fw 190 and Bf 110 families. In the case of this 1/32 scale Bf 109 E-4, the DB601A engine may be installed and displayed, or the cowl may be glued closed without the engine. Alternate parts are supplied to mount the propeller, the exhaust stubs and the cowl guns if the second option is chosen.
The engine looks good. Individual exhaust stubs are provided. These are hollow at the end and have raised weld seams down the middle - don't sand these off!
The cowl itself is supplied in four pieces - the main upper cowl, two rear side cowl panels and the gun deck.
All control surfaces are separate - the flaps, leading edge slats, ailerons, elevators and rudder. The rudder actuator is provided in photo-etched metal. Flaps are moulded with tabs that will pose them dropped without modification, but it will be very easy to slice off the tabs and reposition if desired.
The oil cooler and wing radiator front and rear faces are all supplied as photo-etched grilles.
The main wheel wells are nicely done. The ceiling of the well features a ring of raised rivets and reinforcement strips. The sides of the main wells are boxed in with separate parts.
The self-adhesive canopy masks are a time-saving touch.
You really have to hand it to Eduard. On a number of occasions they have shown their willingness to take on feedback and make corrections to their kits, and this model benefits from not one, but two noticeable improvements compared to earlier releases - the canopy and the wheels.
Eduard's 1/32 scale Messerschmitt Bf 109 E-7/Trop is very well detailed straight from the box, and the modeller has the choice of tackling the engine or simply buttoning up the cowl. Construction should be as straightforward as the earlier Bf 109 E-1 and E-4.
This is the most versatile of Eduard's Emils too, as all the parts needed to build a straight Bf 109 E-4 including the regular air filter and the alternate spinner styles are provided.
In my opinion, Eduard is offering the best Bf 109 E kits available in 1/32 scale.
Thanks to Eduard for the sample
---
Review Text & Images Copyright © 2010 by Brett Green
Page Created 20 April, 2010
Last updated 21 April, 2010
Back to HyperScale Main Page
Back to Reviews Page