Wing Commander Peter Mallan Brothers'
Spitfire HF.Mk.VIIc

by Mark Beckwith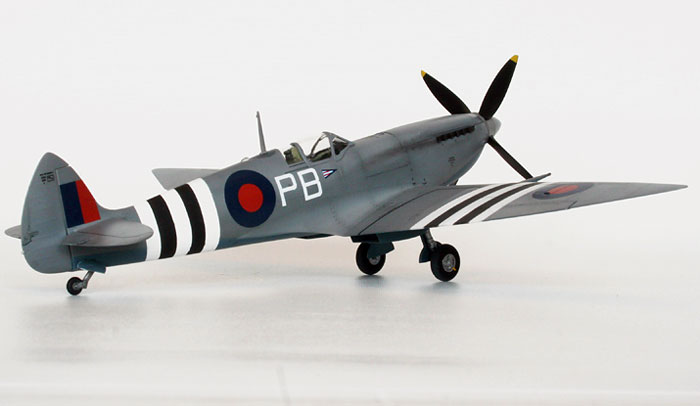 Wing Commander Peter Mallan Brothers, RAF
Spitfire HF Mk.VIIc
Serial Number MD188 August, 1944

Air Commodore Peter Mallan Brothers CBE, DSO, DFC
Born in 1917, Pete Brothers learnt to fly at age 16. He joined the RAF in 1936, trained as a pilot and joined No 32 Squadron at the end of the year to fly Gauntlet biplane fighters. By 1940 he was a Flight Commander flying Hurricanes with No 32 Squadron during the Battle of France. He claimed two victories before the battle was over and the squadron withdrew to England.

The Battle of Britain opened in July 1940, and before the end of August, Brothers had shot down seven fighters and a bomber over Kent. On September 15, having joined Squadron Leader Bob Stanford-Tuck in No 257 Squadron, Brothers shot down two bombers over London. Two days earlier he had been awarded a DFC.

After the Battle of Britain, Brothers trained as a flying instructor and on promotion to squadron leader formed and commanded No 457 (RAAF) Squadron, flying Spitfires. On March 26 1942 he shot down a Messerschmitt Bf 109, and a month claimed another probable. Commanding No 602 (City of Glasgow) Squadron, Brothers led it during the Dieppe raid in August, 1942, and claimed one of the six victories his squadron claimed that day. One of his pilots was forced to bail out over the sea, and Brothers orbited his dinghy until rescue arrived.

Promoted to Wing Commander, Brothers led the Tangmere Wing of three Spitfire squadrons on sweeps deep into France as the RAF took the offensive to the Luftwaffe. On one of these sweeps he claimed another victory on January 26 1943, when he shot down a Focke Wulf 190. In June he was awarded a Bar to his DFC and rested from operations.

In 1944 Brothers took command of the Exeter Wing, leading his six squadrons on attacks against transportation targets and enemy airfields on the Brest peninsula and in Normandy. Heavily involved in the lead-up to the Allied invasion in June 1944, his squadrons operated in support of the beachhead.

On August 7 he achieved his sixteenth and final success when he shot down a Focke Wulf 190 over the river Loire. He was awarded a DSO for his "courage and brilliant leadership". Soon after, Brothers was withdrawn from front line duty for staff work.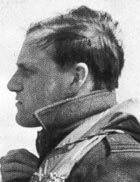 Following the war, Brothers was not offered a peace time commission in the RAF so he joined the Colonial Service. However, in 1949 he rejoined the RAF. His post war career followed with commands in bombers, attending the Staff College and serving at the headquarters of Fighter Command. Later, he was appointed wing commander (flying) at Marham in Norfolk, where he flew the Valiant V-bomber.

In 1968 Brothers became the RAF's director of public relations. His success in winning the respect of the press and other media was due in part to his war record; but he was also an outstanding communicator. After leaving the RAF as Air Commodore Peter Mallan Brothers CBE, DSO, DFC in 1973, he formed Peter Brothers Consultants and finally retired in 1986. He gave great support to the Battle of Britain Fighter Association, being appointed its deputy chairman in 1993 and taking over as chairman 10 years later.
Pete Brothers died on December 18, 2008. He married, in 1939, Annette Wilson, who died in 2005. Their two daughters survive him.
---
Vickers Supermarine Spitfire HF Mk.VIIc, S/N MD188
Vickers Supermarine Spitfire MD188, an HF Mk.VIIc was the third-to-last MkVII Spitfire to be built, coming off the Eastleigh production line in the third week of May, 1944.
Equipped with a Merlin 64 engine it was initially delivered to No 33 Maintenance Unit and was subsequently issued to No 131 Squadron in mid June, just too late to have seen action on D-Day itself.
Its combat career as Wing Commander Pete Brothers' personal aircraft as part of the Culmhead Wing at RAF Colerne was brief, being sent to high altitude trials only three months later on October 9, 1944. Little else is known about its consequent use; however, MD188 was struck off charge on December 9, 1948 and in all likelihood was sold for scrap soon thereafter.
Enhancing the 1/48 scale ICM Spitfire MkVII kit to a better representation of a MkVIIc
I was considering Pete Brothers' Spitfire MD188 as one of the marking options when began this project in early December. I was saddened to read of his passing on December 18, 2008 and that made up my mind to complete this model as his Spitfire.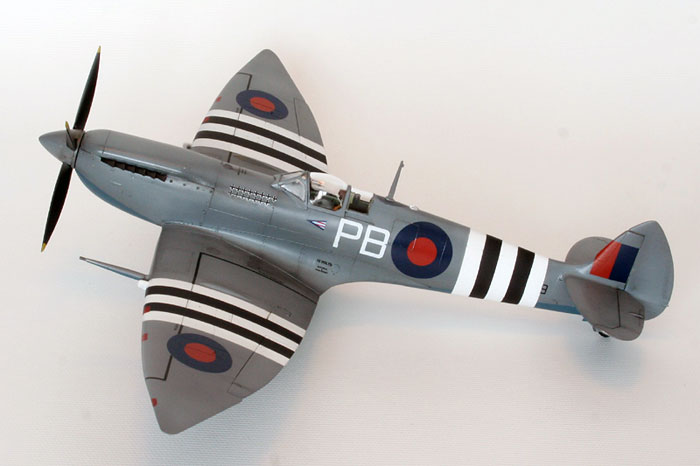 The ICM kit is a good basis to begin with, but there are several things that need to be done to make the kit a true Mk. VII. So let me begin, for the Spitfire boffins out there, with what I did do:
1. Added the pressure bulkhead behind pilot's seat

2. Filled the panel lines for the cockpit entry door

3. Scribed the panel lines for the leading edge wing fuel tanks

4. Left off the Oleo scissors.
And, what I didn't do:
1. Change the glass behind the canopy

2. Change the tail wheel

3. The gasket on the side portion of the windshield

4. Remove the pilot's headrest (forgot)
Aside from the foregoing this was a straightforward ICM Spitfire build. Care needs to be taken in assembling the front half of the fuselage but aside from that it's really not that much of a challenge. I built this one entirely out of the box – there was some clean up required on some of the parts but the usual problem areas such as wheels, prop blades and aileron sink marks weren't too bad in this particular kit.
I started the painting with the invasion stripes, when done I masked them and worked on the airframe. I used Tamiya acrylic paints for the main colours, mixing the shades for the PRU Blue and Medium Sea Grey. I started with a base coat for each, then a darker shade applied to main traffic areas and a lighter shade to some panels to add depth. Finally I applied an overall coat of a highly thinned lighter shade to blend it all in. I was pleased with how it turned out. I am depicting the aircraft at a time when it had been operational for only about six weeks so I didn't feel it should look too beaten up but certainly used.
I made a couple of judgment calls on the specific markings as I had no reference photos of this aircraft. I based much of my assumption on a couple of photos of a signed model of MD188, figuring that if the man himself had signed the model than it must be close. To that end, I did apply Wing Commander pennants to both sides of the fuselage and I also applied the serial number decals in such a way as to simulate that they had been painted over with the invasion stripes. Finally, and without any evidence that they were there on the real aircraft, I decided to add 15 kill markings. I did this because I thought it plausible that they would have been there, and also for no other reason than to acknowledge that Brothers was a very accomplished fighter pilot and I wanted my model to reflect that.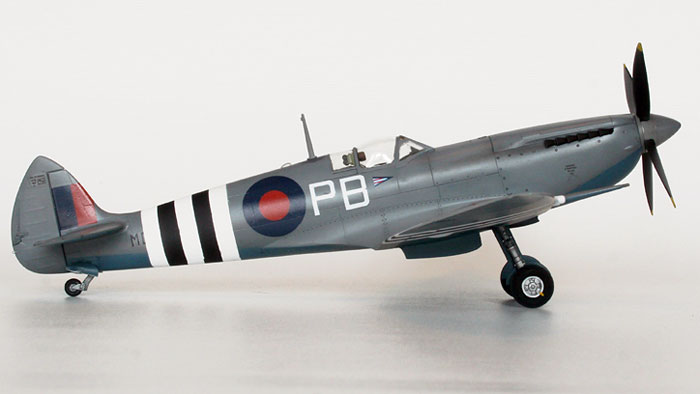 After a gloss coat to prep for the decals and some light wash work, I sealed it all up with a final gloss coat before applying the flat coat. I felt the invasion stripes would be very matt, so I masked and flattened them first and then gave the entire model another couple of light coats. I was going for a satin sheen finish and I am happy with how it turned out. Lastly, I applied some pastel staining to show a little wear and tear (although only a few weeks old, MD188 would still have had to work hard the two months after D-Day as I presume there would have been a lot of sorties).
After a more than two year break from modeling, the finished model reflects a little rust still in my technique. However, the ICM Spitfire is quite forgiving and I enjoyed bringing it to life as a tribute to one of "the few," Pete Brothers.
---
References:
---
Model, Text Copyright © 2008 by Mark Beckwith
Page Created 5 January, 2009
Last Updated 1 January, 2009
Back to HyperScale Main Page