Testor Press Release
Testors® Classic Model Aircraft Kits
Offer Hobbyists Quick, Easy Assembly & Affordable Prices!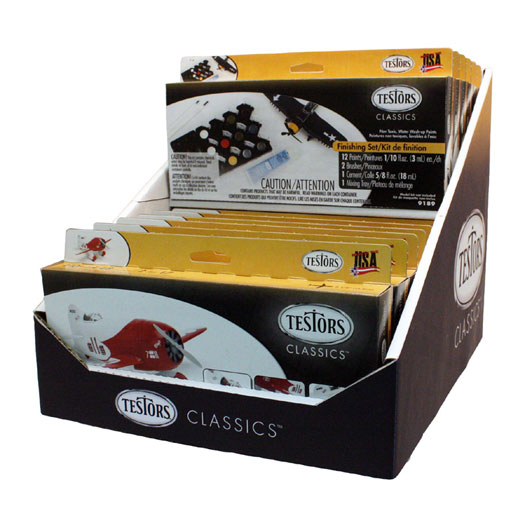 For Immediate Release 100226 —- The past comes to life with Testors® Classics*! Introducing eleven timeless plastic model kits in a dynamic, collectable assortment from The Testor Corporation!
Available at the amazingly affordable manufacturer's suggested retail price (MSRP) of just US$7.49* each, ready-to-paint Testors® Classic Model Aircraft Kits* are authentic recreations of original historical aircraft. Perfect for airplane enthusiasts, they remain the best selling model planes in Testor's history:
• 664N 1:72 Spirit of St. Louis
• 623N 1:72 F4U-1 Corsair
• 693N 1:72 SBD Dauntless
• 663N 1:72 SNJ/T-6 Texan
• 913N 1:48 Gee Bee Racer
• 916N 1:48 Travel Air Mystery Ship
• 912N 1:48 Curtis Racer R3X-2
• 7510N 1:48 Ryan PT-20 Trainer
• 613N 1:48 Nieuport 17
• 7625N 1:48 Me 163 Komet
• 617N 1:48 SPAD 13C.1
• 8100 Assortment of Planes & Finishing Sets Display
• 9189 Finishing Kit
Testors® Classic Model Aircraft Kits include WWI, WWII and classic aircraft subjects to 1:48 and 1:72 scales. Perfect for hobbyists of intermediate experience, each includes colorful, accurate decals – and can be built and painted in less than two hours. The companion "Finishing Kit" provides modelers with paint, mixing tray, glue and brushes to build and decorate their favorite airplanes.
Packaging is optimized for outstanding point-of-sale appeal. The versatile packaging can be displayed on shelf – or with hang tags on peg-boards. There is also a PDQ display with attention-grabbing graphics to showcase this classic historical plane collection anywhere in the store!
Ask for Testors® Classic Model Aircraft Kits at finest hobby and craft retailers everywhere. For details, visit http://testors.com or contact The Testor Corporation, Rockford, IL. 61104, USA. Tel.: 1-800-435-2942.
For 80 years, The Testor Corporation has remained the world's leading source for quality hobby & craft finishing products — paints, airbrushes, tools, and accessories. Quality Testors® brands include ColorArtz®, Aztek®, ModelMaster™, POLLY Scale™, Acryl®, Metalizer™, and Floquil®. Testors® and ModelMaster™ brands consistently rank #1 in consumer surveys.
---
*MSRP's subject to change without notice. Paint and glue not included. Individual package illustrations also available.
---