NorthWest Scale Modelers Show

It's getting to be that time of year again: February 18-19!
It's time for the annual NorthWest Scale Modelers Show held in Seattle's Museum of Flight the weekend of February 18th from 10am-5pm both days.
Unlike other modeling events, this is strictly a show, not a contest. Previous shows have had an average of 1,500 models from every genre on display under the museum's Lockheed SR-71. In addition to the show, modeling seminars and tutorials will be presented by experienced modelers from both NorthWest Scale Modelers and IPMS-Seattle. Yours truly will be giving a seminar on airbrushing and a tutorial on canopy tricks. Other presentations include talks from John Bonnani, Rick Lawler, the Plastic Posse Podcast, Steve Hilby, and Bill Huffman. Well-known aviation author Chris Bucholtz (332nd Fighter Group: Tuskegee Airmen) will also be giving a presentation.
So, if you live on the West Coast of the US or will be visiting same on the weekend of February 18th, plan on dropping by the Museum of Flight for a good look-see:)
For pics of previous NWSM shows visit ModelPaintSolutions.com:
https://modelpaintsol.com/news/northwest-scale-modelers-show-version-2023-come-on-down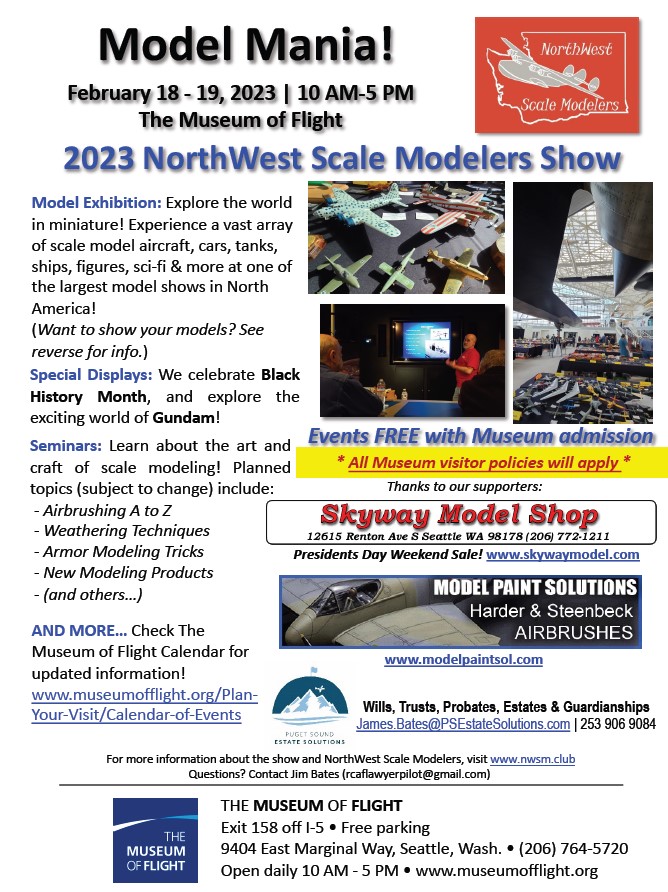 ---