"The Bleeding Edge of Airbrushing"
on the Modeling Mojo Podcast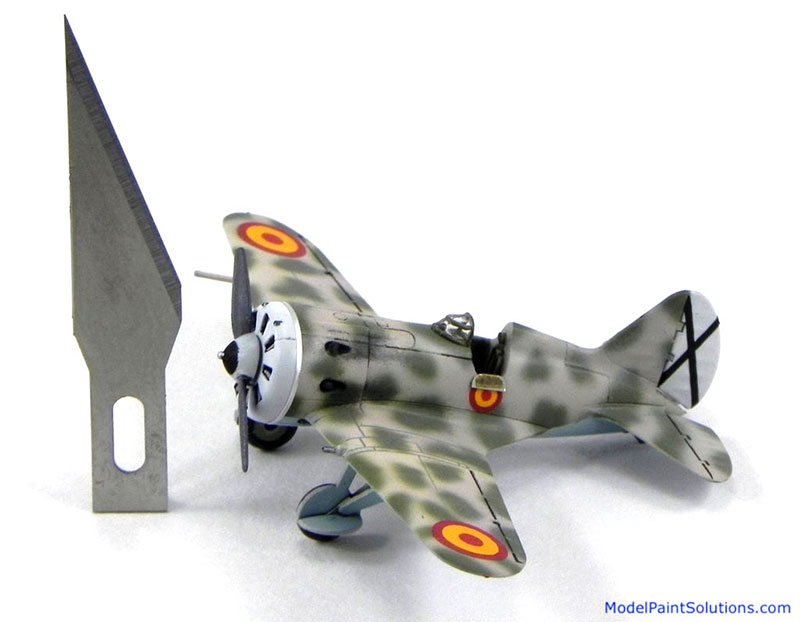 Description:
Fine-Line: The "Bleeding Edge of Airbrushing" on the Mojo Podcast
Scale:
1/1
Review Type:
This is the most recent in a series of discussions between Mike and Dave (The Modeling Mojo Podcast) and John Miller aka "Dr. Strangebrush" of Model Paint Solutions that are focused on airbrushing and painting techniques.
Advantages:
The discussion is intended for those new to the tricks of airbrushing fine-line (~1mm wide) and includes strategies for diluting paints, suggestions as to airbrush tip-size, immobilizing the model and hands, and appropriate air pressure settings.
Disadvantages:
May cause narcolepsy in some, nausea in others. Cases of uncontrollable twitching have been reported. These symptoms may become permanent. Do not drive or operate heavy machinery within 3 hours of listening to this podcast.
Conclusion:
The discussion covers the basics of fine-line airbrushing and provides suggestions as to paint dilutions and air pressures that will serve as a starting point for those that wish to "dial-in" their own fine-line technique.
Introduction:
Well, Mike and Dave (aka The Bourbon Brothers) of the Modeling Mojo Podcast had me on once again to discuss a topic near and dear to my modeling heart; fine-line airbrushing. For the discussion, fine-line is defined as ~1mm wide or less. During the discussion, we cover suggestions on configuring your airbrush for fine-line to diluting paints to tricks for stabilizing both the model and your hand when spraying. Some of the topics covered and the associated time points are provided below.
For a full break-down of the conversation (with time points) go to:
https://modelpaintsol.com/news/fine-line-the-bleeding-edge-of-airbrushing-mojo-podcast
The podcast can be listened to here:
https://www.plasticmodelmojo.com/754676/13812558-plastic-model-mojo-episode-101-airbrushing-the-last-2-with-dr-strangebrush
Here's a sample of the topics covered:
00:56:40—————————————–Fine-line Technique Permits Spraying Mottled Schemes
00:57:30—————————————–Dialing in the Brush and the Paint
00:58:00—————————————–Most Important Trick for Fine-Line? Working Distance
01:03:50—————————————–Considering Humidity and Temp When Spraying Acrylics
01:09:20—————————————–What Follows Are Suggestions to Be Dialed-In at Your Bench
01:11:50—————————————–Mike: Question; Using In-line Air Valves and PSI's to Look For
01:16:00—————————————–Immobilizing Both the Model and Your Hand
01:22:45—————————————–The Ideal Tip Size for Shooting Fine-Line
01:28:50—————————————–Suggestions for Diluting Tamiya and AK Real Colors
01:39:00—————————————–Thinning Paints for Fine-Line Airbrushing
01:41:15—————————————–The All Important "Working Distance"
01:45:30—————————————–Mottled Schemes: A Scale-Dependent Challenge
01:56:15—————————————–Mike: I'm Looking for Mr. Hobby Mr. Mottling Cajones….
Thanks!
—John
---
For more on this review and other build/paint articles visit Modelpaintsolutions.com.
ends

---