French NAA-57s
Vichy Fledglings
by Ronnie Olsthoorn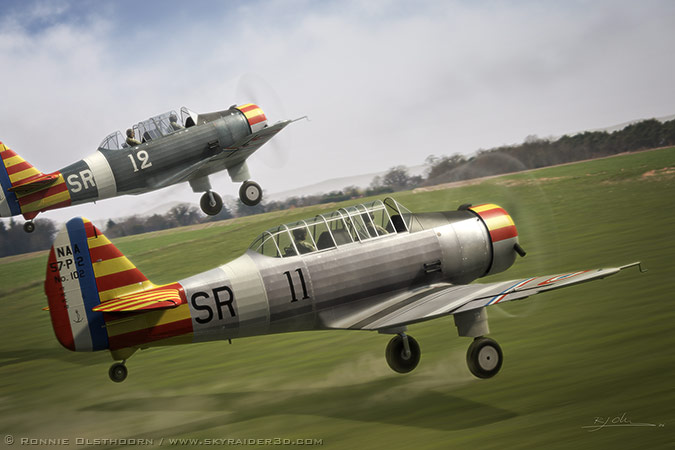 NAA-57-P-2
Fréjus–Saint-Raphaël, November 1942

Here is one of my latest artworks: Vichy Fledglings.

The aircraft are North American NAA-57-P-2 advanced trainers (predecessors to the famous AT-6 Harvard/Texan), taking off from Fréjus–Saint-Raphaël in the South of France, on what could well be their last flight. It is November 1942, and in a matter of days the Vichy French Naval Air Arm will cease to exist, as German forces occupy the rest of France. The image was inspired by this photograph from Ebay, showing Vichy French aircraft at Fréjus–Saint-Raphaël, already under German command, waiting to be scrapped or sold.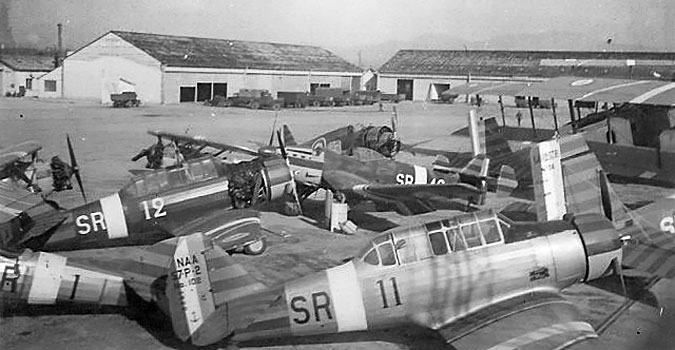 The markings on these aircraft are interesting. "SR 11" (serial no.102) carries the original colours, while "SR 12" (possibly serial no.116 - can anyone confirm?) has the typical dark blue-grey colours of the French Navy. Then there are the red and yellow Vichy markings, which are less weathered than the camouflage as they were applied later on top of the camo. Lastly there are the white stripes. which were brand new, ordered by the Germans on 8 November 1942 after the Allied landing in North Africa. Four days later, German AAA units occupied the airfields of Southern France.

On the photo, there also seems to be blind flying covers(?) present in these machines. As I couldn't find any further details about this and it wouldn't benefit the artwork, I took the artistic liberty of ignoring this. If anybody has more information about the dark objects behind windows, I am keen to know.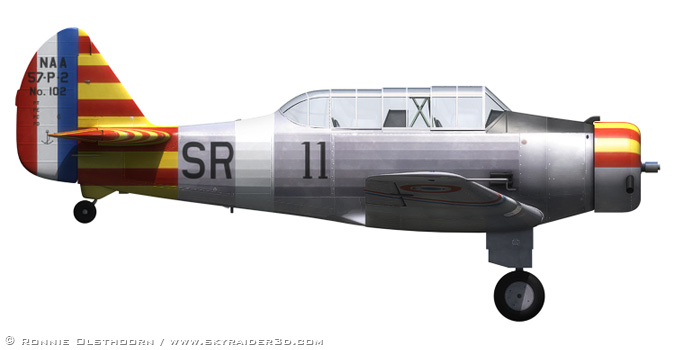 At the moment this image is on display at the Aviation Art III exhibition in the Military Aviation Museum in Soesterberg, the Netherlands, amongst numerous other works of John Wallin, Wiek Luijken and myself.

Last but not least, prints can be ordered from http://digitalaviationart.com/vichyfledglings.html . Giclée print and canvas prints will become available soon or can be made on request.

---
More of Ronnie's 3D virtual models may be seen at his website - www.skyraider3d.com
---
Model, Images and Text Copyright © 2007 by Ronnie Olsthoorn
Page Created 15 February, 2007
Last Updated 04 June, 2007
Back to HyperScale Main Page