Hasegawa's 1/72 scale
Grumman F9F-8 Cougar
by Dan Lee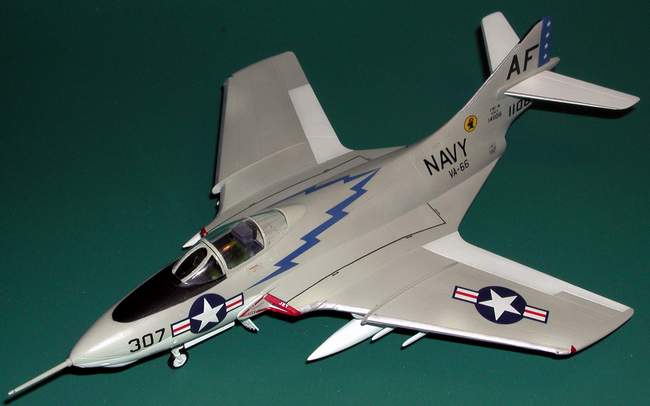 Grumman F9F-8 Cougar

HyperScale is proudly supported by Squadron
The Cougar for all intents was Grumman's low risk, swept wing version of the Panther. A contract for 3 prototypes was received on Mar-1951. The prototypes were designated XF9F-6 and first flown on 20-Sept-51. These were conversions of existing F9F-5 Panther airframes. But it was realized the differences was sufficient to merit its new name, Cougar.
Altogether 646 P&W powered F9F-6 Cougars were built, along with 60 F9F-6P recon birds. Also 168, Allison powered F9F-7s were built. Besides the engine change, the –7s were identical to the original –6s. The Allison J33 engine offered 1000 lbs less thrust and was only built probably for political reasons.
By late 1952, the F9F-8 entered production. This version received significant changes over the previous –6. The trailing edge fillet was extended to the end of the fuselage. The wing was changed with wing chord increased outside of the wing fences. The leading edge had a camber for improved low speed handling. Leading edge slats on previous versions were deleted. The larger wing housed more fuel. An intake splitter plate and refueling probe were eventually added.
The first flight was on 18-Dec-1953 (a F9F-6 with a –8 wing). The first production F9F-8 was on 18-Jan-1954. The F9F-8 exceeded Mach 1 in a shallow dive in Jan 1954. The Cougar being one of very few centrifugal powered aircraft to do so. Total production was only 662. As with the Panther series, a recon version, F9F-8P was produced. A total of 110 –8Ps being built.
The final Cougar variant was the two-seat trainer, F9F-8T. First flight was 4-Apr-1956 and 400 were built. The last being delivered in 1959. The –8T was not officially retired until Feb 1974 by VT-4
Internal armament was four 20mm cannons. External stores included two drop tanks and four AIM-9 Sidewinders or four 500lbs bombs.
The Blue Angels flew with the F9F-8 and one –8T from 1955 to 1958.
Cougars were just getting into Korea when the war ended. The single seaters never saw any combat sorties. Only the F8F-8T flew in the Vietnam war as FACs by the US Marines.
Hasegawa's 1/72 F9F-8 Cougar
This is Hasegawa's Cougar kit and was purchased as a bagged kit for $5CDN (no instructions, nor decals). I must say the Cougar isn't an inspiring topic and not surprisingly, Hasegawa's 72nd offering is the only game in town. But in the bigger scales the Cougar is represented by Collectaire, Fonderie Miniatures in 1/48 and Fisher Models in 1/32. With Hobbycraft/Trumpeter 1/48 Panther release, a Cougar may follow.
The kit contains two light grey spruces. The clear spruce consists of a two-piece canopy, gun sight and ventral beacon light.
Panel lines are recessed. Cockpit detail is basic. The seat and side console space is suspiciously oversized. Landing gear and airbrake bays are also basic. Airbrakes can be built in the opened position. An optional nose cone (no cannon and refueling probe) is included; to be used for the Blue Angels scheme. External stores include two 150 gallon tanks and four AIM-9 Sidewinders. Intake ducting and a full exhaust can is provided to prevent a see-through effect. An optional extended boarding step is also provided.
As a typical model, construction began with the cockpit. The side consoles are at least twice as wide as F-15Cs. So I decided to build up sidewalls to reduce the width. The cockpit was painted with a mix of Tamiya neutral grey and black for a dark gray/black. Generic instrument decals were used for the panel details. No attempt was made to make it accurate; only busy.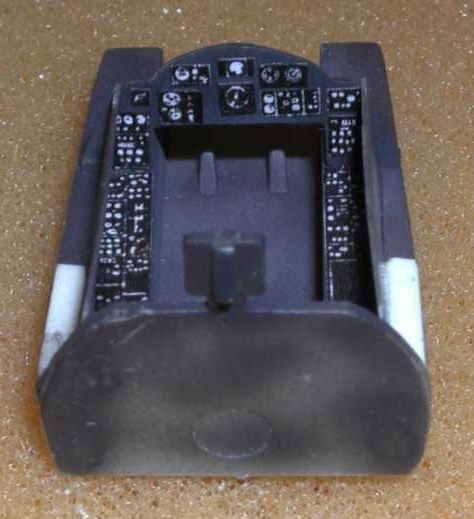 It was only later when the cockpit was sealed in the fuselage that I found out that the cockpit color should have been gray for the gull grey / white color scheme. The glossy sea blue color scheme had cockpits that were black.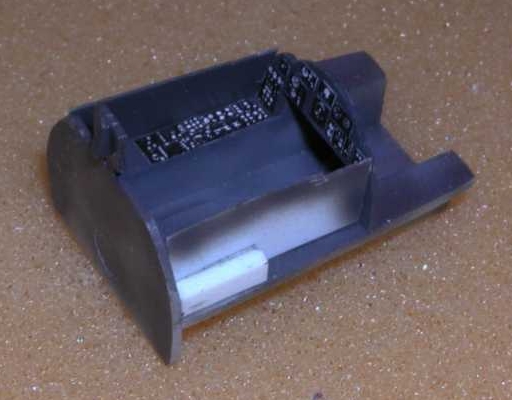 The rear intake assemblies were added at this point. Plastic strips were added to provide support for the rear wing to fuselage joint.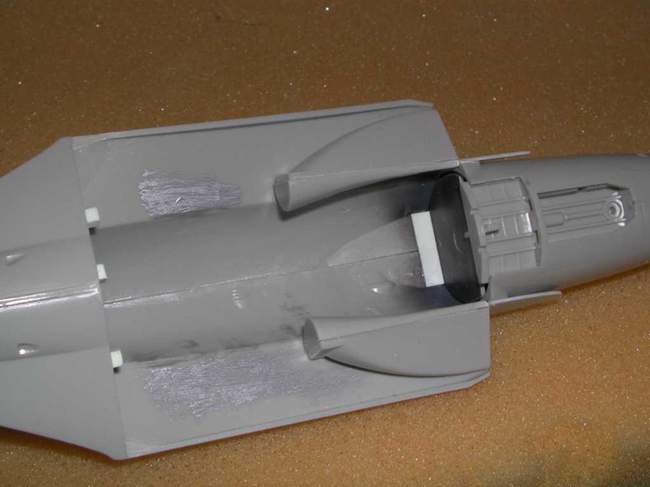 The wing assembly consisted of a one piece lower section and two upper wing halves. The holes for the wing pylons need to be opened up before gluing down the upper wing halves. The entire wing assembly can then be joined to the fuselage. Some putty was required at the rear fuselage to wing joint. This was mainly due to fact that my lower wing was slightly warped.
The forward intake portion is conveniently molded separately. It was at this time that the intake interiors were painted flat white along with the red strip at the inside intake lip.
Abit of lead weight is required in the nose cap which is sufficient to prevent a tail sitter.
Once the forward intakes, nose cap are glued and putty work cleaned up, it was time for painting.
Landing gear n doors, pylons, fuel tanks and missiles were assembled and painted separately.
As a bagged kit, no decals were included. I did managed to find Micoscale's 72-329 at D&J Hobby in Campbell, CA. This was probably the only set out there. It includes decals for a Gull Grey/White Cougar 141106 from VA-66, 1958, USS Intrepid. Nose number is 307 with tail code AF.
---


Paint
Being a simple Gull Grey/White bird, Gunze Sangyo H315 Gray FS16440 was used for the upper surfaces. Tamiya flat white was used for all lower surfaces details and for the entire horizontal stabilizers. Testors metallizer flat aluminum was used for all leading edges. All these colors were airbrushed.
Masking tape was used to produce a hard edge between the gull grey and white. The anti glare panel was masked and flat black was air brushed. The outside red intake lip strip was masked and also air brushed.
The black and metal leading edge on the vertical fin was hand painted by brush.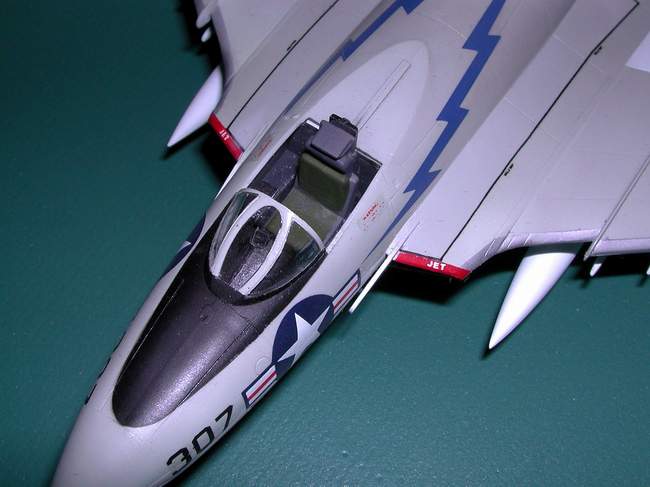 Pictures of some –8Ps had the walkways as a black color. Earlier –8s had variations of grey with black outline or no indications of a defined walkway. I decided to add some excitement and painted the walkways with Gunze H325, Gray FS26440 and later add the black outline with decal strips.
Future was airbrushed prior to decaling.

---


Decals
In terms of aftermarket Cougar decals, there isn't much. There appears to be only MicroScale's 72-207 and 72-329. Others may exist but I haven't searched.
The decals are from a different era; pre computers. They can't compare to the current Superscale stuff. Couple of the smaller letters tended to fade, blur or be malformed. The larger numbers and letters were acceptable.
Being Microscale decals, they reacted well to Micro Sol setting solution. This was essential to get the rudder's blue with white stars decals to wrap around the edges. The end result looks painted.
One blunder with the decal sheet, is that there are two left sided 'Danger Jet Intake' decals for the splitter plates. The right side was built using spare decals and cutting up one of the existing lefts.
The wing walkway strip and lettering was made from spare decals.
Click the thumbnails below to view larger images:
---
Gunze Flat coat was used to seal the decals and degloss the future. No attempt was made at weathering.
Finally Tamiya clear red and blue were used for the various lights.
Hasegawa's F9F-8 Cougar was a simple and easy kit to put together. The gull grey/white paint scheme and Micoscale decals were also very easy to work with.
For those building 1950's US Navy 72nd scale collection, this kit is the only game in town and recommended.
---
References:
Detail & Scale F9F Cougar, Vol 16, 1983, Bert Kinzey.
Great Carrier Aircraft, 1996, Peter Darman.
Click the thumbnails below to view larger images:
---
Model, Images and Text Copyright © 2007 by Dan Lee
Page Created 26 March, 2007
Last Updated 04 June, 2007
Back to HyperScale Main Page