Pfalz D.IIIa
by Graham Hunter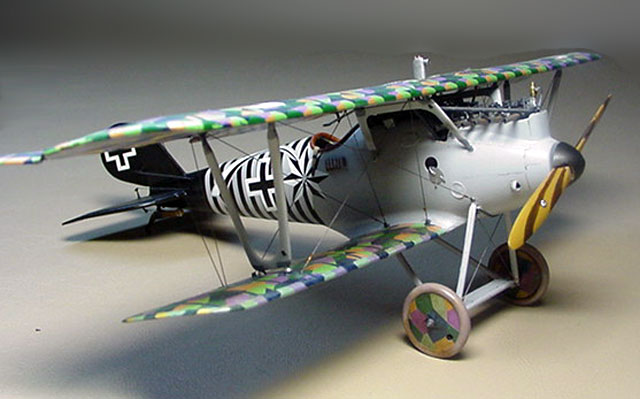 Pfalz D.IIIa


Eduard's 1/48 scale Pfalz D.III Profipack is available online from Squadron.com
Here is Eduard's 1/48 scale "Profipack" boxing of the Pfalz D.IIIa.
This modes represents Max Holtzem's Pfalz D.IIIa of Jasta 16b with his famous comet markings. Holtzem used the comet as a dedication to his mother, who he lost at age 9, on his aircraft. Holtzem made several claims for downed aircraft but none of them were confirmed. Prior to operational service Holtzem was a test pilot for the Pfalz Flugzeug Werke.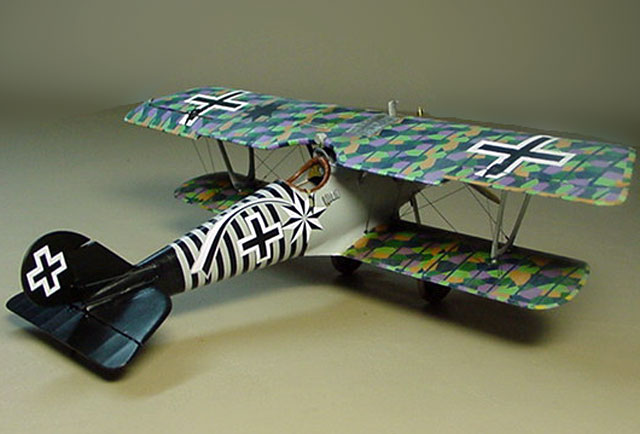 His relationship with Pfalz did not end with WWI as he flew a Pfalz D.XV barnstorming in Argentina, where he emigrated to after the war. In 1928 He moved to the USA and became a test pilot for Fokker and later a flight instructor and airport manager.


After Market

The following after-market items were used to complete my Pfalz:
Techmod 5 colour lozenge decals

Aeromaster Pfalz Part I Decal Sheet

Tom's Modelworks Pfalz D.III photo etch (PE) set

Copper State Models PE Nuts & Bolts set

Eduard PE gauge set (for compass)

Wonder Wire (ceramic rigging wire)
---
Detailing and Scratchbuilding

Engine detail added (Click thumbnail at right for larger images) - sparkplug wires and carrier tube, convert kit cam/valve rockers from Mercedes D.III to D.IIIa configuration, rocker arms, valve springs, cam bolts, carburetor throttle linkage, carb nuts/bolts, scratchbuilt air pressure pump, crankcase oil level window, exhaust pipes made from brass tube-end drilled out and angle cut, tach and gun synchronizer cables.

Inside fuselage detail added - bulkhead behind cockpit, formers and engine bearers scratched, access ports cut out and fuselage walls thinned with dremel, control cables, boden and throttle cables, floor cut to correct size, seat supports scratched, spring attachments for shoulder straps scratched and micro-soldered to belts, PE instruments.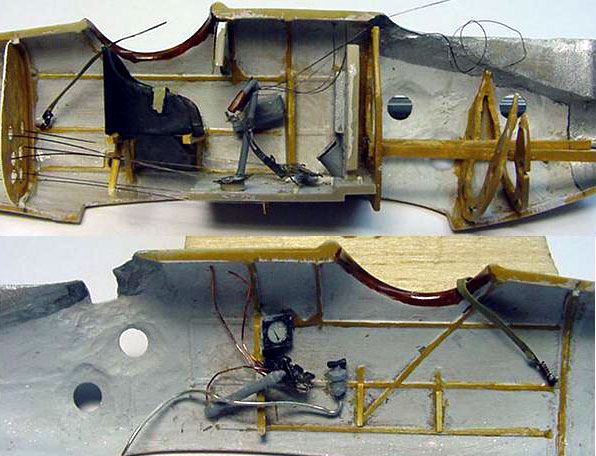 Under carriage detail added - hollowed out tire valve access ports and added valve stem and spokes, routed out top of axle airfoil and added brass rod axle and top cover flap, bungee axle wraps, safety wires.

Machine gun detail added - lathed muzzles, drilled out ammo feed breech, TMW's PE barrel jackets & sights, kit breech & PE details, scratched safety levers, scratched ammo feed chutes & link/shell chutes.
Control surface detail added; cut away all controls and repositioned, hinge detail, micro soldered brass tube to ends of control horns.

Wind radiator detail added - covered with Bare Metal Foil aluminum, weathered with oil paints, water pressure venturi drilled out, fixtures on water pressure airfoil and pipes to engine.

Rigging anchor points (16 in total) added using 0.35" plastic rod inserts that were domed (using lathe) and drilled pilot (rigging wire pilot) hole.

Scratchbuilt flare holder from 0.005" plastic stock.
Both wings were sanded top and bottom to remove the exaggerated rib detail of the kit (the only problem with Eduard kits) and the under wing rib detail was scribed.
All construction aided with the use of a jig made on glass with the Data File drawing and blocks of balsa wood.
Painting, Decals and Weathering

Painting was done mostly with acrylics. The silbregreu is a mix of white, black and silver Ceramcoat, the airscrew is done with Testors Acryl wood base coat and the laminated layers were brushed on using oils.
Future was used as a base for decals and Testors Acryl satin clear was used to seal everything.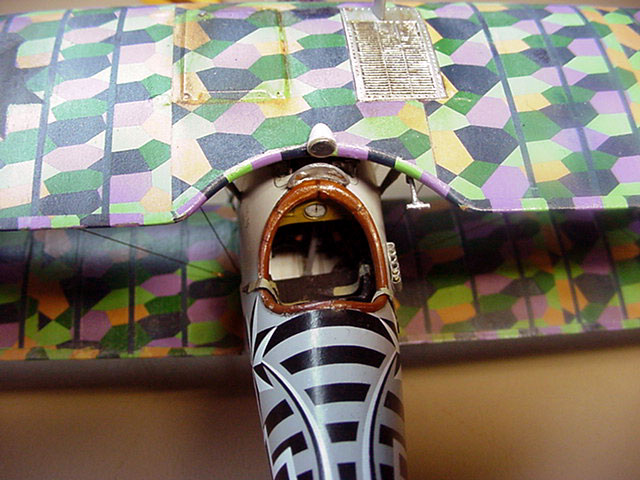 All decals were applied using AeroSet and Sol. I extended the wing rib lines on the Data File drawings to line up the rib tapes.
Weathering was done using oil paints prior to satin clear coat.
Windsock Data File #21 Pfalz D.IIIa

Flying Machine Press, Pfalz Aircraft of World War I

British Capture Report of Pfalz D.III


Click the thumbnails below to view larger images:
---
Review and Images Copyright © 2002 by Graham Hunter
Page Created 20 April, 2002
Last updated 04 June, 2007
Back to HyperScale Main Page
Back to Reviews Page