PBY Catalina
by Tomas Chmelik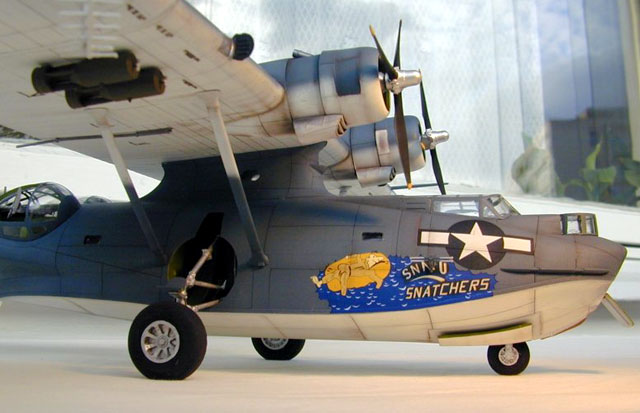 PBY Catalina
images by Roman Kucera


Revell-Monogram's 1/48 scale PBY-5A Catalina is available online from Squadron.com
This is my PBY Catalina in 1/48 scale from Monogram.

Despite its size, the model was a pleasure to built. The model is well engineered; the quality of moldings and level of detail is up to current standards with finely engraved lines (with a few problems on curved surfaces, but nothing serious), good level of interior detail and very good decals. Model offers two options – one classical WWII pacific theatre plane "Snafu Snatchers" (bluegray over white), the second is a more colorful postwar rescue version.
The model was bought with an intention to build WWII version so I even did not thing about building the second option.
The model was built straight from the box, without any additional research or photographic evidence.
The construction started with interior. This was made in separate subassemblies (front of the plane including cockpit, fuselage turrets behind the wing trailing edge).
The interior was painted according instructions, received a usual wash and drybrushing and was ready to be put in the fuselage. The overall fit of interior into the fuselage was absolutely without problems; the only omission is that there is no interior depicted behind the cockpit wall. However, after installation of the clear parts, there is not much to be seen, so I left this as it was. At this stage I tried to put some weight into he fuselage, because there was no doubt that the model will be a tail sitter. Unfortunately, there is not much space where to put the weight in, which, together with the fact that the amount of weight required could be too much for struts, led me to decision to use a clear support rod (included) instead of risky "balancing" of the model.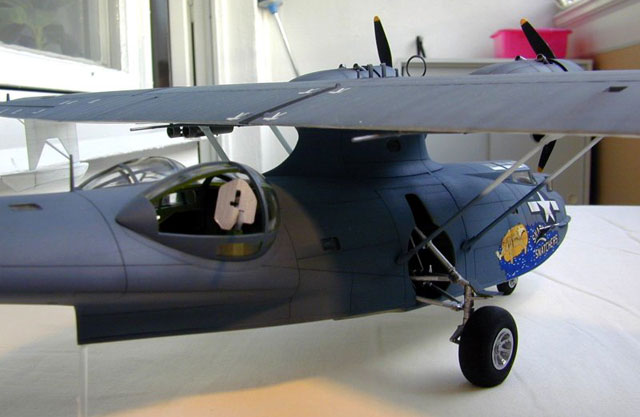 The wing was made as a separate subassembly and was glued to the fuselage after painting and general weathering. The overall fit of the model is very good, the only places where the putty was needed was the wing and bottom of the fuselage. All this contributed to the fact, that construction itself was much quicker than I expected. I tried to keep as much interior details away prior to painting to avoid damage; the same goes for external details. Once the fuselage and wing was ready for painting, I installed details, which were in my opinion better to be installed before painting. Radar antennae and other extremely delicate things were left for the last assembly stage (suggested !).
The fuselage and wings were then preshaded black prior application of camouflage colors. The white was applied in several layers. Especially the wing with its size was a hard job, mainly due to problems with my airbrush and quality of my Model Master paint (too old). I started with semi-gloss white, then turned to gloss white (semi-gloss did not sprayed properly) and finally returned back with a new bottle of semi-gloss (Oh…patience…). I decided to mask only the underside of the fuselage, spraying the wing freehand. (Today, I would probably use some kind of soft masking on the cutting edge of the wings.) Then the bluegray was sprayed on topsides, Agama brand paint was used. I have a very good experience with their flat paints, as they are easy to spray and are good in achieving relatively soft edges when spraying freehand. The can be also brushed over without damaging the layer under. They just need a bit more time to get fully cured.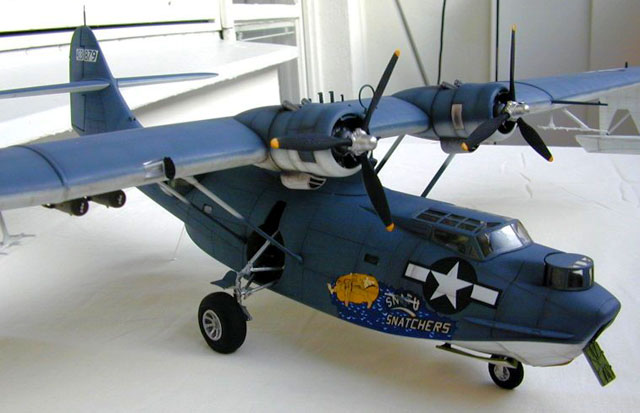 The paint was then made lighter with few drops of light gray and postshading was sprayed freehand. Especially the wing with its uniform surface started to look much better and after finishing postshading the model was ready for next steps.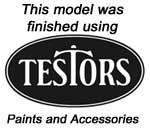 The whole model was gloss coated with a Model Master gloss coat (larger bottles, quick drying) and after necessary curing a wash with enamel black and brown diluted paint was slightly applied, the model was then decaled. Decals reacted well to setting solutions and went perfectly to every single panel line they were covering. The whole surface was then coated with a flat varnish and pastels were used to round up weathering. I wanted to make weathering subtle, but noticeable. When I was satisfied, the wing and fuselage was cemented together and support struts were installed. I entered some problems with these struts - they were somewhat shorter on one side and fixing of this problem caused some damage to already finished surface. This was fixed with a brush and some paint.

Other details such as remaining antennae were installed and pained and model then received another light coat of flat varnish. Clear parts were, after careful painting by hand (internal color, external color), glued with white glue and after installation of the undercarriage struts and wheels (especially complex main struts are bit problematic to be installed at this stage due to not easy access to the wheel wells) the model was finished.
To conclude, the model was a real pleasure to build. Catalina is a nice looking airplane and again, despite its size, the model is relatively easy and can turn with a little effort into an eye-catching part of the collection even of the beginner. My only problems were large surface areas (no problem for those using airbrush), delicate main struts and somewhat not easy installation of the wing after general painting. Generally, no serious problems here. The model was built to be given as a present and I am looking forward building the next one for myself!

The model was photographed by my fellow friend, Roman Kucera. Thanks Roman!

Click the thumbnails below to view larger images:
[photogallery/photo17215/real.htm]
---
Model, Images and Text Copyright © 2002 by Tomas Chmelik
Images Copyright © 2002 by Roman Kucera
Page Created 20 November, 2002
Last Updated 04 June, 2007
Back to HyperScale Main Page
Back to Features Index