P-51D Mustang
by Maja Engström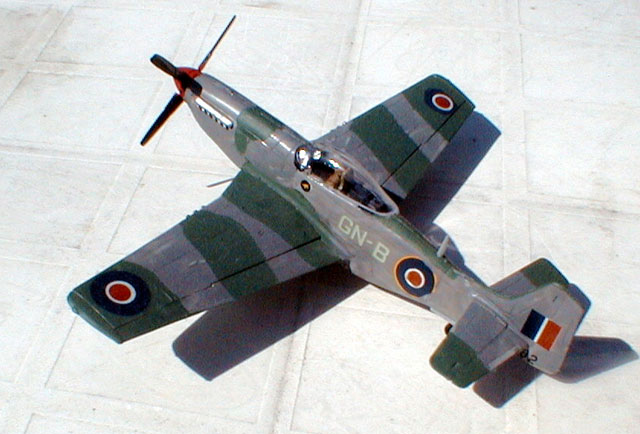 P-51D Mustang
Text and Images by Mats Engström


available online from Squadron.com
My daughter Maja built her first kit, a Polish Iskra, when she only three and a half years old. The initiative and a great deal of help came from her father. However, she cut the parts off the sprues, glued and painted the model by herself.
Now that she is five years old she asked me about building another airplane. I decided after a long search through the shelf's that I could part with an Airfix P-51D Mustang in 1/72 scale, bearing in mind that all children deserve to grow up with some Airfix kits!
It looks like an airplane, no doubt about it. It also has the greatly appreciated option of a pilot to sit inside.



Construction
It was decided from the start that this model was going to hang from the ceiling with the Iskra. I then suggested a wheels-up assembly to make it a bit easier.
But wheels were wanted so wheels it was going to be.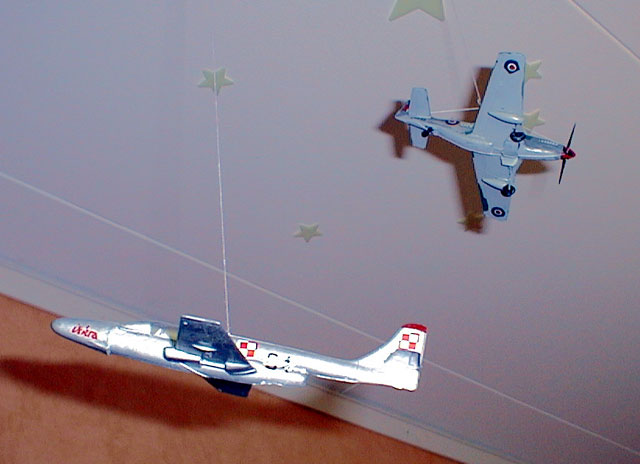 Surprisingly Maja didn't simply break the parts off the sprues like her father did a long time ago building Airfix kits. She is very good with the scalpel (mother is obviously not at home); placing the parts on the table and cutting them off the sprues very precisely.
Reading instructions and dry-fitting is not of any interest. but on the other hand applying glue is great fun.
---
Painting
The green/grey scheme was more colourful than the Swedish option in bare metal.
The painting instructions were not followed precisely, but it was totally OK according to me. This stage is one of the most fun, so that is why her sister Malin also wanted to join in. She helped to paint new camouflage schemes in red and yellow on some of her father's old Harrier, Viggen and Westland Lynx.
All made with enamels in the kitchen. Exciting activities.
---
Decals
They stuck to the kit, although it was a bit difficult to centre the separate red circle in the roundels.


The builder was very patient with cleaning up the parts, painting small parts like the pilot's face, (even though the painting of the rims wasn't considered necessary and therefore omitted), cutting out decals etc. There was also an understanding for brakes in the building process, letting glue and paint dry. All this necessary to build something decent of an old Airfix kit.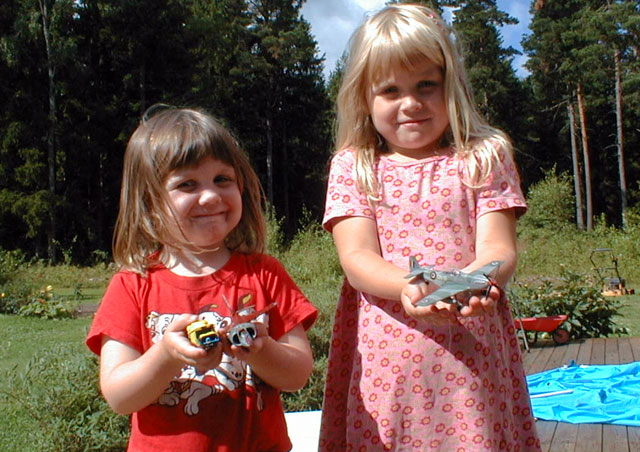 When this model was finished another project was immediately requested. I specially bought a DH Comet (Airfix of course) for this purpose and it is now started. A red airplane is greatly appreciated. This time we introduce putty. Like painting, it's a fun thing to do.

---
Images and Article Copyright © 2002 by Mats Engström
Page Created 13 January, 2002
Last updated 04 June 2007
Back to HyperScale Main Page
Back to Features Page