Republic P-47D Thunderbolt
by John Kerr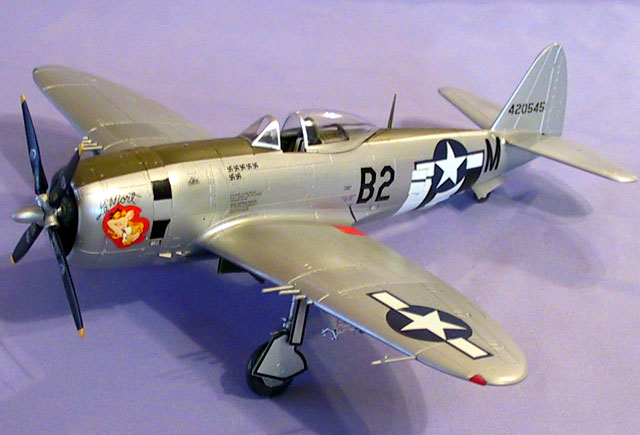 P-47D Thunderbolt

Hasegawa's 1/48 scale P-47D Thunderbolt is available online from Squadron.com
The P-51D Mustang is without doubt my favourite aircraft and modelling subject. However it's very closely followed by the P-47D Thunderbolt and F-86 Sabre. My liking for the Thunderbolt "Jug" is reflected in my model building as this P-47D is the sixth 1/48 scale P-47 I've built. Of the six, this is the third Hasegawa P-47D Bubbletop. The other three are a Hasegawa P-47D Razorback, an Academy P-47D Bubbletop and a Minicraft/Academy P-47N.
P-47D Thunderbolt in 1/48 Scale
using ESP Decal Set #48030
I won't bother with a complete blow-by-blow construction account as numerous models using the many boxings of Hasegawa's P-47D Bubbletop kit have already appeared on HyperScale. It is an excellent kit and relatively vice-less as a result of how Hasegawa has engineered the parts.
The kit was built straight from the box, with masking tape simulating the seatbelts. The only deviation I used from the instructions was to glue the one-piece lower wing in place first before attaching the left and right upper wings.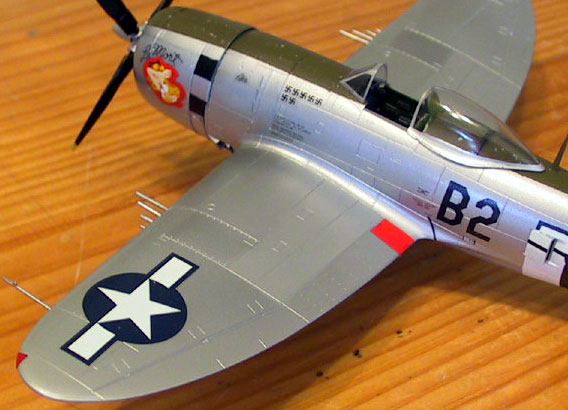 My only minor criticism is the canopy. It is very thin and requires extreme care when detaching from the four attachments points on the clear plastic sprue. How do I know this you ask? Well for my last Hasegawa P-47D I badly cracked the canopy at the left-front and had to substitute an Academy P-47 bubbletop canopy.
In all honesty, I prefer the Hasegawa bubbletop to the Academy bubbletop. However, the Academy offering has a strong following among many P-47 modellers as it comes with a truckload of options - open upper wing gun-bays and a full suite of ordnance (ie. different styles of fuel tanks & bombs, rockets and even grenade launchers !). Some modellers also say it's more accurate in outline than the Hasegawa kit. If doing a diorama involving a P-47D Bubbletop then I would certainly use the Academy kit.
Okay I admit it ! I'm a natural metal freak and like doing natural metal finished aircraft.
In the early days of HyperScale I submitted an article to Brett on how I approach natural metal finishes. Some years later, I'm still building silver birds and still swear by the Floquil Railroad Colours (which I sometimes refer to as the "Floquil Silvers") of "Old Silver", "Bright Silver" and "Platinum Mist". My natural metal finishes article, using the Floquil paints, can be found in HyperScale's Reference library at http://www.clubhyper.com/reference/metaljk_1.htm .
The paints used for the major colours of the exterior finish on the P-47D were:
Floquil "Old Silver" (thinned with Floquil Diosol) - some panels were masked off and polished with SnJ's "Aluminium Polishing Powder"

AeroMaster "Olive Drab" (enamel) for the anti-glare panels

AeroMaster "Black" (enamel) for the cowl flaps and propeller blades

AeroMaster "Tyre Black" (acrylic).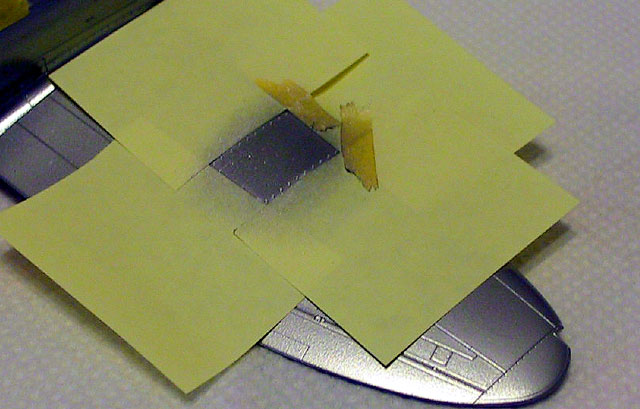 To seal the decals, I sprayed on a mixture of AeroMaster "Clear Gloss" and "Clear Flat". I then felt the anti-glare areas on the nose and fuselage spine looked too shiny. These areas were carefully re-masked, with Tamiya masking tape and Post-It notes, and sprayed AeroMaster "Clear Flat" - this completely killed the shine.
Eagle Strike
Productions 48030
All decals, including stencil data, came from the ESP 48030 "American Jabos P-47 Thunderbolts Fighter Bombers Pt. 1" decal set released mid-2001. It covers three natural metal finished aircraft with Olive Drab anti-glare panels from the last year of WW2. Here is a brief overview of the set:
"Le Mort" B2-M flown by 1st Lt. Melvyn R. Paisley (final score was 5 kills), 390 FS / 366 FG based at Handorf, Germany, May 1945. There are two cowl flaps on each side of the nose that need to be painted by the modeller. The fuselage insignia come complete with the uneven D-Day stripes for the lower fuselage - these worked an absolute treat and I would like to see the same for P-51 Mustangs if they are going to work as well as these did!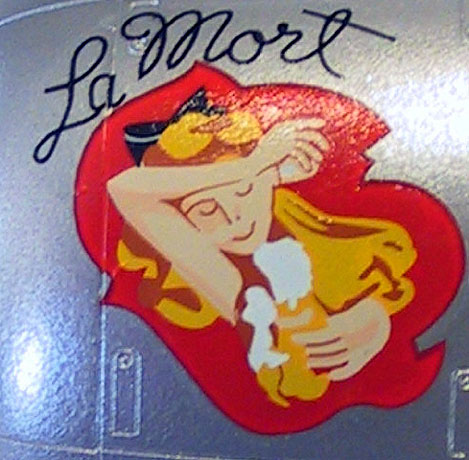 "Wee Speck" GQ-U flown by Capt. Lowell K. Brucland (including two Korean War kills, final score was 14.5 kills,), 355 FS / 354 FG based at Rosieres-en-Haye, December, 1944. Front of cowl painted Medium Blue which is followed by a band of Medium Blue and White diamonds. Stylised "Flying Bomb" cartoon nose-art is on left cowl.

"Ole Trapper" CP-R flown by 1st. Lt. Donald O. Scherer (only ace of the "Orange Tails" squadron), 366 FS, 358 FG, Sandhofen, Germany, April, 1945. Cowl is painted Red while the entire tail section is Orange, except where the serial number is, hence the squadron's "Orange Tails" nickname.
All decals worked beautifully ! I used a little AeroSet setting solution to get the decals to melt right into the recessed panel lines. I've used ESP decals on my last two models (a 1/48 Hasegawa A-4C done as an A-4L and this P-47D) and was mighty impressed with them, ie. easily came off backing paper, in perfect register, easily positioned with water, adhered well and reacted well to setting solution.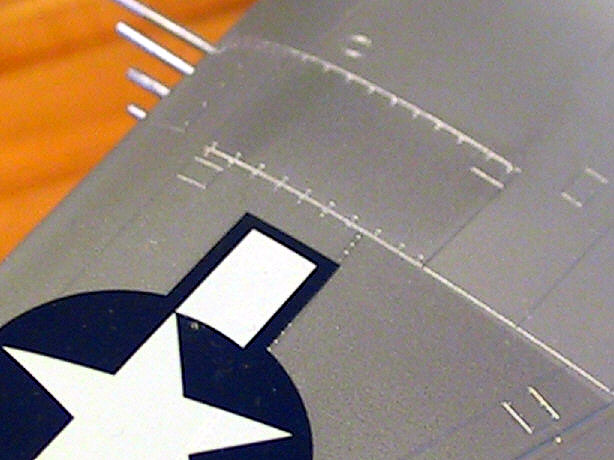 I found all three schemes colourful and appealing. Although I finally decided to do scheme #1, I hope to eventually do the remaining two schemes in the near future. To entice me to buy and build even more Hasegawa and Academy P-47D Jugs, Eagle Strike Productions has more American Jabos : P-47 Thunderbolt Fighter Bombers on 48031 (listed as Pt. 2 & covers three more Bubbletops) and 48053 (covers two Razorbacks and one Bubbletop).
Decals from Eagle Strike Productions and AeroMaster Productions can be viewed and purchased on-line at http://www.eaglestrikeproductions.com.
---
Model, Images and Article Copyright © 2002 by John Kerr

Page Created 03 March, 2002
Last Updated 04 June, 2007
Back to HyperScale Main Page
Back to Features Index