Curtiss P-40E Warhawk
by Floyd S. Werner Jr.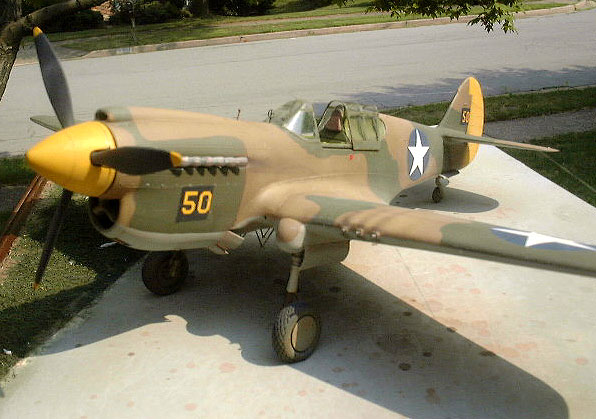 Curtiss P-40E Warhawk
Why Revell's P-40E?
This kit was originally released in 1978 and re-released in Monogram's Promodeler series with a few updates. I had this kit on the shelf and, after watching John Wayne in "The Flying Tigers", I decided it was time to add a P-40 to my collection.
I knew that AMtech was going to release a P-40E but I needed practice - practice in the fine art of scribing panel lines. The P-40 has mostly straight lines so I could work on them. Besides once the AMtech kit came out I knew I would never build this classic kit from my childhood. It was off to the workbench.
---
Why These Markings?
I flew Cobras in 1987 with a pilot named Rick Pierce. Rick's father came to Germany and visited. While he was there the unit had a party like only full blooded Snake drivers can. Well Rick's father took to our drinking real well and being a southern gentlemen it only took a little prompting and he started telling war stories. Rick had informed us that his dad had flown during World War II but nothing else.
As it turned out Rick's father was Sammy Pierce of the 8th Fighter Squadron, 49th Fighter Group flying in the Southwest Pacific. Once his stories started the guys pretty much stopped talking, not drinking just talking, and listened. If you ever get around pilots there was hand flying, beer drinking (oh how I miss my German beer), the tales flew and by the end of the night we were all humbled to be in such great company. Sammy flew P-40s and P-38s and was an ace with seven kills. Since that night I have always wanted to model Sammy's machines. His normal mount was named "Kay-The Strawberry Blonde/ Pistoff Pat".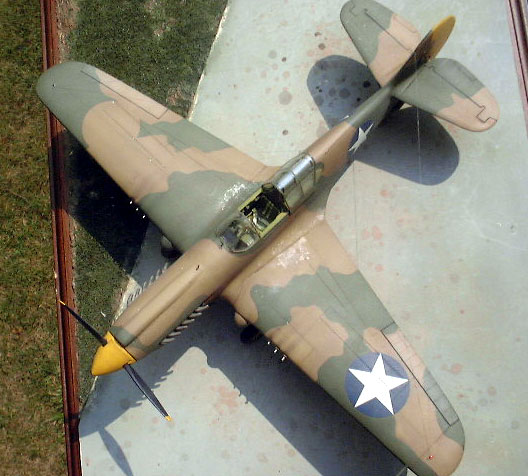 There are no decals for this machine or his other P-40E "Yellow 50". I bought an ALPS Printer but so far great results are hard to achieve. Also the "Pistoff Pat" on the right/crew chief side is not very clear so that left "Yellow 50" which wasn't nearly as flashy but still looked nice. Besides Sammy got two kills in this machine. This aircraft is depicted on the cover of the Schiffer book "Protect & Avenge" written by S.W. Ferguson and William Pascalis.

Personally, I would like decal manufacturers to produce ace sheets. Depicting all the aircraft of a specific pilot, like Aeromaster did with Galland, Hartmann and von Maltzahn. Sammy flew two P-40Es ("Kay-The Strawberry Blonde/ Pistoff Pat" and "Yellow 50"), one P-40N ("Kay-The Strawberry Blonde/ The Hialeah Wolf") and a P-38J (The Strawberry Blonde). The Squadron Signal book "49th Fighter Group" features pictures and drawings of three of Sammy's planes but only the left side. His P-40N will be a future project as soon as I figure out the printer. Sammy's P-38 is depicted on Three Guy Replicas sheet and when I feel froggy I'll jump all over the Academy or Hasegawa offering.
Revell's 1/48 Scale P-40E
As you can imagine the quality of the kit is not up to today's standards. It is molded in olive green plastic with raised panel lines. The overall shape is very nice.
After I finished the kit I found out that the tail seems a little too big. This was no big deal for me. I'm happy with the looks of the kit. The kit is easy to build up into a real nice model. The fit was overall pretty good, except the wing root area. Nothing a modeler couldn't fix.
Before I started to build the kit I started scribing the panel lines. This was done by using Dymo label tape and a scribing tool. A friend at the local club explained that you should make only two lines, one in each direction with even pressure throughout the cut. Once that was done I sanded off most of the raised detail. I left some raised detail, as I didn't think I could replicate it as well as it looked raised. My kit, my rules. Anyway the next trick to even lines is Testor's Liquid Cement. Brush on a light coat of the cement ONLY in the panel lines. This solvent is strong enough to melt the plastic and smooth the scribed line. Finally I checked it all with silver paint and one final coat of sanding. I did all this before I even joined a seam. I was very happy with the results and will try it again. With my practice done I had to build the kit.

One complaint I did have with the kit was that the cockpit was very sparse. After all, it was molded in 1978. True Details came to the rescue with their P-40 E-N Warhawk Cockpit Detail Set (Set 48451) designed for the Mauve kit. This resin cockpit set is easily converted to the Revell kit. You have to cut off the floor enough to get it to fit in the fuselage and you have to cut the headrest off the seat but other than that it fits like a charm and looks great. Polly-S colors were used to paint the interior.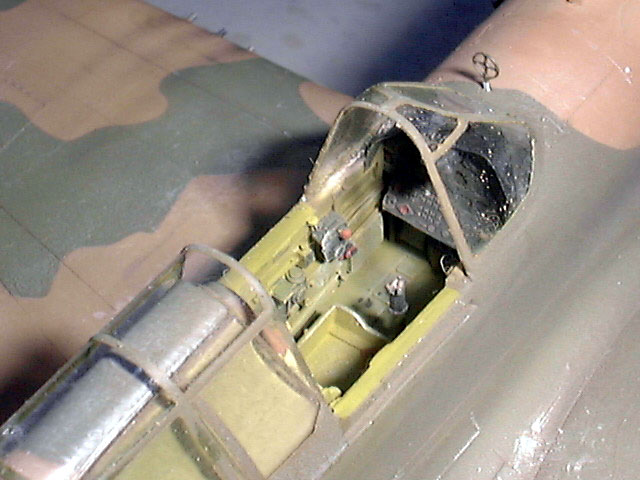 Another weak spot was the wheel wells. I used some Eduard stuff for the wheel wells which spruced up this area nicely and some True Detail wheels finished the landing gear area.

Had I thought about it I would have replaced the exhausts with Moskit ones but I'll save them for my next P-40. The propeller spinner needed a panel line added so I used Post-it notes to scribe it. Post-it notes? Yes I peeled as many as I need to get the panel line where I wanted to with my scribing tool held firmly on top of the notes and spun the spinner on my scribing tool. Accurate, straight and even lines. This technique works for any circular item.

I tried a technique on the wings to get a good fit and some strength. First I flat sanded the mating surface of the upper wings and the fuselage join. Once this was done I attached each upper wing only. I really did this before I even put the fuselage halves together. This allowed me to compare them and make any small changes. I reinforced the join on the inside with CA glue. This technique worked really well and no filler was needed at the wing root. Next I ended up attaching the lower wing to the upper portions after the cockpit was done. This part required a little filler, especially in the back.

Overall I thought the fit was good for such an aged veteran. There were some areas that required some filler and others that had to be sanded down but nothing that you wouldn't expect.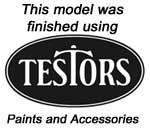 I painted this aircraft as one of the airplanes that were reacquired from the British so I tried to get export Dark Earth and Dark Green. For me these ended up being Polly-S Dark Earth, Aeromaster Dark Green and Testor's Model Master Italian Blue Gray.
I used Cutting Edge Black Magic masks designed for the Monogram P-40B but they worked with a little bit of work and some spare masking material I lightened all colors with some white and faded the camouflage as I thought appropriate. I have to say that the overall look of the model was very much what I was looking for - definitely something different from German grays.

The decals are from various sources, including the kit American markings. Surprisingly they did not shatter and reacted well with setting solution.

Some final weathering with pastels and oils topped off with True Details canopy and an MV, L 116, lens and I was done.
A Personal Opinion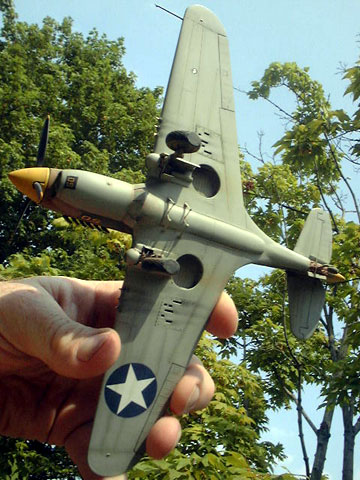 When you build a model you have to ask yourself a couple of questions, and not just whether it will win a contest. Did I have fun? Does it look like I wanted to? Most importantly, do I like it?
If the answer to these basic questions is yes then you will know how I feel about modeling. Too many times modelers build for contests or to impress somebody. If that is why you build a kit then you aren't enjoying the hobby. The possibilities an unbuilt kit holds, the painstaking research, the building challenges, and the sense of accomplishment upon completion, these are the things a finished kit brings to me.

I know of so many people that start a kit and want to put so much into it that the kit never gets built. Still there are others that won't even start a kit because they have to have everything perfect. Boys and girls build a kit. Enjoy the process if not the end product. Our hobby is supposed to be fun. If you win at a contest, great. If not who cares?
Try to learn something new on every model. Learn a new technique, a new paint, a new way to weather, something that makes this one different. Not all experiments work, but someone use to tell me it isn't how bad you screw up (not the words he used, Cobra driver) it is how gracefully you recover. For me this model was a scribing exercise, it stretched my limits.

Most people lose the motivation and dedication necessary to finish a kit. It isn't the finished product, it is the process by which you arrive at the final results that makes modeling worthwhile. Remember, it is better to have finished a kit than to never start one.
Off the Soapbox and Back to the Conclusion
Revell's 1/48 scale P-40E is a cheap offering at the vendor tables (bought mine for $5US) now and with the True Details resin set the kit can be made into a nice representation of a Warhawk. I really would like to build Sammy's other aircraft, especially his P-40E and N (that is a hint to decal manufacturers).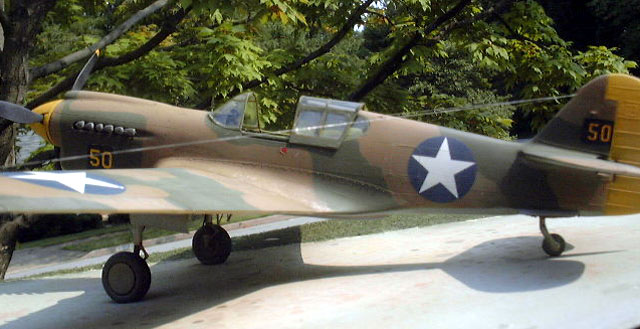 The kit looks great built but if I knew the AMtech kit was going to be as nice as it is, I probably wouldn't have started it. As it was, I finished the kit after the AMtech offering was released. Why? Because I liked the challenges and it looks good in my display case.
Bottom line - I learned some things, I had fun, it looks like I wanted it to, and I like it. It will never win a contest but who really cares? Certainly not me. Finally, remember modeling is fun!
"49th Fighter Group," Squadron/Signal Publications, ISBN 0-89747-221-7
"Protect & Avenge", Schiffer Publishing, ISBN 0-88740-750-1 (Highly recommended)
Summary of Aftermarket Items Used
True Details P-40E-N Warhawk Cockpit Detail Set 48451

True Details P-40E-N Wheel Set 48015

True Details Canopy Unknown

Cutting Edge "Black Magic" camouflage masks

MV Lenses L116

Eduard Photo-etch for AMT P-40K Forgotten


Click the thumbnails below to view larger images:
---
Model, Images and Text Copyright © 2002 by Floyd S. Werner Jr.
Page Created 22 October, 2002
Last Updated 04 June, 2007
Back to HyperScale Main Page
Back to Features Index