Dassault Mirage 50EV
by Markus Wuellner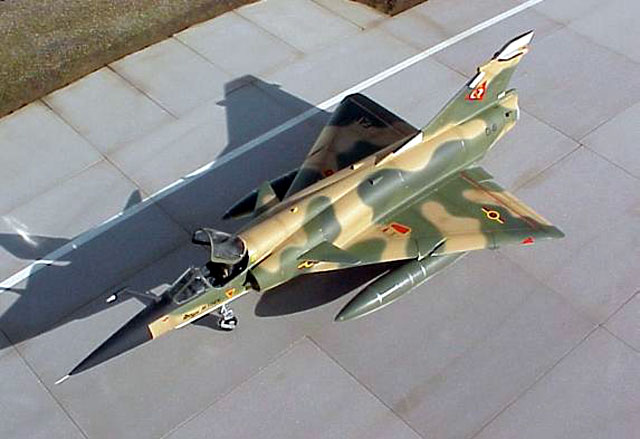 Dassault Mirage 50EV


HyperScale is proudly supported by Squadron.com
Remember the "Mirageathon" one Year ago on HyperScale ? This was my contribution!

For those who don't know it already, I like markings of "exotic" (for us Europeans) Air Forces. Therefore the Mirage III family is an ideal subject because it was one of the most exported fighter aircraft ever ! It was hard for me to choose from all the attractive camouflage and markings for my Mirageathon project.
Finally I found a very interesting article in the "Aerospace Encyclopedia Of Air Warfare - Vol.2" about "Rebel" Venezuelan AF Mirage 50EVs used in 1992 in a (unsuccessful) government coup attempt against "president loyal" Venezoelan AF F-16As and OV-10 Broncos. This was the story that inspired me to do a FAV Mirage 50EV! Beside this they are painted in a very attractive SEA style camouflage scheme.

So far so good...
As far as I know the FAV's 50EVs were all converted by Dassault from old IIIE models. On one hand there is currently no decent 1:48 Mirage IIIE kit available. On the other hand, in any case you need to change any basic Mirage IIIE kit heavily to convert it into a proper 50EV so why not use the ESCI IIIE or V?

After some research I decided to use my old ESCI Mirage IIIE kit as the basis plus various other parts from ESCIs Mirage F1. The FAV machines are externally quite similar to Dassault's Mirage III NG (Nouvelle Generation) Company Demonstrator and feature a new Mirage F1-style radome & IFR probe, canard foreplanes, advanced cockpit, new engine, new RWRs etc!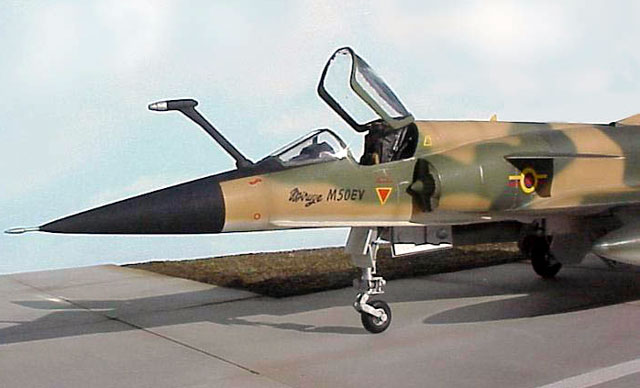 The ESCI kit has no cockpit detail at all so I upgraded it with Reheat's PE instruments & bezels plus a Cutting Edge MB Mk.4 ejection seat. I rescribed all surface detail on the kit. For the radome I used a slightly lengthened ESCI Mirage F1's nosecone as a master and casted it in resin to save the original kit part. The F1's IFR probe was also slightly altered since it is too long and wrong in shape.
The canards, RWRs and the fin-fillet are made from scratch using styrene sheet sanded to shape. The 50EV also feature distinctive cable ducts under the lower front fuselage wich I also made from sheet styrene. Another often overlooked detail is the non standard curved shape of the intake splitter plate, above & below the intake cone. The huge 1,700 liter external fuel tanks come from Eagle Designs.
I used Xtracolors for the entire model and the decals came partly from Aztec's "Latin Eagles" sheet and my spares box. I know that the triangular insignia on the fin is originally made to fit a FAV F-16A and so is a bit too small for the Mirage but.... who cares ? To me it looks right !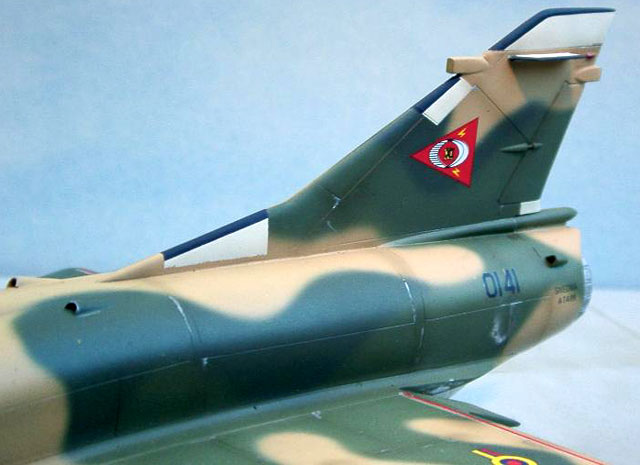 Let's hope for a decent quality Mirage III / V kit to be released in the future - preferably the whole Mirage III family.

Hope you all like my Latin Delta !!

But I still want to know what happened to all the other Mirageathon contestants!

Click the thumbnails below to view larger images:
---
Model, Images and Article Copyright © 2002 by Markus Wuellner
Page Created 19 September 2002
Last updated 04 June 2007
Back to HyperScale Main Page
Back to Features Page