MiG-21 I "Analog"
by Konrad Kondrat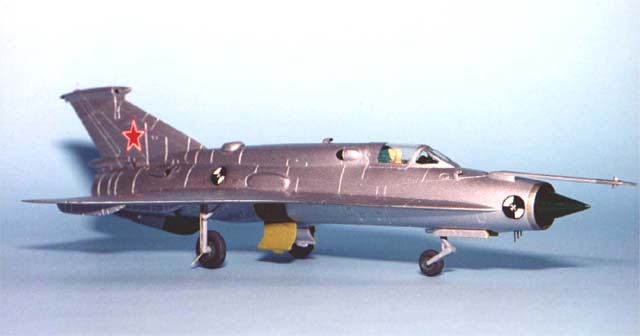 MiG-21 I "Analog"
Translation and photos by Wojciech Perkowski

The experimental MiG-21 I "Analog" was developed in 1968, as there was a necessity of wing characteristics research for projected supersonic airliner Tu-144. Two slightly different examples were build, both tail-less with double delta wings. Among many experimental planes based on MiG-21, it's the only known construction with such configuration. Very long wing roots make the plane's silhouette original, and flight characteristics interesting.

Both "Analogs" were based on the MiG-21S.

The first, MiG-21 I/1, had triangular front wing roots and tangent shaped main part of wings. Flight control systems were tested on this prototype.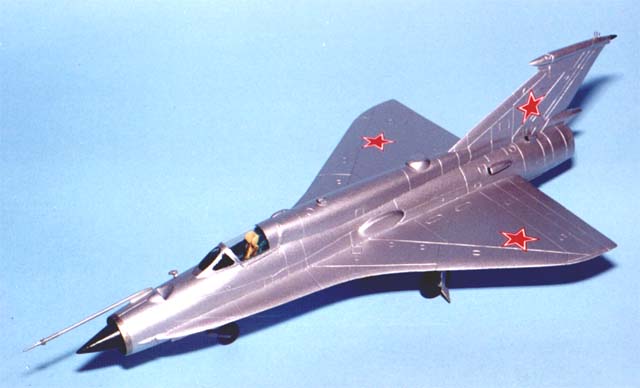 The MiG-21 I/2 was even more unique. The main parts of the wings were also tangent shaped, but front wing roots were parabolic. Wing flow was tested on this example. Cameras which recorded test flights were located in fairings on top of the fuselage and vertical stabilisers. This plane was also equipped with telemetric apparatus for flight parameters transmission in real time.
A few years ago I started building 1/72 scale models of planes from O.K.B. MiG and I wanted this prototype to join my collection too. In fact, there is no accurate MiG-21S to start conversion from, but after careful scale drawings analysis I drew a conclusion that it wouldn't be too difficult to use Mig-21 MF fuselage (just few details are to be omitted to receive MiG-21 I/2 fuselage).
For this project I utilised Aga's MiG-21 MF, which originated from an Ukrainian moulds. The model of course isn't Tamigawa quality, but outlines are quite accurate. I rescribed panel lines, scratchbuilt the cockpit interior, but didn't improve undercarriage.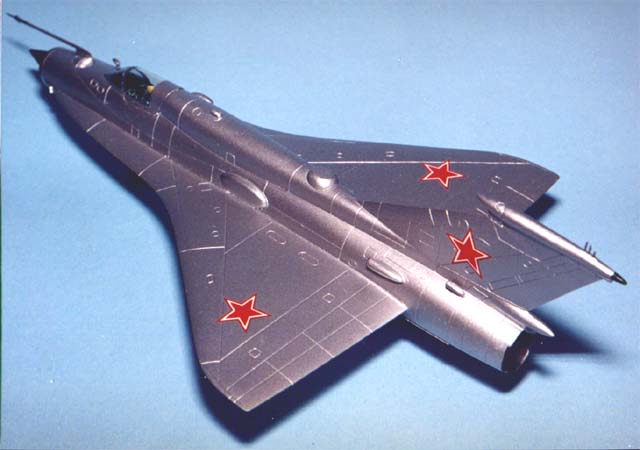 I used my own mixes of Humbrol enamels for interior and details colours. Vertical stabiliser's top was replaced by new one, new antennas and fairings for cameras were added, and of course new wings (after short session of trimming and dry fitting no filler was needed in wing/fuselage join). The canopy was acceptable.
My model was sprayed with Revell aluminium, intake ring Revell steel, green on dielectric surfaces approximated from Humbrol range. Soviet stars were from spares box, "research" markings were self-made. Humbrol Satin Cote sealed the surface.

The unusual look of the model caused great interest amongst my fellow modellers, and they convinced me to prepare resin conversion kit for "Analog". Here is the kit: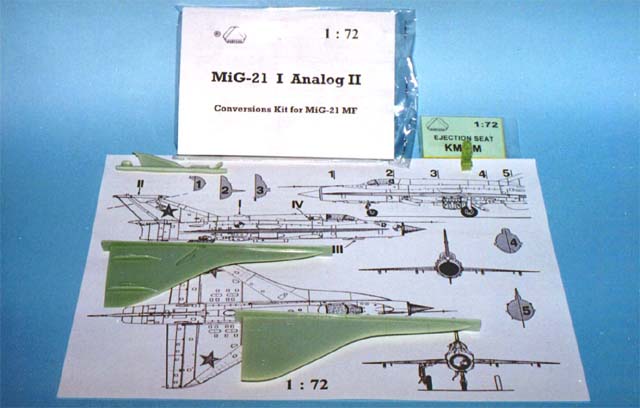 The kit consists of new wings, vertical stabiliser's top, various small elements, KM-1M ejection seat used in this construction, scale drawings and instruction. Fujimi and KP kits of MiG-21 MF are also suitable for this conversion.
Click the thumbnails below to view larger images:
---
Model and Original Text Copyright © 2002 by Konrad Kondrat
Translation and Photos Copyright © 2002 by Wojciech Perkowski
Page Created 29 September, 2002
Last Updated 04 June, 2007
Back to HyperScale Main Page
Back to Features Index