Focke-Wulf Fw 190D-9
by Mark L. Tucker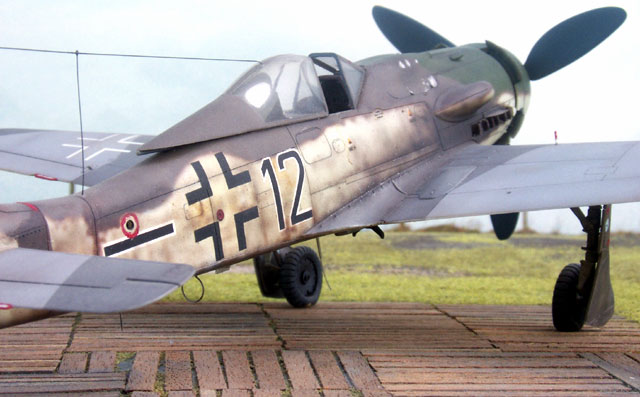 Focke-Wulf Fw 190D-9
images by Brett Green


Italeri's boxing of DML's 1/48 scale Fw 190D-9 is available online from Squadron.com
This Fw190D-9 "Schwarz 12" W.Nr. 500570 of 6. Staffel, II./JG 6 was surrendered to elements of the US 10th Photo Reconnaissance Group at Furth, near Nurnberg on May 8th, 1945. It was one of four Doras from a total of nearly twenty aircraft which were flown west to Furth by their pilots to avoid capture by Soviet forces. Little else is known about this aircraft.

"Schwarz 12" was one of the very few FW190D-9's that has been photographed in colour. The original large print of this photo appeared as a centre spread in the Monogram Close-Up No. 10 - FW 190D. A smaller copy also appeared on page 352 of Monogram's Jet Planes of the Third Reich by J.Richard Smith & Eddie J.Creek, which, by the way, is a fantastic book, if you can get your hands on a copy, as it is as rare. My thanks to Dan Johnson from Luft '46 for locating a copy for me.
As yet I haven't been able to locate a copy of the Monogram Close-Up No. 10. If anyone has a copy that they would like to part with, please, let me know!
DML/Dragon 1/48 Scale Fw 190D-9

The kit is the Trimaster/Dragon/DML/Hasegawa/Italeri offering. This poor D-9 suffers from so many multiple personalities it needs a psychiatrist!. I built this model about 4 or 5 years ago before the Tamiya D-9 was available.

I still prefer the DML kit, even with its shortcomings, I have 2 or 3 still sitting in a cupboard somewhere waiting to be built. I built "Schwarz 12" basically "out-of-the-box" with some brass tubing gun barrels and pitot tubes. I also used some PE harnesses and that's about it.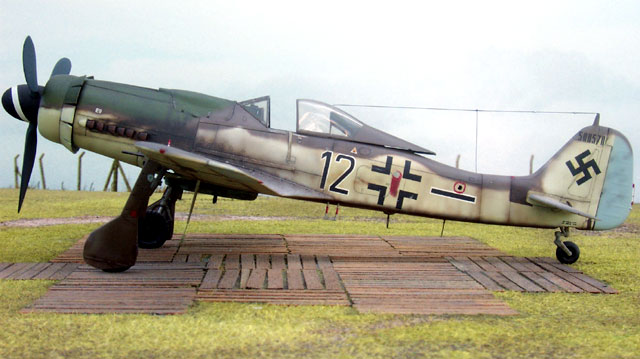 The decals came from Experten Decals. Unfortunately the 1/48 scale set is now out-of-production but you can still obtain the 1/72 scale decals.

For a detailed DML Fw 190 D-9 construction article see Brett's DML's 1/48 Fw 190 D-9 Converted to a D-11 construction feature.

This colour profile of "Schwarz 12" was kindly supplied by Claes Sundin and will be featured in his new book. Other examples of Claes' excellent work can be found at Luftwaffe Fighter Aces & Aircraft.

© Claes Sundin & Christer Bergström 1998

By 1944-45, German aircraft manufacturers were forced to disperse their construction and assembly facilities with various components being sub-contracted to smaller companies. This resulted in many completed components such as engines, main wings, tail assemblies and fuselages being delivered to final assembly areas with their marking and camouflage colours already applied.

In the worsening war situation standardisation in the camouflage colours and schemes became superfluous, many variations and combinations in schemes became commonplace. "Schwarz 12" is an excellent example. It is believed that "Schwarz 12" had its fuselage and wings manufactured separately and then later mated together during final assembly. It is also possible that it was a "recycled" aircraft manufactured from a collection of undamaged parts or sub-assemblies. Since 1943 the Germans had developed a highly efficient process of recycling wrecked or damaged aircraft.

The fuselage was painted in a scheme of RLM 81 Braunviolet, RLM 82 Hellgrun and the "spuriously designated" Grunblau 84. RLM 81 was the dominant colour along the top of the fuselage and was applied after the fuselage Balkenkreuz.

If you study the colour photograph it reveals that the lighter RLM 82 was later sprayed over portions of the darker RLM 81 thus causing the RLM 82 to appear darker than normal.

Several panels near the tail appear to have been brush painted in either RLM 81 or 70?, possibly as a result of repairs or after the attachment of the horizontal stabilisers.

The tail appears to have been sprayed with a mottle of RLM 81 & 82. The rudder also appears to have a darker colour, similar to the patch of RLM 70?, underneath the RLM 81 & 82 mottle. The rudder has then been heavily oversprayed with RLM 76.

The fuselage sides have been painted with Grunblau 84, this colour has been designated RLM 84 in a number of publications and whilst its existence is not doubted the actual designation is not an "official" RLM number.
Many arguments have been put forward over the years as to what the actual paint mix used to create "84" is, some have claimed it is poorly-manufactured RLM 76. For a more in-depth report on late war camouflage see David E. Brown's "Commentary on the Evolution and Usage of Luftwaffe RLM Colours 81, 82 & 83".

The fuselage underside, except for the engine cowl, has been left unpainted natural metal. The bare metal has oxidised and consequently tarnished considerably and appears quite dark in colour.

The upper wing surfaces are painted in RLM 77 Lichtgrau primer and RLM 75 Grauviolet. The tailplane was also finished in these colours.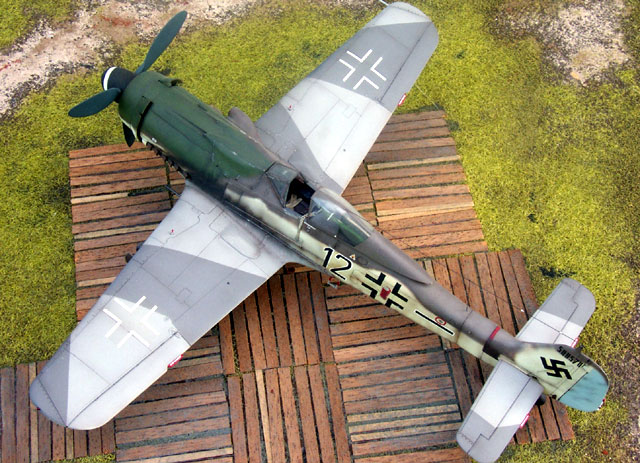 The lower wing surface was painted in Grunblau 84 with many panel lines highlighted in a darker colour, possibly Gelbgrun 99 or a red-brown primer. Gelbgrun was widely used as a protective primer on metal surfaces as well as a camouflage colour.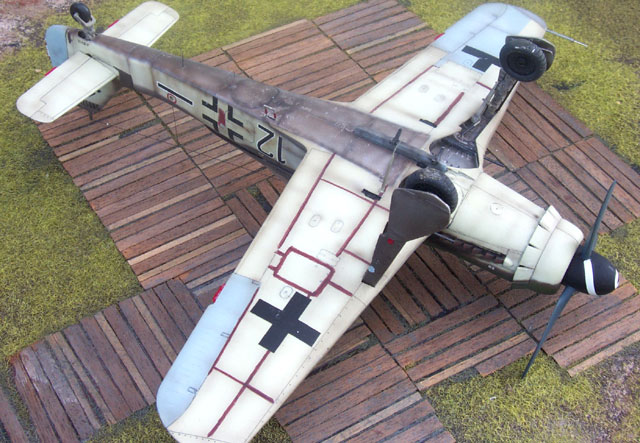 Several of the wing panels and control surfaces have been painted in a lighter colour possibly RLM 76.

The starboard wingtip has been painted in RLM 77 primer, possibly as a result of a repair job.

The landing gear covers look quite oxidised and tarnished and it is quite possible that these too had been left unpainted natural metal.

The spinner was painted RLM 22 Schwarz with a RLM 21 Weiss spiral. The propeller appears to be painted in a blue-grey colour which was used for application onto wooden surfaces at the end of the war.

The Experten decal sheet has options for 3 Fw 190 D-9s:
"Schwarz 1" W.Nr. 600424, JV44 "Papegai Staffel" (arrrggghhh! I hate that name!, IMHO it should be "Wurger-Staffel" or even "Sachsenberg-Schwarm". Opinions on this would be gratefully accepted in the Discussion Group ,

"Rote 13" W.Nr. 400240, JV44 "Papegai Staffel" (arrrggghhh!, there's that name again!)

and the subject of the article "Schwarz 12" W.Nr. 500570, 6. Staffel, II./JG 6.
The decals were fantastically thin and had almost no carrier film. All that was needed to ensure that they snuggled down into the panel lines was a little Super-Scale super-set.

I wouldn't recommend using anything overly powerful on these decals, such as Gunze Mr Softer, or you might end up with them dissolving! I totally stuffed the spinner spiral and had to use one scavenged from another kit.

"Schwarz 12" displays the simplified national markings common to many late war aircraft. Photographs of the aircraft show that the B4 Balkenkreuz were applied prior to the painting of the upper surface fuselage camouflage colour. The upper wing surfaces show that the B6 Balkenkreuz were applied after the upper wing surface was camouflage painted.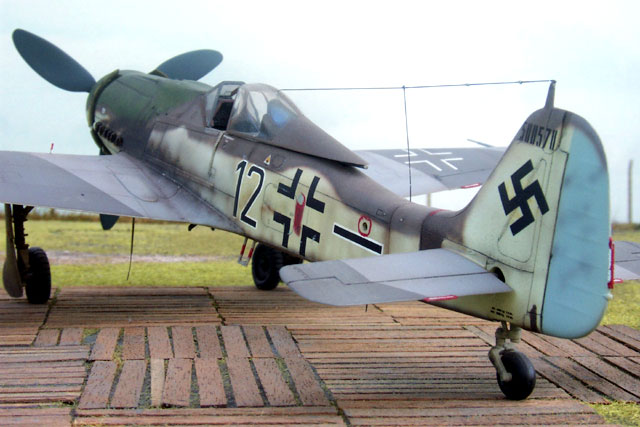 The lower wing has the simplified B1b Balkenkreuz applied with the starboard wing marking missing its outer arm (see colour photo at top of page). The Hakenkreuz on the tail fin are of the H3 type. The code number "12" and the Gruppe bar were painted black with a white outline, not blue with white outline!, as some people have purported.

The following is a statement by David E. Brown in response to the question on "Blue 12" or "Black 12" that was posted on Ruy Horta's Luftwaffe Discussion Group 12 O'Clock High! (an excellent venue to discuss Luftwaffe topics):
Black, not Blue
Mon Sep 21 12:39:43 1998

"The number "12" and the II. Gruppe bar for the Fw 190 D-9 WNr.500570 are both black in colour. The variations noted in the colour image are due to the sheen of the markings' paint. For many late-war Focke-Wulfs (A's, F's and D's) the national markings tended to have been painted in a very flat paint (and thus absorbed light and appeared dark), while tactical markings applied at the unit level were somewhat more glossier, and hence had a higher reflectivity and resultant lighter appearance. The colour shot of this particular aircraft (I have a first generation copy slide from the original Kodachrome) shows both the number and bar as black. Agreed: mighty purdy if blue, but incorrect."
Most of the stencilling normally applied to D-9's appears to have been omitted on this aircraft, possibly to save resources.

There are however some yellow octane triangles and white trim tab markings. A white marking, "E9" appears on the port engine cowling, it is unknown what the significance of this marking is but it is quite possibly related to the motor.

The aircraft Werknummer is of a unique style similar to that seen on Fw 190A-9's in the 380000 Werknummer block produced by Ago at Oschersleben.

A number "maintenance points" such as the jacking position on the rear of the fuselage and the landing gear door attachment bolts appear to be hand-painted in red, as can be seen in the colour photograph.

No other personal markings or unit insignia are evident.
Paint Colours Used in Construction
As previously mentioned I built this kit about 4 or 5 years ago. At the time my only references were the Experten Decal sheets. As I had no alternates I painted my model accordingly.

In early 1998 I bought Claes Sundin's excellent book, Luftwaffe Fighter Aircraft In Profile and drooled over his various colour profiles. A month or so later I was surfing the Net and came across Claes Luftwaffe Fighter Aces & Aircraft website. Claes and I corresponded by e-mail and the subject of "Schwarz 12" came up.
I sent Claes some scans of my model and he kindly supplied me with a profile that he had previously made of the same aircraft and provided some background information on the RLM colours he thought the aircraft may have been painted in.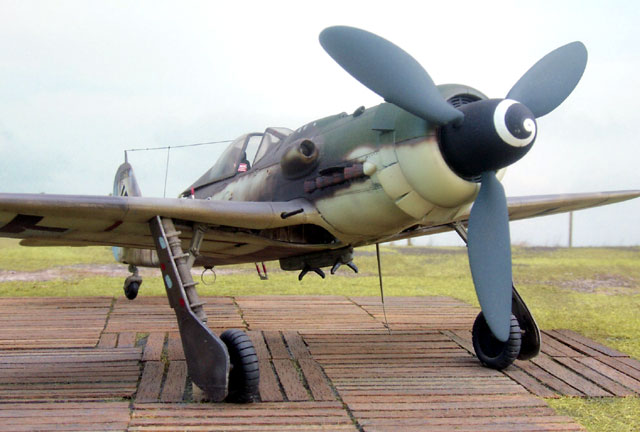 I have tried to include as much information, gleaned from various sources, as possible in relation to the colours of "Schwarz 12". Had this "new" information been available to me prior to construction I would have painted the model differently, especially in relation to the tail area.

I would like to thank Chris Wauchop, Brett Green, Claes Sundin and David E. Brown for supplying information relating to RLM colours..

At the time of construction the Aeromaster and Gunze Luftwaffe colour range were not available. The model was painted in a mixture of "home-brew" and "out-of the-bottle" Tamiya & Gunze acrylics. Gunze Mr Metal Colour buffable metalliser, heavily oversprayed with a black/brown mix, was used to represent the bare metal under surfaces and landing gear covers.

Below is an approximation of mixing ratios and paint codes:

RLM Colour
Gunze Acrylics
Tamiya Acrylics
RLM 75 Grauviolet
H69
RLM 76 Lichtblau
XF-23 60% +
XF-2 40%
RLM 77 Lichtgrau
H332
RLM 81 Braunviolet
XF-61 70% +
XF-64 30%
RLM 82 Hellgrun
XF-5
RLM "84" Grunblau
H74
Natural Metal
Mr Metal Colour 218
In conclusion I would like to say, make up your own mind as to the variations in the RLM colours, after all, its all up to your own interpretations.
Monogram Close-Up 10 - Fw 190 D by J. Richard Smith and Eddie J. Creek, Monogram Aviation

Publications, Massachusetts, 1986 ISBN 0-914144-10-3

Monogram Jet Planes of the Third Reich by J. Richard Smith and Eddie J. Creek, Monogram Aviation Publications, Massachusetts, 1982 ISBN 0-914144-27-8

Experten Decals ED 48-1 / 72-1: JV 44 and JG 6 Focke-wulf 190 D-9's
Click the thumbnails below to view larger images:
---
Model and Article Copyright © 2002 by Mark L. Tucker
Images Copyright © 2002 by Brett Green
Page Created 20 January 2002
Last updated 04 June 2007
Back to HyperScale Main Page
Back to Features Page