F/A-18C Hornet
by Piero De Santis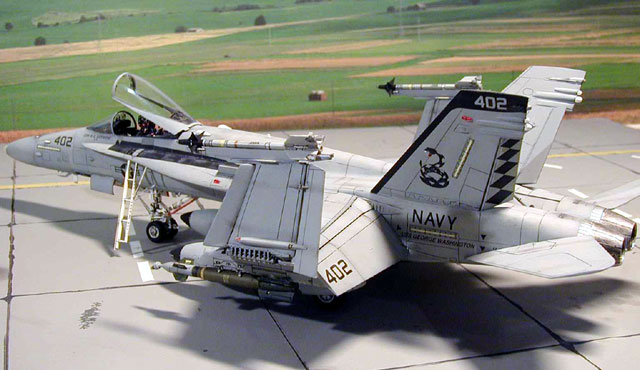 McDonnell Douglas F/A-18C Hornet


Hasegawa's 1/48 scale F/A-18C Hornet is available online from Squadron.com
This is the first of my projects to cover UN and NATO aircrafts involved in the air campaign over the Balkans between 1995 (Deliberate Force) and 1999 (Allied Force).

My first subject was an F/A-18C "Hornet", in service with "VFA-86 Sidewinder" fighter-attack US Navy squadron.

The Boeing (ex McDonnell-Douglas) F/A-18C is a true multi-role modern single-seat warplane - very agile in dog-fight and capable of a versatile weapon-load. The "Hornet" versions are marked as "A", "C", "B" and "D" (the last two are two-seat).

The "Hornet" is used by US Navy, US Marine Corps, Switzerland, Finland, Kuwait, Canada, Spain, Australia and Malaysian Air Forces.

Other "exotic" operators include NASA and acrobatic team "Blue Angels".

The F/A-18E single-seat and F two-seater versions are new, enhanced aircraft about to be adopted by the US Navy.
Hornet in 1/48 Scale Plastic


The F/A-18 is a very well covered subject in the model kit world. In 1/48 scale there is a good selection and range of quality available. Monogram produced an F/A-18C kit with raised panel lines and good details. Revell also produced an F/A-18C , but I have never seen it so I don't know about its quality. ESCI (ERTL) did a F/A-18 (?) marked as "A" or "C", but in reality it was a prototype replica with a poor level of detail and engineering. Italeri (Testor) produce a good F/A-18C/D, with recessed panel lines and the possibility to build one of the two versions in the same box. However, I read in magazines and reviews that this may not be an accurate"C" or "D" due to the style of vertical tail planes.

Last, but surely the best in level of detail and range of choices is Mr Hasegawa's offerings from Japan. Hasegawa produce a wide range of F/A-18 variants, colours and some "special editions".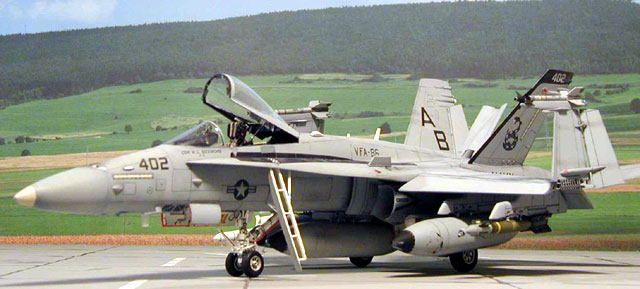 Many after-market manufactures produce resin detail sets (Verlinden, BlackBox, Cutting Edge), photo etched sets (Eduard) and decal sheets (SuperScale, Aeromaster, TwoBobs etc).


I used the 1/48 scale Hasegawa F/A-18C kit (code P26) for my project.

The kit parts are inside a big box, with beautiful cover-art representing a US Navy CAG-bird. Inside the box, the pieces are many and well detailed with recessed panel lines. There are also white metal undercarriage legs and a photo etched set for mirrors, ladder, chaff dispensers, instrument panel, HUD and undercarriage bay details.

As usual, Hasegawa is not generous with weapons load. There are a couple of AIM-9L, 4 tanks, a couple of double-rack for bombs (but no any bombs replica is included). They provide three different type of FLIR/Laser/Strike Camera pods.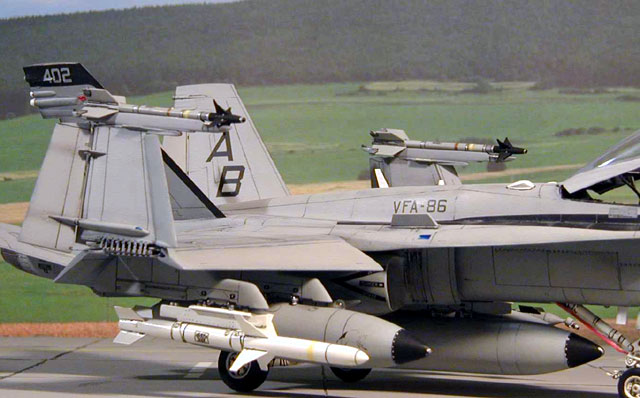 The biggest disadvantage of Hasegawa's F/A-18 is the price… the highest in his range.

Furthermore, this model is not a "shake and bake" kit. Some steps require modelling experience, especially for the filling and sanding. Many details might otherwise be ruined.

My objective was to represent an F/A-18C embarked on a super-carrier in the Adriatic sea, with folded wings, weapons loaded and ready to be placed on the catapult.
For wing folding I used the photo etched parts included in the Verlinden detail set. These parts are not easy to be used but it's the only game in town… excluding a rare-special-edition from Hasegawa with white metal wing fold mechanism.

A big mistake in the plastic parts is the front undercarriage right door: the bulged antenna is reversed and placed on the rear of the door; it must be moved in front and reversed. A "spare" undercarriage door without the antenna (for the "A" version) is supplied in the box.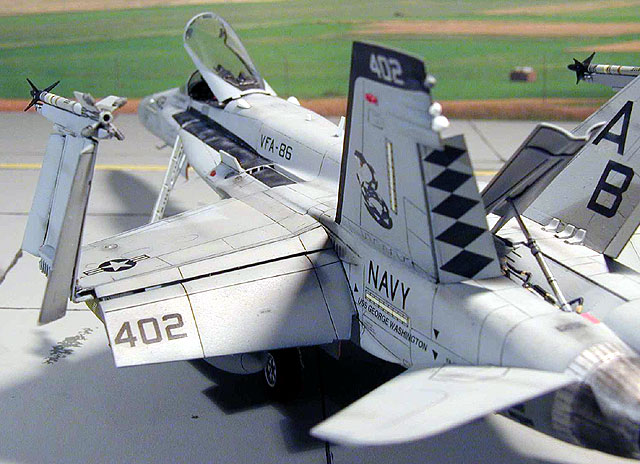 When I started this kit, no Black Box cockpit resin set was produced at that time, so I simply replaced the kit seat with a True Detail resin seat. I didn't used the one in the Verlinden set, because is good appropriate for the "A" version.

The other resin part used from the Verlinden set is the AGM-88 "HARM" anti-radar missile, with photo etched fins. The laser guided bomb "Paveway" GBU-12 come from the "AMRAAM LINE" resin set dedicated to this LGB, that include two of these.
Painting, Markings and Decals


Humbrol enamel paints were used to finish this model. Colors 127 and 128 (Light Ghost Grey and Medium Ghost Grey) were the camouflage, although it is very hard to see the demarcation line! A gloss coat prepared the kit for decals.

Decals come from an "Aeromaster" decal sheet. They produced many decal sheets for F/A-18A-C-D, for both the US Navy and US Marine Corps.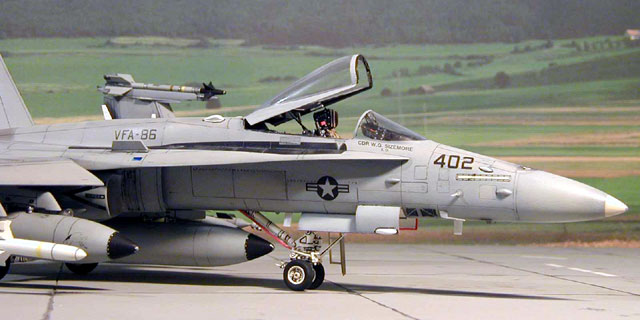 When the decals were setting, I applied another gloss cote and when it was dry, I finished with a matt cote.

Weathering effects were reproduced with pre-shading, pencil and dry-brush techniques.


There are many books and photos from the Internet dedicated to the F/A-18. They were a great help in planning and finishing this model.

Unfortunately, I had no time to reproduce a carrier deck section to place the model for the photo session!

Photos were taken using an Olympus digital camera.

CIAO!
Piero


Click on the thumbnails below to view larger images:
---
Model, Images and Text Copyright © 2002 by Piero De Santis
Page Created 28 May, 2002
Last Updated 04 June, 2007
Back to HyperScale Main Page
Back to Features Index