F-4S Phantom
by Ingo Degenhardt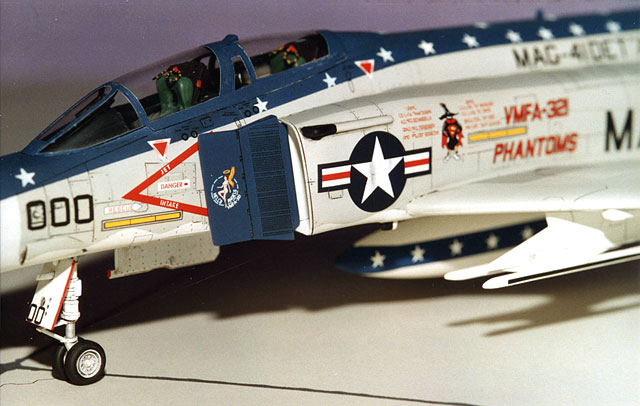 F-4S Phantom II
Images by Lutz Degenhardt


Hasegawa's 1/48 scale F-4J Phantom is available online from Squadron.com
Here is my F-4S Phantom II by Hasegawa. I initially intended to build it with some Superscale decals for a three-tone grey camouflaged aircraft I had on the shelf for quite a long time.
But after looking closer to the decal sheet and painting instructions of the kit, the colourful paint scheme turned out to be too enticing. So this model was built 'out-of the box' – including decals.
Basic assembly was the same as on my previously built F-4J (see the earlier article on HyperScale) with the respective differences for an F-4S – covered completely by Hasegawa's instructions and parts.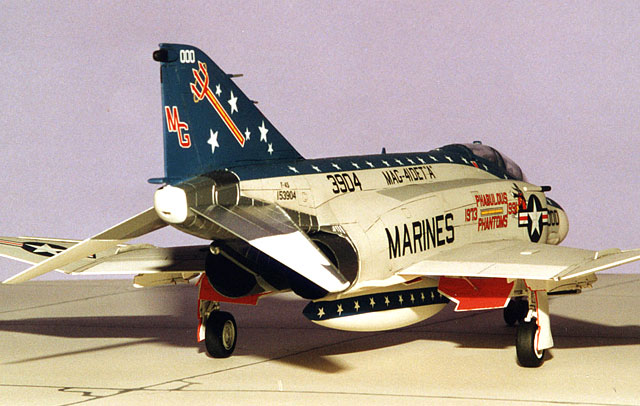 I used the one-piece canopy for this model, and it requires some dry-fitting together with part D35 (rear canopy fairing) before this is glued to the fuselage. But even with careful preparation and D35 in the correct position I was not satisfied with the fit of the one-piece canopy. My next Phantom will have open canopies again.
No ordnance was used on this kit. Only the 600 gal. Centerline fuel tank was fitted.
Most of the large areas of dark blue on this aircraft are provided as decals, but I prefer spray painting whenever possible and Hasegawa offers all the smaller decals needed separately, thus making the decision much easier.
Painting sequence was also the same as on my F-4J, of course with the exception of the dark blue, which was painted last. I used Revell's Gloss blue No. 51. The only blue decal used is the one for the fuel tank and in comparison the colour's match is very good. FS16440 Gull Grey is XTRA-Color.
The two sizes of white stars were also spray-painted, using an etched-metal stencil template originally made for use on US armour. This worked very well though it is a little bit tricky to get all the stars in the correct position.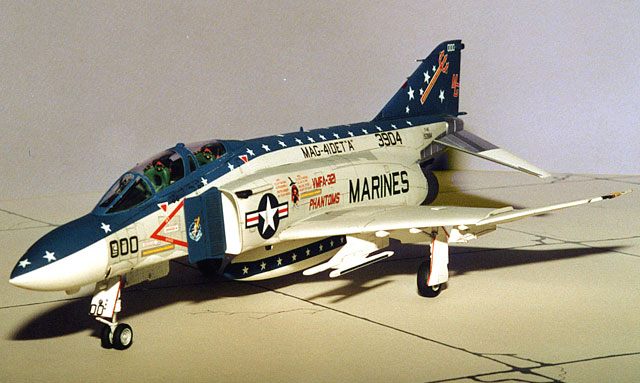 Decals
The paint scheme is a commemorative scheme by air artist Don Spering for the aircraft's retirement ceremony in 1991, when it served with VMFA-321 "Hell's Angels" as part of Detachment 'A' of Marine Air Group 41, when they transitioned to the F-18. Note absence of nearly all small stencilling on this aircraft.
Although I am used to Hasegawa decals and all the preparations (gloss paint coat, Micro Set/Sol) were as usual, I suffered from a lot of silvering this time, so there had to be some drybrushing and even some real over-painting in some of the inflicted areas. So I was even happier with my decision to have sprayed all the little stars on the dark blue areas.
So I am still here with the Superscale decals the kit was bought for. If they will ever be used, I do not know. But there is no doubt that this was not my last of the Hasegawa Phantoms. I will make many more, especially when the F-4B becomes available again.

Sources: http://www.aviationky.org/events/f4service.html
Click the thumbnails below to view larger images:
---
Model and Text Copyright © 2003 by Ingo Degenhardt
Images Copyright © 2003 by images by Lutz Degenhardt
Page Created 04 January, 2003
Last Updated 04 June, 2007
Back to HyperScale Main Page
Back to Features Index