F-16A "Venezuelan Viper"
by Fabian Nevarez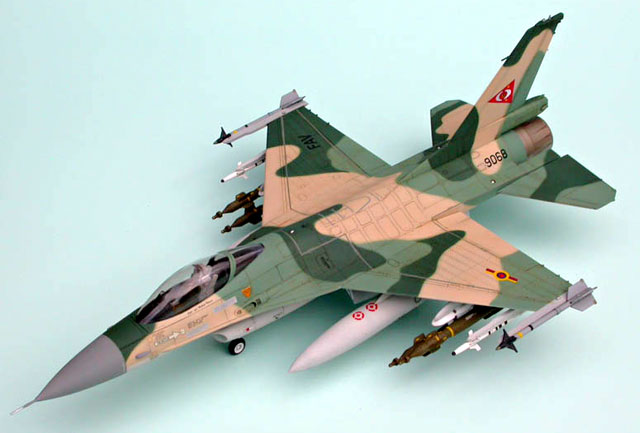 F-16A "Venezuelan Viper"
In May of 1982, the government of Venezuela signed an agreement to buy 18 Block 15 F-16As and six Block 15 F-16Bs to replace the fleet of Mirage III interceptors and Mirage 5 ground-attack aircraft serving with the Fuerza Aérea Venezolana (FAV). This purchase was under the Peace Delta Foreign Military Sales program, and took a long time to be approved, because the US government wanted to sell Venezuela the F-16/79 instead. However, in 1983, the US government finally approved the sale of the F100-powered F-16 to Venezuela, and the first aircraft was accepted for the Venezuelan Air Force in September of 1983. Final delivery took place in November 1985 when the 24th aircraft arrived at El Libertador AB.
---
Original Colors
These Fighting Falcons were unique in having a "jungle" camouflage scheme in colors similar to those used by the USAF during the Vietnam war, composed of (approximate colors)
Dark Green (FS34079),

Medium Green (FS34102),

Tan (FS30219) and

Light Gray (FS37875),
applied at General Dynamics' Forth Worth plant.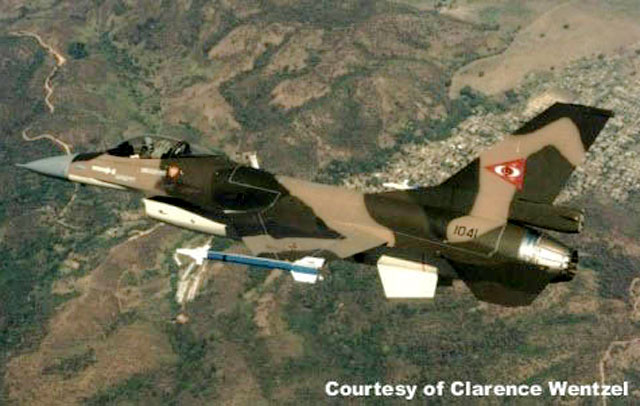 Operations and Upgrades
The parent unit is Grupo Aero de Caza No. 16, which operates Escuadron 161 "Caribes" and Escuadron 162 "Gavilanes", both based at El Libertador AB, Palo Negro. Although originally bought to replace the fleet of 24 Mirage III V and 5V, the FAV decided to update these planes and convert them to Mirage 50. In 1990, the FAV retired their Canberras from service and the F-16 took over their ground attack role. Pilots of both squadrons are trained on the roles of air defense, ground attack, air superiority and interception.

Starting in 1997, a series of programs were implemented, aimed at fielding the LITENING laser designator and infrared navigation pod produced by Rafael in Israel; to replace the Litton AN/ALR-69 radar warning receiver with an enhanced Elisra SPS-2000 RWR also from Israel as well as installing the Litton LN-93 ring laser gyro. The Litening pod provided the FAV with a capability to use precision-guided munitions, such as the 500-pound GBU-12 and 1,000-pound GBU-10 laser-guided bombs and other PGM of Israeli manufacture that are now part of FAV's inventory. In a similar manner, Grupo 16 also acquired night vision capability for its F-16s, which encompassed installing cockpit and external lighting that is fully compatible with night vision goggles. FAV F-16`s were also updated to receive the Lima version of the Sidewinder missile to be used along the AIM-9P already in service. Another major program was the refurbishment of the F100-PW-200 engines to bring them up to PW-220E standard.
The Litening pod and the NVG capability of the FAV F-16s account for the F-16s being called into night action to counter illegal border incursions and illegal incursions into Venezuelan air space. In the latter missions, the infrared capabilities of the Litening pod, designed primarily for air-to-ground use, provided the FAV with a useful instrument in the air-to-air regime as well because the system aids nighttime intercepts.
---
New Colors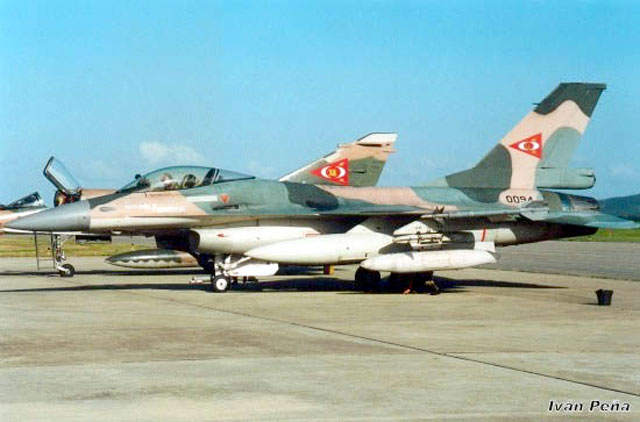 Along with these upgrade programs, the entire fleet of F-16s was gradually repainted, retaining the same basic scheme patterns but different hues where locally applied. This time the (approximate) colors used were SAC Dark Green (FS31092), Pale Green (FS34373), Sand (FS36642) and Light Gray (FS37875) giving way to a more vivid, peculiar scheme.
Building a Venezuelan Viper in 1/48 Scale
Hasegawa's F-16A Plus
For this project in which I depict the current, upgraded version of the FAV Falcons, I started with Hasegawa's F-16A-plus kit that I already had, knowing that I would had to add the extended drag chute housing, peculiar to Venezuelan Vipers.
For this item I borrowed the spare housing from the Italeri F-16B/D kit that, after removing Hasegawa's original housing and some sanding and dry-fitting, assembled perfectly without need for putty.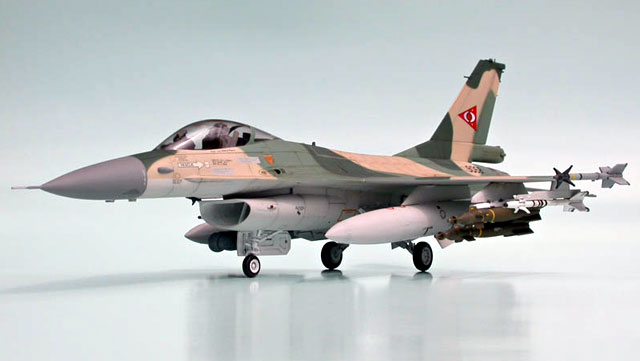 I also added the RWR antennas to it and moulded the parachute pack out of Milliput. After I made these changes, the construction went forward without major problems, except for the very bad air intake/duct assembly typical of Hasegawa's 1/48 Falcons.
Once the airframe was completely assembled I pre-shaded all panel lines with "aircraft interior black" color in preparation for the first coat of camouflage. After doing some research I decided to go for my own selection of colors since all my references contradicted themselves for the "right" colors to be used. Based on a good amount of pictures from different sources I selected the FS33531 for the Sand coat which I applied very thinned to the whole topside to gradually cover the pre-shaded panels, giving a lighter pass in the areas intended for the green tones and then I left it to dry overnight.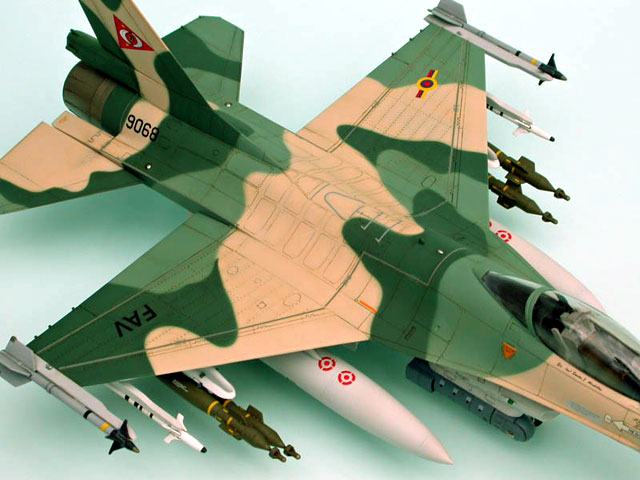 Next I depicted the Medium Green patterns with rolled strings of Blu-Tack and masked-off the Sand patterns with paper tape. For the Medium Green I prepared my own color by mixing Russian Interior Green, Russian Topside Green and a few drops of Medium Gray. Some hours later I masked for the Dark Green patterns and applied a couple of light coats of "European Dark Green" mixed with one or two drops of US Dark Green. Finally I hard-masked the division between topside and underside and applied several thinned coats of Light Gray FS36495 to smoothly cover the pre-shaded panels on the bottom side of the model.

A coat of Future followed and once it dried I applied the FAV markings using decals from Aztec's "Latin Eagles II" set, conformed to recessed areas with the help of MicroSol. Stenciling and walkways came from the kit's own set since Venezuelan Vipers carry all aircraft data in English, plus some others from a SuperScale F-16 data sheet. Later, a second coat of Future was given to seal the decals and then I proceeded to enhance the recessed panel lines and lightly weathering the model by giving a wash with artists' oil paint (burnt umber) diluted in turpentine. Finally, a coat of DullCote lacquer was applied to flatten the whole finish.
Bombs and missiles came from various Hasegawa Weapons sets kindly supplied by Gary Ferris as well as the LANTIRN pod which I modified by means of surgery and decals to resemble the Israeli-made LITENINIG pod, following several drawings and suggestions provided by Mr. Ferris.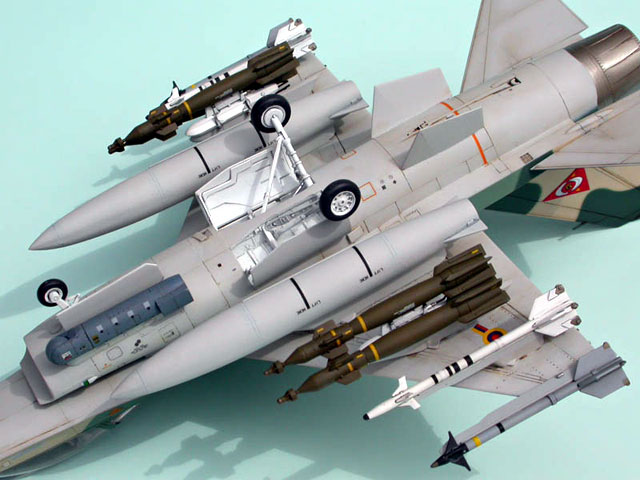 The Litening pod was painted in FS35164 Intermediate Blue. Decals came from the Hasegawa Lantirn pod and some others made from scratch decal sets.
The model was finished in approximately one month's time and all in all, a very interesting subject to research and build and an eye-catching addition to my Latin American collection.
Acknowledgements and Sources

Acknowledgements
To Clarence Wentzel, Ivan Peña and Richard Tovar from FAV-Club for allowing me to use their original photographs and info in this article and to fellow Hyperscaler Gary Ferris for providing the Hasegawa weapons and information on the Litening pod.
---


References
Click the thumbnails below to view larger images:
---
Model, Images and Text Copyright © 2002 by Fabian Nevarez
Page Created 21 October, 2002
Last Updated 04 June, 2007
Back to HyperScale Main Page
Back to Features Index