F-15N Sea Eagle
by Darren Roberts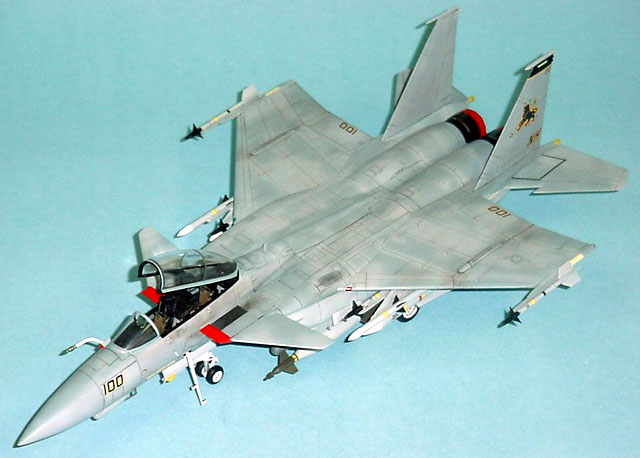 F-15N Sea Eagle


Revell-Monogram's 1/48 scale F-15E is available online from Squadron.com
Every so often, I take a break from "real" modeling and let my imagination take off. That's what happened when I opened up Revell-Monogram's beautiful 1/48 scale F-15E Strike Eagle.
Being a Navy buff, I began to wonder what would happen if they navalized the F-15E. After all, the Russians did it with the Su-27! What really sealed the deal was the engineering of the wings, which created a perfect line for a wing fold. I tried to think in "How would they really do it?" terms, but there were times I just thought something looked cool, so I did it.
Converting Revell-Monogram's 1/48 F-15E
I began by adding an 8 x 8 PTIDS screen in the RIO's instrument panel and replacing the ACES II seats with NACES.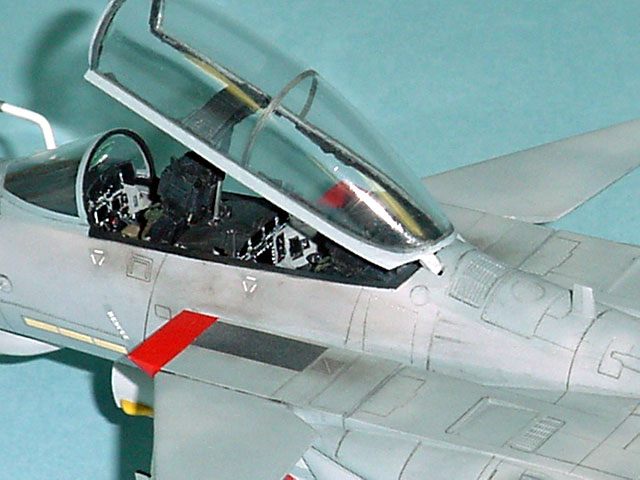 I cut out a front wheel bay from Revell's F-18 and grafted it into the F-15 after I widened the area. The gear doors also came from the F-18. The landing gear came from the spares box. They were originally F-14 gear, and they looked "beefy" enough to fit the bill. I canted the mains because I figured the stance of the F-15 was a bit too narrow.
Next up was adding front canards (this fell in the category of looking cool), which started life as the horizontal stabilizers from an AV-8B, and the dual chin pod from Revell's F-14D. I also added a Navy style refueling probe on the right side of the fuselage as well as clipping the wingtips, adding Sidewinder rails and adding ventral strakes to the underside of the fuselage.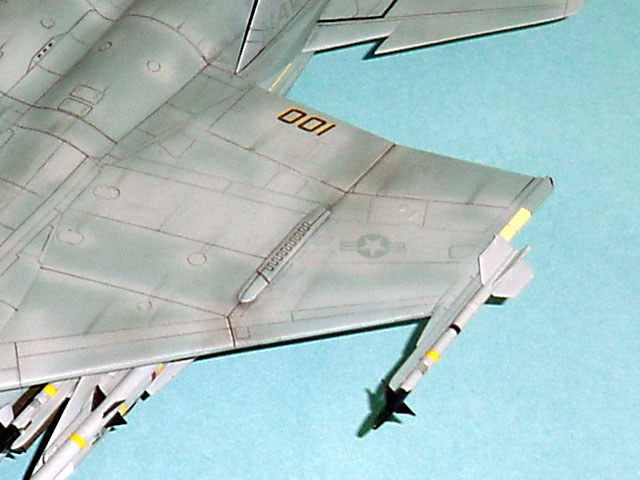 For the wing fold mechanism, I cut out the wing folds from Revell's F-18, sanded them down a bit, and put them in place.
The last changes I made were to add GE F110 engine nozzles from the Revell F-14 kit, as well as that kit's tailhook. Everything else was built per the instructions.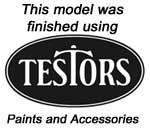 I painted it using Model Master Acryl paints in the typical TPS scheme that's worn on Navy F-14's. I sprayed some lighter grays to get the weathered, blotchy effect that is so common on Navy aircraft.
I ran a Micron .01 pen through the panel lines, wiped off the excess with a wet Q-Tip, and brushed on some pastels to dirty it up a bit. I chose markings for VF-213, since I had them in my spare decals box and really didn't want to spend any extra money.
I've been told I have too much time on my hands, but I say that it's fun to wander into "What-if" land every once in a while.
Who knows? When they realize the new Super Bug isn't so super, maybe they WILL try to navalize the F-15…oops, that was another foray into "What-if" land!
Click the thumbnails below to view larger images:
---
Model, Images and Article Copyright © 2002 by Darren Roberts
Page Created 18 August 2002
Last updated 04 June 2007
Back to HyperScale Main Page
Back to Features Page