E-8/2
by Konrad Kondrat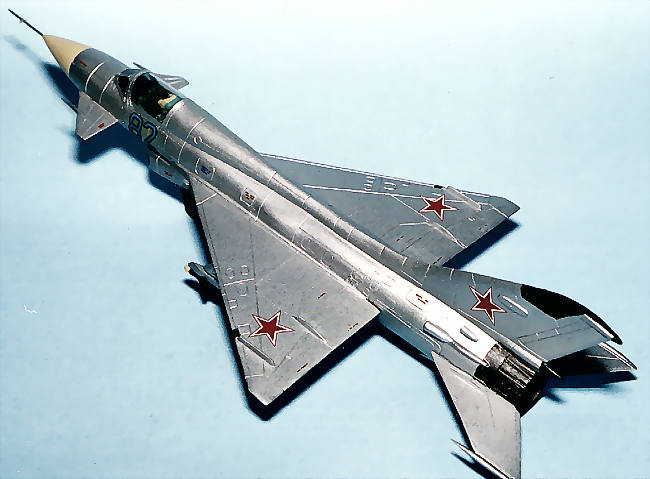 E-8/2
images and translation by Wojciech Perkowski


HyperScale is proudly supported by Squadron.com
The Soviet E-8 is not only one of the most original experimental planes based on the MiG-21 but one of the most mysterious too. There are discrepancies in Soviet and Russian sources even nowadays.
Nevertheless the fact is some construction solutions were used in next O.K.B. MiG fighters (starting from MiG-21 PFM and even till MiG-29).
Work on new version of MiG-21 was started in 1960. The intention was to significantly improve maneuverability, speed and equipment including new long range radar. Front horizontal stabilisers were earlier tested on E-6T3 plane.
According to O.K.B. MiG sources, the E-8 was born "as usual" from rebuilt MiG-21 PF. Meanwhile the construction team led by N. Mietzkharishvili called the prototype the MiG-23.
In fact only wings and rear horizontal stabilisers resembled the MiG-21 PF. All the rest looked new.
The prototype of the new R-21F-300 engine (developed later into R-27F-2M300 and used in MiG-23) was also used. Minor additions like a parachute container in the vertical stabiliser root and new KM-1 ejection seat were utilised in the next, serial produced Mig-21 PFM. A retractable (towards right) stabiliser similar to MiG-23 one was mounted under the rear fuselage . The most distinctive characteristic of the E-8 was an under-fuselage air intake with a wedge (incorporating the front undercarriage bay) adjustable in 3 steps.
The first E-8/1 prototype started test flights in 1962. The well-known test pilot - G. Masolov - flew the aircraft until a tragic accident in Autumn 1962, when the engine choked at 8000 m. at supersonic speed while in "upside-down" flight. Masolov was badly injured one leg and shoulder while ejecting. Additional injuries were incurred from the parachute landing. Masolov survived but his career as a test pilot was over.
The second prototype E-8/2 was to be armed with R-3S rockets and Shafir – 21 radar. But in fact it used to fly only with dummy rockets and weight equivalent for new radar. Test flights were executed by known pilot too – A. Fiedotov, but for short time, as E-8 program was suddenly abandoned in 1963 for unknown reasons.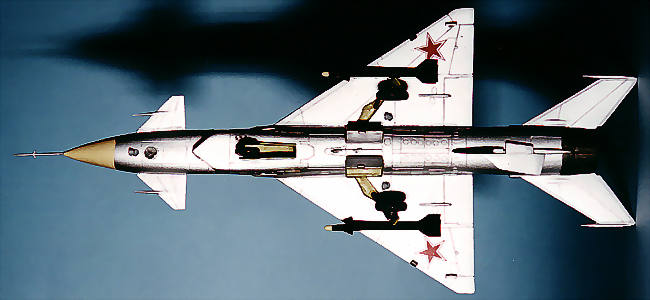 It's worth noticing that in spite of frequent engine choking, the ventral air intake conception was obstinately kept. Some light on this situation cab be thrown on this attitude when, in 1962 other O.K.B. MiG team led by R. A. Bielakov started works with construction later called officially MiG-23. All initial projects used side air intakes. So, it's difficult to state whether E-8 was only experimental plane or alternative new MiG prototype. It's worth noting, though, that R. A. Bielakov was also the leading constructor of MiG-29 which has belly air intakes.
Only photos and drawings (1) left after E-8. E-8/2 was probably wrecked.
My 1/72 model was almost scratchbuilt. There is vacuform kit by Frank-Modelbau (earlier Airmodel) but it's silhouette isn't even close to real E-8.
The kit is only "almost"scratchbuilt, as Bilek MiG-21PFM wings and rear stabilisers were able to be used. The main undercarriage is from this kit too. I decided to make my E-8/2 model armed. Pylons, were taken from the Academy MiG-23S. Also reshaped belly stabiliser and fuselage nose came from that kit. Fortunately Academy's MiG-23S nose is in fact ML version (not S as the box states) and is suitable for E-8.
Creating the front fuselage was rather challenging. Tons of putty, styrene pieces and other materials were used. Especially difficult was the air intake. It's cross-section is hexagonal, close to rectangular and I am not happy with my final result here. However the wedge inside intake and wedge separating boundary layer between intake and fuselage was quite successful.

Minor scratchbuilt details include the front undercarriage, landing light, camera window, air outlet covers on intake sides, telemetric antenna between main undercarriage doors. Also scratchbuilt are the front horizontal stabilisers and rear fuselage air intakes including these characteristic ones joined with exhaust nozzle actuators. Unfortunately the exhaust nozzle was scratchbuilt too.
The whole fuselage was rescribed, and the wings needed some improvement including control surfaces actuators fairings in non-standard way located on wing upper surfaces.
Bilek's MiG-21PFM cockpit was utilised, KM-1 ejection seat. The cockpit was painted with Agama C35M Russian Modern Interior.
Vertical stabiliser's top and fuselage top required some improvements.
A new canopy was quasi - vacuformed.
My E-8/2 was painted with
Revell 91 Aluminium (overall airframe),

nose and rocket warheads - Revell 314 Beige,

green dielectric surfaces, parachute container, wheel discs - Humbrol 30,

tires - Humbrol 32.
My own various paints mixes were used for exhaust nozzle, black - green rockets body and chromate yellow undercarriage bays.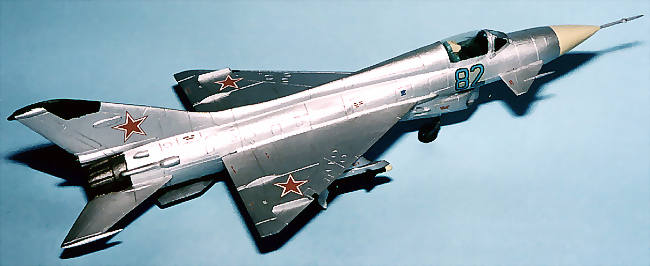 Decals – stars and stencils seen on photos came from my spare box. The blue 8 from tactical number is for E-8 and the 2 means second prototype.
The whole model was sprayed with Humbrol Satin Cote.
Click the thumbnails below to view larger images:
---
Model and Original Text Copyright © 2002 by Konrad Kondrat
Images and Translation Copyright © 2002 by Wojciech Perkowski
Page Created 19 December, 2002
Last updated 04 June, 2007
Back to HyperScale Main Page
Back to Reviews Page