Messerschmitt Bf 109K-4 Night Intruder
by Ian Robertson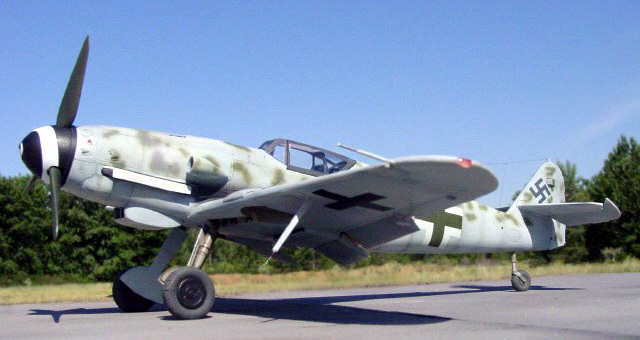 Messerschmitt Bf 109K-4 night intruder


Hasegawa's 1/48 scale Bf 109K-4 is available online from Squadron.com
This is Hasegawa's 1/48 Messerschmitt Bf.109K-4 in a rare night intruder camouflage scheme. According to the 2000 edition of JaPo's book "Messerschmitt Bf 109K - Camouflage and Marking" this aircraft most likely belonged to NJG 11 although its identity has not been confirmed.
A color profile of the aircraft is shown on the back cover of the book, and a black and white photograph and line drawing appears within.
Much has been said about Hasegawa's Bf.109's so I'll defer to other articles for construction notes. My model was built with the following modifications and additions: thinned headrest with clear acetate window, repositioned control surfaces on tail, wire loop antenna, stretched sprue antenna wire, wire brake lines, etched metal seatbelts (Eduard), wing tip lights shaped from clear sprue, and extended exhaust shrouds (indicative of a night fighter) made from sheet styrene.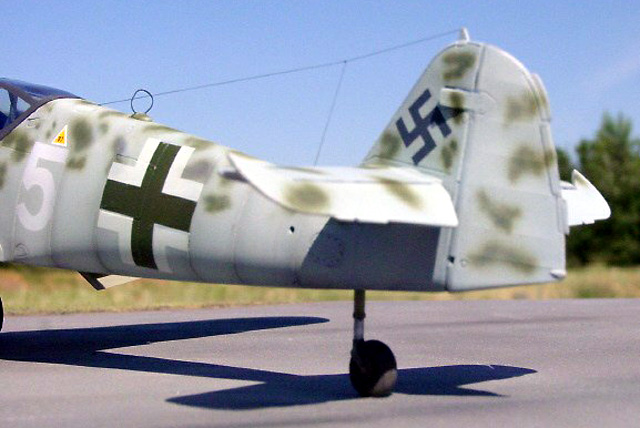 Most photographs of the Bf.109K-4 show the tail wheel doors closed, not open as done by Hasegawa. Therefore, I cut the doors off my model and used "half round" styrene and CA glue to close them up. When the CA glue dried the area was sanded flush with the model's surface and gear doors were scribed.
Markings for this particular aircraft have been produced in 1/48 scale by KommanDeur Decals. However, because the markings are relatively simple I opted to use a combination of spare decals and templates for the markings on my model.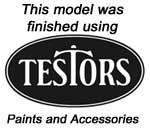 All painting was done using Polly Scale acrylic paints and an Iwata HP-C airbrush. Panel lines were pre-shaded in black. White was then painted on the fuselage sides just aft of the cockpit. Masks (made from Tamiya tape) for the number 5 were then applied and they remained on the model until camouflage painting was complete. A spare #5 decal (of the proper configuration but wrong color) was used as the template for the masks.

The centers of the wing and fuselage crosses were painted RLM83 and then masked as described above until the camouflage was painted.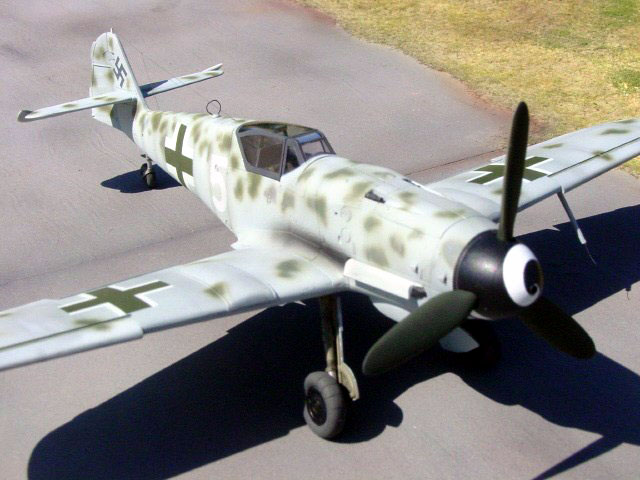 The upper and lower surfaces of the model were painted RLM 76 followed by mottles of RLM83 (and a few RLM75 on the nose) as indicated in the JaPo book (note that Kommadeur suggests RLM81 and 83 mottles). The cockpit and canopy frame were painted RLM66. The spinner was painted black with RLM70 propeller blades. Wheel wells and the interior gear door were painted RLM02.

The model was sprayed with Testors Metallizer Sealer prior to the addition of decals. The fuselage and upper wing crosses were carefully aligned with the RLM83 centers which had been masked on the model earlier. The simplified underside wing crosses were applied as a black decals.

Exhaust stains were sprayed using highly thinned black paint. In addition, uneven applications of highly thinned black paint were sprayed over the model to subdue it's "clean" appearance.
All images were taken outdoors on a bright day with my SONY S-75 digital camera set at its highest picture resolution (2048 x 1536 pixels).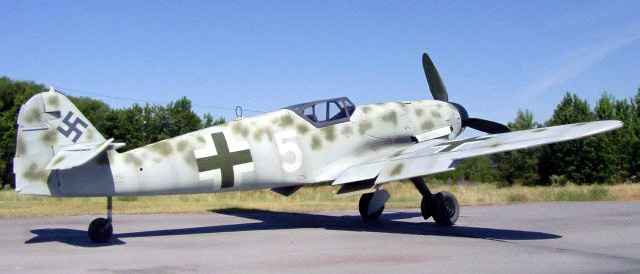 Other camera settings were as follows: 200 ISO film speed (even though digital cameras don't have film!), 1/800thsecond shutter speed, F-stop 8.0, and fixed focus distance of either 20 or 30 cm. Images were cleaned up using Adobe Photoshop 6.0 for the Macintosh. Specifically, the interface between the base and background were merged using the software's "blur" tool, and the "sharpen edges" feature was used to compensate the lost resolution during image compression.


Click the thumbnails below to view larger images:
---
Model, Images and Article Copyright © 2002 by Ian Robertson
Page Created 29 August 2002
Last updated 04 June 2007
Back to HyperScale Main Page
Back to Features Page