Messerschmitt Bf 109 E-7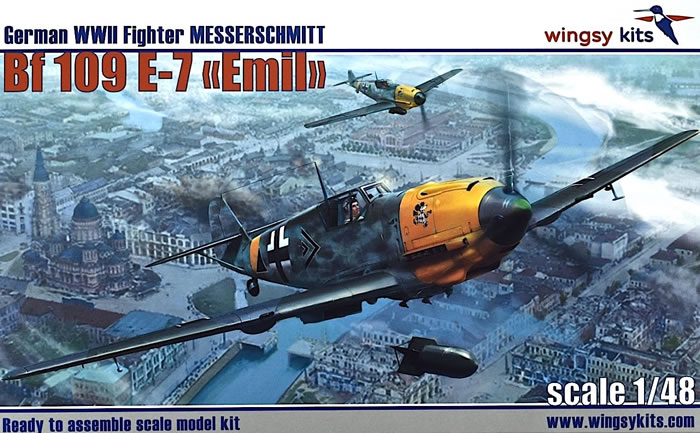 Wingsy Kits, 1/48 scale
S u m m a r y :

Description and Item No.:

Wingsy Kits Kit No.D5-11 - Messerschmitt Bf 109 E-7

Contents and Media:

147parts in grey styrene (not all are used), 5 clear parts, 55 Photo-etch parts, and one decal sheet with markings for 4 aircraft.

Price:

TBA

Scale:

1/48

Review Type:

First Look

Advantages:

This is a new-mold kit with impressive surface details. Add to that, an immense amount of detail right out of the box along with PE belts, masks, and four colorful schemes covered by crisply printed decals.

Disadvantages:

None noted.

Recommendation:

This is a beautiful kit-period. If you're thinking about a 1/48th Bf-109E-7, contemplate picking up the Wings Kits version. Highly Recommended!
Reviewed by John Miller

"Another 1/48th Emil? Really?" These were my thoughts as I approached the new Wingsy Kits Bf-109E-7 on the shelf of my favorite local hobby shop, Skyway Models. Now, don't get me wrong, I luvs me some -109; long have I been smitten with the diminutive yet lethal single-seater but, another Emil? Really? Well, after examining the contents of the box, I'm a changed man. Another Emil? Heck yea! Did I mention you can make an accurate E-7? This is one beautiful kit with an abundance of detail that screams "build me" from the moment the box is opened. Ah, so many awesome models, so little time...
---
Background
The Messerschmitt Bf 109 is a German WWII fighter aircraft that was, along with the Focke-Wulf Fw-190, the backbone of the Luftwaffe's fighter force. The Bf 109 first saw operational service in 1937 during the Spanish Civil War and was still in service at the end of World War II in 1945. It was one of the most advanced fighters when it first appeared, with an all-metal monocoque construction, a closed canopy, and retractable landing gear. It was powered by a liquid-cooled, inverted-V12 aero engine and was called the Me 109 by Allied aircrew and some German aces, even though this was not the official German designation.

The Bf 109 was flown by the three top-scoring fighter aces of all time, who claimed 928 victories among them while flying with Jagdeschwader 52 mainly on the Eastern Front. The highest-scoring, Erich Hartmann, was credited with 352 victories. The aircraft was also flown by Hans-Joachim Marseille, the highest-scoring ace in the North African Campaign who shot down 158 enemy aircraft (in about a third of the time). It was also flown by many aces from other countries fighting with Germany, most notably the Finnish ace Ilmari Juutilainen—the highest-scoring, non-German 109 ace with 126 confirmed kills. Pilots from Italy, Romania, Croatia, Bulgaria, and Hungary also flew the Bf 109. Through constant development, the aircraft remained competitive with the latest Allied fighter aircraft until the end of the war.
(Text Edited from Wikipedia)

The Kit
The kit comes in a white, sturdy, cardboard box with a thinner, colored box-top. I appreciate companies that use these sturdy double-boxes as it makes stacking kits in ye olde stash so much easier with less concern of crushed boxes. Inspection of the sprues reveals little-to-no flash with which to contend. The sprue gates are small and strategically placed for ease of assembly. The parts, even the smallest, are amazingly crisp and will require little clean-up prior to use. This is a beautifully molded kit with surprisingly few parts considering the high level of detail.
The surface details, both recessed and in-relief, deserve comment; they're some of the finest this reviewer has seen and on par with any manufacturer.  A sincere "Well done" goes out to the folks at Wingsy Kits. This is a some beautifully molded styrene. 
The parts layout and engineering are conventional so assembly begins with a very detailed cockpit right out of the box. A photo-etch fret is provided with many parts including a harnesses for the well-molded seat. Of note, is the nicely detailed rudder pedal assembly complete with PE linkage and foot straps.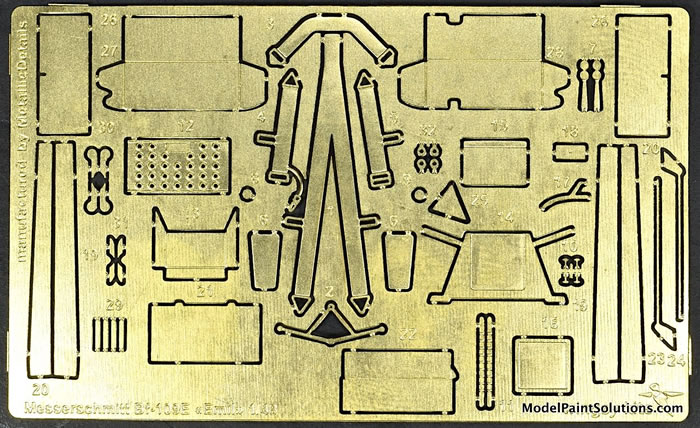 Crisply molded cockpit side panels (left and right) are augmented with a throttle assembly, PE map case, and clear-styrene fuel line with a fuel flow indicator window; very nice. The side panels along with a forward bulkhead are joined to a single-piece cockpit floor producing a detailed cockpit tub that inserts through the wing-box of the assembled fuselage halves. This is augmented with a crisply-molded instrument panel, the instrument faces of which are provided on a decal. Multiple PE levers finish out what is a very detailed assembly.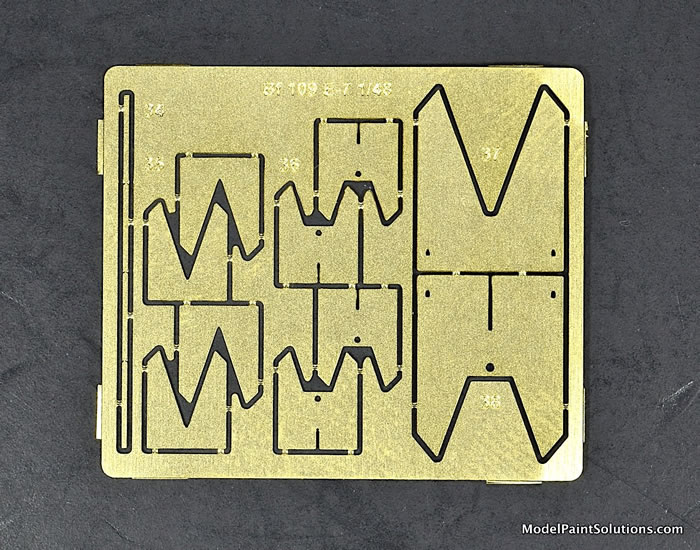 Next in sequence is the propellor. Of note, is the nicely replicated gearing on the cuff of each blade, which on the Emil is readily visible through the propeller hub. This area will look awesome under carefully applied paint and washes. The prop is followed by the nicely detailed main gear, each side composed of 4 parts and utilizing single-piece main wheels/tires.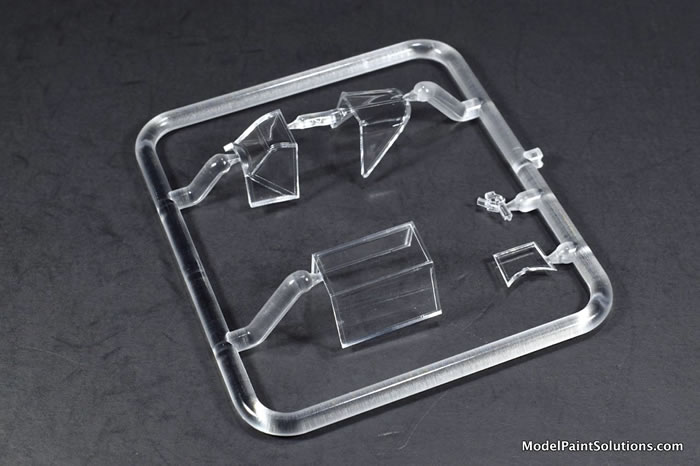 Multiple aspects of the fuselage layout go a long way to making the assembled model more convincing. Prior to joining the fuselage halves, parts are added that serve to provide small engine details that will only be seen through the cooling slits in the cowl. There's no need to scratch blanking plates out of styrene to stop light coming through the cowl cooling slits. Nope, Wingsy Kits provide you with engine details instead. First, part D20 replicates the top of the crankcase of the Daimler-Benz DB 601 that is seen through small cooling slits on each side of the upper cowl just behind the prop hub. In addition, part E6 replicates plumbing that connects the two cylinder banks and is visible through the small, square, cut-out in the lower chin cowl just aft of the hub. Both of these parts are nice examples of simple engineering that make for a much more convincing model.  
For those that opt to build a tropicalized E-7, the prominent carburetor air intake is augmented with a nice photo-etch air filter face.    
The main wings comprise a full-span lower wing with left and right upper halves. Prior to joining the main wing parts, nicely detailed wheel wells, each composed of 2 parts per side are installed. Prior to joining the wings to the fuselage, the assembled cockpit is inserted through the bottom of the wing box. The horizontal stabilizers, comprised of upper and lower halves along with their external braces are added next thereby completing most of the airframe.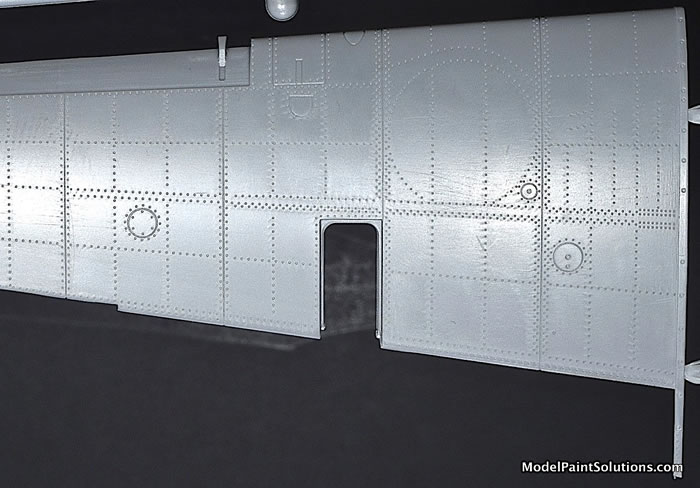 To finish up, photo-etch exhaust deflectors and nicely-molded exhaust stacks are added. The ailerons and elevators are both single-piece and poseable as are the multi-part flaps. The leading edge slats are designed to mount in the deployed position as would be appropriate if the aircraft were sitting on the ground.
The canopy parts are crisply molded and crystal clear with scale-appropriate framing. Of note is the photo-etch rear-view mirror provided for the top of the windscreen; very nice. In addition, the center section of the canopy, which can be posed open, is augmented with a very detailed photo-etch headrest/armor plate assembly.
Since the E-7 was a long-range fighter-bomber and could carry multiple munitions on a fuselage centerline rack, the kit provides a good assortment of appropriate and nicely detailed stores. In addition to a detailed 300L drop tank and its rack are both ETC50/VIII and ETC500 centerline racks. This permits 1 250kg, 4x 50kg, or 96 small anti-personnel bombs to be hung on the appropriate centerline rack; very nice.
---
Markings
The decals, by Wingsy Kits, are crisply printed with good color density.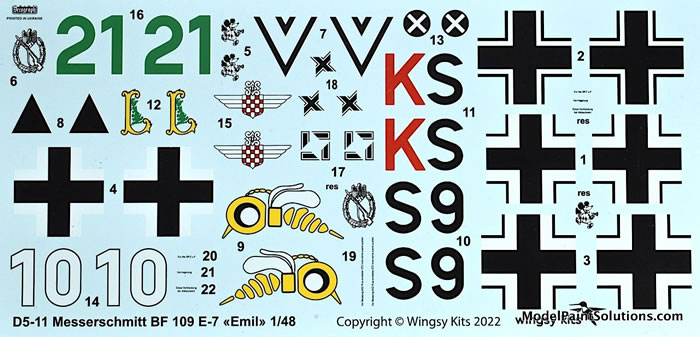 Markings and airframe stencils are provided for four airframes all of which served in or close to Ukraine during 1942.

Die-cut vinyl canopy masks are also provided.
Messerschmitt Bf-109 E-7, Stab I./Sch.G1. Pilot: Maj. Alfred Druschel, Kharkiv, Ukraine, 1942.

Messerschmitt Bf-109 E-7, Tropical. I.(J)/LG2, Mariupol, Ukraine, 1942.

Messerschmitt Bf-109 E-7, 8/ZG1 I.(J)/LG2, Belgorod, Russia, 1942.

Messerschmitt Bf-109 E-7, Tropical. 15.(Kroat.)/JG52. Pilot: Hptm. Josip Helebrant, Crimea, 1942.
Good Golly, Miss Molly! This is some beautiful styrene! The surface details are abundant and beautifully rendered, the cockpit has an amazing amount of detail right out of the box, all the control surfaces are poseable as is the canopy, and the decals provide markings for four very colorful schemes along with complete airframe stencils. Man, whaz not to like? Another 1/48th Emil? Heck yea! Highly recommended to all 109 fans everywhere. Keep 'em coming, Wingsy Kits!!
Now go paint something!
—J
Kit eagerly purchased by reviewer, again—yes, again.
For more on this review visit Modelpaintsolutions.com:
https://modelpaintsol.com/reviews/wingsy-kits-48-109-e-7-d5-11
---
Review Text and Images Copyright © 2023 by John Miller
Page Created 9 February, 2023
Last updated 9 February, 2023
Back to HyperScale Main Page
Back to Reviews Page