Breda 65A-80
Aviazione Legionaria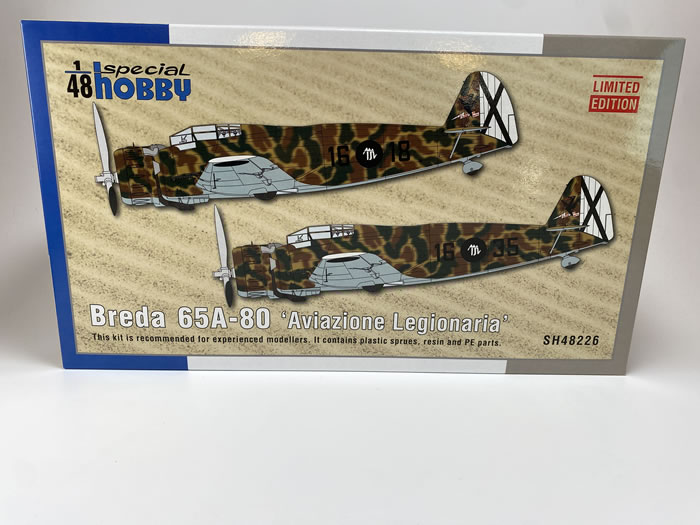 Special Hobby, 1/32 scale
S u m m a r y :

Description and Item No.:

Special Hobby Kit No. SH48226 - Breda 65A-80 'Aviazione Legionaria'

Contents and Media:

Plastic, resin and photo-etched parts; decals for two marking option; instructions.

Price:

£35.99 EU Price (£29.99 Export Price) plus shipping available online from Hannants

€35,91 plus shipping available online from Special Hobby's website

Scale:

1/48

Review Type:

First Look

Advantages:

Unusual subject; high level of detail; nice recessed surface textures; high quality decals.

Disadvantages:

Limited run nature of the kit will require some previous experience.

Conclusion:

It's great to see this reedition of this limited run kit. It's not for the beginner but with patience, work and skill a very nice looking model can be achieved .

It's quite an unusual subject in 1:48, but a very welcome one when it was release and still is now that has being release!

Highly Recommended.
Reviewed by Francisco Guedes

"Intended as an aeroplano di combattimento, capable of fulfilling the roles of interceptor fighter, light bomber, or reconnaissance/attack aircraft as required, the prototype Breda Ba.65 (MM 325) made its initial flight in September 1935, piloted by Ambrogio Colombo. It was a cantilever low-wing monoplane with main landing gear units retracting rearwards into underwing fairings. Basic structure of the fuselage and wing was of chrome-molybdenum steel alloy tubing, covered overall with duralumin sheet, except for the trailing edges of the wing, which were fabric-covered. The wing incorporated trailing-edge flaps and Handley Page leading-edge slats. A single fin and rudder tail assembly was strut- and wire-braced, and was of steel construction with light alloy skins.
An initial production order for 81 Ba.65s was placed in 1936, all powered by the French Gnome-Rhône K-14 engine of 700 hp (522 kW) as had been installed in the prototype. A batch of 13 aircraft from this production series equipped the 65a Squadriglia of the Aviazione Legionaria, the Italian air contingent sent to support the Fascist cause in the Spanish Civil War .The unit took part in operations at Santander in August 1937, then at Teruel, and in the battles for the River Ebro. Like the prototype these were single-seat aircraft, with the pilot's cockpit fully enclosed by a glazed canopy which tapered to the rear.
Experience in Spain indicated that the Ba.65 was suited only to the attack role, and the type served thenceforth with most of the eight squadriglie attached to the two Regia Aeronautica assault stormi (wings), the 5° and 50°. A second series of 137 aircraft was built by Breda (80) and Caproni-Vizzola (57), before production ended in July 1939. They differed from the first production batch by having Fiat A.80 engines. Six Fiat powered Ba.65s and four more of the Gnome-Rhône powered version were sent to the Aviazione Legionaria in Spain in 1938.
Following Italy's entry into World War II in June 1940, Ba.65s were involved in the fighting in North Africa against the British. They had a low serviceability rate in desert conditions and put up an unimpressive performance. The last serviceable aircraft was lost during the British offensive in Cyrenaica in February 1941.
A large number of the Ba.65s serving with Italian units were of two-seat configuration, with an observer/gunner in an open cockpit above the trailing edge of the wing. A smaller number of the type had a Breda L type turret, but in either case the observer/gunner operated a single 7.7 mm (0.303 in) machine-gun. While offensive armament could theoretically comprise up to 2,205 lbs (1000 kg) of bombs, the load usually carried was up to 661 lbs (300 kg) in the fuselage bomb bay or, alternatively, up to 441 lbs (200 kg) on underwing racks.
Exports included 25 Fiat powered Ba.65 two-seaters to Iraq in 1938, two of them dual-control trainers and the remainder with Breda L turrets; 20 Ba.65s with Piaggio P.XI C.40 engines to Chile later in the same year. 17 of them single-seaters and three dual-control trainers; and 10 Fiat powered two-seaters with Breda L turrets to Portugal in November 1939. A single Fiat powered production aircraft was tested with an American Pratt & Whitney R-1830 engine in June 1937 in anticipation of an order from the Chinese Nationalist government, but this failed to materialise. The Iraqi Ba.65s saw limited action against the British during the 1941 insurrection in that country.
---
Specification:
Type: Single Seat Ground Attack

Design: Breda Design Team

Manufacturer: Societa Italiana Ernesto Breda and also built by Caproni-Vizzola (57)

Powerplant: (Ba.65 A.80) One 1,000 hp (746 kW) Fiat A.80 RC.41 18-cylinder radial piston engine. (Ba.65 K-14) One 700 hp (522 kW) Rhone-Gnôme K-14 radial engine.

Performance: Maximum speed 267 mph (430 km/h); maximum speed (two-seat) 255 mph (410 km/h); service ceiling 20,670 ft (6300 m).

Range: 342 miles (550 km) on internal fuel.

Weight: Empty equipped 5,291 lbs (2400 kg) with a maximum take-off weight of 6,504 lbs (2950 kg).

Dimensions: Span 39 ft 8 1/2 in (12.10 m); length 30 ft 6 1/4 in (9.30 m); height 10 ft 6 in (3.20 m); wing area 252.96 sq ft (23.5 sq m).

Armament: Two 12.7 mm (0.50 in) and two 7.7 mm (0.303 in) Breda-SAFAT fixed forward firing machine-guns in the wings, plus up to 661 lbs (300 kg) of bombs in fuselage bomb-bay and up to 441 lbs (200 kg) of bombs on underwing racks.

Variants: Ba.65 (MM 325 prototype), Ba.65 (single seat), Ba.65 (two seat), Ba.65 (trainer). No official version designations were used since all aircraft were technically identical, and aircraft were identified simply by the engine used.
Avionics: None.

History: First flight September 1935; (first deliveries) 1937.

Operators: Italy (Regia Aeronautica), Iraq, Portugal, Chile.
Historical text from http://www.pilotfriend.com/photo_albums/timeline/ww2/Breda%20Ba.65%20A.80.htm
It`s the first I look to this model kit, even knowing that it has been around since 2010 and this particularly one is a Special Hobby rebox with new decals.
Being a limited run kit, there are none of the little luxuries such as locating pins and tabs, so take time when aligning and gluing the plastic parts.
But, as you can see the dry fitting is quite good, even being a limited run model.
There are a few raised ejector pin circles that look like they will interfere with wing parts joining (especially on the inside of tail planes), so you'll need to clean these up prior to assembly. But that`s a quite easy job in fact.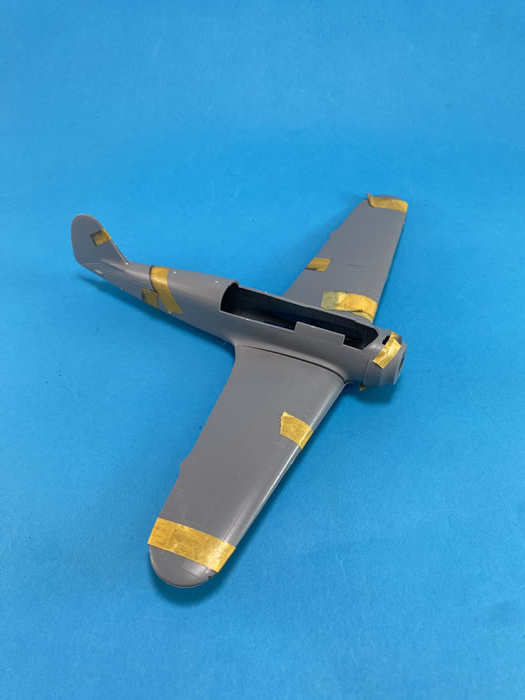 The surface textures on the wings and fuselage are quite good with fine recessed panel lines and very subtle stretched fabric effect on control surfaces, are all well done.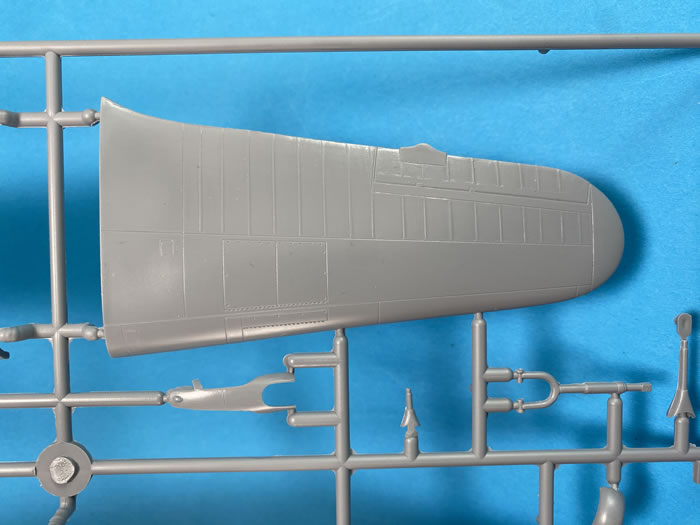 In total you will get 3 sprues in grey plastic and one sprue of clear plastic. A ziplock bag with resin parts and a PE fret.
The plastic parts, while being a limited run plastic, I only found some flash plastic on small parts and the cockpit tubular structure.
The Sprue A you have the fuselage, tail wings, cowling, wheels etc.
The sprue B, wings and landing gear
And sprue C all small pieces including cockpit tubular structure, instrument panels, wheels bay, etc
Raised structural detail is moulded onto the inside of the fuselage but its given also the internal cockpit tubular structure (like a small cage) with plastic parts.

The fuselage halves have detail moulded into their interiors, with extra details add by several panel sections on the port side with PE levers, plus a side console on the starboard along with other dials, equipment and an oxygen cylinder.
The cockpit is quite well detail out of the box with PE seatbelts, PE chains, PE foot rest. It's a quite busy cockpit with the bomb racks tubular structure right behind, made by PE where the resin bombs will be in. I really like the cockpit and bomb bay detail. Even so, I think that there`s still space for some aftermarket details like the instrument panel even with those lots of PE levers on it.
Leaving the plastic, the resin is top notch, which is nothing odd considering that Special Hobby owns CMK.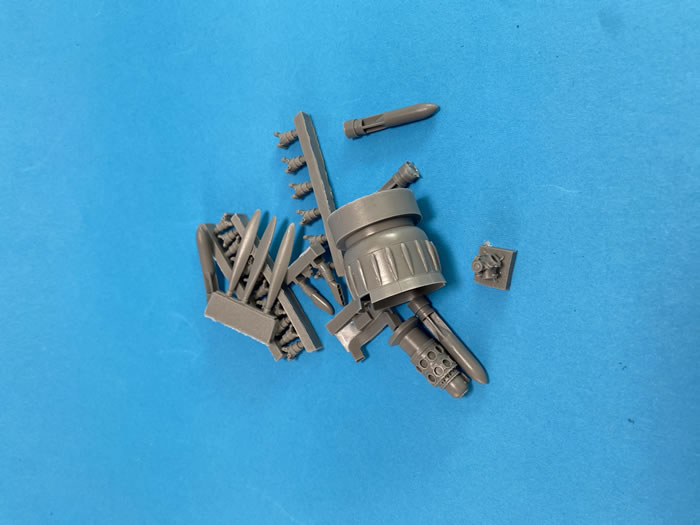 The engine is in full resin with 18 cylinders cover with a resin cowling and with a exhaust ring collector and two exhausts, one in each side of the fuselage.
The PE sheet, as said, is for several cockpit details but also to exhaust support.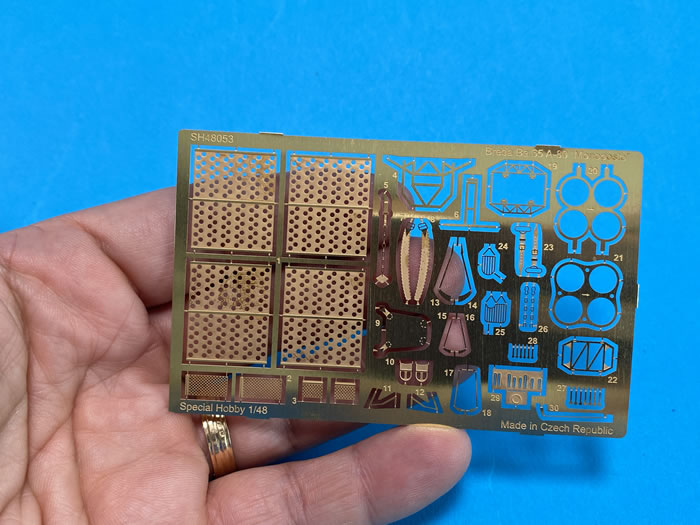 The clear plastic sprue does have some tricky design parts for the cockpit.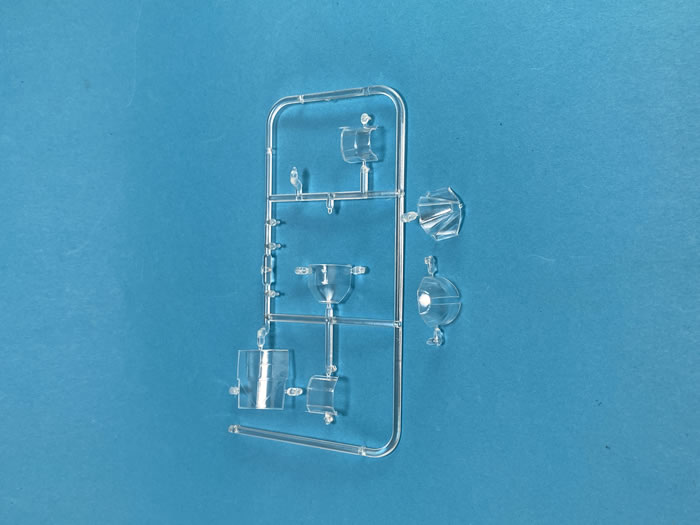 I must say that I will get the Special Hobby mask as it is a timesaver and could be a work saver.
---
Markings
On the box you get two markings from the same period: Spanish Civil War.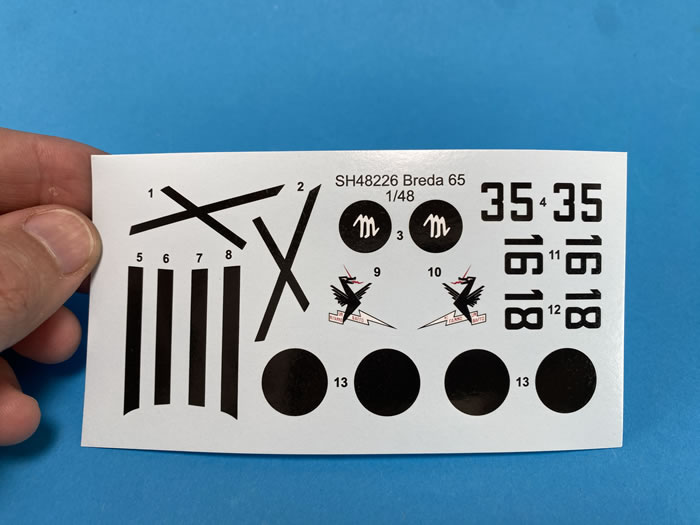 The decals do have great colour pigmentation and look quite thin. However I can`t say who make them.
16-35 65a Squadriglia Assalto, Aviazione Legionaria, Puig Moreno, Spain, Winter, 1938

16-35 65a Squadriglia Assalto, Aviazione Legionaria, Puig Moreno, Spain, Winter, 1938
Both markings are the same concerning to badge and insignia. The Only thing that chance is the aircraft serial number.
The instructions are a small booklet with 11 pages, quite good and clear drawings with quite precise part indication. And also some Special hobby AM ad suggestion for this kit and to other Italian aircraft model kits.
The color are given in Mr Hobby Gunze color. I would prefer the color reference in Tamiya or AK Real Color as they are must easy to find.
It´s great to see this reedition of this limited run kit.
So it`s not a beginner but with patience, work and skill it can be achieved a very nice looking model.
It`s quite an unusual subject in 1:48, but a very welcome one when it was release and still is now that has being release.!

Highly Recommended.
Thanks to Special Hobby for the review sample.
---
Review Text and Images Copyright © 2022 by Francisco Guedes
Page Created 14 February, 2023
Last updated 14 February, 2023
Back to HyperScale Main Page
Back to Reviews Page