Dassault Mirage 2000
La Fayette (US Tour)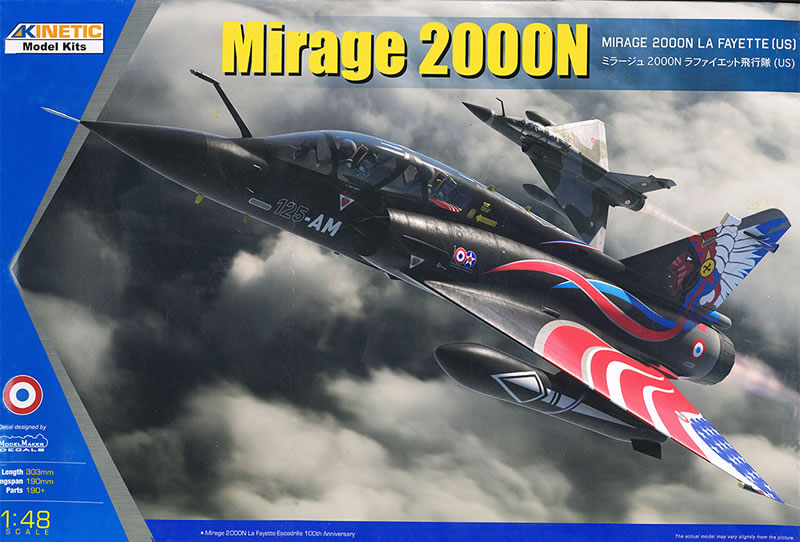 Kinetic, 1/48 scale
S u m m a r y

Item No.
Kinetic K48124 Dassault Mirage 2000N La Fayette (US Tour)
Contents and Media:
113 grey injected moulded parts, 11 clear parts, decals and instructions.
Scale
1/48
Price:

USD$39.99 plus shipping available online from Lucky Model

GBP £59.00 UK Price (GBP £49.17 Export Price) plus shipping available online from Hannants

and hobby retailers online and worldwide

Review Type:
FirstLook
Advantages:
Crisp yet simple moulding with reasonable detail. Varied elevon positions possible to get no hydraulics droop when parked. Interesting choice of display scheme.
Disadvantages:

Photocopied instructions with poor paint scheme profiles. Wheel bay lack of detail and no sidewall to most of the wheel bays.

Recommendation:

A quite reasonable re-kitting of the 2 seat Mirage 2000N Fighter/Bomber.
Reviewed by David Couche

The Dassault Mirage 2000N is a variant of the Mirage 2000 designed for nuclear strike. It formed the core of the French air-based strategic nuclear deterrent. The Mirage 2000D is its conventional attack counterpart.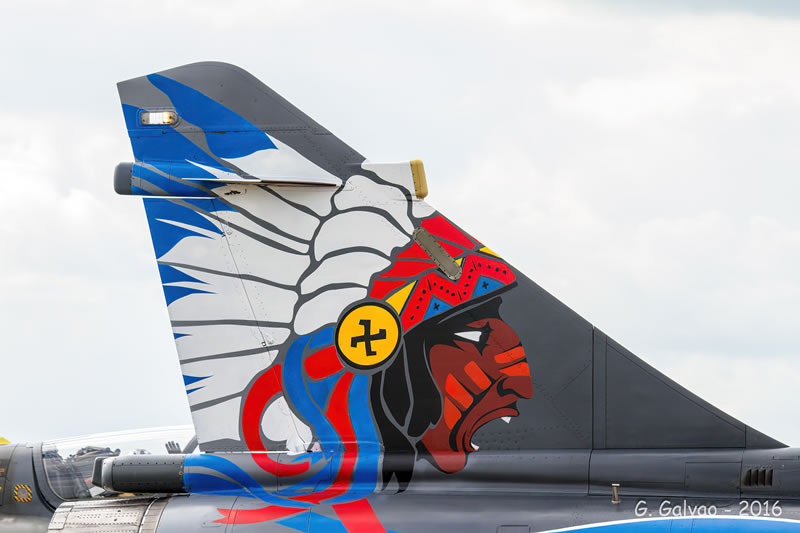 The Mirage 2000N was designed to French requirements for an aircraft to replace the older Mirage IVP. Dassault received a contract to build two prototypes. The aircraft first flew on 3 February 1986. Seventy-four were built up to 1993.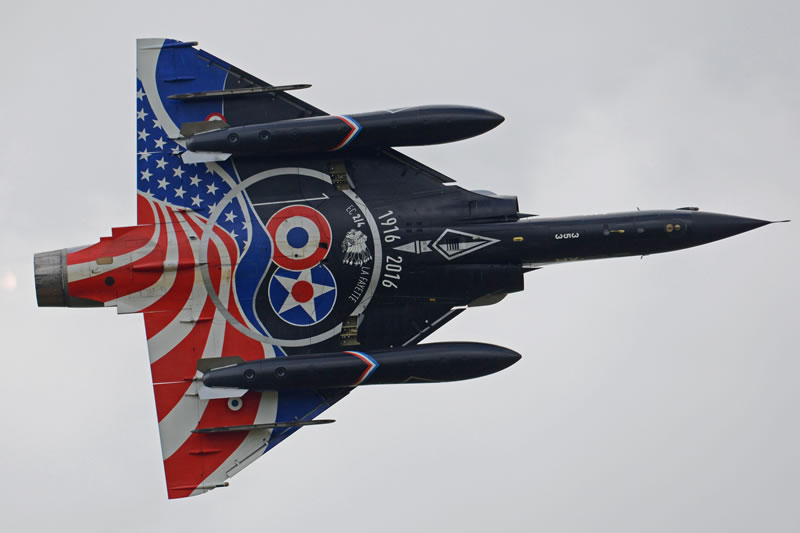 The Mirage 2000N is based on the Mirage 2000B two-seat trainer but features considerable changes. The airframe was strengthened for low-level flight and fitted with an Antilope 5 radar, which is used for terrain following, navigation and ground mapping, and which can follow terrain at 1,112 km/h (691 mph). Other avionic features are twin INS units and moving map displays for both the pilot and weapon systems officer. The Mirage 2000N can carry one ASMP medium-range nuclear missile, and can also carry two MATRA Magic AAMs for self-defence. Other protection features include the Sabre jamming system and the Spirale chaff system. Because the extra seat decreases range, a pair of drop tanks are carried. Since the Mirage 2000N's standard weapon was the ASMP, which was carried on the centerline pylon, this meant that it could not carry a centerline tank, but a distinctive big 2,000 litre (530 US gallon) underwing drop tank with a bulbous nose was developed to more than compensate.
The first batch of 30 aircraft for the French Air Force had a sole nuclear capability, and these were designated Mirage 2000N-K1. These did not have the Spirale chaff system and carried a pair of AN.52 free-fall nuclear bombs before the ASMP was ready. The later batch of 44 aircraft were designated Mirage 2000N-K2. These had both a nuclear and conventional capability, and a full defensive fit. The K1 aircraft now have a limited conventional attack capability.
The Mirage 2000N is not licensed for export. The French Air and Space Force has 62 in its inventory.

In 2016, a Mirage 2000N of the squadron received a special paint scheme (above) to commemorate the centenary of the creation of the Lafayette Escadrille. The aircraft was used by the Ramex Delta display team, drawn from the squadron, in multiple airshows. It was retired from service that year and is displayed at Saint-Dizier – Robinson. In April of that year, a group of three Mirage 2000Ns from EC 2/4 participated in the air display marking the centenary of the Lafayette Escadrille alongside a Rafale B of Escadron de chasse 1/91 Gascogne, four Lockheed Martin F-22 Raptors of the United States Air Force 94th Fighter Squadron, a Stearman PT-17, and a Boeing B-52 Stratofortress of the United States Air Force 5th Bomb Wing.
*Text courtesy of Wikipedia
Kinetic Dassault Mirage 2000N La Fayette (US Tour) Kit
Kinetic has re-released its 1/48 scale 2010 Mirage 2000B/D/N kit as a sole D version. The kit comes in a top opening box with a good deal of plastic in it. The parts are in a pale grey plastic with recessed panel lines and some raised detail where required. The mouldings are starting to show their age with some degrade in the crispness of the panel lines etc and many pieces with flash on them. It's nothing major but will slow your build down somewhat. The sprues are exactly the same as what came in the original kit so there are a number of parts for the B and D versions that will not be used.
There are 6 sprues of pale grey injected moulded parts and one sprue of clear parts. Details for each of the sprues are;
---
Sprue A
This sprue is the grey plastic sprue and has 2 parts on it, with these being the fuselage halves.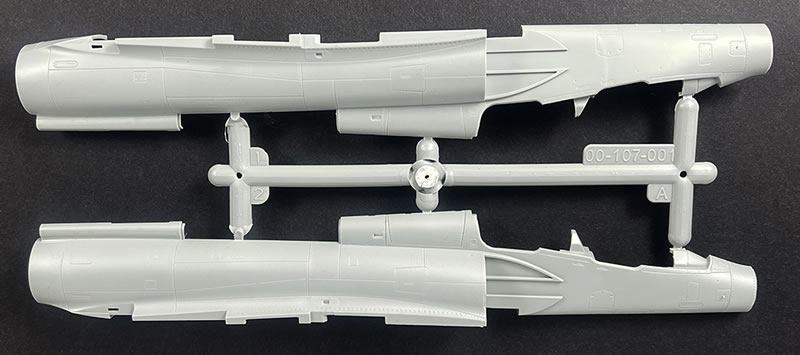 The detail is good with recessed panel lines and some rivet detail, enough to make the surface interesting.
---
Sprue B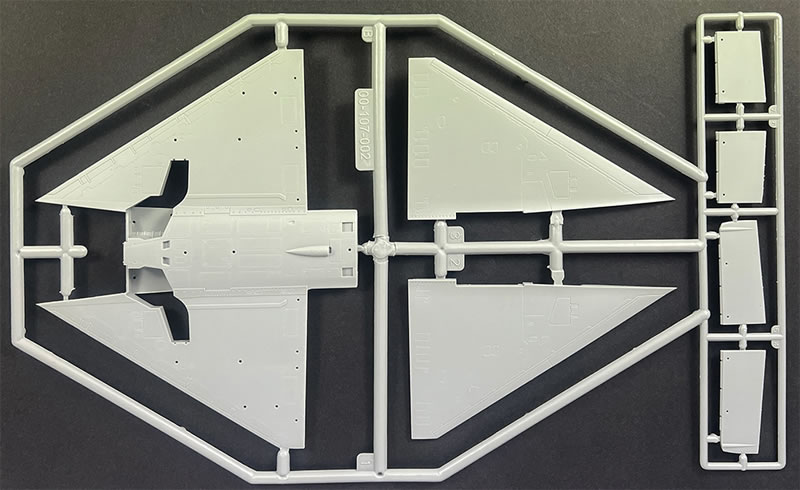 This sprue has 7 parts on it with them being, the one-piece lower wing, the 2 upper wing sections as well as the four elavons. Kinetic must be congratulated on providing positionable inner and outer elevons. These are almost always in the drooped position when there is no hydraulic power on the aircraft. This is something totally overlooked by most manufactures of previous Mirage kits, the elevons on all Mirages are only in the streamlined position under aircraft hydraulic power.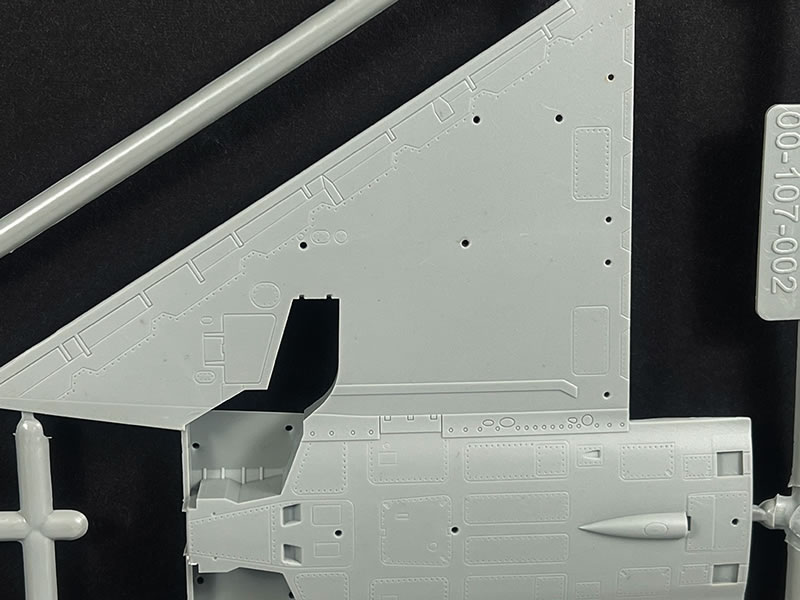 The single piece lower wing has wheel bays that have minimal detail. There is sparse detail moulded onto the upper wing section for the out section of the wheel bays but not side walls at all, leaving us with a hollow wing look when built which is not desirable. The doors on the fuselage end are normally shut when on the ground but the outer doors are always open so you will need to do something about filling the gap somehow.
---
Sprue C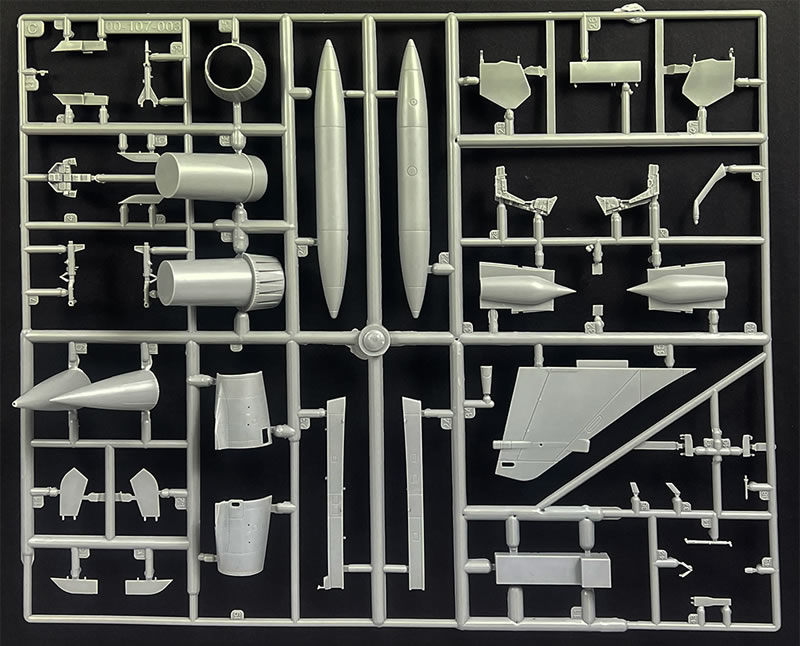 Sprue C contains 44 parts and there are 7 of them not used to build this version. There are parts for the centre line type of drop tanks on this sprue which is not used. The parts include intakes sections, parts for one, of the 7 part seats.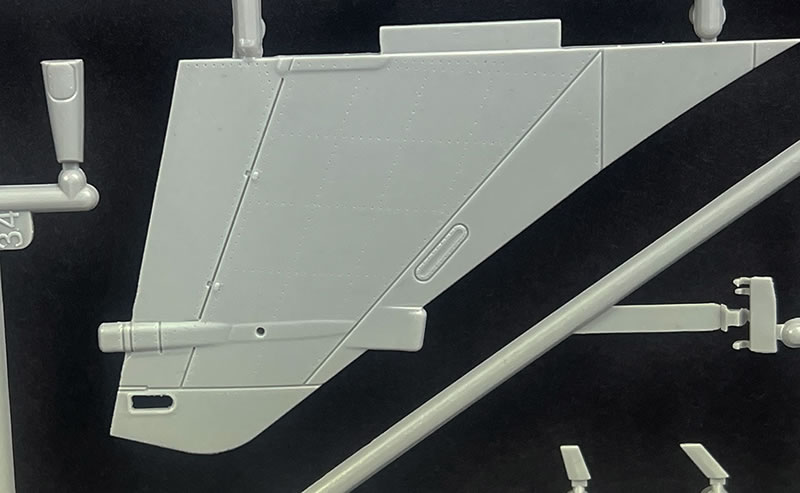 No seatbelts supplied either in etch or decals. Also, we have the nose cones, which only one is used and a choice of exhausts. Strangely, the instructions make no mention of adding the exhausts to the aircraft at all, and magically appear from one assembly diagram to the next.

Again, we find instructions, not only poorly printed and presented but incorrect. There are a number of other parts such as wheel doors, undercarriage legs etc on it as well.
---
Sprue D x2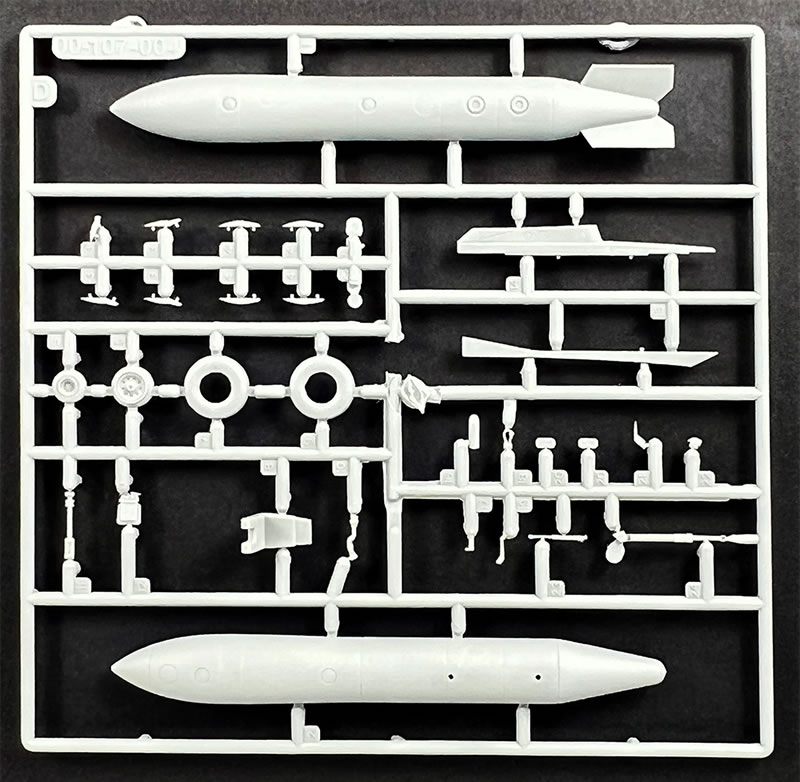 Here on Sprue D we have 32 parts, and have 2 duplicates.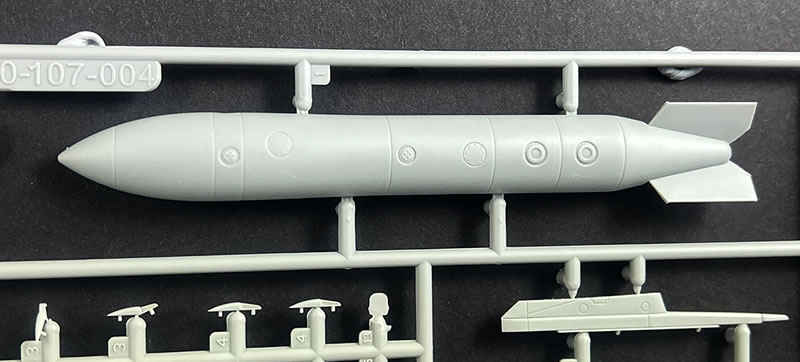 Each sprue has the large halves for the big wing drop tanks, parts for one set of wheels, tank pylons and other small parts.
---
Sprue E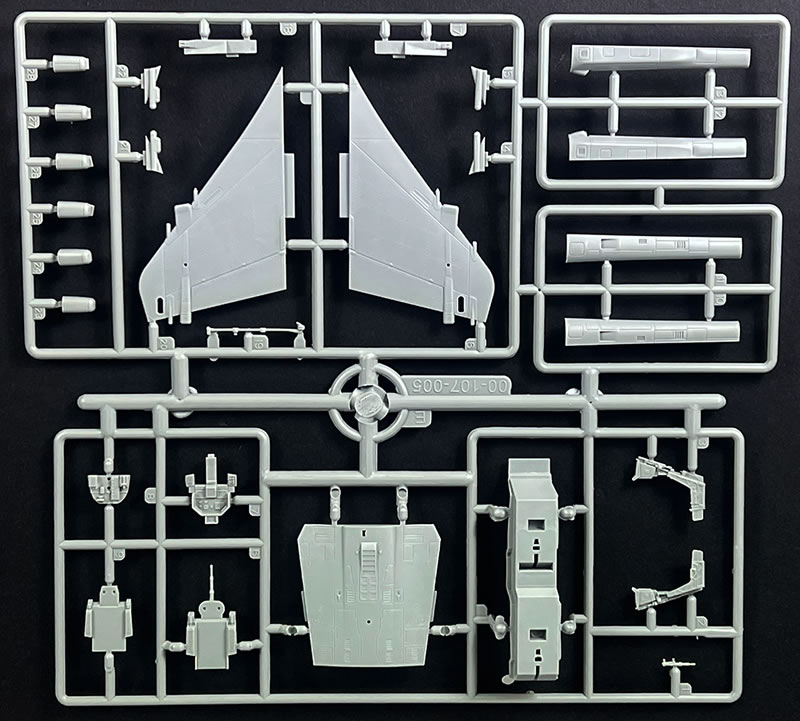 An interesting sprue with 28 parts on it with 3 which won't be used. Of main interest is the major underside panel, the tail fin, spine cover, main cockpit tub and parts for the other ejection seat as well as the instrument panels.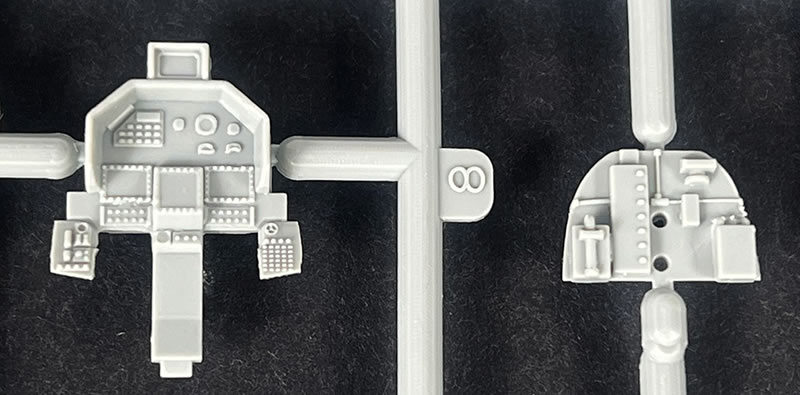 These panels have plenty of excellent crisp detail and will make a base for great finishes on your model. There are a number of minor parts on here as well including the emergency tail hook.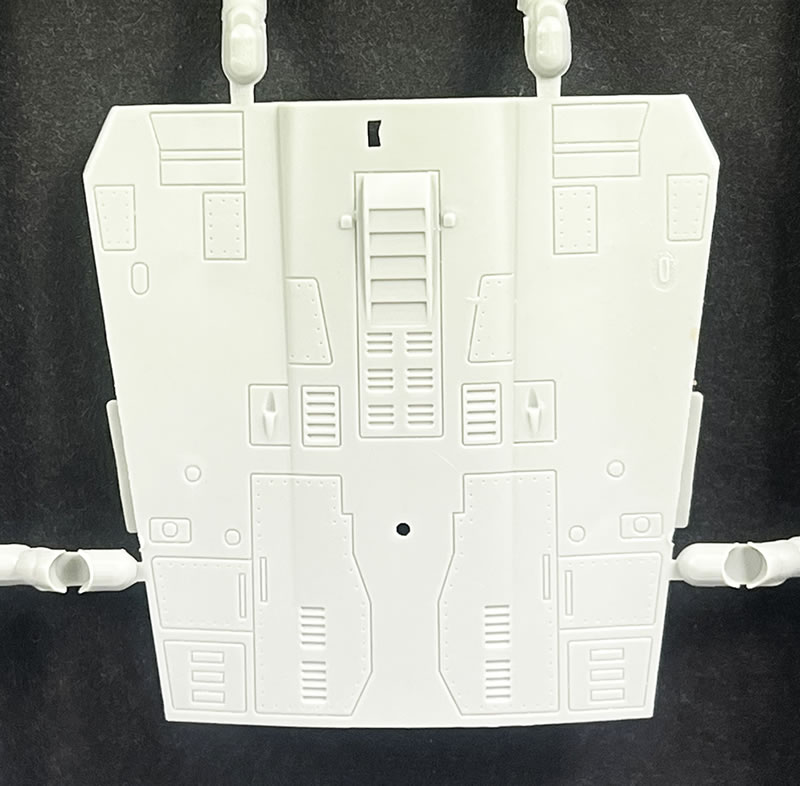 The instrument panels have nice raised detail on them, but there are no decals provided so you will need to do some careful detail painting or source aftermarket parts.
---
Sprue F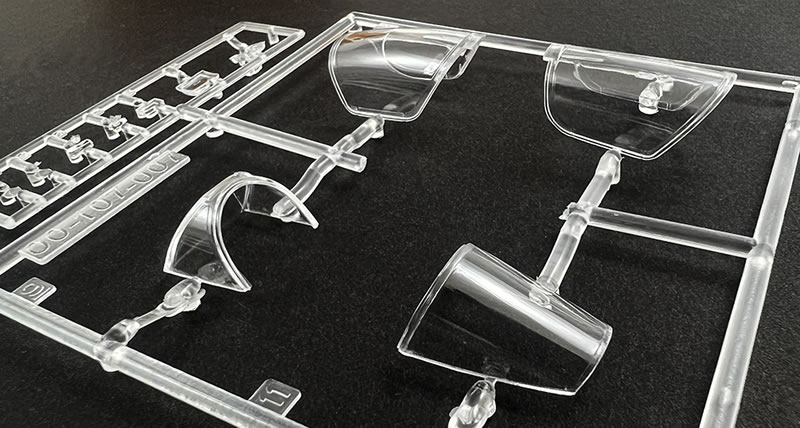 This is the clear sprue with 11 crystal clear parts. You get the 3 parts of the canopy and the interior section between the 2 crew.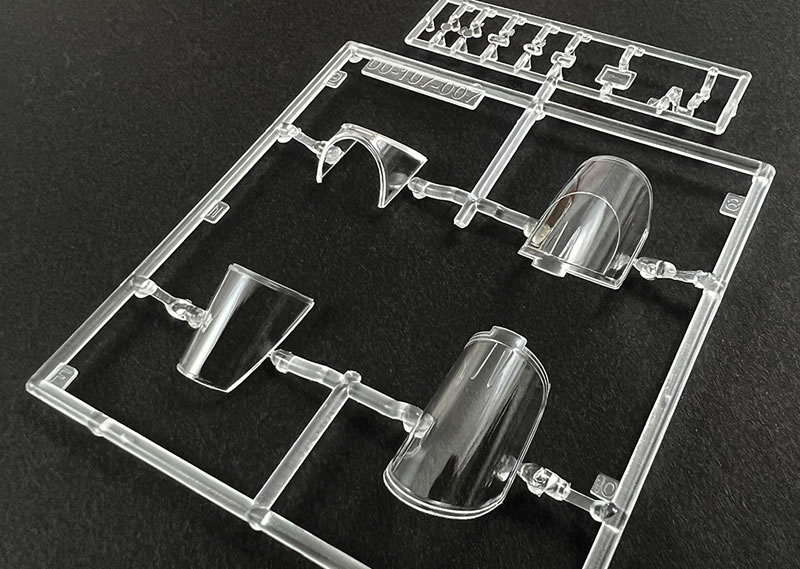 There are plenty of lights to give a realistic finish to your model rather than the old painted method. Detail is excellent on these parts.
---
Colours and Markings
The instructions for the kit are the usual OK construction sheets but poorly produced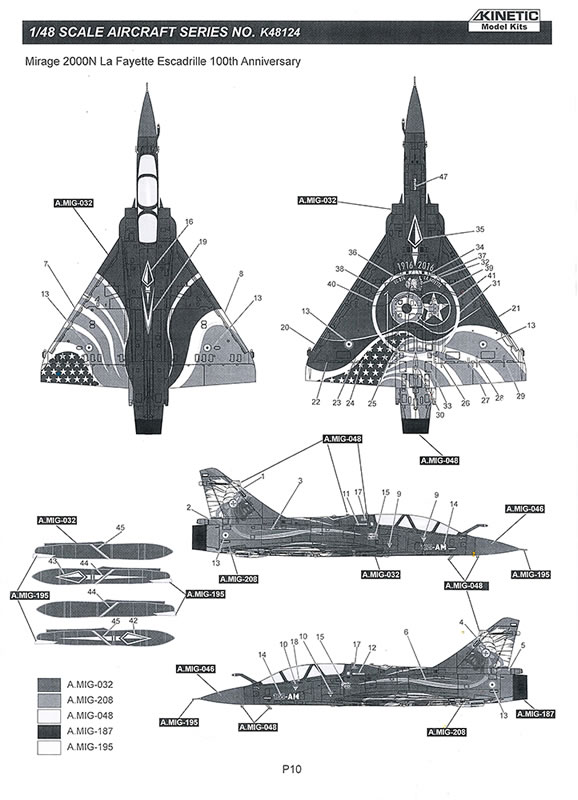 . If Kinetic can produce some very good model kits, why can't they have properly printed instructions instead of the example in this kit which had little blotches over the pages and the linework was blurred like it was a copy…of a copy etc.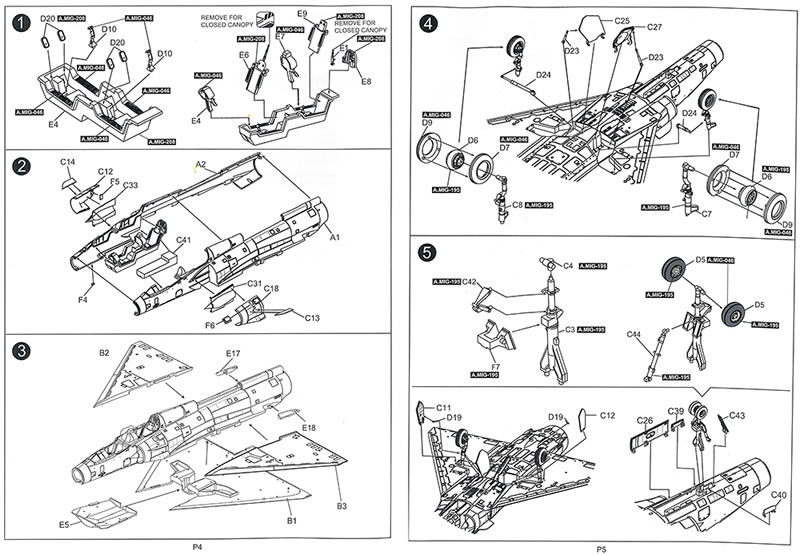 These instructions also manage to totally leave out major parts of the construction such as the selection of the type of tailpipe and its installation. This is somewhat disappointing.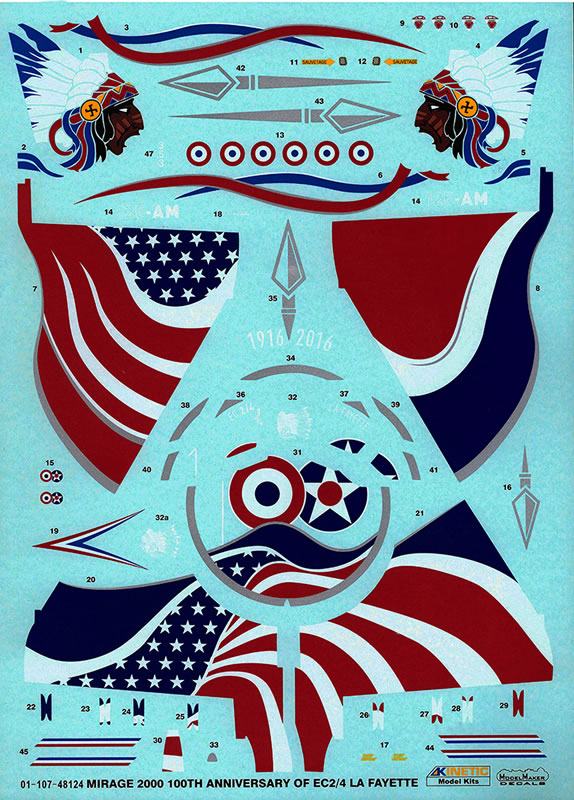 Detailed painting and decaling instructions, whilst in black and white, are supplied. Colour call outs on the scheme profile are for Mig colours only. The early instruction pages have a paint call out chart with Gunze Mr Color and Aqueous ranges. The painting scheme page has callouts for the MIG colour range. These include the major colours where available included on this list.

The decals appear to be in perfect register giving only one option, that of the display aircraft for Lafayette Escadrille in 2016, which then went on to tour the US as part of a multinational display group. Be warned, some of these decals are quite big so care will be needed to get them into position
I personally have not used Kinetic decals as each of my Kinetic builds has used aftermarket decals, so I don't know how easy they are to use.
Also included are basic data stencils that were on the display aircraft.
This is a kit of variations, good in some parts and lacking in other. It looks like it will build into a nice model at the end but my experiences with Kinetic kits I found in some places you will have fit issues and other areas the fit is perfect. Despite my grumping at times, this will build up into a good model with a great scheme and is quite cheap, so it's excellent value for the money.
ecommended.
Thanks to Lucky Model for the sample
---
Review Text and Images Copyright © 2023 by David Couche
Page Created 17 October, 2023
Last updated 17 October, 2023
Back to HyperScale Main Page
Back to Reviews Page