Hawker Tempest Mk.II
Weekend Edition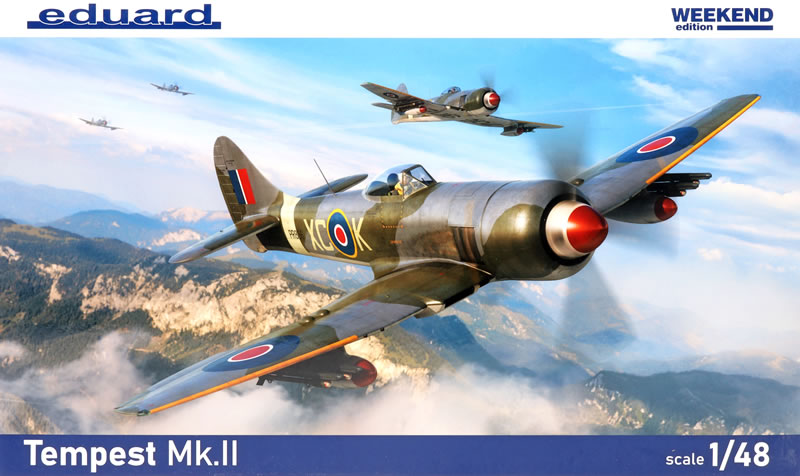 Eduard, 1/48 scale
S u m m a r y

Catalogue Number:
Eduard Kit No. 84190 - Tempest Mk.II Weekend Edition
Scale:
1/48
Contents and Media:
204 parts in medium grey coloured plastic (53 parts marked not for use); 20 parts in clear; markings for four aircraft.
Price:

USD$39.95 plus shipping available online now from Eduard's web store

£23.60 EU price (£19.67 Export Price) plus shipping available from Hannants

and hobby retailers worldwide

Review Type:
FirstLook
Advantages:
Restrained surfaces featuring crisp panel lines and fine rows of recessed and raised rivets where appropriate; high quality plastic; narrow sprue attachments; excellent instructions and packaging.
Disadvantages:
None noted.
Conclusion:

Eduard's 1:48 Hawker Tempest Mk.II is a highly detailed and accurate kit. Surface textures are simply beautiful too.

I have already built the Special Hobby version of the kit and it was a pleasure to work on with near perfect fit.

My advice? Test fit regularly, take care when handling and assembling the cockpit and you too will have an impressive replica of this ultimate RAF piston-engine fighter.

Reviewed by Brett Green
Background
The Hawker Tempest was a British fighter aircraft primarily used by the Royal Air Force (RAF) in the Second World War. The Tempest was an improved derivative of the Hawker Typhoon, the type originally being known as the Typhoon II, which was intended to address the Typhoon's unexpected fall-off of performance at high altitude by replacing its wing with a thinner laminar flow design. Having diverged considerably from the Typhoon, it was decided to rename the aircraft Tempest. The Tempest emerged as one of the most powerful fighters of the World War II and was the fastest propeller-driven aircraft of the war at low altitude.
Upon entering service in 1944, the Tempest was used as a low-level interceptor, particularly against the V-1 flying bomb threat, and as a ground attack platform, in which it supported major events such as Operation Market Garden. Later, it successfully targeted the rail infrastructure in Germany and Luftwaffe aircraft on the ground, as well as countering such attacks by German fighters. The Tempest was effective in the low-level interception role, including against newly developed jet-propelled aircraft such as the Messerschmitt Me 262.
The further developed Tempest Mk.II, was a radial engine version that was fitted with the powerful Bristol Centaurus 18 cylinder radial engine.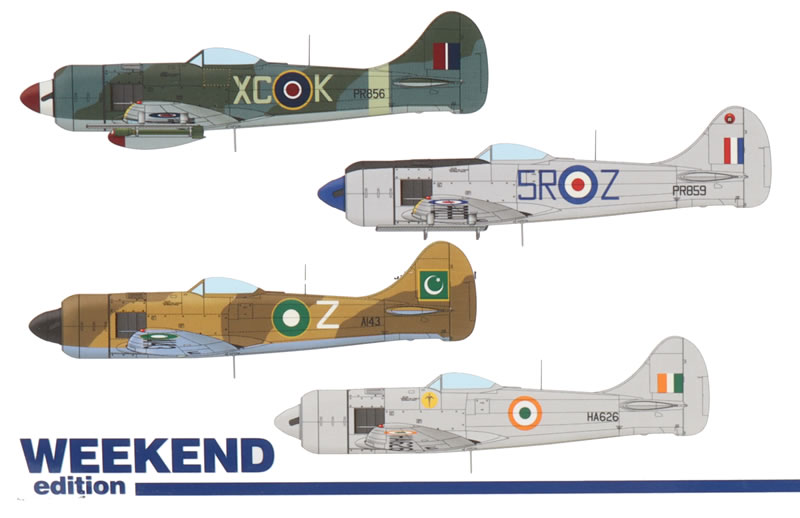 Apart from the new engine and cowling, the Tempest II prototypes were similar to early series Tempest Vs.
The Centaurus engine was closely cowled and the exhaust stacks grouped behind and to either side of the engine: to the rear were air outlets with automatic sliding "gills". The carburettor air intakes were in the inner leading edges of both wings, an oil cooler and air intake were present in the inner starboard wing.
The engine installation owed much to examinations of a captured Focke-Wulf Fw 190, and was clean and effective.
Orders had been placed as early as September 1942 for 500 Tempest IIs to be built by Gloster but in 1943, because of priority being given to the Typhoon, a production contract of 330 Tempest IIs was allocated instead to Bristol, while Hawker were to build 1,800. This switch delayed production even more.
On 4 October 1944, the first Tempest II was rolled off the line; the first six production aircraft soon joined the two prototypes for extensive trials and tests.
With the end of the Second World War in sight, orders for the Tempest II were trimmed or cancelled. After 50 Tempest IIs had been built at Bristol's Banwell facility, production was stopped and shifted back to Hawker, which built a total of 402 in two production batches. 100 were built as fighters, and 302 were built as fighter-bombers (FB II) with reinforced wings and wing racks capable of carrying bombs of up to 1,000 lb.
Physically, the Tempest II was longer than the Tempest Mk.V (34 ft 5 in/10.5 m versus 33 ft 8 in/10.3 m) and 3 in (76 mm) lower. The weight of the heavier Centaurus engine (2,695 lb/1,222 kg versus 2,360 lb/1,070 kg) was offset by the absence of a heavy radiator unit, so that the Tempest II was only some 20 lb (9 kg) heavier overall. Performance was improved; maximum speed was 442 mph (711 km/h) at 15,200 ft (4,633 m) and climb rate to the same altitude took four and a half minutes compared with five minutes for the Tempest Mk. V; the service ceiling was also increased to 37,500 ft (11,430 m).
---
In Service
The Tempest Mk.II was tropicalised as it had been decided that this variant would be intended for combat against Japan.
The envisioned role for the type would have been as a purpose-built type which would participate in the Tiger Force, which was a proposed British Commonwealth long-range bomber force to have been stationed on Okinawa as a forward base for operations against the Japanese mainland. However, the Pacific War ended before the Tempest Mk.II entered operational service.
By October 1945, a total of 320 Tempest IIs had been delivered to maintenance units stationed at RAF Aston Down and RAF Kemble. These aircraft were mainly dispatched to squadrons stationed overseas in Germany and in India, along with other locations such as Hong Kong and Malaysia.
On 8 June 1946, a Tempest II, flown by Roland Beamont, led the flypast at the London Victory Celebrations of 1946.
RAF Tempest IIs saw combat use against guerrillas of the Malayan Races Liberation Army during the early stages of the Malayan Emergency.*
Eduard released an all-new Hawker Tempest Mk.V Series 1 late in 2018. They followed up in 2019 with a Series 2.
Eduard xtended the family in 2021 with the radial engined Tempest Mk.II in 1:48 scale.
In a sprue-sharing arrangement, Eduard and Special Hobby have both released Tempest Mk.II kits.
Special Hobby's kit, released earlier in 2021, paired Eduard's plastic parts with their own resin details to deliver their 1:48 scale Tempest Mk.II Hi-Tech Kit.
Eduard then released a ProfiPACK Edition with fewer resin parts but more photo-etched parts.
Now Eduard has delived a lower-price Weekend Edition version.
Eduard's 1:48 scale Tempest Mk.II Weeken Edition comprises 204 parts in medium grey coloured plastic, 20 parts in clear, and markings for four aircraft. 53 of the grey parts are marked not for use and others still are optional, so the actual parts count is quite manageable.
I can't see any moulding imperfections on my sample.
Surface texture is just gorgeous with fine and crisply recessed panel lines, rivets and slot-headed fasteners. There are also rows of subtly raised rivets. These really add to the effect. The closer you get, the better it looks!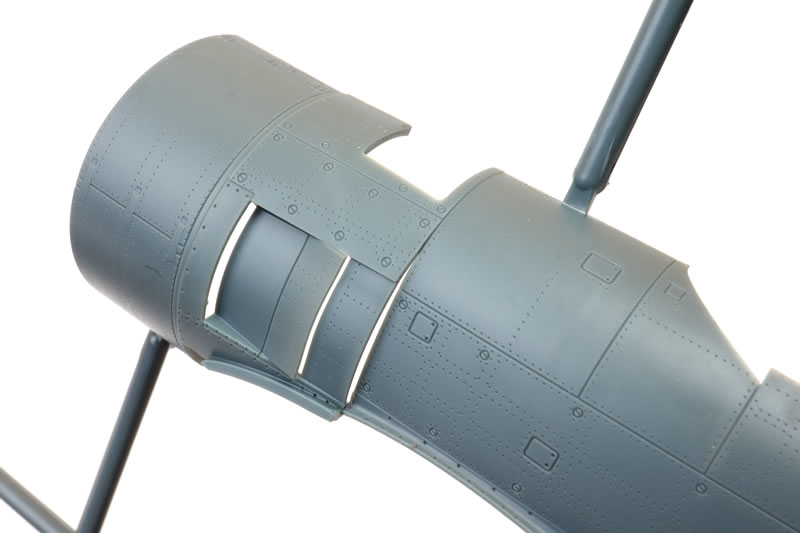 Assembly starts in the cockpit. The seat is made up from three parts plus photo-etched harness straps. Colour photo-etched parts are also supplied for the multi-part instrument panel. side consoles and other detail parts.
Separate cockpit side frames represent the tubular structure inside the fuselage. Side consoles, throttles, trim wheel and other details are attached to these.
In the interests of simple assembly, the floor is semi-solid with a cut out in the middle rather than bottomless with just two suspended foot rails. You won't see much below the seat, but if you would prefer to go the bottomless path, Eduard does offer a replacement BRASSIN cockpit with this feature.
Alternative inserts are supplied for the upper nose. Options are a vented or plain panel.
The wings are new parts and are conventionally presented as a full-span lower section and separate upper halves. The wheel wells are built up from six separate side panels that are glued to the inside of the upper wing halves. Additional detail parts are also included for the wheel wells.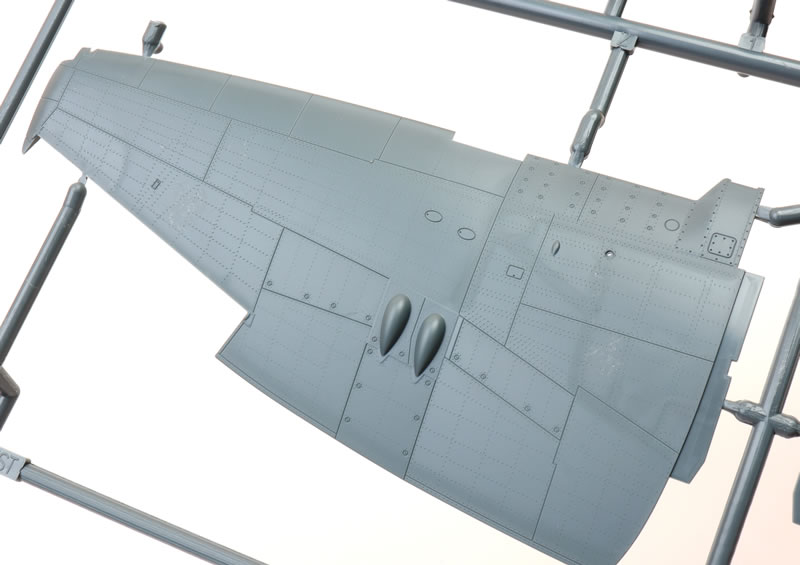 Ailerons, elevators and rudder are all separate parts. The ailerons and elevators are new for this kit.
Flaps are moulded shut. The wing trailing edges are nice and sharp because the flaps are joined to the upper wings a couple of millimetres in from the trailing edges. On the Mk.V kit the flap join line was about a quarter of the way forward and would have been tricky to fill without eradicating the surrounding recessed surface textures (I avoided the problem by just leaving the join line on mine). This new wing has been redesigned to move that join line much closer to the trailing edge where it will be less of an issue.
The tail wheel assembly has a separate leg and mount.
Three styles of propeller assembly are included. Two are appropriate for this version.
An optional pilot's step is provided.
Eight 3" 60 lb rockets with zero-length mounts and another eight rockets on conventional rails are included.
The clear parts are thin and free from distortion. A grey plastic lower frame is glued to the sliding section of the canopy, which may be posed open or closed.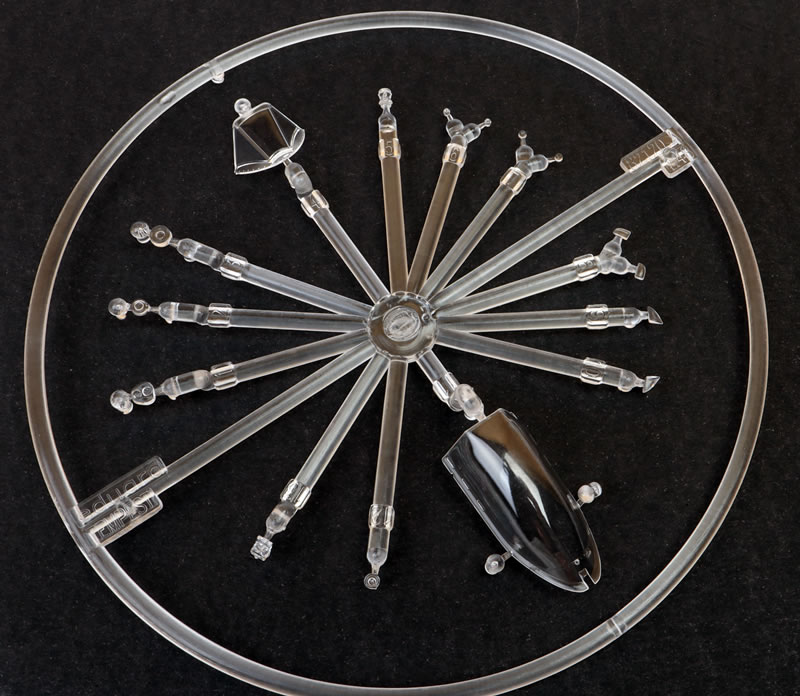 A second clear sprue provides drop tanks and their mounts. On the Tempest, large areas of the drop tank mounts were transparent, so this is a helpful touch.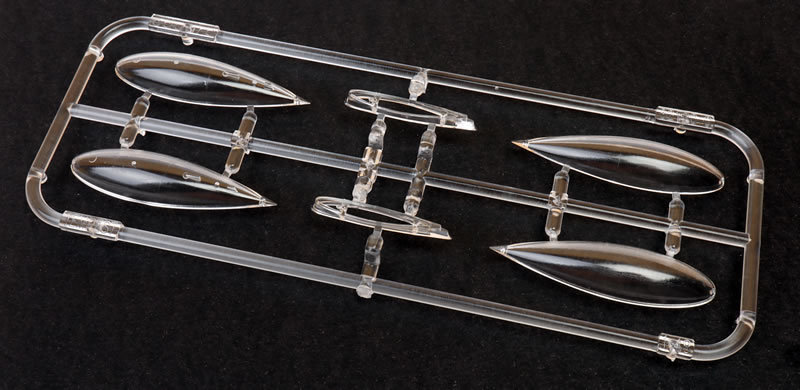 ---
Markings
Markings are provided for four varied schemes.
The main sheet includes instrument panel decal overlay and harness straps.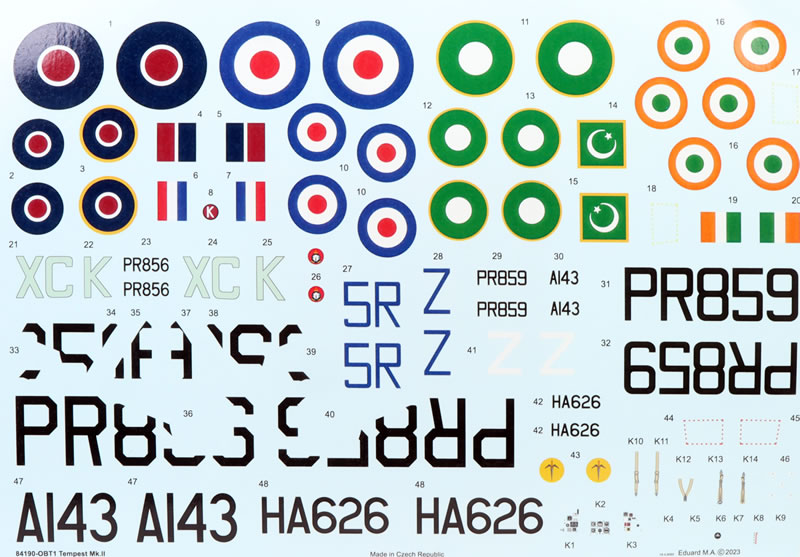 The decal sheet is glossy and printed by Eduard.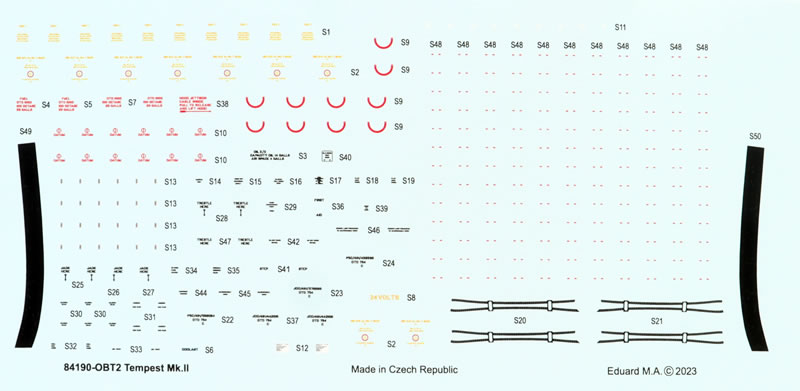 Stencil markings are also included on a separate decal sheet.
Eduard's 1:48 Hawker Tempest Mk.II is a highly detailed and accurate kit. Surface textures are simply beautiful too.
I built the Special Hobby version of the kit a couple of years ago and it was a pleasure to work on with near perfect fit.
Test fit regularly, take care when handling and assembling the cockpit and you too will have an impressive replica of this ultimate RAF piston-engine fighter.
Thanks to Special Hobby for the sample.
---
Review Text & Images Copyright © 2023 by Brett Green
Page Created 15 November, 2023
Last updated 15 November, 2023
Back to HyperScale Main Page
Back to Reviews Page