OV-1A/JOV-1A Mohawk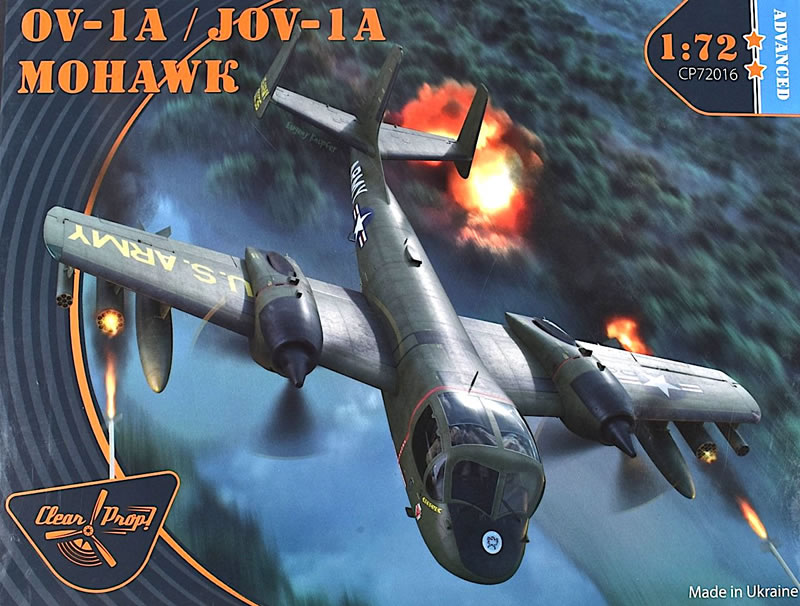 Clear Prop, 1/72 scale
S u m m a r y :

Description and Item No.:

Clear Prop Kit No. CP72016 - OV-1A/JOV-1A Mohawk

Contents and Media:

109 parts in grey styrene, 10 in clear, and two decal sheets with airframe stencil data and markings for four airframes.

Price:

Scale:

1/72

Review Type:

First Look

Advantages:

The recessed details are beautifully rendered; crisp and scale appropriate. A very high level of detail is provided in all areas of the model from cockpit to landing gear to ordinance. This level of detail is achieved, in part, by the use of a large number of beautifully done, photo-etch parts. The package is topped off with multiple, crisply printed decal sheets providing full stencil data and markings for 5 airframes. Wha'z not too like?

Disadvantages:

None noted.

Recommendation:

This kit has an abundance of detail overall with crisp, scale-appropriate inscribing, straightforward engineering, a wealth of PE details, and a nice selection of schemes covered on multiple quality decal sheets.
Reviewed by John Miller

I was fortunate to see/hear a Mohawk during a flight demonstration at Oshkosh-2000. I was very impressed with both the maneuverability of the airplane and how amazingly quiet it was in flight.
The folks at Clear Prop (a Ukrainian company) have produced a series of kits in the last few years in both 48th and 72nd scales that are some of the best this reviewer has seen.
This 1/72 Mohawk is another impressive job of model making and outpaces the ye olde Hasegawa/Frog Mohawk by leaps and bounds.
This kit has been out for a while but I couldn't resist the challenge of photographing some of the amazing surface details and the crispness of the styrene parts overall. This is a beautifully engineered model and one that's on my short "To Build" list.
Thank You, Clear Prop!
Keep 'em coming!
---
Background:
The Grumman OV-1 Mohawk is an American armed military observation and attack aircraft that was designed for battlefield surveillance and light strike capabilities. It has a twin turboprop configuration, and carries two crew members in side-by-side seating. The Mohawk was intended to operate from short, unimproved runways in support of U.S. Army maneuver forces.

The U.S. Army flew the OV-1 operationally in the Vietnam War, with sixty-five lost to accidents, ground fire, and one shot down by a North Vietnamese fighter. In early 1968, while flying an OV-1 over South Vietnam, U.S. Army Captain Ken Lee shot down a MiG-17 "Fresco" fighter jet with his XM14 .50 in. (12.7 mm) caliber gun pods as well as two M159 unguided rocket pods, becoming the only Army Aviator to ever down a MiG. Due to the Key West Agreement, the Army tried to keep the shootdown a secret for fear that it would allow the USAF to transfer Mohawks to its inventory. Lee's kill was finally formally recognized by the Army in 2007.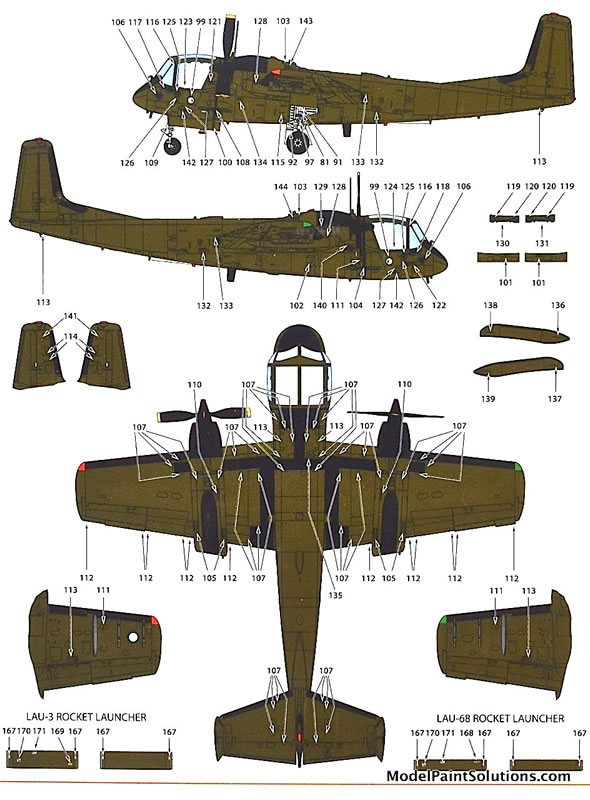 U.S. Army OV-1s were retired from Europe in 1992, from Korea in September 1996, and finally in the United States in 1996, superseded by newer systems, newer aircraft, and the evolution of reconnaissance satellites. The OV-1 was primarily replaced by the EO-5C, a militarized version of the de Havilland Canada Dash 7 turboprop airliner equipped with a SLAR system, until the U.S. Air Force's Northrop Grumman E-8 Joint STARS (Joint Surveillance Target Attack Radar System) aircraft became fully operational. The Army also used the aircraft during Operation Desert Storm.
In a sturdy, lidded box adorned with dramatic artwork of a Mohawk on an attack run comes 7 sprues of grey styrene, 1 sprue of clear parts, 2 sheets (one small, one large) of photo-etch parts, and 2 decal sheets with complete stencil data and markings for 5 airframes.
One of the first noticeable features of this kit is the crisply molded styrene. The surface details, both inscribed and in relief, are beautifully rendered. Second to that is what seems an abundance of parts for a 1/72 model of a relatively small, twin-engined aircraft. I suspect this is not going to be a weekend, shaken bake experience by any means. That said, if the major components fit together half as well as they look, this is going to be a very enjoyable build indeed.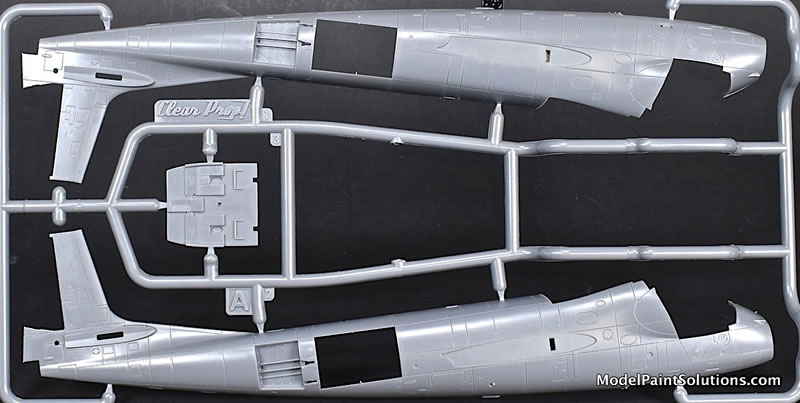 Parts layout and engineering are both conventional so assembly begins with the cockpit. Right out of the box, the assembled cockpit is going to be amazing. Good thing too as the large canopy parts are crystal clear and will provide a good view of your handy work. Cockpit assembly begins with the ejection seats, each composed of 12 styrene and PE parts. The addition of the PE harnesses, each composed of 10 parts, gives us 22 parts per seat……Yea, that's pretty detailed!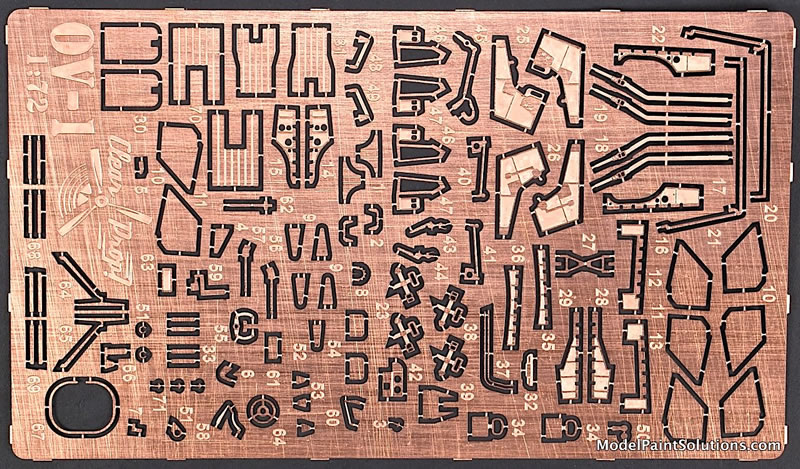 Detail for the main instrument panel is provided as a crisply printed decal and multiple small PE parts. Details for the cockpit side panels are composed of PE parts with decal overlays; interesting. This technique is used for a panel on the aft cockpit bulkhead and two, small, overhead panels as well. Once assembled, the cockpit side panels as well as the throttle quadrant, control sticks, aft bulkhead, and other details are affixed to a nicely molded cockpit floorboard. Additional details such as T-handles, rudder pedals, and various levers are provided in PE. With carful assembly and painting, this is going to be one of the most detailed 1/72nd scale cockpits this builder has seen; more amazing when you consider all of the parts are provided in the box. Nicely done, Clear Prop :)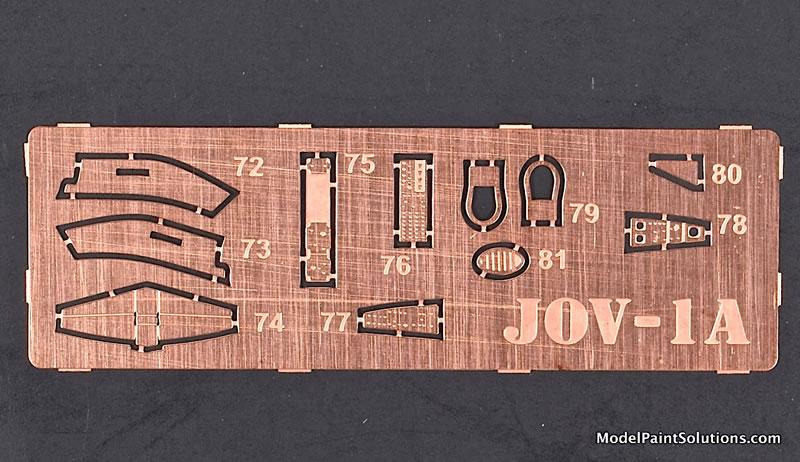 A nose wheel well (comprised of 8 parts) is added to the bottom of the cockpit tub, and the resulting assembly is then trapped between the fuselage halves, which have additional, molded-in cockpit details augmented with photo-etch parts. Will the details ever end……;)
As with the nose wheel well, the main gear wells (comprised of 10 parts each; styrene and PE) are very detailed. When you considering the gear wells on the Mohawk are matte white, all this detail is going to look amazing after a dark wash.
The rest of the build is simple and straightforward. The wings are assembled from upper and lower halves, followed by the nacelle's (each comprised of left and right halves).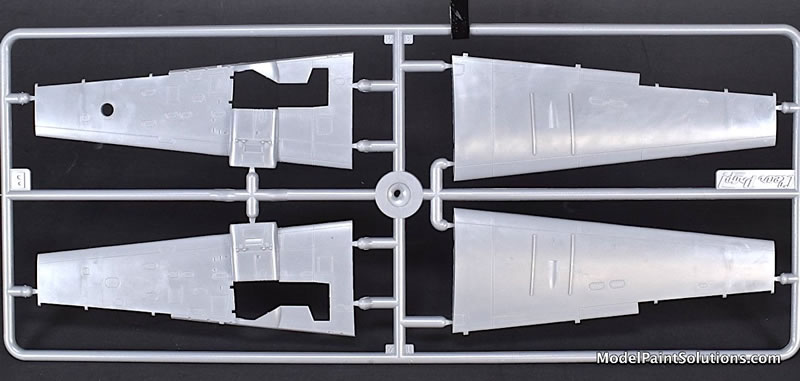 The nose cowls are single-piece obviating the need to remove a molding seem from a contoured surface; nice. There might be a bit of work dealing with a seem that will be visible within the prominent turboprop exhausts, which are composed of halves. The wing assemblies are completed by the addition of the inboard and outboard flaps.
Up next, the horizontal stabilizers (from halves) are assembled, complete with single-piece elevators. The horizontal stabilizers, ailerons (single-piece), and the main rudder (from halves) are added next. These are followed by addition of the single-piece, outboard, vertical stabilizers, each with a single-piece rudder. A nice diagram is provided to assist in getting the proper angle when affixing the horizontal stabilizers. The air brakes, on each side of the fuselage can be posed open.
The nicely molded, 5-piece propellor assemblies are next followed by the landing gear (nose and main). All of the landing gear parts are crisply molded and much use is made of PE to add detail to the gear assemblies and gear doors. The nose wheel/tire is a single piece however, the main gear wheels/tires are comprised of halves so there'll be some seams with which to deal. A nice diagram is provided showing the appropriate angles of the nose-and main-gear doors.
The canopy parts are beautifully molded and crystal clear with scale-appropriate framing. Of note, the pilots window can be posed open; very cool! This is an awesome option given how much detail is provided for the cockpit area.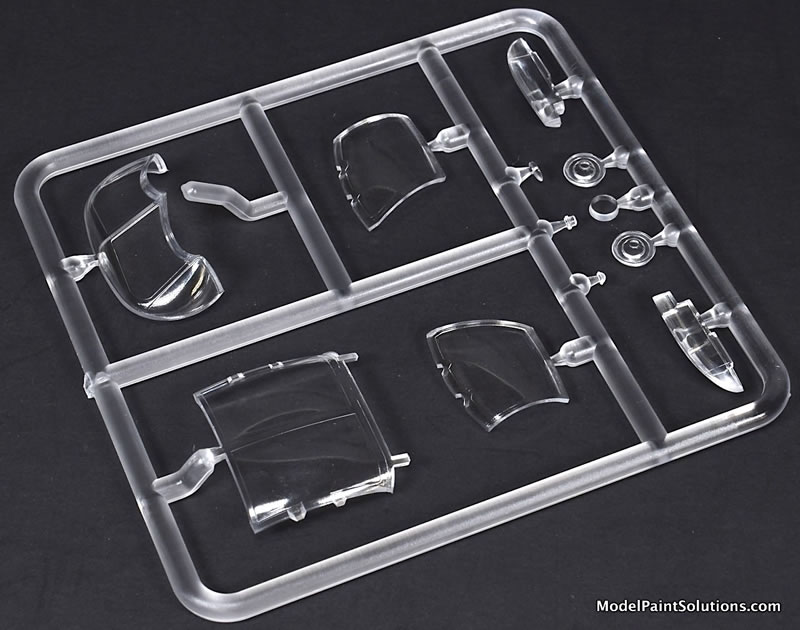 If you want to hang some ordinance on your Mohawk, nicely detailed, SLAR assemblies are provided along with drop tanks (from halves), unguided rocket pods (inboard and outboard), and single-piece hard points. Once again, a nice diagram is provided showing the appropriate load-out. The build is completed by the addition of a myriad of small antennae, intakes, etc on the exterior of the airframe, many in PE. One detail I greatly appreciate are the nicely done PE windscreen wipers; items hard to scratch in 72nd scale.
---
Markings
The decals, by Decograph, are crisply printed with good registration and color density.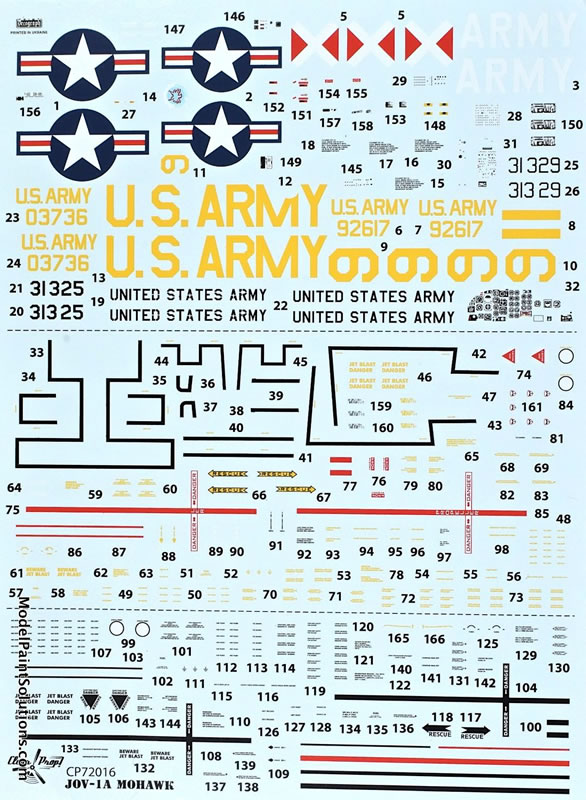 Markings are provided for 5 schemes as follows: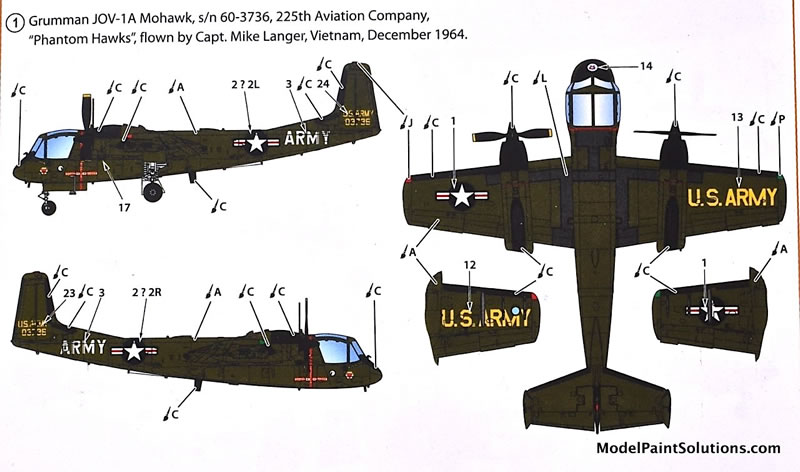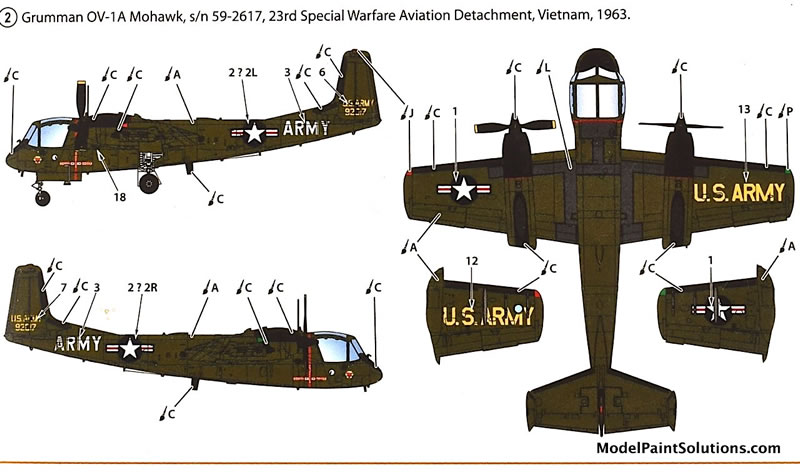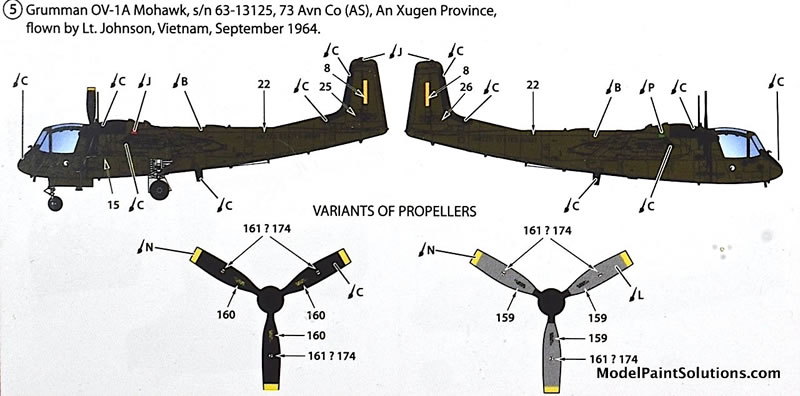 Airframe stencils are also provided.
Wowza! What a kit! Whether it's the cockpit, landing gear, or wheel wells, a high level of detail is maintained throughout the model. This looks like it will be an involved but enjoyable build with no apparent red flags in the assembly sequence. That said, the kit utilizes a lot of PE so a familiarity with prepping and using photo-etch parts will allow one to get the most out of what is an amazing model. Highly Recommended!
Now go paint something!
John
For more on this review visit Modelpaintsolutions.com
Review kit provided by my retirement fund; yes, again.
---
Text and Images Copyright © 2021 by John Miller
Page Created 13 May, 2021
Last updated 19 October, 2023
Back to HyperScale Main Page
Back to Reviews Page