U.S. Space Missiles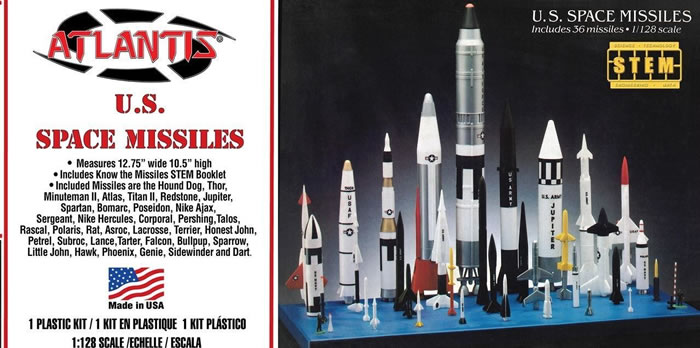 Atlantis (ex-Monogram), 1/128 scale
S u m m a r y :

Catalogue Number:

Atlantis (Monogram) Kit No. M6871; U.S. Space Missiles; 71 parts (70 in white styrene, 1 blue styrene base)

Scale:

1/128

Contents & Media

59 parts (50 in dark olive drab styrene, 5 clear styrene, four part stand).

Price:

USD$39.95

Review Type:

First Look.

Advantages:

Nice to see this kit re-released with a large eye to the original kit and directions, including a foldout description of all of the missiles covered.

Disadvantages:

Very simple models with limited detail; odd choices for the year it was released (1969).

Conclusion:

Recommended for all missile fans and modelers into nostalgia..

Reviewed by Cookie Sewell

Starting in the late 1950s model companies started releasing "sets" of kits or models that were based on a common theme – a leitmotiv for a specific genre. Monogram did two big ones then – a set of 1/128 scale US missiles labeled as the "U.S. Missile Arsenal" and a year later the famous 1/240 scale set of 18 USAF aircraft of the late 1950s. In 1969 they redid the first one as the "U.S. Space Missiles" set with a number of additions and deletions, and finally in the 1980s they did a 1/144 set of 22 US and Soviet missiles as a set. While the first two and the update were popular, the latter one was kind of a dud as all of the missiles were essentially cylindrical tubes that were hard to tell apart and not very appealing.
The original set consisted of 31 different missiles and covered the following subjects: Atlas; BOMARC; Bullpup; Corporal; Dart; Falcon; Genie; Hawk; Honest John; Jupiter; Jupiter C; Lacrosse; Little John; Matador; Nike Ajax; Nike Hercules; Petrel; Polaris; Rascal; RAT; Redstone; Regulus II; Sergeant; Sidwinder; Snark; Sparrow; Talos; Terrier; Thor; and Vanguard.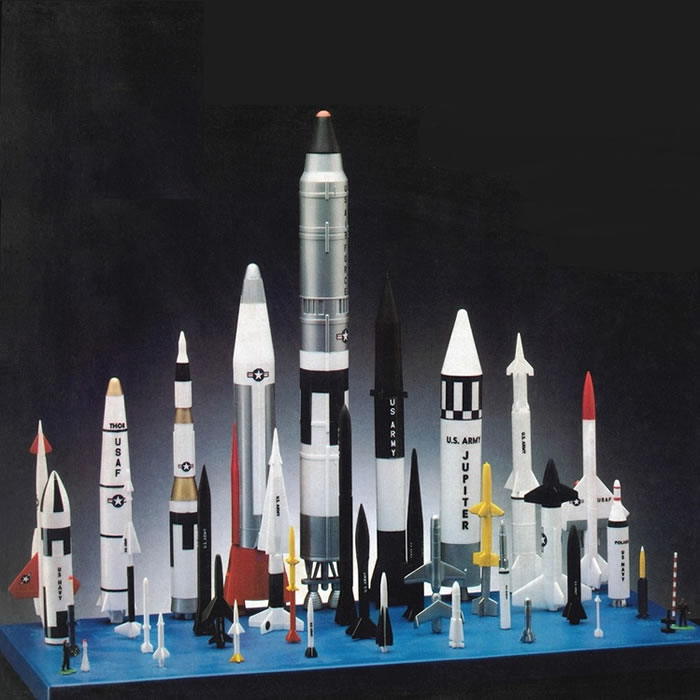 The revised set dropped the Jupiter C, Matador, Regulus II, Snark, and Vanguard, and in their place they added ASROC, Hound Dog, Lance, Minuteman II, Pershing, Phoenix, Poseidon, Spartan, SUBROC, and Titan II. Ironically, while the first set had included space launch vehicles the new one only included combat weapons!
The 36 missiles in the kit all consist of one to five parts to represent the specific missile type and come in white plastic (I think the original ones were in silver as some of them were also offered in small sets of five missiles on their own). Details are somewhat subdued or missing on each missile, partially due to scale and partially due to not having access to detailed blueprints (they were all operational weapons or weapons prototypes in the 1950s and the updated ones got the same treatment). Painting directions also cover only what was observed in press releases so many missiles still have names and photo-op markings on them.
But the biggest problem is that many of these missiles – even in the updated set – either never entered production or had very short service lives. The result is that it is more of a snapshot in history than an actual representation of weapons in service.
The model comes with a nice sturdy base with raised lettering to identify each missile as well as two figures in 1/128 scale, one holding a convenient size gauge to give an idea of the size of the missiles. The bottom of the box is also given a lithographed "space" background for the model. Note that all models come with pegs to mount them to the base.
In summary, this kit is more a snapshot in time than an accurate representation of US weaponry in the 1960s but it is still a nice one to finish up as a desk model.
---
Review Text and Images Copyright © 2023 by Cookie Sewell
Page Created 22 January, 2023
Last updated 22 January, 2023
Back to HyperScale Main Page
Back to Reviews Page