Hurricane Mk.IID Trop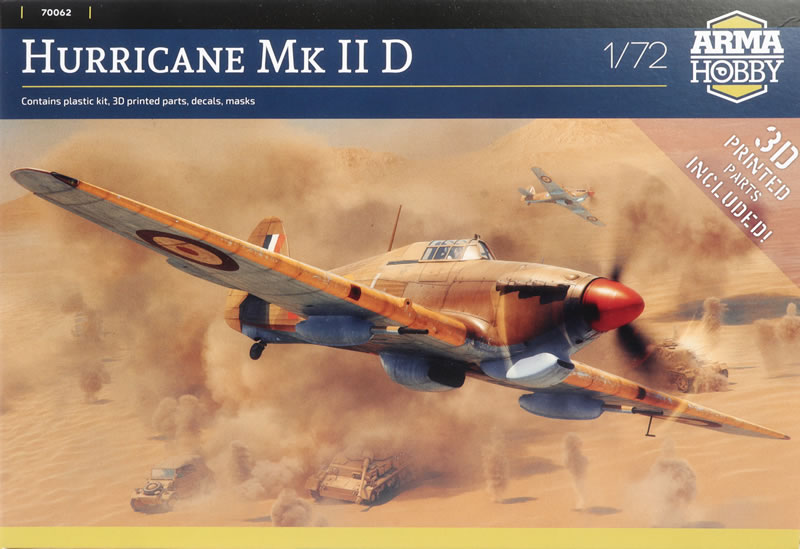 Arma Hobby, 1/72 scale
S u m m a r y :

Description and Item No.:

Arma Hobby Kit No. 70062 - Hurricane Mk.IID Trop

Contents and Media:

54 parts in grey plastic, 11 parts in 3D printed resin; eight parts in clear plastic; self-adhesive canopy masks; markings for five aircraft.

Price:

€27.25 plus shipping available online at Arma Hobby

£29.99 EU Price (£24.99 Export Price) Plus Shipping at Hannants

and hobby retailers worldwide

Scale:

1/72

Review Type:

First Look

Advantages:

Lovely fine and convincing surface textures; excellent moulding quality; high level of detail; thoughtful parts breakdown; locating pins on plastic parts to aid alignment and assembly; includes perfectly printed 3d resin parts for Mk.IID specifics.

Disadvantages:

End-opening box.

Recommendation:

Arma Hobby's 1/72 scale Hurricane Mk.IID Trop is a truly lovely kit - excellent surface texture, moulding quality, detail and inclusions. The addition of the high quality 3D printed resin conversion parts is very welcome.
Reviewed by Brett Green

The Hurricane Mk.II was used in ground support, where it was quickly learned that destroying German tanks was difficult; the cannons did not have the performance needed, while bombing the tanks was almost impossible.
The solution was to equip the aircraft with a 40 mm cannon in a pod under each wing, reducing the other armament to a single Browning in each wing loaded with tracers for aiming purposes.
The Hurricane-equipped 6 Squadron RAF was the first squadron equipped with this armament. They were so effective that the squadron was nicknamed the "Flying Can Openers".
A winged can-opener became an unofficial squadron emblem, and is painted on present-day aircraft of 6 Squadron.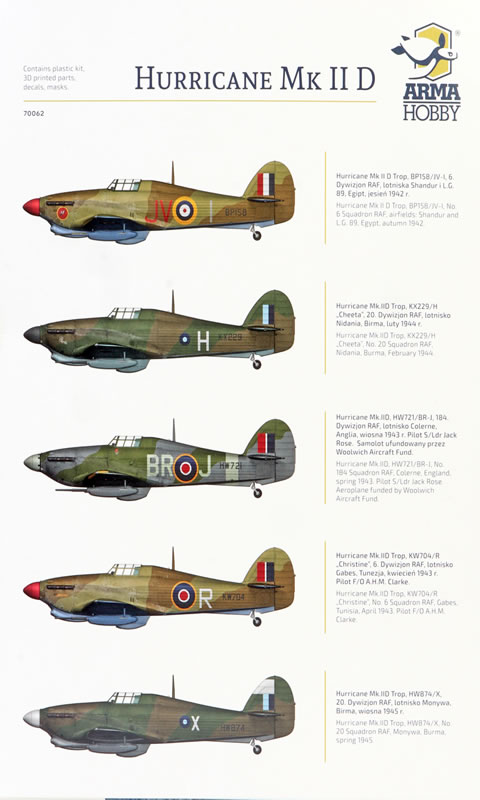 The layout was originally tested on a converted Mk IIB and flew on 18 September 1941. A new-build version of what was known as the Mk IID started in 1942, including additional armour for the pilot, radiator and engine.
The aircraft were initially supplied with a Rolls-Royce gun and carried 12 rounds, but soon changed to the 40 mm (1.57 in) Vickers S gun with 15 rounds.
The weight of guns and armour protection had a marginal effect on the aircraft's performance.
The IID was used in anti-tank operations in limited numbers during the North African campaign where they proved accurate and highly effective against armoured vehicles and all motor transport provided enemy flak and fighters were absent.
This is the first time that Arma Hobby has released the Hurricane Mk.IID variant. Much like the original batch of real Mk.IIDs, Arma's 1/72 scale tank buster is a conversion too.
This model is based on the sprue of Arma's Hurricane Mk.IIc. A little surgery is required on the plastic wing parts - cutting off and filling the cannon stubs on the leading edges, sanding down a few bumps and filling a number of panel lines. You'll need to drill a hole in each leading edhe too. None of this will be too difficult for a moderately experienced modeller.
The specific parts for the Mk.IID tankbuster are provided in 3D printed resin.
The kit comprises 54 parts in grey plastic, 11 parts in 3D printed resin, eight parts in clear plastic; and markings for five aircraft..
The grey plastic parts are delivered on one sprue.
Moulding quality is excellent, with no flash, flaws or visible moulding imperfections on my sample.
The larger parts are moulded with a satin finish. Surface textures are just gorgeous. Panel lines, raised fastener heads and other structural details are very fine.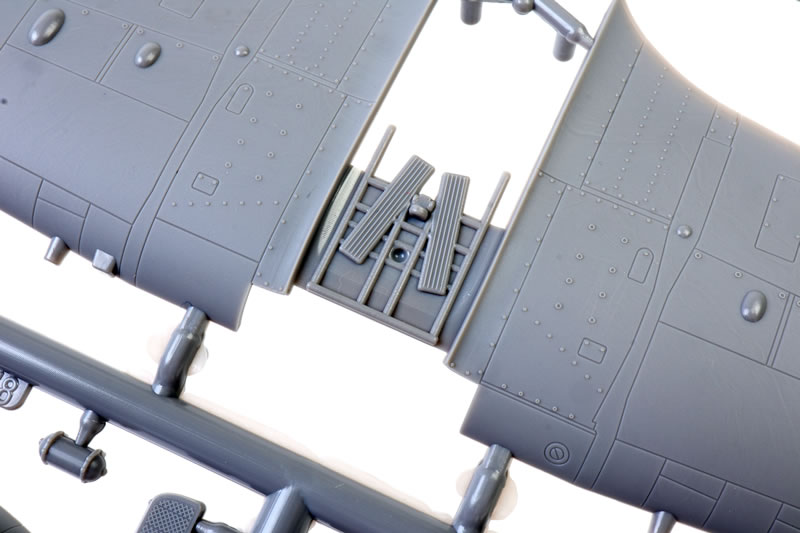 The fabric texture on the rear fuselage and tail surfaces are particularly subtle and impressive.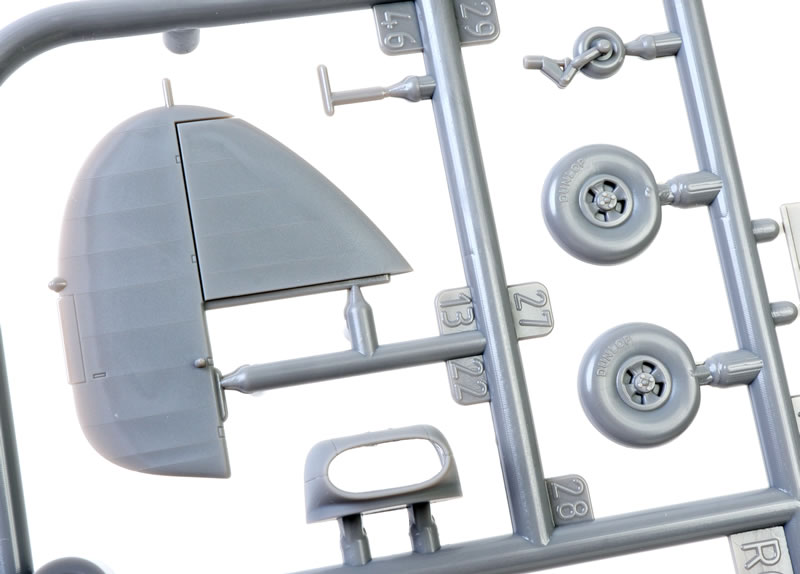 The fuselage is supplied as left and right halves with the fin supplied as a separate part.
Some details are moulded directly to the inside of the fuselage and onto the wing. These are supplemented by a plastic framework, the "bottomless" floor with foot rests, rudder pedals, control column and more.
The decal sheet supplies harness straps and instrument dials for the cockpit.
The upper and lower wings are moulded as full span.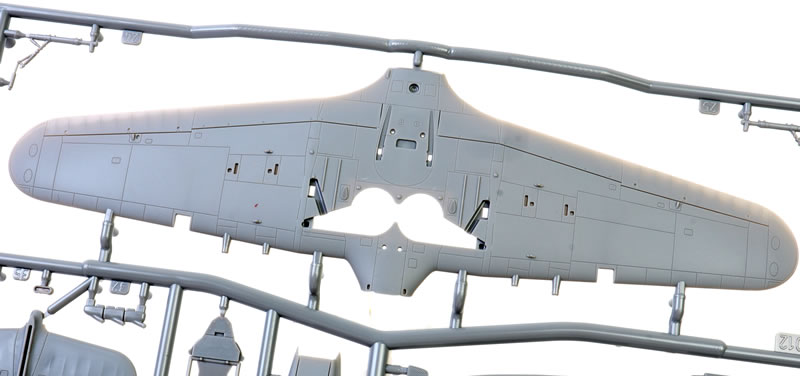 Wheel wells are nicely detailed. Main wheels are one piece each in injection moulded plastic.
A Rotol propeller assembly and spinner are included.
A Vokes tropical filter is also offered.
The 3D resin parts are cleverly and perfectly printed onto a single block.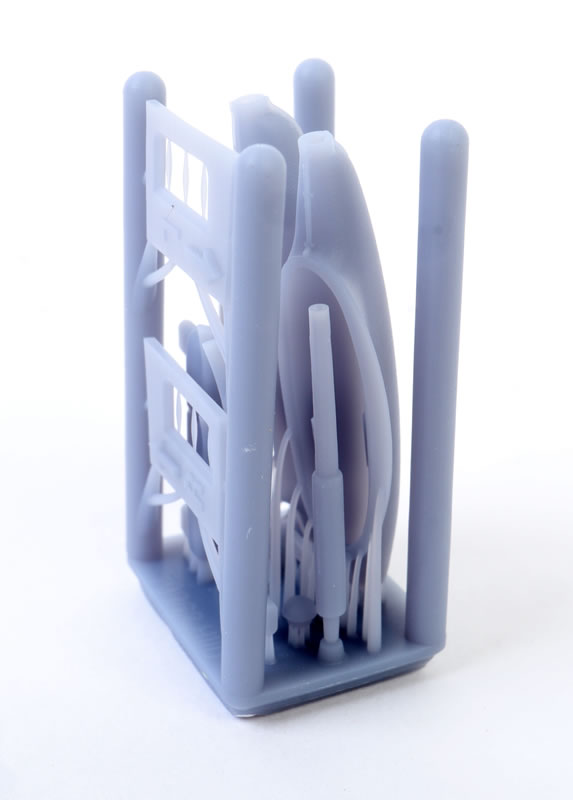 These parts are:
40mm under wing cannon pods and barrels

exhausts

mirror

template for scribing new panels on the wings.
Removal and cleanup should be fast and easy.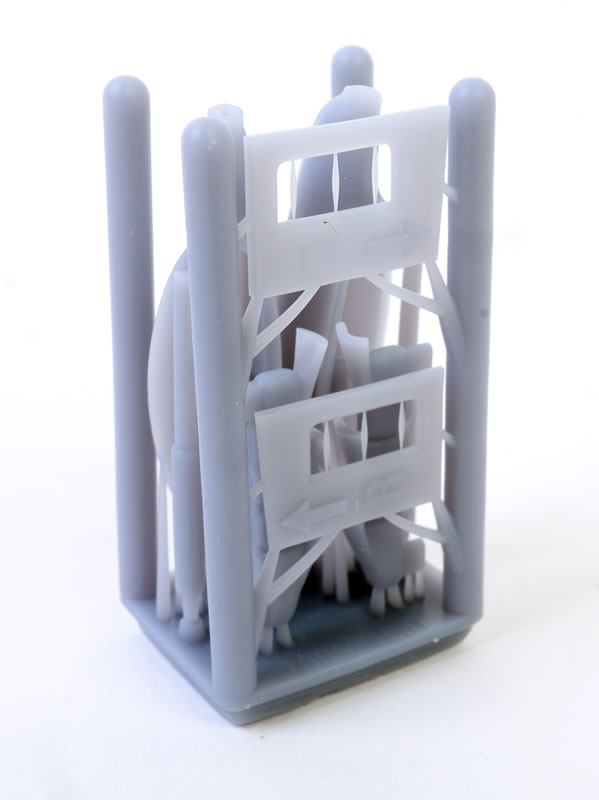 The canopy is quite clear and offers separate parts for the windscreen and the sliding section. Two sliding sections are included - one for the closed position and a wider one to display the canopy open and show off all that lovely detail.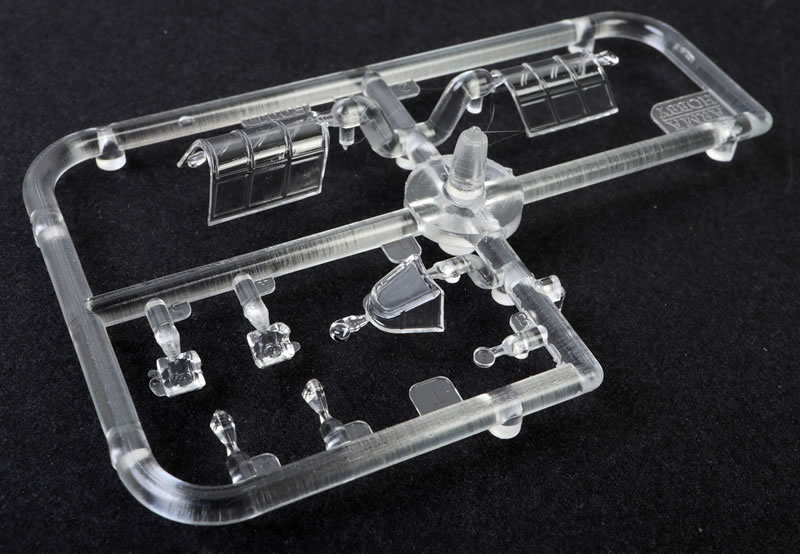 Clear landing lights for the wing leading edges are included too.
Optional wing tip navigation lights are also supplied, but you'll have to cut out the solid plastic on the wing tips before fitting these.
Self-adhesive masks are included.
Instructions are supplied in a eight page stapled A5-sized booklet. Assembly is described over 19 steps using clear diagrams.
The kit is packed into a side-opening cardboard box. I am not a fan of side-opening boxes - access to the parts is more difficult, loose parts can easily be lost while retrieving instructions or a larger sprue, and the format is less structurally rigid, inviting the contents to be crushed when the box is inevitably at the bottom of a pile of kits. I know it is a nit-pick but I would prefer to see future Arma Hobby releases in a lid-style of box.
---
Marking Options
Five marking options are included. A nice variety is offered - two SEAC, two desert camouflage and one Day Fighter Scheme.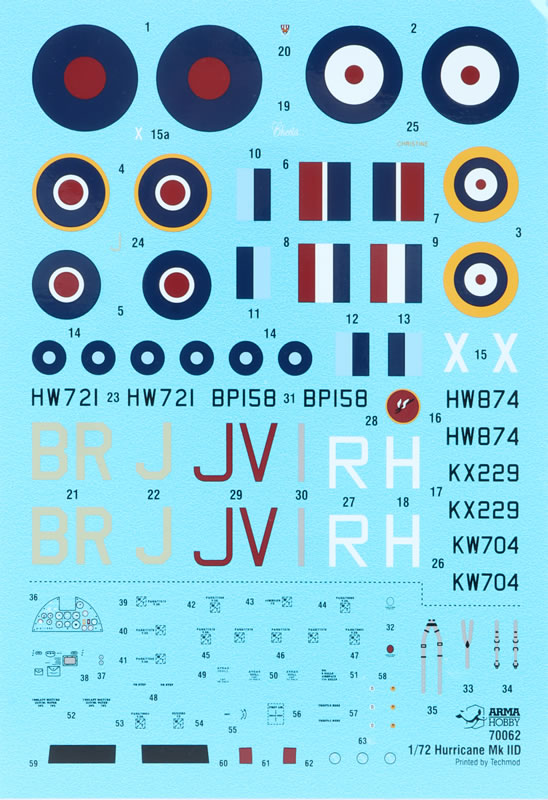 Decals are printed by Techmod. They are glossy, colours are well saturated and everything is in perfect register.
In common with the rest of their Hurricane family, Arma Hobby's 1/72 scale Hurricane Mk.IID Trop is a truly lovely kit - excellent surface texture, moulding quality, detail and inclusions. The addition of the high quality 3D printed resin conversion parts to transform the model into the Mk.IID tank buster variant is very welcome.
Thanks to Arma Hobby for the sample
---
Review and Images Text Copyright © 2023 by Brett Green
Page Created 15 February, 2023
Last updated 15 February, 2023
Back to HyperScale Main Page
Back to Reviews Page