IAF F-16A/B Netz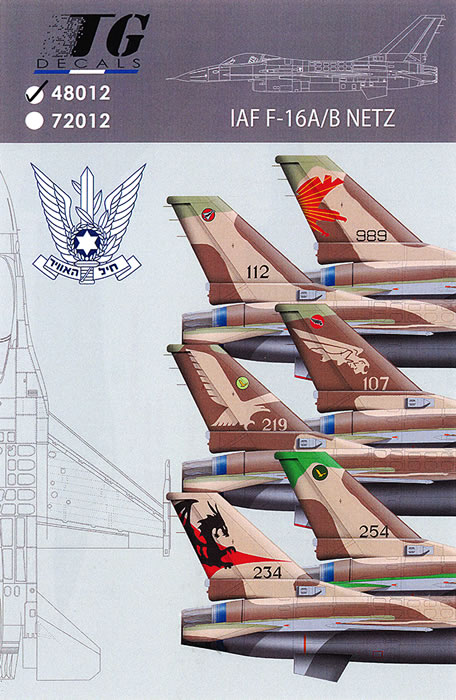 TG Decals, 1/48 scale
S u m m a r y

Catalogue Number, Description and Price

TG Decals Item No. 48012 - IAF F-16A/B Netz

USD$18.00 - $20.00 plus shipping available direct from TG Decals

Scale:
1/48 scale (also available in 1/72 scale)
Review Type:
First Look
Advantages:
Clear crisp decals printed by in the USA, with 14 schemes as well as one full set of data stencils.
Disadvantages:
Difficult to find prices or an easy way of ordering.
Conclusion:

This set will give you many options for your early F-16As and a couple of the B, 2 seat versions kit in the striking desert schemes of the IAF.
Reviewed by David Couche

This set of decals from TG Decals for the any of the early F-16A/B aircraft provides schemes for 14 Israel Air Force desert scheme finished aircraft. TG Decals is a Guatemalan business that trades through only email or Facebook. It is difficult to get prices and availability without direct contact with the business which, I'm sure that many of you would agree is a painful way of doing business.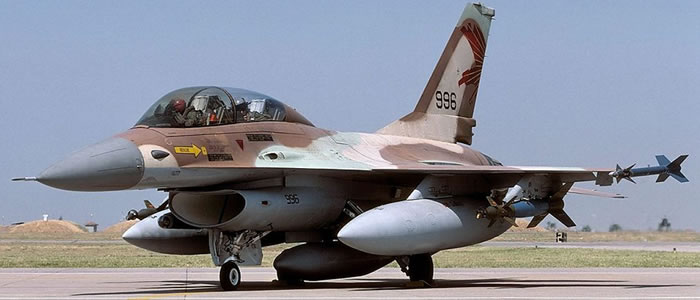 That said, the package offers a wide range of schemes, mainly with the main differences being some great tail art for the various IAF Squadrons. In the cellophane sticky packaging you get 3 sheets of decals, the larger one being an A5 sheet with the tail art and most of the data stencils and insignia for one aircraft.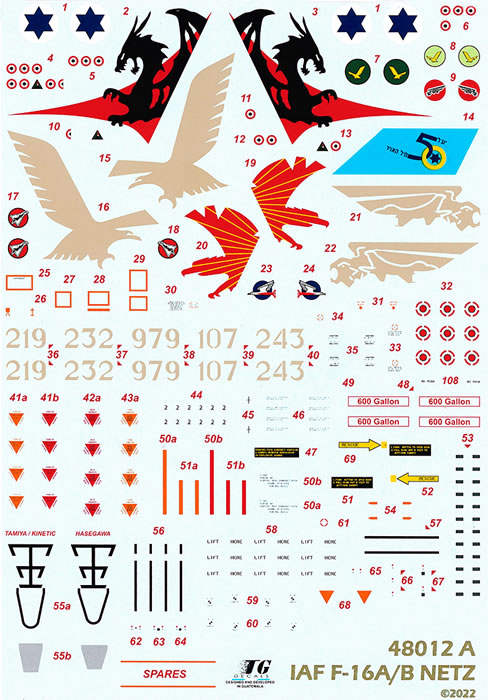 The smaller sheet, 15cm x 10cm, has the many aircraft numbers as well as the wing walk lines.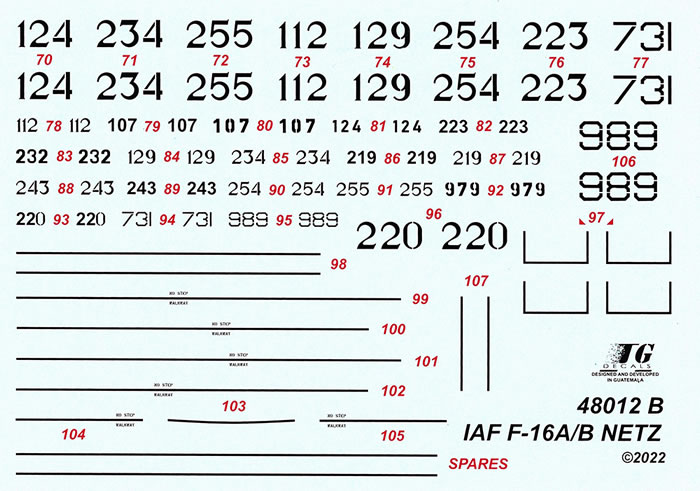 There is also a small correction sheet where they have reprinted some of the data stencils with black lettering which was previously printed in a sand colour.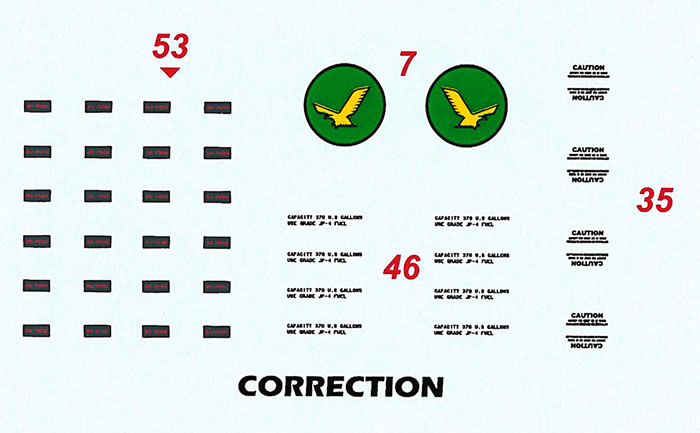 All decal sheets are printed in in the USA but it is not clear as to the actual company doing this. I have found them to be aligned with crisp details. They decals do not seem to be overly thick so would appear that they should go on easily and settle into detail well with an application of Micro-Sol (red). The instructions are on 4, double sided heavy paper sheets which are printed in colour with helpful annotated notes where needed. Each page has left and right-side profiles. On a general page there are 2 upper profiles with the early and late paint schemes used but you will need to check references as to which aircraft used which scheme. Also there is a stencil guide for the different drop tanks used. There are paint call outs for MRP, Model Master, Tamiya, Gunze and Vallejo paints, giving you a number of options of brand paints.
The aircraft in this set are;
F-16A, 124, 115 Sqn, Flying Dragon Squadron, 2016

F-16A, 234, 115 Sqn, Flying Dragon Squadron, 2010

F-16A, 220, 115 Sqn, Flying Dragon Squadron, 2012

F-16A, 243, Golden Eagle Squadron, 2002

F-16A, 219, Golden Eagle Squadron, 2013

F-16A, 254, Golden Eagle Squadron, 1998

F-16A, 129, 253 Sqn, Negev Squadron, 1999

F-16A, 731, 144 Sqn, Phoenix Squadron, 2003

F-16A, 255, 140 Sqn, Golden Eagle Squadron, 1998

F-16A, 107, 116 Sqn, The Lions of the South, 2010

F-16A, 232, 116 Sqn, The Lions of the South, 2010

F-16A, 112, 253 Sqn, Negev Squadron, 1999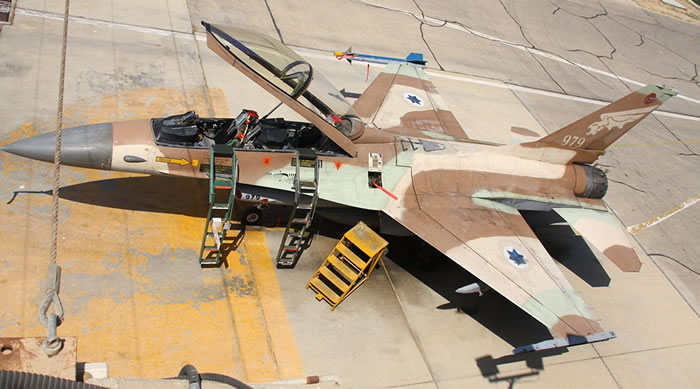 F-16B, 989, 114Sqn, Phoenix Squadron, 2001

F-16B, 979, 116 Sqn, The Lions of the South, 2012
This is a nice set of decals from TG Decals covering 14 great IAF desert schemes for the F-16A/B aircraft for basically any of the F-16A kits. Some modifications maybe needed but the notes state there is a conversion set available. I do like desert schemes, whether it be Luftwaffe, Allied, Arab, IAF, Desert Storm etc. These TG Decals fit right into my interest areas for modelling and I can't wait to build something to use them on. They come highly recommended.
Thanks to TG Decals for the sample.
---
Review Text and Images Copyright © 2020 by David Couche
Page Created 7 November, 2023
Last updated 8 November, 2023
Back to HyperScale Main Page
Back to Reviews Page