Various Vipers
Preview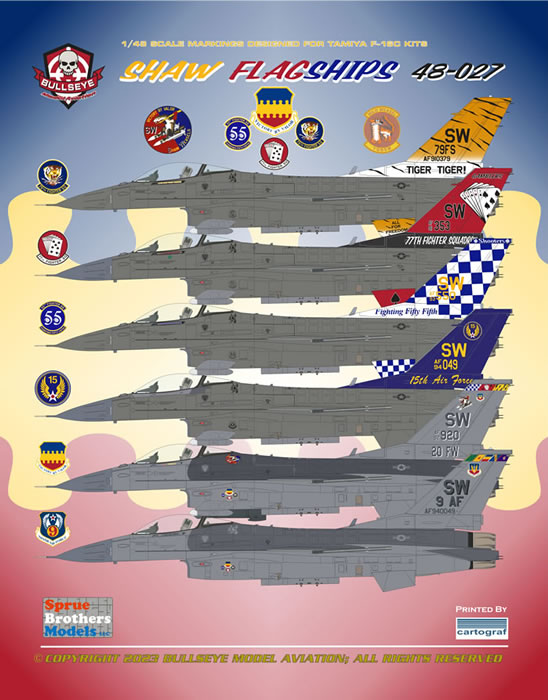 Bullseye Model Aviation, 1/48 scale

Bullseye Model Aviation presents details of their next 1/48 scale releases covering the F-16C/D.
This is what's at print now, ought to be a few weeks before release...
These will be exclusively available in the USA from Sprue Brothers and elsewhere internationally from The 48ers: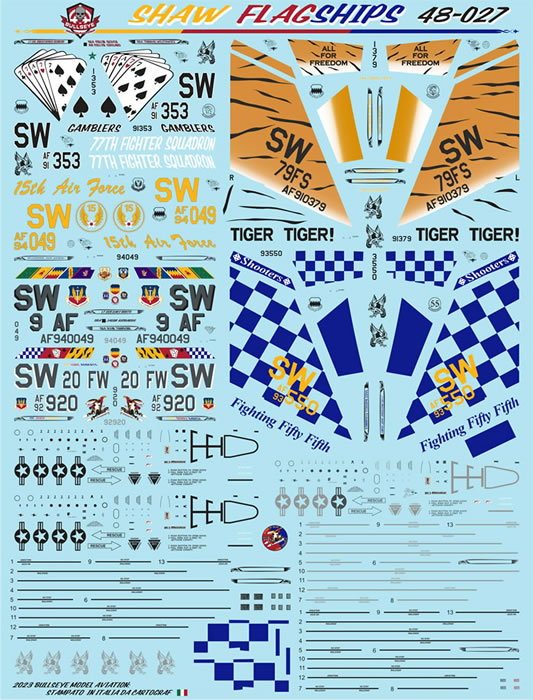 48-027 Is the followup to the extremely well received Wild West Vipers from Holloman/Tucson, I immediately started working on an equally as awesome set of flagships from Shaw. All 3 squadrons have some really cool tail art....just amazing stuff! I have been a fan of Derek O'Malley since his days as the WepsO for the 35th FS and his infamous "Gold Bond Powder" video. I finally got to meet him a couple 3 years ago, and he took Tracy and I out to take pictures of his jet and a few others, so his wing flagship is on there as is what I think is one of the most beautiful vipers ever, the 9th AF flagship when Gary North was boss. We did it back in Afterburner days, but I wasn't thrilled with how it came out. We were using MicroScale then so the tail flash was 4 separate pieces! The new 15th AF jet is on here as well. All the squadron jets are the new dark gray Have Glass IV scheme.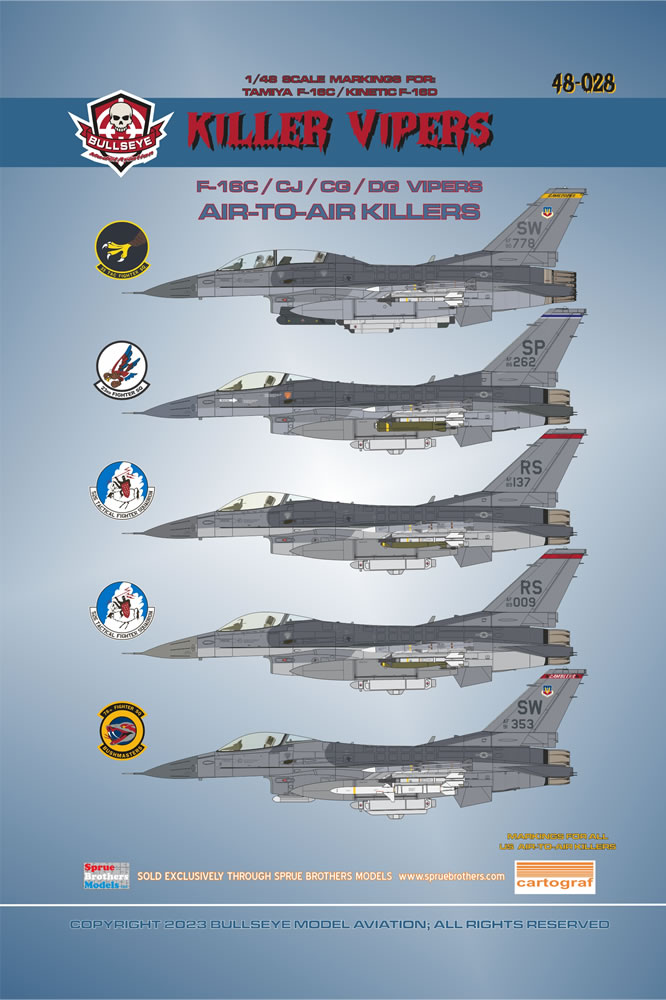 48-028 Now that the Kinetic Vipers are out and they turned out extremely nice, since they graced us with a D model, it's FINALLY time to kick out Gary North's Foxbat splash jet! Lo these many years have I kept that close to my heart. Killer Vipers is all 6 US F-16s that have A2A kills. North's Benji 41, Bob Wright and Yogi Allen's Ramstein Banja Luka kill jets, Mike Geczy's Allied Force Fulcrum killer and Craig Stevenson's Provide Comfort Flogger killer.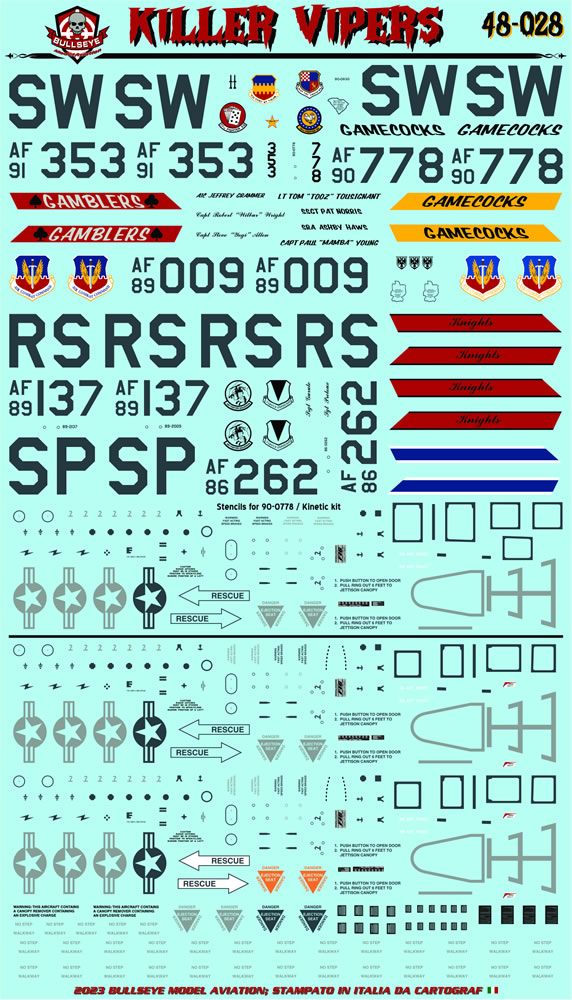 Nobody got 353 accurate really...the Banja Luka killers we did at AB but the printing wasn't terrific (another MicroScale sheet) so I decided to repackage them together. 48-029 Is the first foray into F-16As for Bullseye. These are designed specifically for the new Kinetic Gold Series kits. They haven't released a dedicated A model kit covering USAF subjects, but those are forthcoming soon.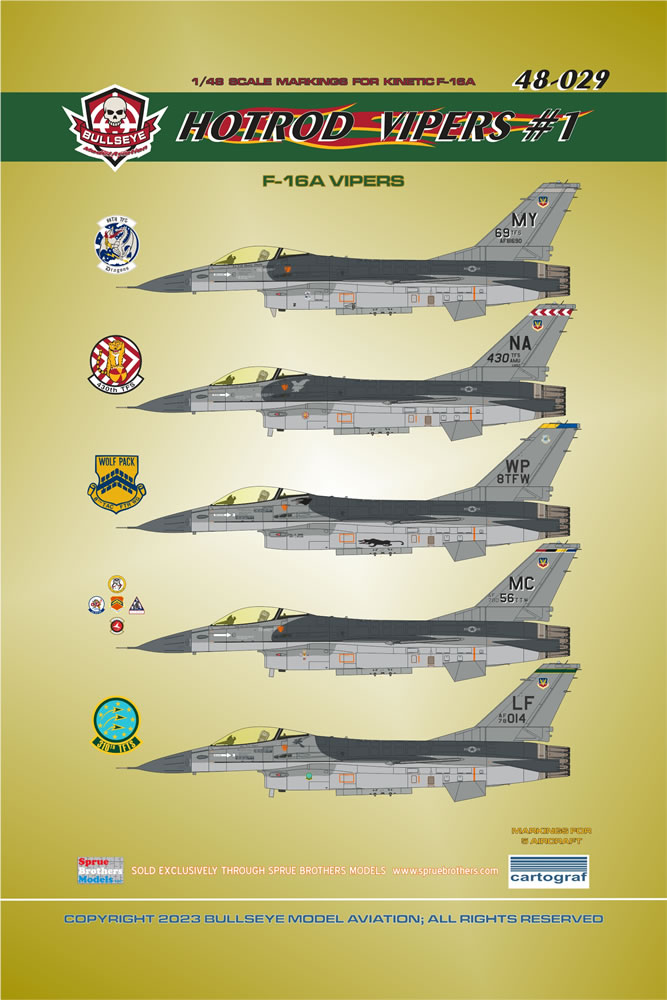 These are Block 1s thru 15s and most of these units haven't ever been done well before. I've ALWAYS loved that Kunsan jet with the goofy looking panther on the landing gear door! A Nellis 474th jet, a buddy of mine crewed the 69th TFS flagship so it's on there, and some of y'all might know Kevin Patrick as a PROLIFIC photographer in the 80s and 90s when he was a crew chief on vipers. His Luke jet is included as well as a beautiful McDill flagship. We have another 5 or 6 sheets worth of As done, including one for ADFs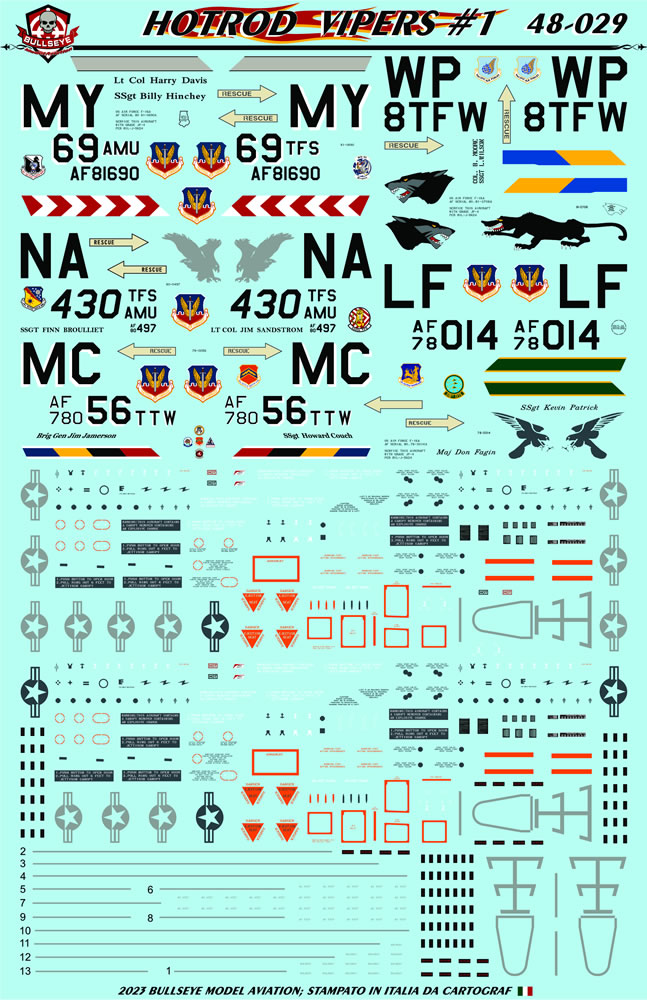 Available in the coming weeks from Sprue Brothers in the US and The 48ers overseas.

https://spruebrothers.com

https://the48ers.com/
Information and images provided by Bullseye Model Aviation
---
Text Copyright © 2023 by Bullseye Model Aviation
This Page Created on 20 February, 2023
Last updated 20 February, 2023
Back to HyperScale Main Page
---