Lockheed P-38 Lightning Including the F-4 and F-5
by Richard A. Franks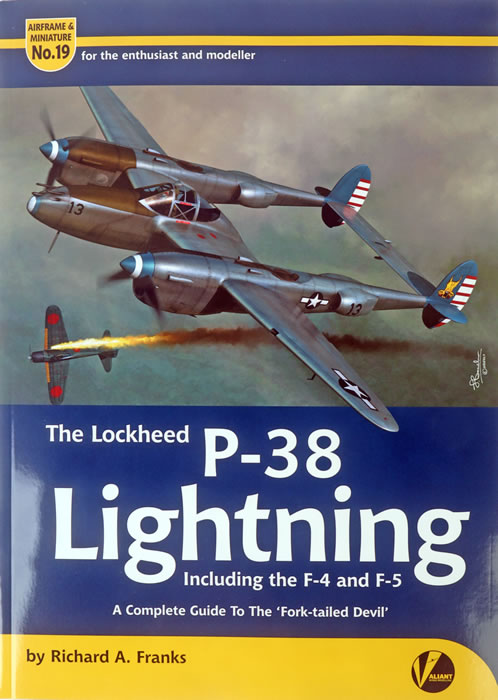 Valiant Wings Publishing
Airframe & Miniature No. 19
S u m m a r y

Publisher and Title:

Valiant Wings Publishing
Lockheed P-38 Lightning Including the F-4 and F-5
Airframe and Miniature No. 19
by Richard A . Franks
2022

ISBN:
978-1-912932-27-6
Media:
256 pages in A4 portrait mode, many photographs and walkaround ones, colour profiles, historical manual drawings, line drawings and model details.
Price:

GBP£25.95 plus shipping available online from Valiant Wings

GBP£25.95 plus shipping available online from Hannants

and stockists worldwide.

Review Type:
First Read
Advantages:

Beautifully produced on quality paper, well bound so that it can be opened flat, masses of great information - photos, drawings and colour schemes - and excellent lists of all things a modeller needs to produce the next masterpiece.

Disadvantages:

None noted.

Conclusion:

This really is an exceptionally useful volume that should be in every P-38 Lightning modeller's library, regardless of which scale one works in, and I recommend it whole-heartedly..

Reviewed by Graham Carter
This is the latest edition in this popular series of modelling and technical books. It is a solid A4 256 page volume, well bound with a glossy card cover and printed on quality glossy paper that allows excellent reproduction of images and drawings. The cover is adorned with another of Jerry Boucher's commissioned illustrations, this time of Captain Bob DeHaven of the 7th FS, 49th FG over Leyte in 1944. While primarily aimed at the modeller with thirty-three pages taken up by kit reviews and builds, there is much to appeal to the historian and technically-minded person as well.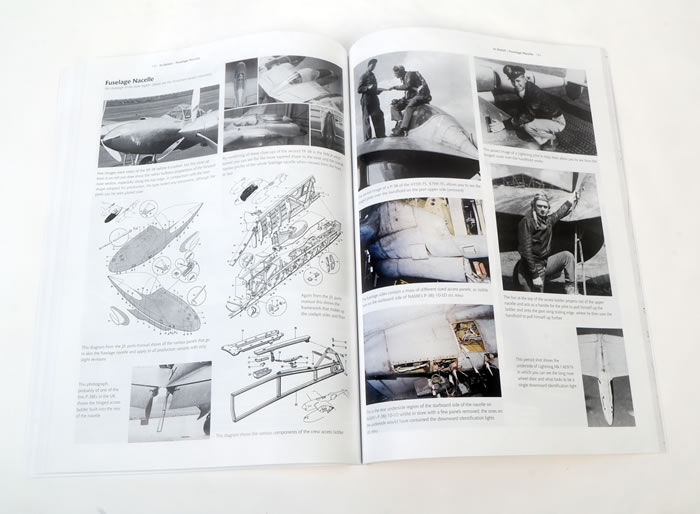 Following the familiar path, the volume begins with a Preface of twenty-five pages tracing the development and overseas usage of the P-38 with a few B&W photos and to illustrate. There then follows Chapter 1 with nineteen pages of info on Prototypes and Production showing in small images and some profiles the differences as development took place. Some of these are most peculiar such as the cranked tail P-38E-LO , the P-38D-LO Asymmetric Cockpit and P-38E-LO long nose 'Swordfish' and offer conversion possibilities to the 'Wottiff' modeller.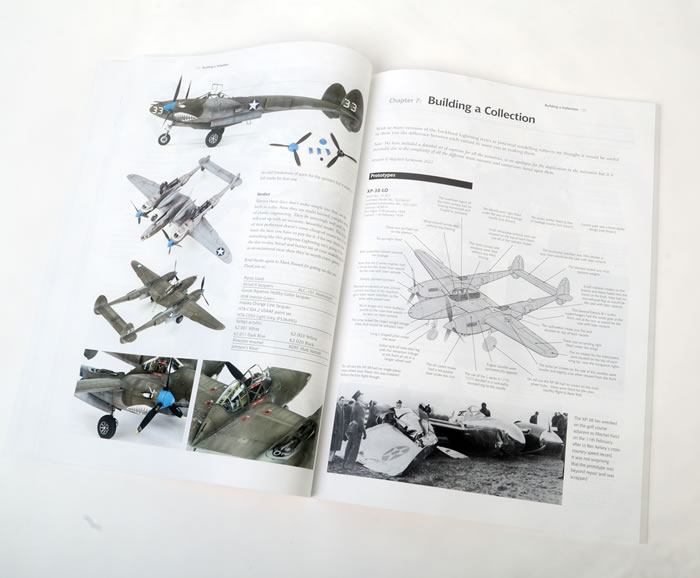 Then Chapter 2 covers the PR, NF 'Droop Snoop' and Pathfinder variants, again with images and profiles to illustrate the differences. Chapter 3 is only two pages and covers the one-off projects such as the floatplane 'Chain Lightning' and RR Merlin-engined proposals.
Next comes 35-odd pages of info on Camouflage and Markings which provides information and photos or colour drawings by Richard Caruana of the schemes worn by examples from most users, including the RAF, RAAF France and Italy, along with a myriad of smaller users such as Bolivia, China, Costa Rica, Cuba, Columbia, Dominican Republic, Guatemala, Honduras, Portugal Soviet Union, Yugoslavia and the ones captured by Germany. Many of the users took them into the late 40s and early 50s This section includes colour and B&W images. There are some great variations in colour schemes here and one can understand the popularity of this aircraft as a modelling subject.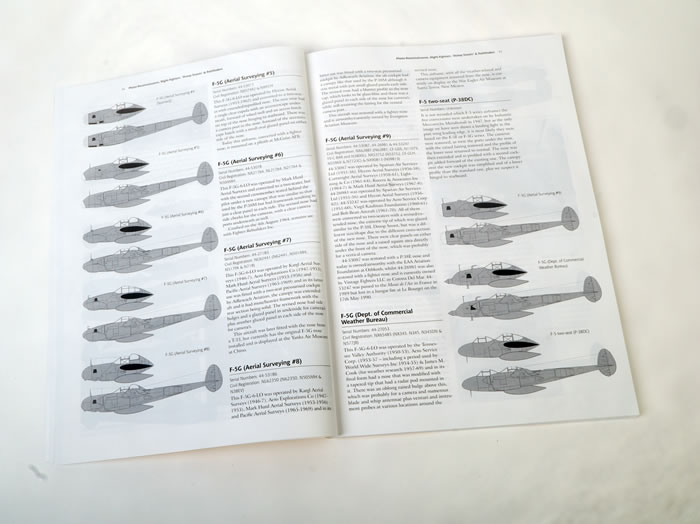 The 13-page sixth chapter lists a selection of the available kits in all scales from 1/144 through to 1/24, with an assessment of the pros and cons of each, after which Chapter Seven presents six builds all by Steve A Evans. These start with the P-38J from Hobby 2000 /Dragon in 1/72 and the 1/72 Craftworks XP-58 Chain Lightning, the Hasegawa 1/48 P-38J and finally the P-38F/G from Tamiya. Steve is well known for the quality of his modelling and the clear photos and explanations of how he produces his models are worth a detailed read.
The 46-page Chapter Seven is called Building a Collection and shows in isometric drawings by Wojciech Sankowski all the differences between all the different variants and showing the versions with the slightly different canopy. These clearly annotated sketches are invaluable to the modeller although I occasionally think that it would have been useful to have had some undersurface drawings as well.
The Eighth, 'In Detail', section occupies a massive 44 pages and give the reader an enormous number of colour and B&W photos from modern and contemporary sources, along with technical manual drawings and excellent notes. It covers most aspects of the airframes from the engine, propellors, cockpit, intakes, fuselage ( especially cowling variations) and wings, tails, undercarriage, weapons, gunsights and so on. This is really a highlight of this and other volumes in the series and provides an invaluable source of information for the interested technophile or the super-detailer.
There are then four appendices covering, in alphabetic lists by scale ( three full close-types pages!), all of the kits that have been available, Accessories (four pages), decals (three pages )and a two-page bibliography. The work that has gone into compiling these lists is quite astounding and the extent of these lists gives one a good idea of how popular this aircraft is as a modelling subject.
Finally, the rear of the book concludes with a fold-out double-sided four-page sets of 1/48 scale drawings - eight pages in all - showing side and upper and lower views of different variants, and including some details of nose variations.
This really is an exceptionally useful volume that should be in every Lightning modeller's library, regardless of which scale one works in, and I recommend it whole-heartedly.
Thanks to Valiant Wings Publishing for the sample.
---
Review Copyright © 2023 by Graham Carter
This Page Created on 22 February, 2023
Last updated 22 February, 2023
Back to HyperScale Main Page
Back to Reviews Page