Eduard has produced a range of accessories for the recent Revell 1/32 scale Messerschmitt Bf 109 G-2/4 kit.
Tonight I review six of Eduard's useful upgrades.
632183 - Eduard BRASSIN Bf 109 G-4 Wheels for Revell Kit.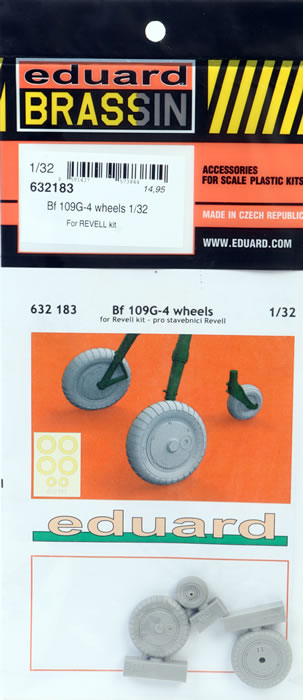 This is a simple drop-fit replacement for the kit's main and tail wheels. Eduard's replacement wheels are one part each.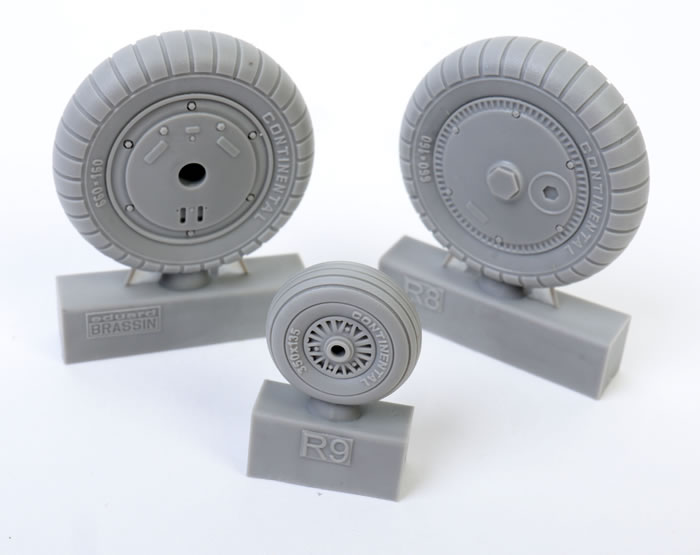 They are also subtly bulged and flattened. Eduard's resin wheels also feature crisper surface textures including the tread pattern and hub structure.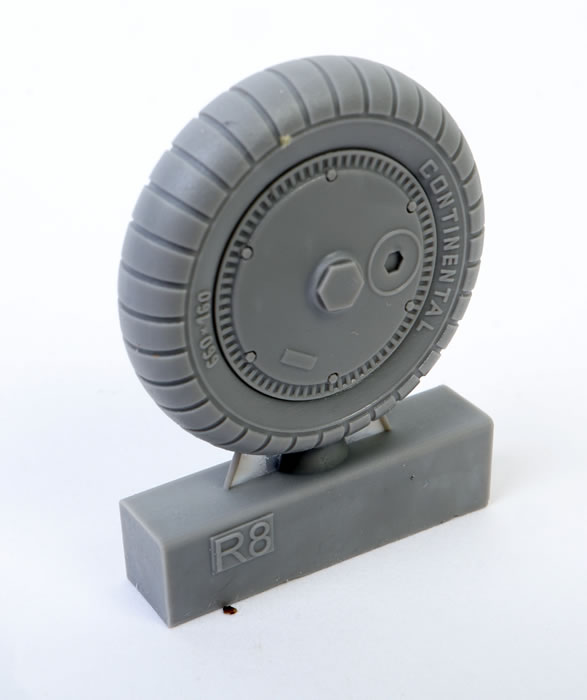 Self adhesive painting masks are included too.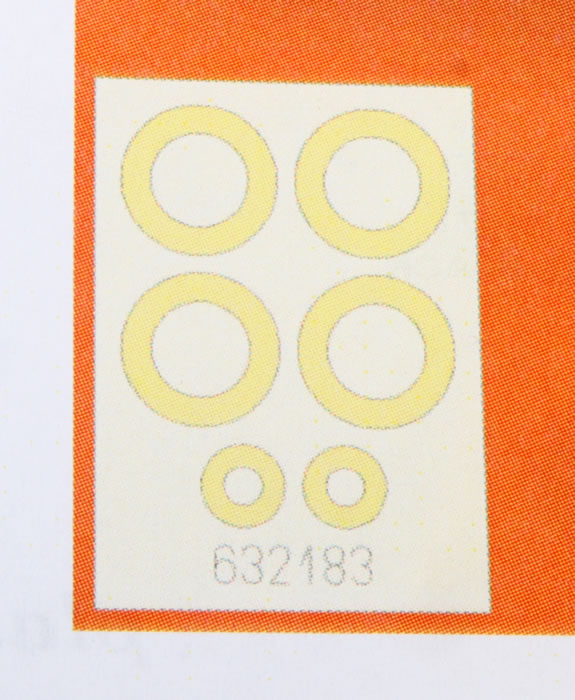 Cleanup should be fast and simple. A few swipes with a razor saw for each wheel should do the trick.
---
632184 - Eduard BRASSIN Bf 109 G-2/4 Exhaust Stacks.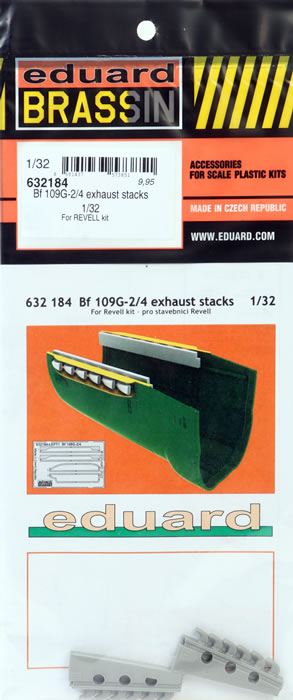 Eduard has produced a set of conventionally cast resin exhausts for Revell's recent 1/32 scale Bf 109 G-2/4 kit. The parts are cast in grey coloured resin.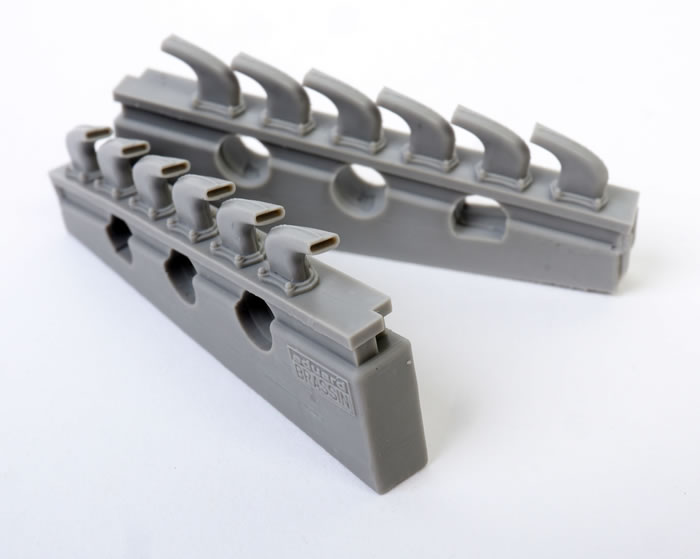 Production quality is perfect. Detail is gorgeous with weld beads, gaskets and bolts on each stack. The stacks are hollowed out at the ends too.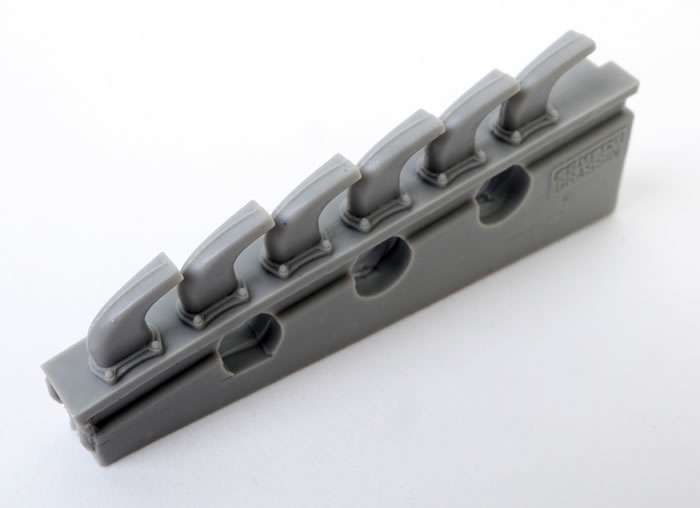 The two exhaust parts are each printed on a perforated strip that shou,d be quite easy to remove with a razor saw and clean up with a sanding stick.
Photo-etched parts are supplied for the flame dampers.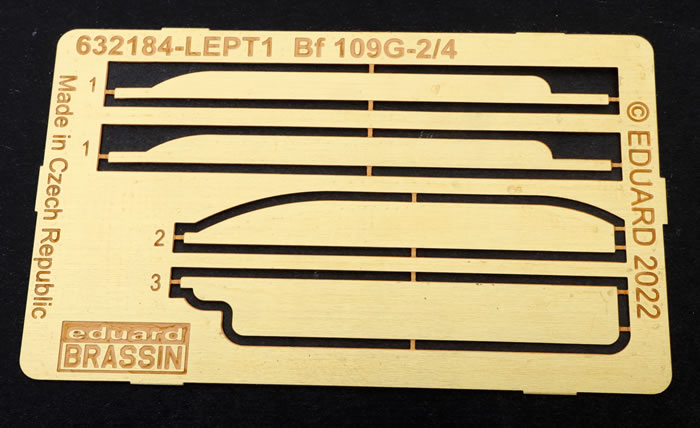 This set of exhausts will make a real difference to the nose of your IBG Dora.
---
632185 - Eduard BRONZE Bf 109 G-2/4 Undercarriage Legs for Revell Kit.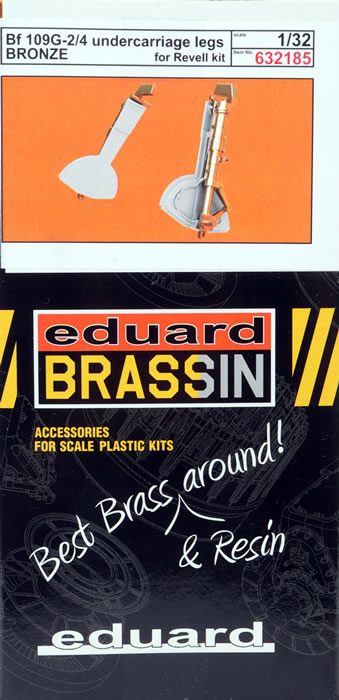 Eduard has released a set of two undercarriage legs in solid bronze and undercarriage doors in resin.
The bronze legs are ready to paint and install straight from the box. There are no casting blocks or strips, and not a hint of seam lines or other imperfections. They are perfectly cast in a single piece each.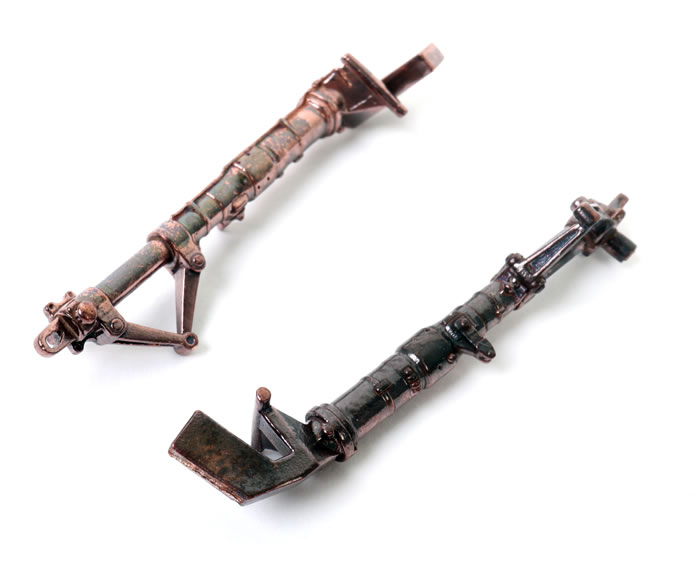 The resin main gear covers are attached to thin strips that will be fast and easy to clean up with a sharp hobby knife and a sanding stick.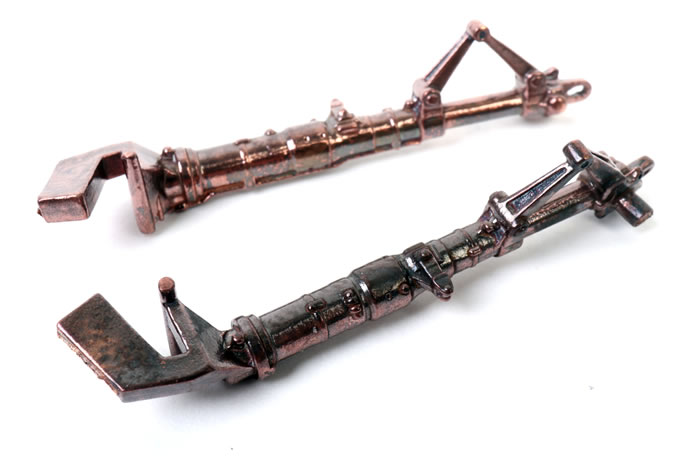 Casting is remarkable. The parts are translucent in places.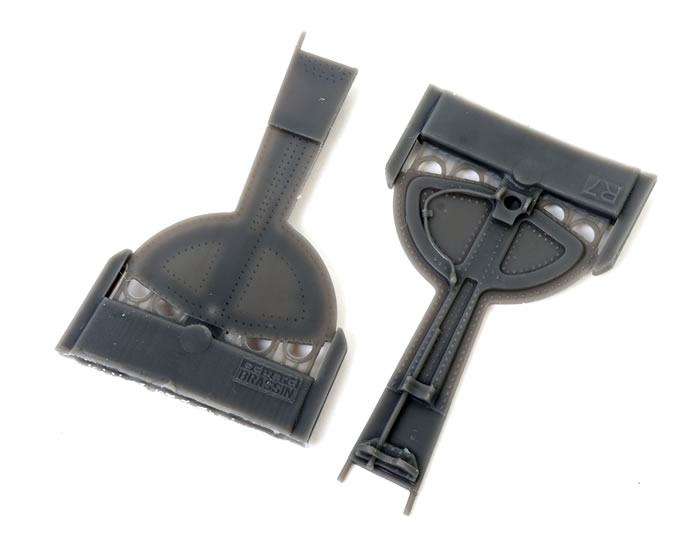 These should fit Eduard's Bf 109 G-6 and G-10 kits too. Eduard's BRASSIN BRONZE undercarriage leg set is an opulent - perhaps even extravagent - finishing touch for your Revell Gustav kits.
---
33337 - Eduard Zoom Bf 109 G-2/4 for Revell kit. USD$19.95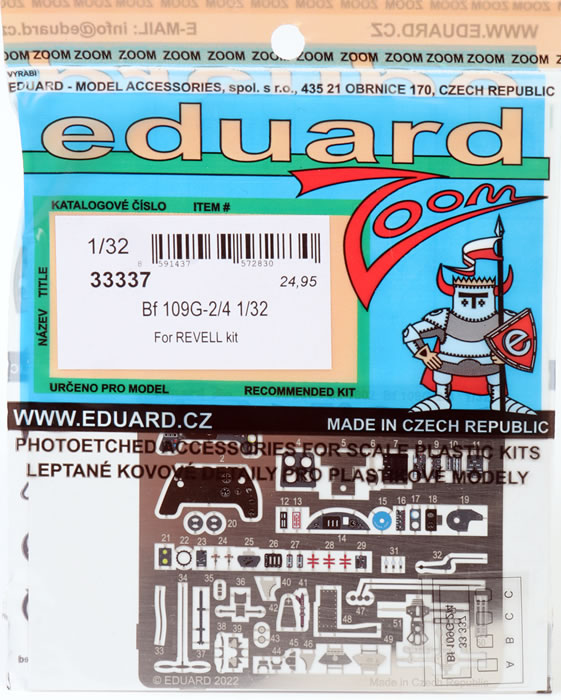 Even the entry-level Zoom series offers super detail with one colour photo-etched fret providing detail focused on the cockpit.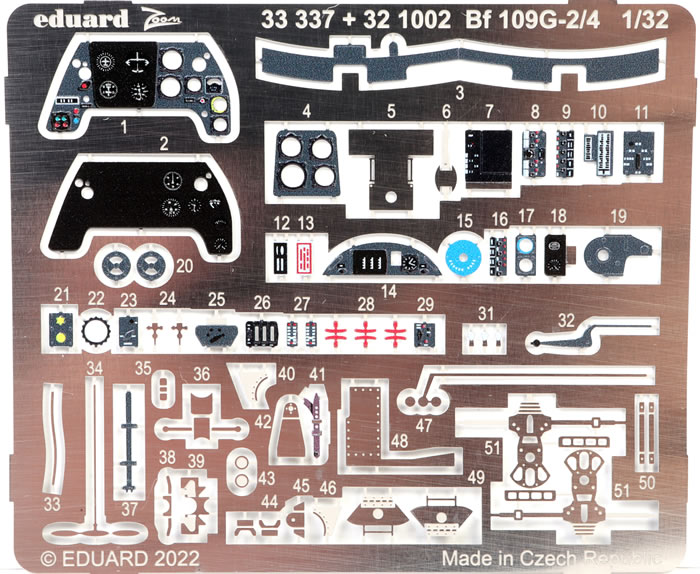 Specifically, the set supplies a replacement layered instrument panel, oxyden regulator, throttle, switches, knobs and more.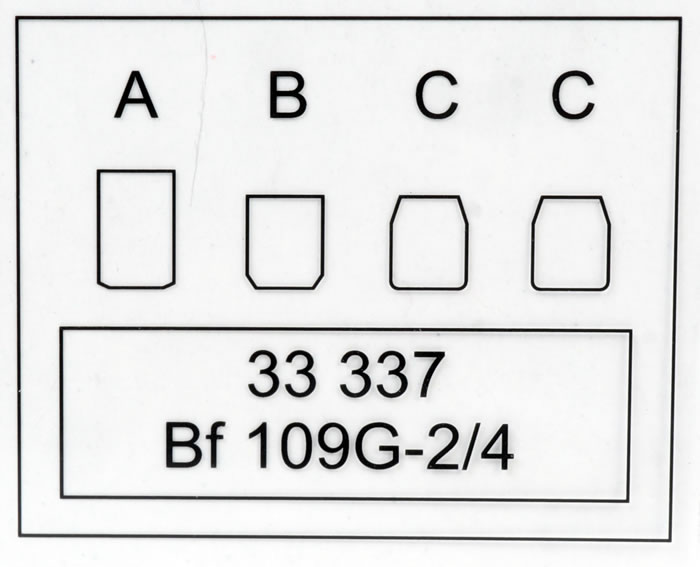 This represent great value for the big 1/32 scale cockpit.
---
33338 - Eduard ZOOM Bf 109 G-2/4 Seat Belts for Revell kit. USD$10.95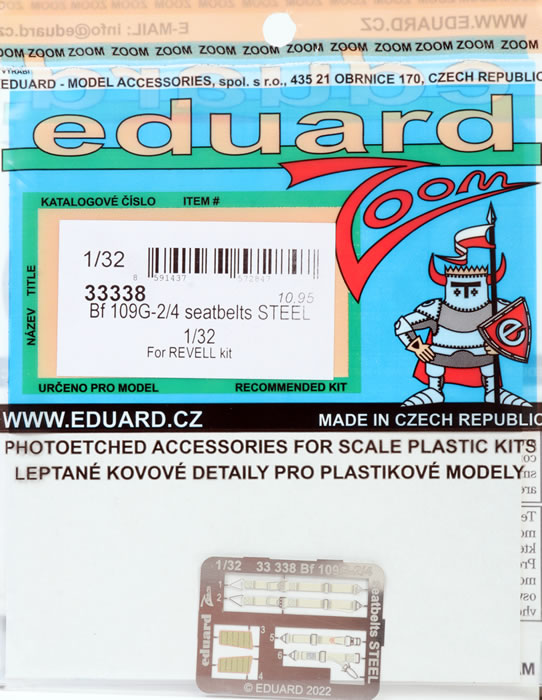 This new photo-etched fret supplies a full photo-etched harness for the seats in Revell's large scale Gustav.
Details are picked out, with stitching and hardware printed directly onto the photo-etched straps and mounts.
The half-tone rendering of shadows is also very well done.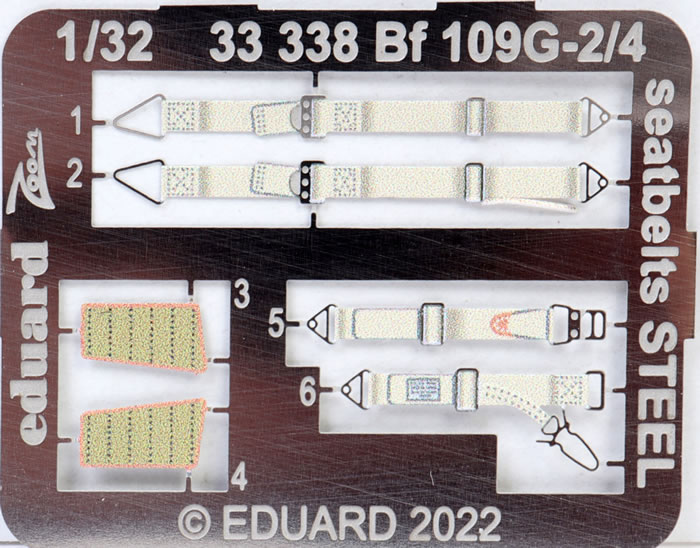 This harness set will be the ideal accompaniment to the Zoom cockpit detail set reviewed above.
---
JX299 - Eduard MASK - Bf 109 G-2/4 for Revell Kit. USD$12.95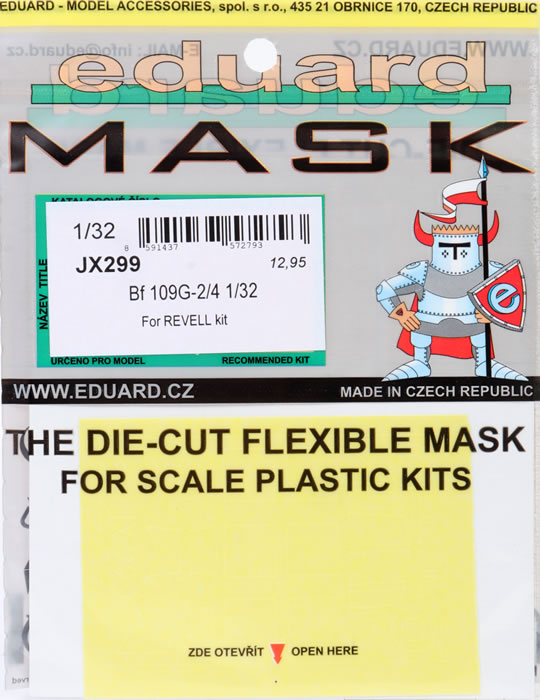 Die-cut, self-adhesive masks for the canopy and wheels.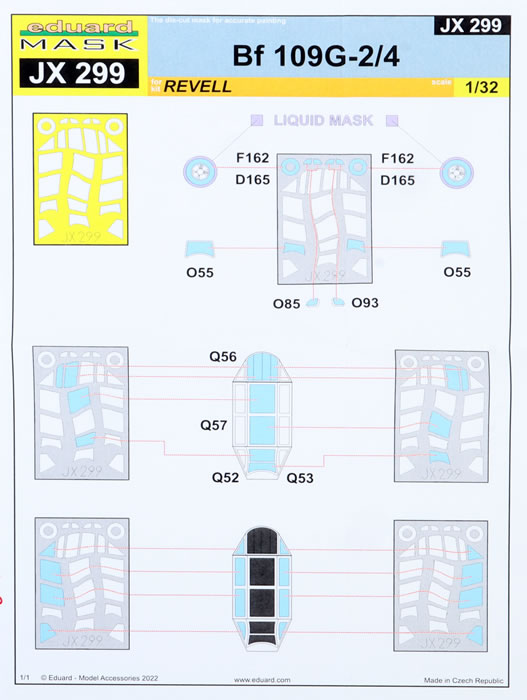 These represent a fast and accurate solution for a time consuming and often disliked modelling task.
The BRASSIN exhausts and wheels are quick and noticeable improvements over the plastic parts.
The BRONZE undercarriage legs are sheer luxury.
The use of the Zoom photo-etched fret will result in a noticeably better detailed cockpit, especially around the instrument panel and side consoles. The addition of the photo-etched harness straps will also be a highly visible upgrade.
The masks will save you a lot of time and add sharp precision to the clear parts too!
These are very useful investments for your Revell 1/32 scale Messerschmott Bf 109 G-2/4.
Thanks to Eduard for the review samples
---
Text and Images Copyright © 2023 by Brett Green
Page Created 31 January, 2023
Last updated 1 February, 2023
Back to HyperScale Main Page
Back to Reviews Page