A Selection of
General Aviation Airplanes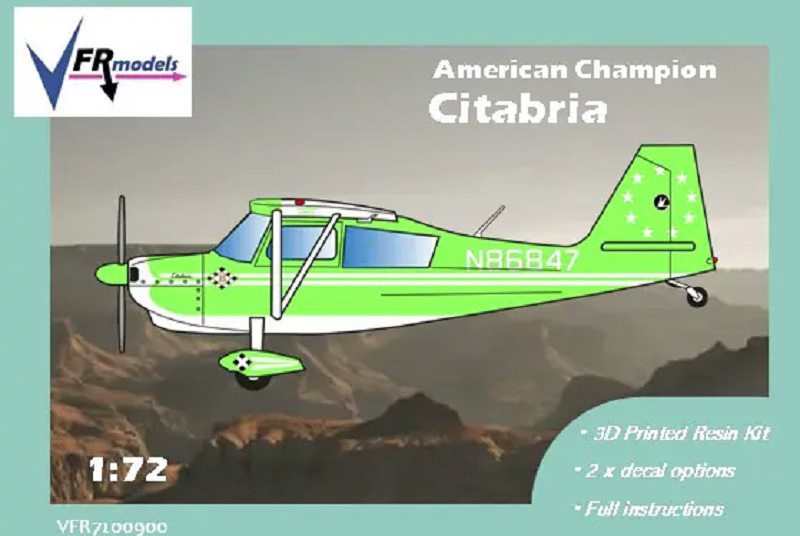 VFR Models, 1/72 scale
S u m m a r y :

Catalogue Number:

VFR7200110 Mooney M20J VFR7200300 Bellanca 17-30 Viking

VFR7200600 Grumman American AA-5 VFR7200700 Van's RV-4

VFR7200800 Cessna 206G/H

VFR7200900 American Champion Citabria

VFR7201000 American Champion Decathlon

FR7201100 Piper PA-28-161/181/236 Warrior II/Archer II/Dakota

VFR7201200 Piper PA-23 Apache

Scale:

1/72

Contents & Media

3D printed resin, vacuformed canopies, laser-printed decals.

Price:

Click here for currency conversion

Review Type:

First Look.

Advantages:

Respectable kits of long overlooked subjects; simple parts breakdown reduces parts count.

Disadvantages:

Some pieces are so small they will likely be broken removing them from the casting block; some landing gear legs are so thin they likely could never support the model's weight; support braces and printing layers will require additional attention to create smooth surfaces.

Conclusion:

3D printing brings with it a number of unique challenges, but I feel any moderately experienced modeller will be able to overcome them and the result will be a wonderful collection of civilian airplanes. I will absolutely be buying more kits from this manufacturers.

Reviewed by Trevor McTavish

As a modeller whose interests lay with general aviation (specifically in 1/72nd scale), I often find myself having to focus on converted military types. This is fine when modelling an air tanker or survey plane (i.e.: A-26 or Mosquito), but I'm overjoyed whenever someone announces a new, truly civilian subject.
I recently discovered VFR Models on Facebook and was immediately floored by the selection of 3D printed resin kits being offered. In a hobby where guns, bombs and camouflage overshadow everything else, who would ever think we'd see a model of a Bellanca Viking or Champion Citabria? A search of VFR's website in March 2022 (vfrmodels.co.uk) shows 11 kits with several more in pre-production. I placed a big order, and held my breath.
---
Background
VFR Models is a newcomer in the hobby, beginning in 2019 when Harry Bagnall began making small parts to detail his models. After receiving positive feedback for his Socata TB9/10/200, he went into production in 2021. In Harry's own words, "VFR Models was established to provide models of general aviation civilian aircraft in 1:72 scale, aircraft which are highly underrepresented by mainstream kit manufacturers."
"I receive lots of ideas from customers, which are always welcome. I usually have a list of 5 or 6 possibilities when I start designing something, so really, it's what I fancy. Sometimes the actual aeroplane flying overhead is what gets me going - that's why I made the Bellanca. I saw the restored Beagle Pup at an airshow last year, so of course I designed it and am working up to a release."
Each VFR Model is created using Digital Light Printing (DLP), a process where resin sensitive to ultraviolet light is exposed in layers as thin as 0.03mm (approx. 0.001 inches). As the layers build up in thickness the part takes shape. According to Harry, "All the parts for one kit can be done in maybe 10 hours. But I batch up individual parts and do runs of 12 or 24 kits."
Rather than preparing nine similar articles for each kit I purchased, I feel it's acceptable to provide a general review, touching on the good and the bad.
I was immediately impressed by the contents of each sturdy, top opening box - incredibly delicate parts, fine recessed panel lines, and razor sharp trailing edges. Cabin interiors are one piece with seats and instrument panels attached to the floor. These look chunky but are more than adequate in this scale, and through those tiny windows. Conversely, some pieces, like the propeller blades and control columns, are so fine I'm left to wonder how I'll remove them from their backing blocks without damage.
With a large percentage of VFR's product line in-hand, it was possible to see how the manufacturer has grown in his 3D modeling skills and processes. Newer releases, such as the Piper PA-23 are created without a forest of support braces (more on this later) and panel lines are quite subdued. Fabric texture on the Citabria and Decathlon are nicely done. I also noted the Piper PA-28 features recessed rivets - in three sizes! Those on the fuselage are incredibly fine, the top of the wing features much larger rivets, and the screws for the integral fuel tanks scale up to about three inches in diameter.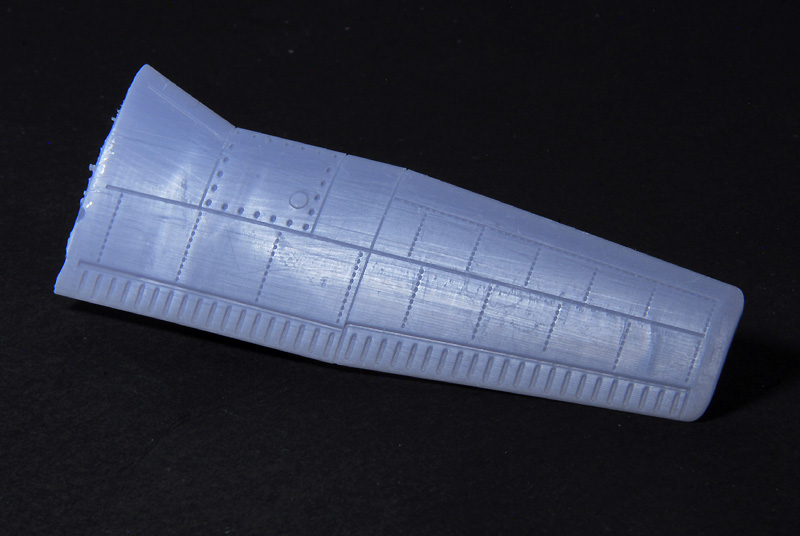 As I unboxed my kits, I noticed quite a few parts were coated in glossy, sticky, uncured resin. Most of the affected parts were items such as fuselages and cowling that had been supported with a veritable forest of braces. These are needed to support the part during printing, but when printing concludes they block the ultraviolet light, and whatever uncured resin isn't washed away gradually seeps out. I chose to remove all the braces, scrub off as much the resin as I could with isopropyl alcohol and a toothbrush, then cured what was left under my wife's UV nail light. Doing so took about one hour for every model and I'm left with areas of soft surface detail that will need to be sanded, shaped and rescribed.
---
Contents
A colour instruction sheet with painting/decaling guide.

Clear parts contained in one zip-lock bag

Medium grey 3D printed resin parts - small pieces in a zip-lock bag and large pieces left loose in the box. (Although I would prefer to see all parts sealed in bags and maybe some padding material, I can report that all of my kits made it from England to Western Canada without breakage.)

Laser-printed decals for at least two subjects. I noted that one of the two sheets in the PA-23 are at least two, if not three times, larger than they should be.
Interestingly, the Grumman Tiger comes with its wings, tails and fuselage halves made using the traditional resin casting method.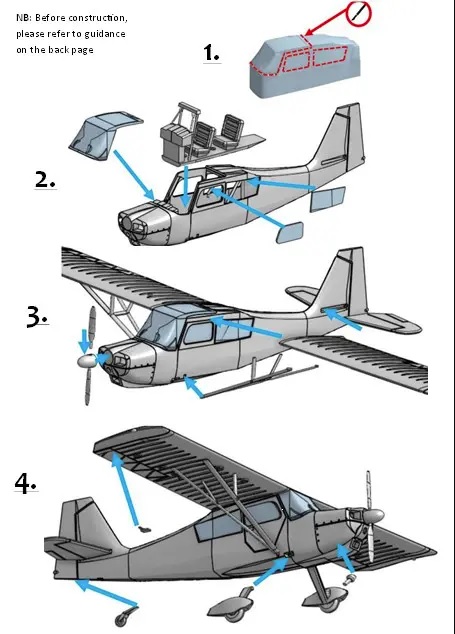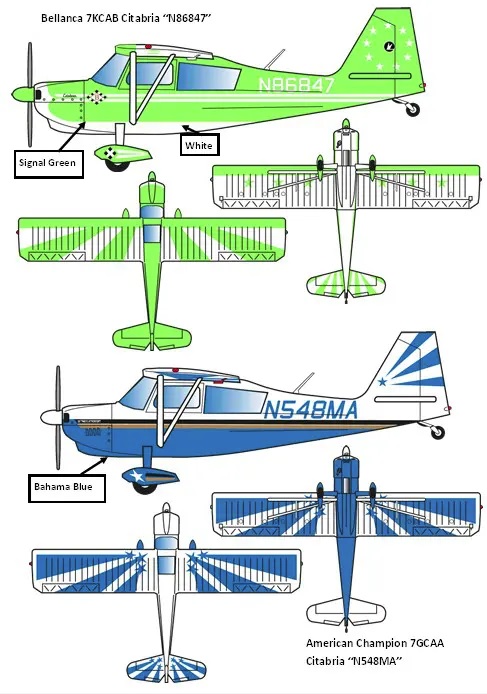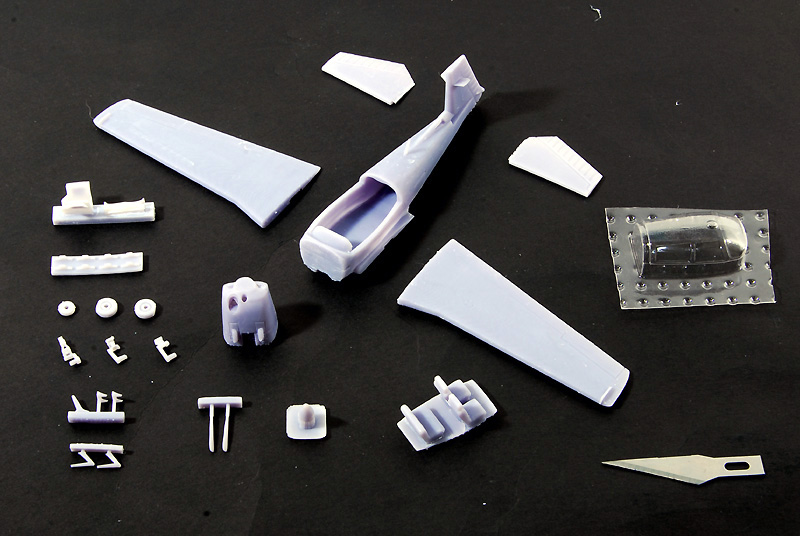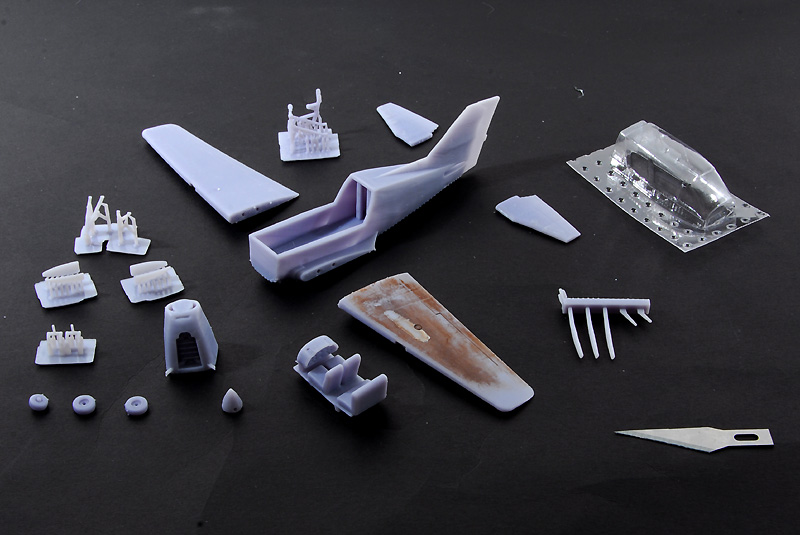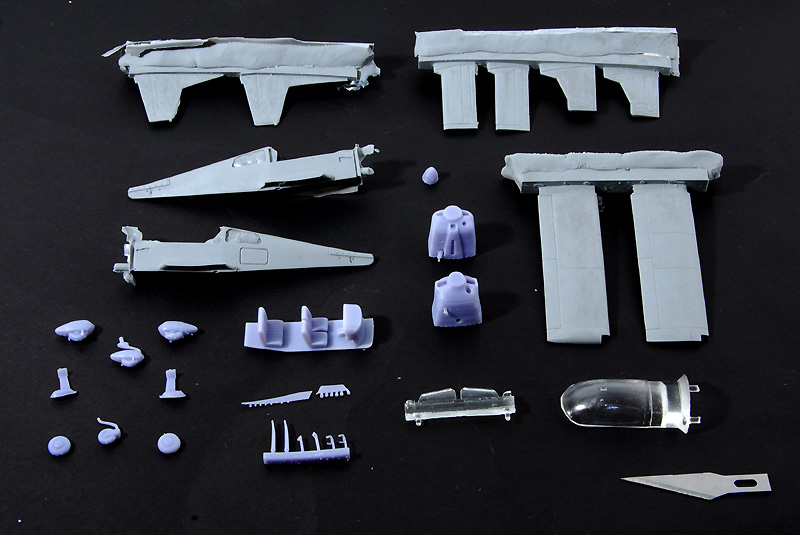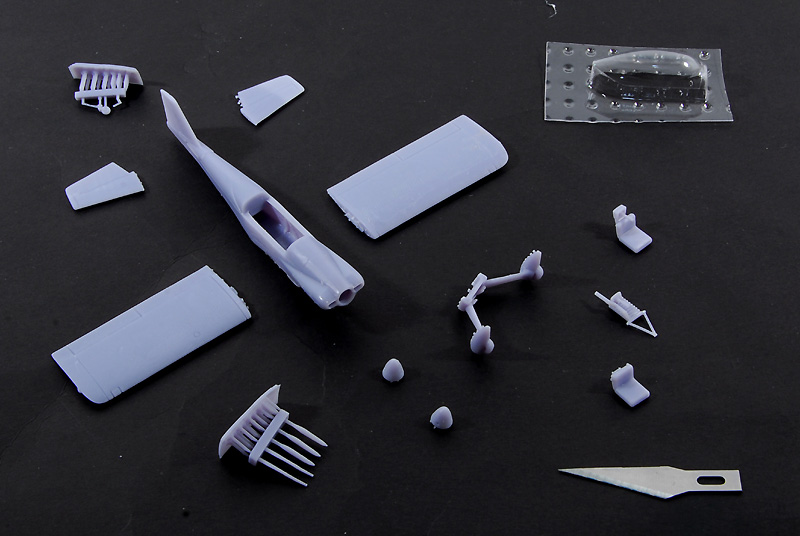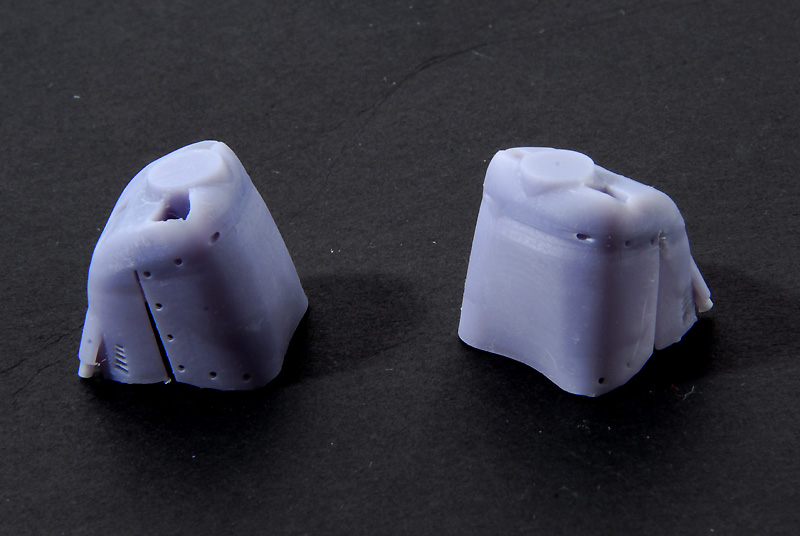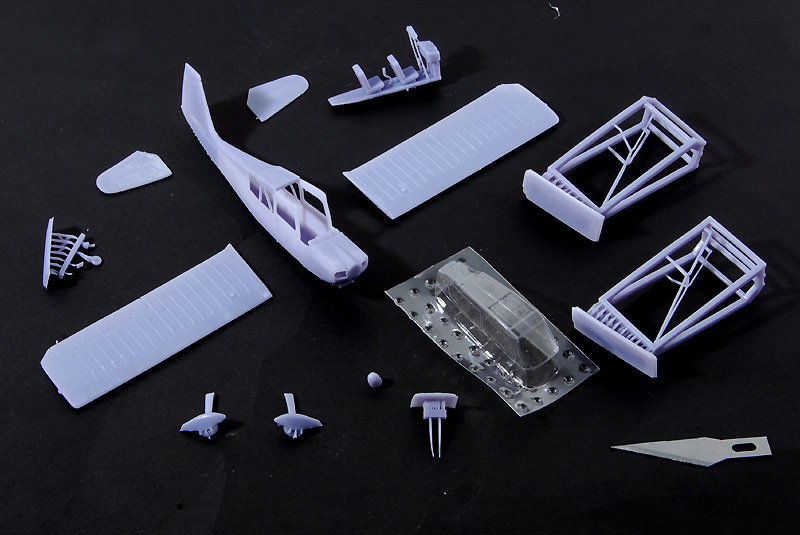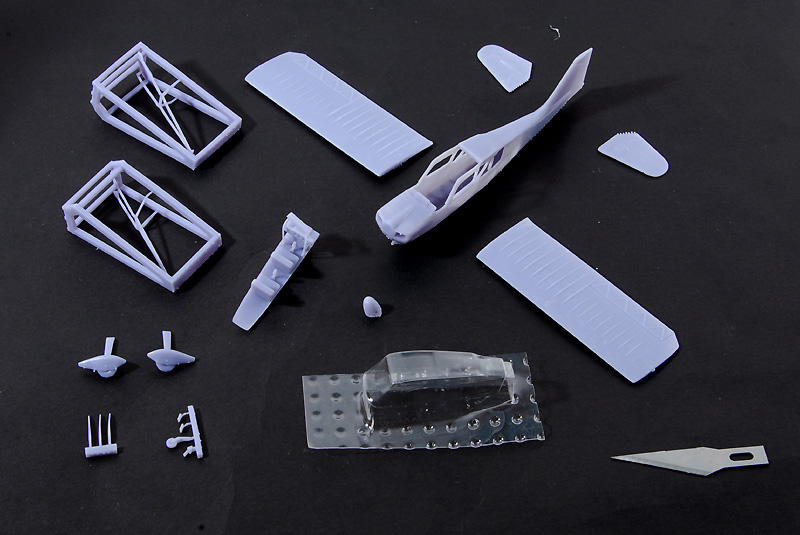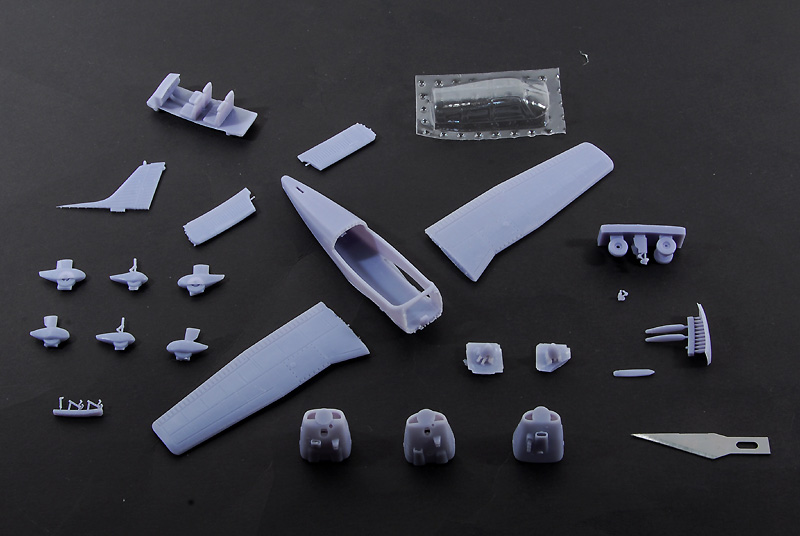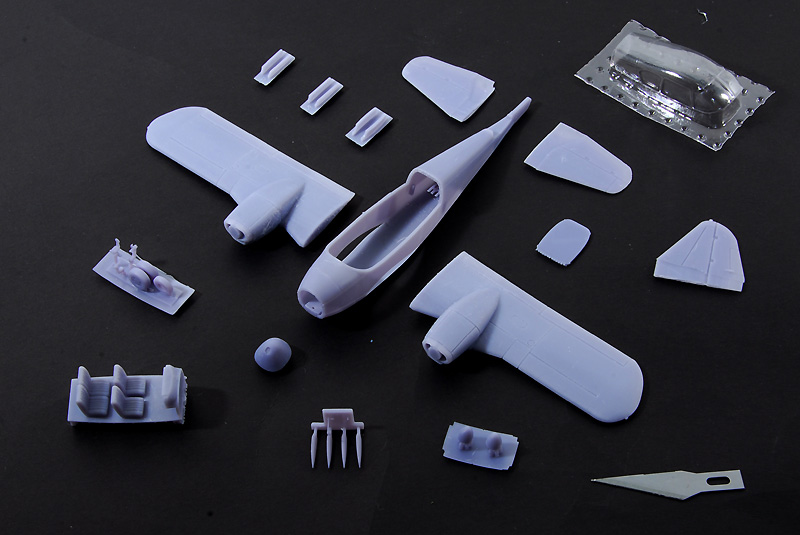 ---
Buildabilty
My primary concern ordering my first 3D printed models was the smoothness of the surface. Layering is visible on all parts, more so on the older releases, but a coat of primer and some fine-grit sanding should be enough to create a smooth surface. For photographic purposes, I highlighted this texture on one of my Viking's wings using some brown acrylic paint.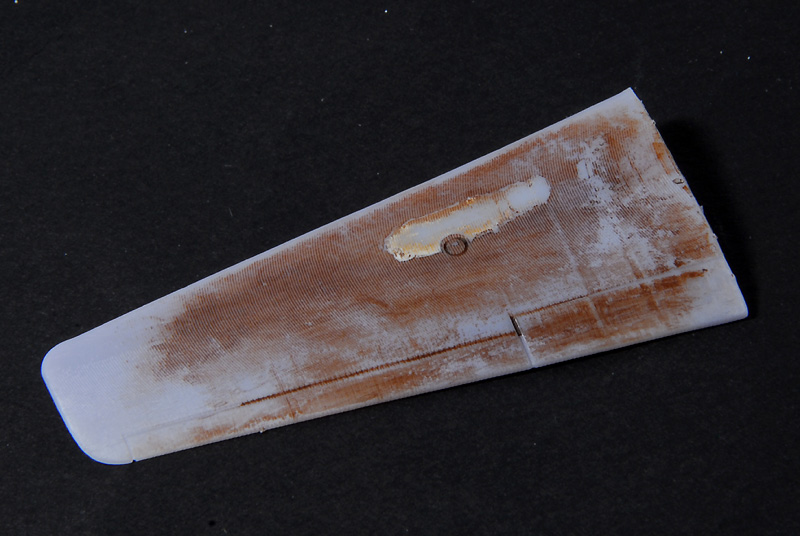 The Viking was also a prime example of how the forest of support braces causes a loss of details while leaving a soft layer of semi-cured resin. This is a short-coming of the 3D resin printing process, but VFR has started printing newer subjects using a central trunk down the inside of the fuselage. This preserves the surface and makes it possible to remove all uncured resin before packing.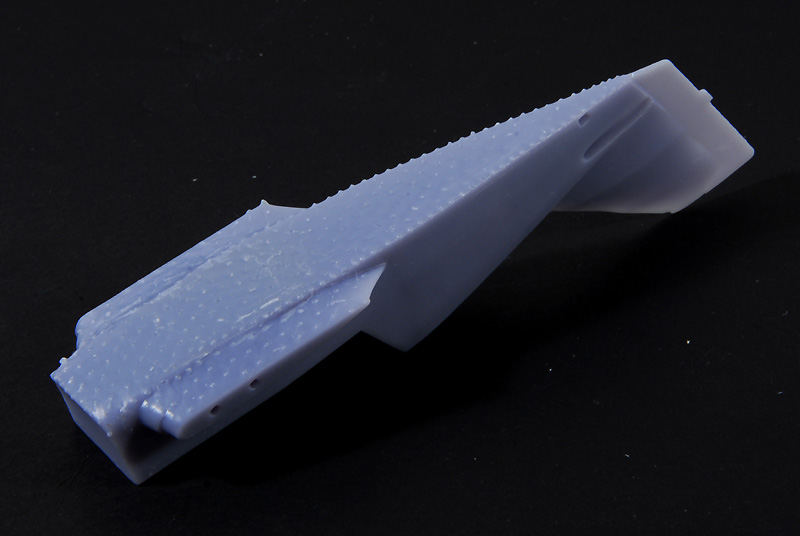 Wings and tails are single pieces (no top and bottom halves). Fuselages are one or two pieces with a clear canopy. The Citabria and Decathlon wing struts are a single piece, as are the PA-23's wings, engines and nacelles.
Most kits use a simple butt joint between the wings and fuselage. Wire reinforcement would be prudent. The PA-23 and PA-28 use slots in the fuselage but there is very little surface for the glue to adhere to. My present plan is to glue a styrene backing plate across the openings to significantly increase the bonding surface. Stabilizers also use butt joints but are so thin I don't know if I'll be able to pin them together.
Several of my kits' wings and vertical stabilizers are lightly warped. They should be easy to straighten after a dip in hot water.
I also noted that both cowlings from the Cessna 206 had imperfections. Each one was split along the top and bottom panel lines, the result, I assume, of the material being too thin in this area. One of the cowlings also had a dip in the upper surface. In both cases, these should be simple fixes - warm with hot water, bend to shape, and reinforce the joints with super glue. The cowling top may require a touch of epoxy putty to reclaim the proper contour. If these are inherent problems with the Cessna 206 kit, I hope the manufacturer will address them.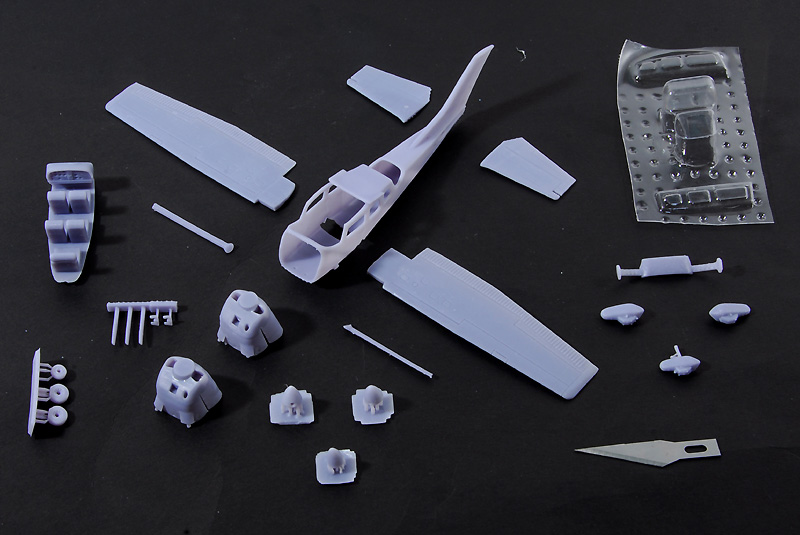 Each kit has a number of super fine parts - typically control yokes and propeller blades. In several instances (Cessna 206, PA-23, PA-28, Viking) I am concerned the landing gear legs are too delicate to support the model's weight. The legs are scale thickness - 0.02 inches!
---
Markings
VFR has selected a number of interesting markings for its kits, but I suspect they will adorn few models. There are literally thousands of colour schemes to chose from for each kit. As they say, "the sky's the limit."
3D printing brings with it a number of unique challenges, but I feel any moderately experienced modeller will be able to overcome them and the result will be a wonderful collection of civilian airplanes. Care will be needed as some parts are unbelievably small. Once the parts have been cleaned, cured and prepped for assembly, I would rate these models, especially the latest releases on par with Academy, Italeri, or recent Airfix 1/72nd scale kits. The panel lines are thin and parts should fit with only a minimal touch of putty.
While some of my comments may seem overly critical (I believe that's what a review is for), I am by no means discouraged by what I've seen. VFR Models is a new manufacturer releasing an exciting list of subjects with a mind-blowing frequency. I will absolutely be buying more kits from this manufacturer. In fact, in the days after I placed my order VFR announced six(!) new subjects that I just have to add to my collection (if my bank account can keep up).
However, if I may offer a suggestion to VFR Models it would be to retool (resplice?) their older kits by removing the forest of support legs and switch to the new method where a support trunk runs through the fuselage center. I'm no expert but this seems a logical way to avoid the weeping, uncured resin problem.
---
Review Text and Images Copyright © 2022 by Trevor McTavish
Page Created 19 April, 2022
Last updated 19 April, 2022
Back to HyperScale Main Page
Back to Reviews Page