Martin T4M
Wheel and Float Versions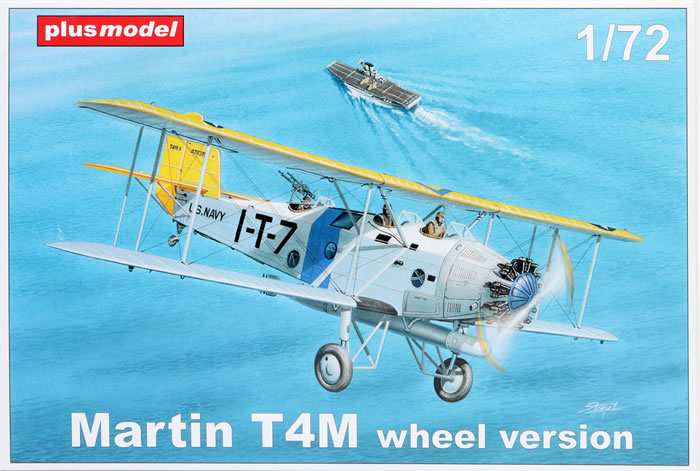 Plus Model, 1/72 scale
S u m m a r y :

Description and Item No.:

Plus Model Kit Nos.:

AL7038 - Martin T4M Wheel Version

AL7072 - Martin T4M Float Version

Contents and Media:

99 parts in grey plastic; 11 parts in clear plastic; 29 parts in grey resin; four marking options on each decal sheet.

Price:

Each USD$39.45 plus shipping available online from Plus Model

Each GBP£22.05 UK Price Plus Shipping at Hannants

and hobby stores online and worldwide

Scale:

1/72

Review Type:

First Look

Advantages:

Well-presented kit with good quality moulded parts and excellent resin engine, colourful and well-printed decals and excellent instructions.

Disadvantages:

Circular windows have refractive 'pip' in them, some minor clean-up of parts on some sprues and take care with the multi-part resin engines.

Recommendation:

This is a welcome pair of well-produced kits that fill a void in between-the-wars-naval aircraft. Highly recommended.
Reviewed by Graham Carter

The Martin T-4M was developed from the T-3M in the late 1920s and was a large single-engined three-man torpedo-carrying biplane that served into the late 1930s on aircraft carriers and shore units.

It was mainly used on its wheeled undercarriage but could be and was fitted with twin floats when required.

Around 100 served with various naval units and marked the colourful period in USN service with yellow upper wing surfaces and unit coloured tails and fuselage stripes. ( info from wiki and the kits' instructions).
---
Plus Model
Previous kits of the T-4M have come from Ardpol in resin and Esoteric as a vac-form. Both would be difficult to find today so that makes these kits especially welcome.
While Plus Model is a new company to me, a quick look at their web-site - plusmodel.cz - reveals a company that produces a vast range of accessories and conversions for 1/48 and 1/35 military vehicles and a couple of aircraft-oriented kits. Some of you will recall their Firebee kits a of a year or two back.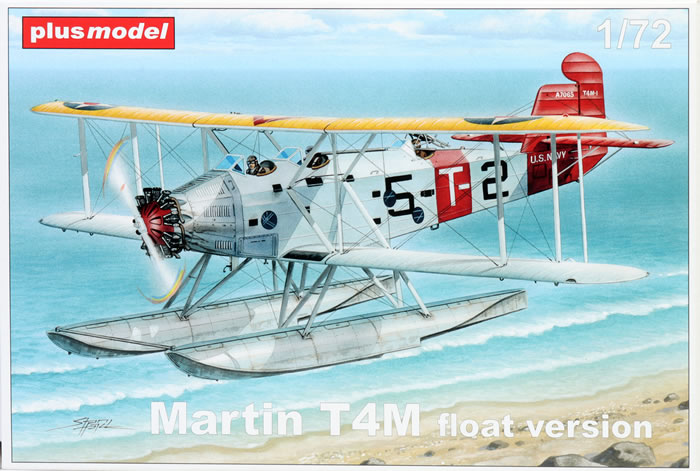 These two kits, however, are a totally new direction for the company and I, for one, hope this marks an interest in 'tween the wars aircraft, an area pretty much avoided by most kit manufacturers apart from the short-run chaps. Could we have some of the Blackburn or Fairey naval products , pleeeese!!
I will deal with these two kits in this single review as the plastic contents are identical - you get both wheels and floats in both kits so the spares box gets a few additions depending on which boxing you purchase.
The kits come in reasonably strong end-opening boxes with excellent illustrations on the tops by an artist whose name I could not decipher.
The side of the box features colour drawings of the four decal choices provided inside. Inside is a large resealable clear sleeve containing the two large dark grey sprues of plastic parts, and a smaller sleeve with the clear parts and a zip-lock bag of resin parts.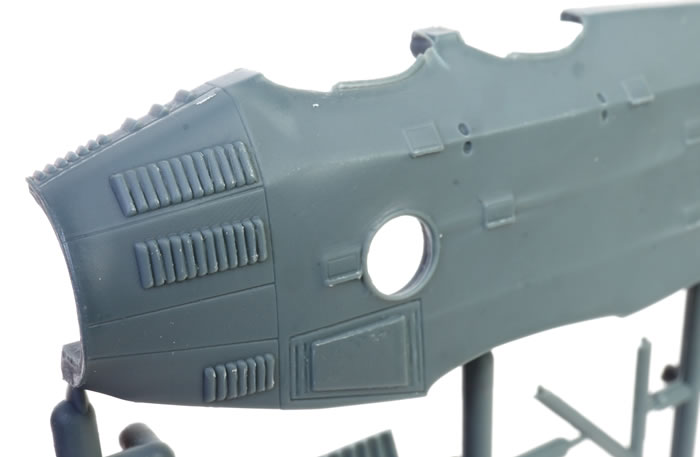 There is a twelve-page A5 stapled full-colour instruction booklet with the decal sheet inside.
Each kit has two identical sprues and the modeller need only to reject the unused parts as indicated in the parts maps.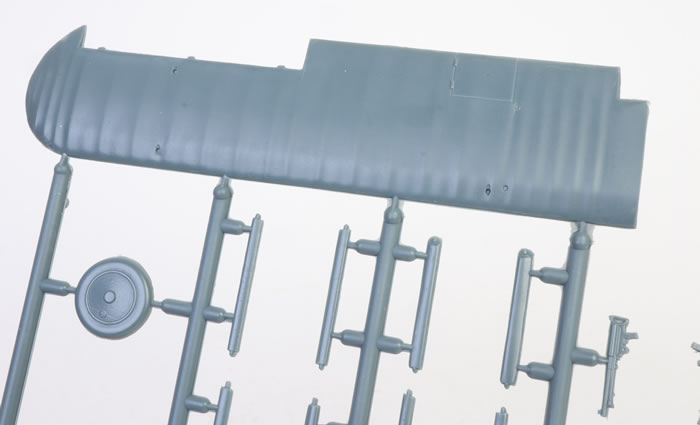 Parts are very well-moulded with excellent surface detail and finely moulded struts and internal details. The fuselage structure is beautifully rendered inside each half and a couple of locating pins/holes will help alignment.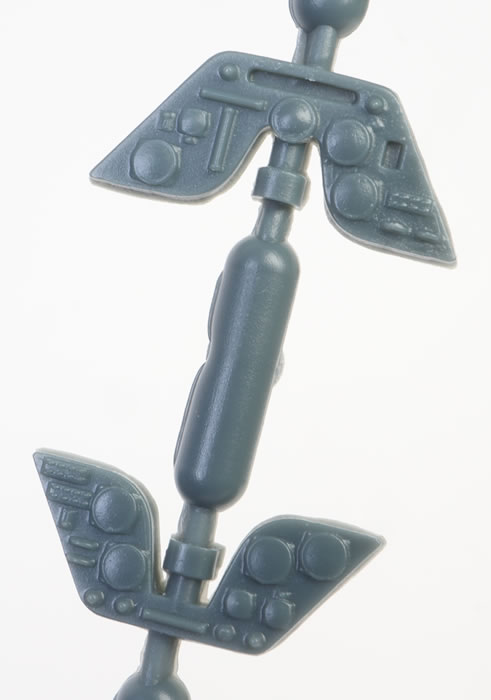 Interestingly, one of the review sprues had noticeable flash around all parts but the other three were perfectly formed, probably from different production runs? The flash was not too prominent and would only need a quick swish with a blade to remove. There is no evidence of short-shot moulding.
Trailing edges are quite fine for all surfaces. Sprue gates were commendably narrow but will still need care in removing from leading edges and especially from the multitude of struts and very fine internal structure. Care in these areas will produce a fine replica of the insides and outsides of these complex airframes.
Resin parts are not shown on the parts map but steps 13 to16 in the instructions show how they go together to produce a very detailed P&W 9-cylinder Hornet engine.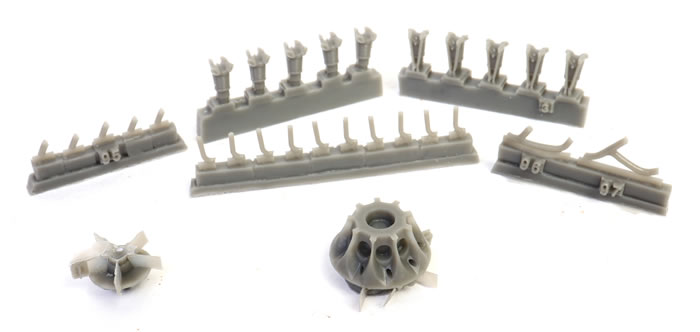 Parts are cleanly cast although a fairly substantial block has to be removed from the rear of the crankcase. The nine cylinders are separate and each has both inlet and outlet pipes - spares are provided for these rather small parts which will require some care removing from their blocks. A bit of care in construction and painting will produce a cracker of a replica to mount on the front of the airframe.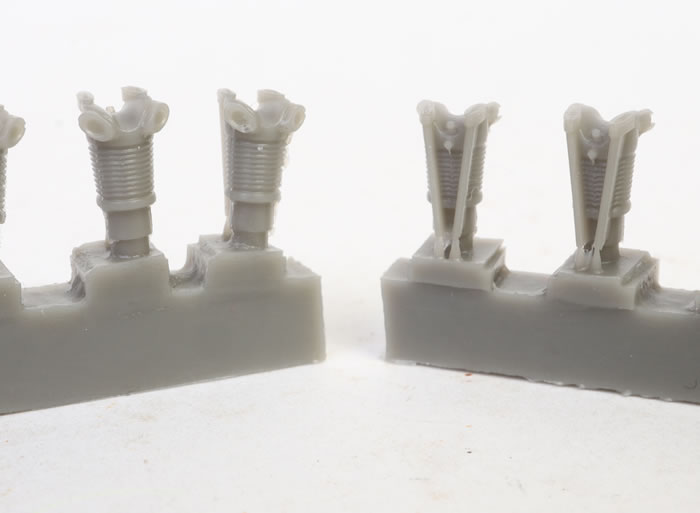 Clear parts are well-moulded but each of the circular windows has a distortion 'pip' in the middle which rather spoils them - I would be inclined to use a proprietary liquid clear film for these as they are only 4mm in diameter.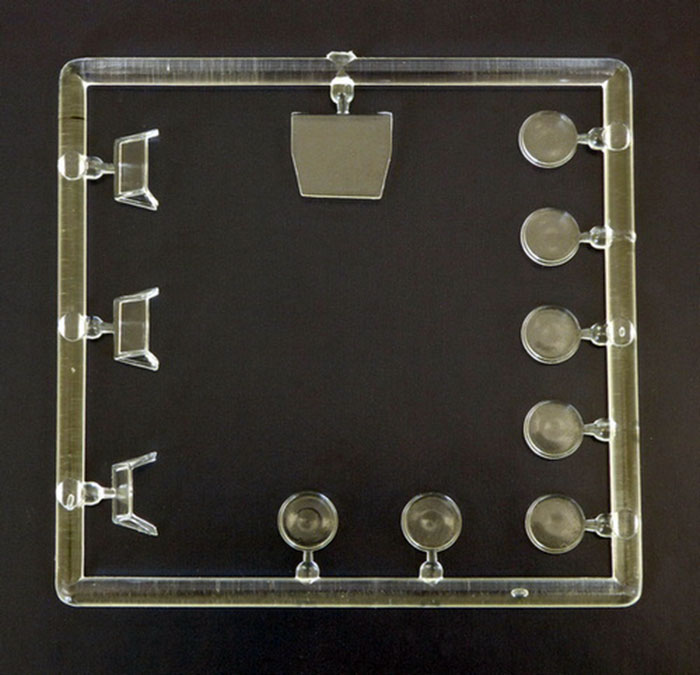 Some twenty parts make up the interior structure and again careful painting will produce a lovely replica. The instructions show each stage of construction with clear painting instructions at each point by generic name such as 'brown' and 'light grey'. No manufacturers' names or numbers are given. An isometric drawing shows the rigging positions, two drawings in the case of the floatplane. There are no photo-etched parts.
---
Markings:
Decals are produced in-house and show excellent register and colour density. Carrier film is gloss and show minimal over-printing. Its nice to see propeller tip stripes and manufacturer's labels are provided. All schemes are shown in colour drawings at the back of the booklet with clear diagrams for decal placement. The choices for all silver with yellow upper wings and various coloured tails and squadron marks. The fuselage and tail colours will have to be painted by the modeller.
The four landplane variants are :-
A7883, 2-T-5, of VT-2B, USS Saratoga, Feb 1930,

A7638, 1-t-7, of VT-1B, USS Lexington, 1929,

A7641, 1-T-10 of VT-1B, USS Lexington, 1929, and

A7647, 1-T-16, USS Lexington, 1933.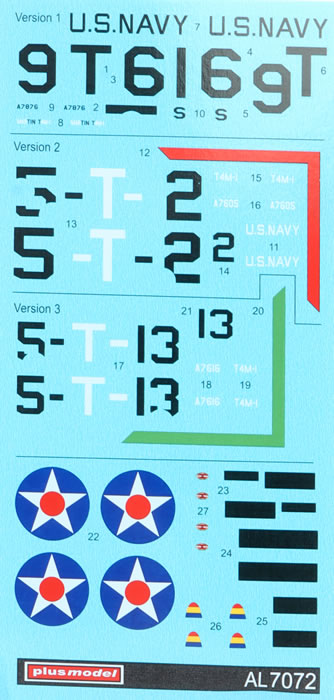 The three floatplane examples are :
A7876, 9T16 of VT-95, USS Wright, 1930,

A7605, 5-T-2 of VT-5A, USS Jason, 1931, and

A7616 5-T-13 of VT-5A, USN Pearl Harbor, 1928.
All-in-all, these are great kits and should add a touch of colour to any collection. I recommend these to any modeller with a penchant for between-the-wars naval aircraft and I look forward to seeing more kits of this era.
This is a welcome pair of well-produced kits that fill a void in between-the-wars-naval aircraft. Highly recommended.
Thanks to Plus Model for the sample
---
Review Text Copyright © 2022 by Graham Carter
Images Copyright © 2022 by Brett Green
Page Created 30 May, 2022
Last updated 30 May, 2022
Back to HyperScale Main Page
Back to Reviews Page