Nakajima Ki-84 Hayate
Expert Set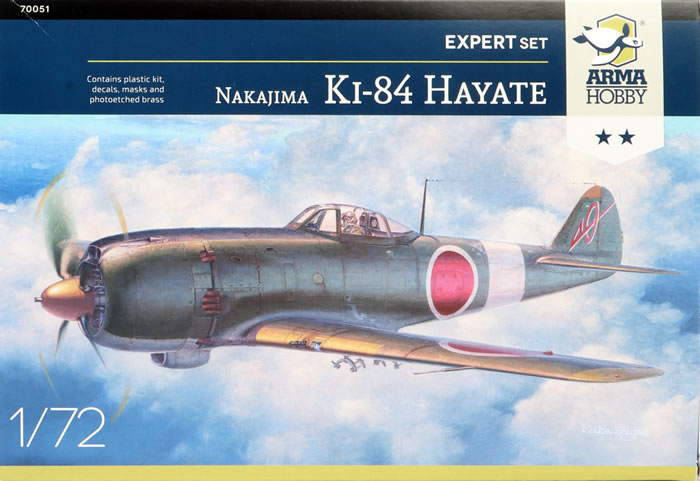 Arma Hobby, 1/72 scale
S u m m a r y :

Description and Item No.:

Arma Hobby Kit No. 70051 - Nakajima Ki-84 Hayate Expert Set

Contents and Media:

66 parts in grey plastic; four parts in clear plastic; seven photo-etched brass parts; decals for six aircraft options.

Price:

€24.58 plus shipping available online at Arma Hobby

£22.05 UK Price (£18.38 Export Price) Plus Shipping at Hannants

and hobby retailers worldwide

Scale:

1/72

Review Type:

First Look

Advantages:

High quality moulding; excellent surface textures and detail; accurate; many useful options; effective use of multi-media; high quality decals.

Disadvantages:

End-opening box.

Recommendation:

Arma Hobby's 1/72 scale Nakajima Ki-84 Hayate Expert Set is very impressive kit with its crisp surface textures, high moulding quality, thoughtful parts breakdown, useful options and a very high level of detail.

This is a another excellent offering from Arma Hobby.
Reviewed by Brett Green

The Nakajima Ki-84 Hayate is a single-seat fighter flown by the Imperial Japanese Army Air Service in the last two years of World War II.
The Allied reporting name was "Frank. The Japanese Army designation was Army Type 4 Fighter.
The Ki-84 is generally considered the best Japanese fighter to operate in large numbers during the conflict. The aircraft boasted high speeds and excellent manoeuvrability with an armament (up to two 30 mm and two 20 mm cannon) that gave it formidable firepower.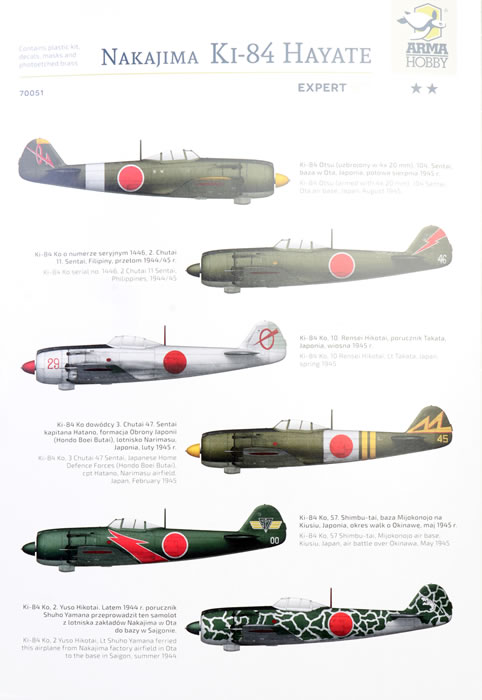 The Ki-84's performance matched that of any single-engine Allied fighter it faced, and its operational ceiling enabled it to intercept high-flying B-29 Superfortress bombers.
Pilots and crews in the field learned to take care with the plane's high-maintenance Nakajima Homare engine and a landing gear prone to buckling.
The difficulties of Japan's situation late in the war took a toll on the aircraft's field performance as manufacturing defects multiplied, quality fuel proved difficult to procure and experienced pilots grew scarce. Nevertheless, a well-maintained Ki-84 was Japan's fastest fighter.
A total of 3,514 aircraft were built.*
* Historical background adapted from Wikipedia
Arma Hobby has launched their all-new 1/72 scale Hayate family with the Kit No. 70051 in their Expert Set series. Optional parts are supplied to allow eiher the Ko or Otsu versions to be built straight from the box.
The Expert Set series includes photo-etched parts and masks, and in this case a generous six marking options.
Arma Hobby's 1/72 scale Nakajima Ki-84 Hayate comprises 66 parts in grey plastic, four parts in clear plastic, seven photo-etched parts on a single fret and decals for six aircraft options.
My sprues are labelled "pre-production", but quality seems in no way composmised.
The grey plastic parts are delivered on one large and one small sprues. Moulding quality is excellent with no flaws or visible moulding imperfections on my sample. The plastic parts boast a luxurious satin texture. Arma's website advises that long-run metal moulds are used for their kit production, and it really does show.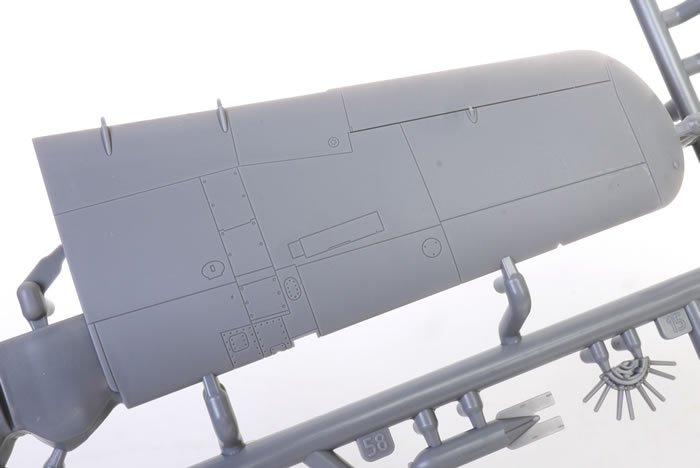 Being a long-run kit, the parts are moulded with all the alignment aids that you would expect including locating pins, holes and tabs.
Surface textures are just gorgeous. Recessed panel lines, circular fastener heads and other structural details are very fine.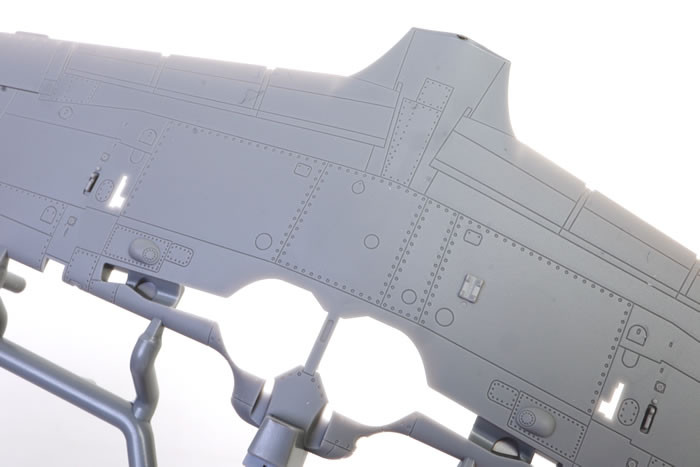 The fuselage is supplied as left and right halves with a few elements that allow some important options.
The most obvious is the separate cockpit coaming and mid-upper fuselage insert. Two inserts are included. One insert is designed for marking option 1 and must have the canopy closed. The second insert is for marking options 2 to 6 and is designed for an open canopy. You may, however, cut a tab from the inside of Part 21 if you want a clsoed canopy for marking options 2 to 6. It sounds a bit confusing here but the instructions are pretty clear.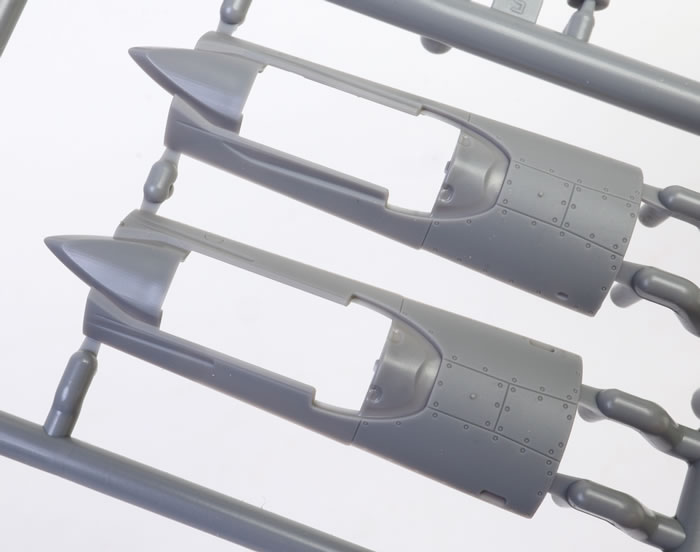 Some cockpit sidewall detail is moulded directly to the inside of the fuselage halves. Additional separate parts include a plastic cockpit floor, throttle quadrant; instrument panel, a moulded pair of rudder pedals, control column, radios and more. A few photo-etched parts also enhance the front office.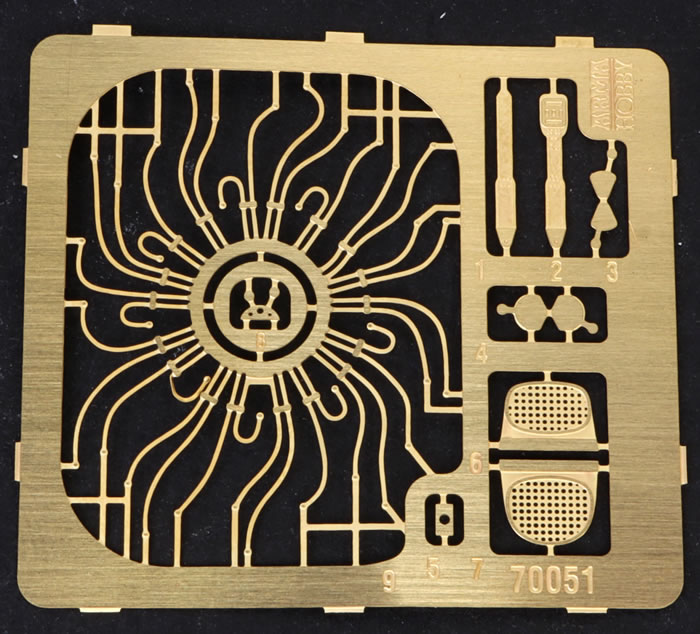 The instrument panel and switch panel feature raised detail that will respond well to careful dry brushing, with a decal overlay option also included.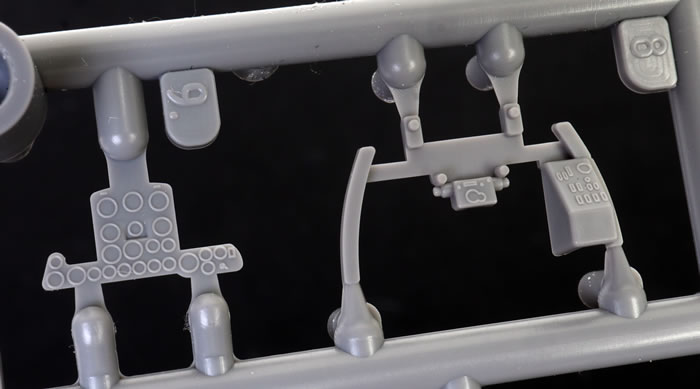 The seat is moulded with six raised circles and arow of raised rivets on the backrest. The real seat was actually perforated, so you may wish to drill out the circles in the seat backrest. Photo-etched harness straps are included.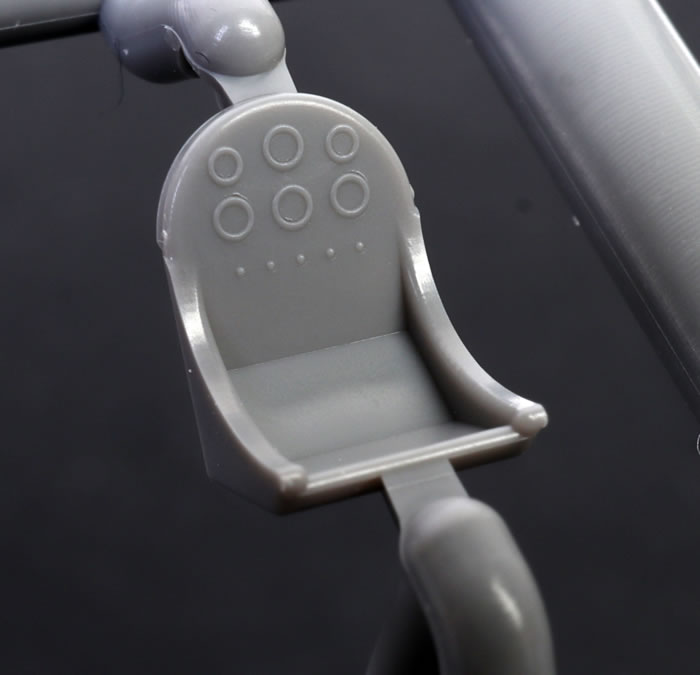 The engine is suitably busy with two rows of cylinders featuring fine cooling fins, upper and lower pushrod halves, exhaust manifolds, crankcase cover and a photo-etched ignition harness.
Alternative lower fuselage intake fairings are offered. Two styles of mesh intake are also included.
The wing parts are full span, top and bottom. They are thin at the trailing edges. I particularly like the very fine and busy recessed rivets and fastener circles on the centre section of the lower wing.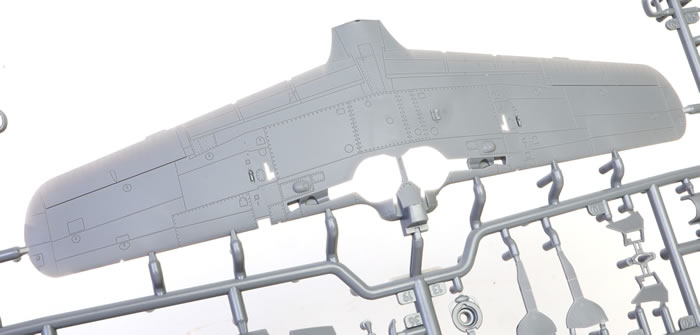 The wheel wells are really nicely detailed between the upper wing halves.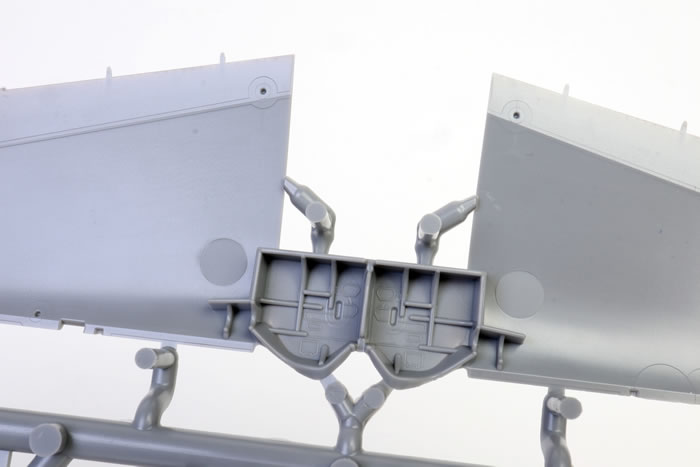 The main wheels are moulded as one piece each and are nicely detailed. Tyre tread is smooth. The wheels are subtly bulged and flattened.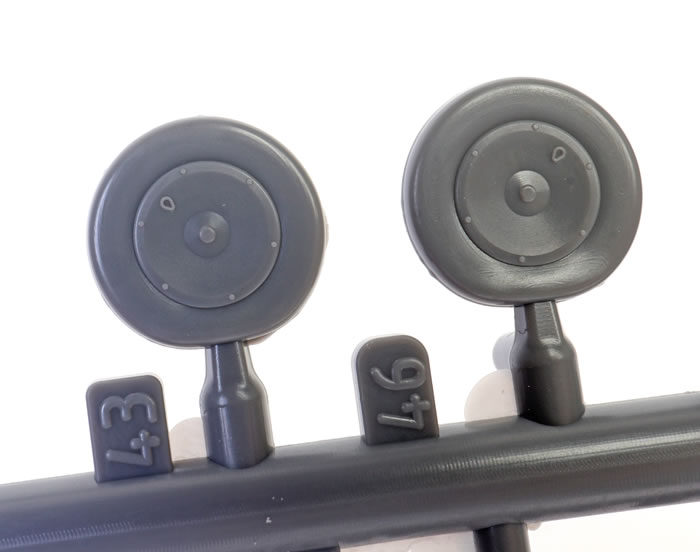 The tail wheel and strut are moulded as a single part. Detail looks good.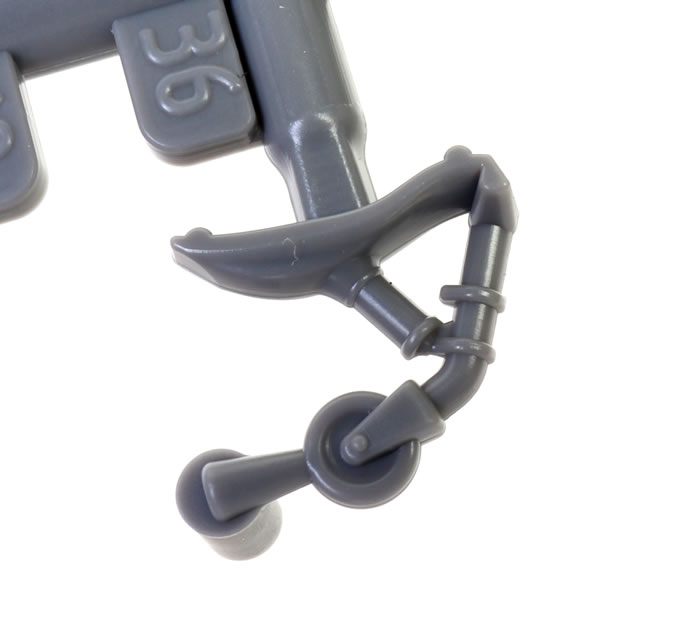 Ordnance includes a pair of drop tanks, 100 kg bombs an a single 250 lb bomb.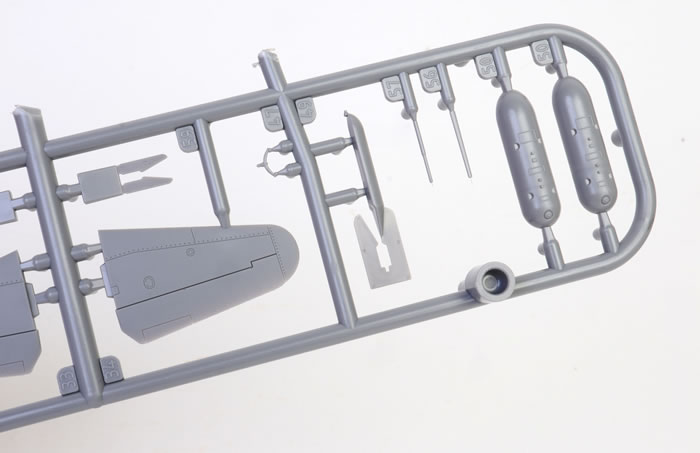 The canopy parts are thin and clear.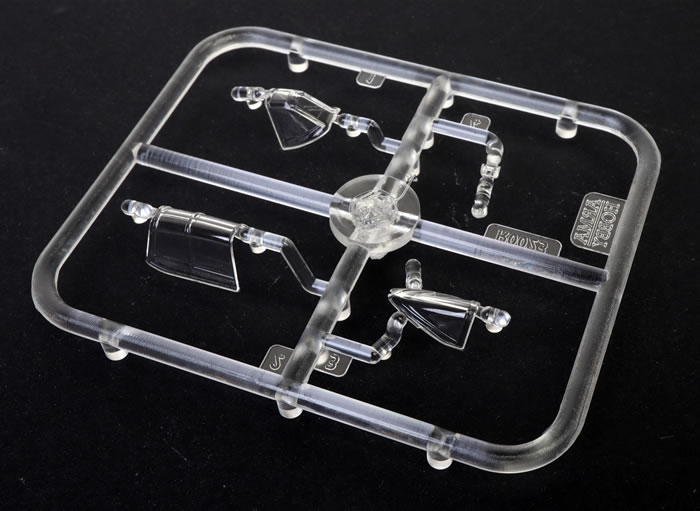 Self-adhesive die-cut masks are supplied for the canopy and wheels. This is a thoughtful and time saving touch.
Instructions are supplied as a 12 page stapled A5-sized booklet.
The kit is packed into a end-opening cardboard box. I have to say that I have never been a fan of end-opening boxes - access to the parts is more difficult, loose parts can easily be lost while retrieving instructions or a larger sprue, and the format is less structurally rigid, inviting the contents to be crushed when the box is inevitably at the bottom of a pile of kits.
I know it is a nit-pick but I would prefer to see future Arma Hobby releases in a lid-style of box.
---
Marking Options
The kit decal sheet offers markings for six IJAAF options with some colourful markings and in varied camouflage:
Ki-84 Otsu (armed with 4 cannons 20 mm), 104 Sentai, Ota airbase, Japan, August 1945

Ki-84 Ko serial no. 1446, 2 Chutai 11 Sentai, Philippines, 1944/45

Ki-84 Ko, 10 Rensei Hikotai (Operational Training Unit), Lt. Takata, Japan, spring 1945

Ki-84 Ko, 3 Chutai 47 Sentai commander's Cpt. Hatano airplane Japanese Home Defence Forces (Hondo Boei Butai), Narimasu, Japan, February 1945

Ki-84 Ko, 57 Shimbu-tai, Mijokonojo airbase, Kiusiu, Japan, Battle of Okinawa, May 1945

Ki-84 Ko, 2 Yuso Hikotai (ferry formation), Lt. Shuho Yamana ferried this airplane from Nakajima factory airfield in Ota to the base in Saigon, summer 1944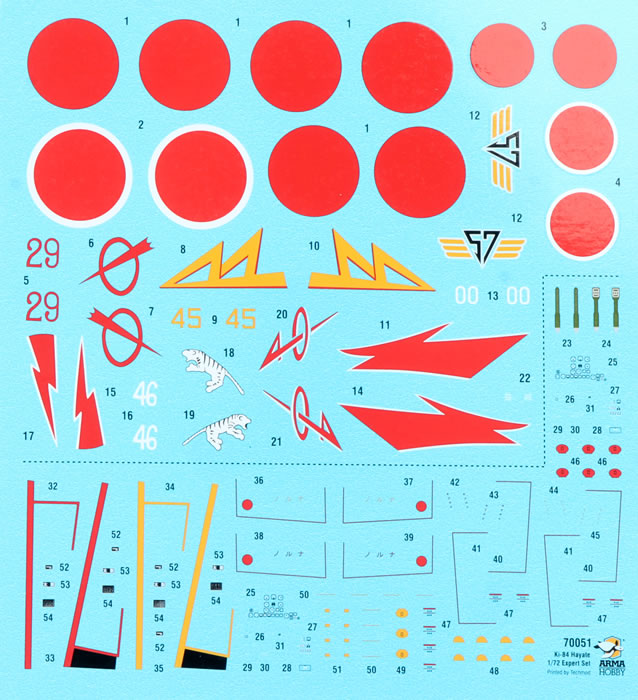 Stencil markings are printed on the same single sheet, as are propeller logos and wing walk markings.
Colour callouts are provided for FS numbers and model paint numbers from a wide variety of companies – Hakata, AK, Mr Paint, AMMO, Mr Collor, Vallejo and Tamiya.
A small errata sheet is also included.

Decals are printed by Techmod. They are glossy, colours are well saturated and everything is in perfect register.
Arma Hobby's 1/72 scale Nakajima Ki-84 Hayate Expert Set is very impressive kit with its crisp surface textures, high moulding quality, thoughtful parts breakdown, useful options and a very high level of detail.
This is a another excellent offering from Arma Hobby..
Thanks to Arma Hobby for the sample
---
Review Text and Images Copyright © 2022 by Brett Green
Page Created 9 May, 2022
Last updated 10 May, 2022
Back to HyperScale Main Page
Back to Reviews Page