Pacific Profiles Vol 4
Allied Fighters: Vought F4U Corsair Series
Solomons Theatre, 1943-1944
by Michael Claringbould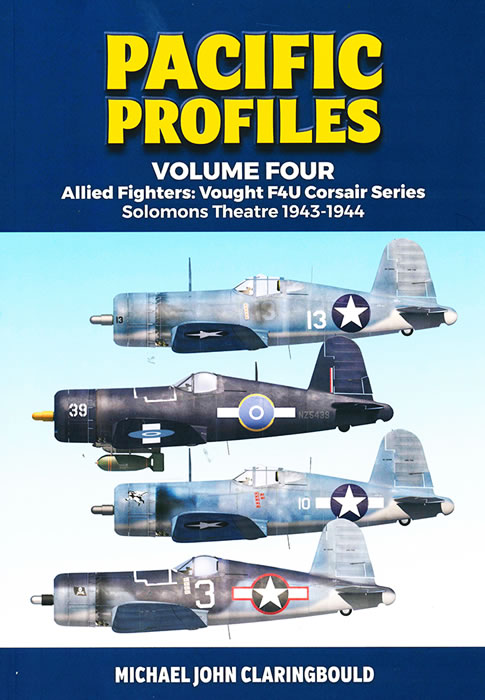 Avonmore Books
S u m m a r y :

Catalogue Number, Description and ISBN:

Pacific Profiles Volume 4
Allied Fighters: Vought F4U Corsair Series,
Solomons Theatre 1943-1944

by Michael Claringbould

Avonmore Books

ISBN:

978-0-6489262-3-8

Contents & Media:

120 pages, 25cm x 18cm, soft cover, many colour profiles and photographs of those aircraft.

Price:

AUD$34.95 plus shipping available online from Avonmore Books and hobby book retailers worldwide

Review Type:

First Look

Advantages:

Detailed and comprehensive look at the Allied fighters, specifically the Vought F4U Corsair in the Solomon Islands from 1943 to 1944, with excellent informative text, historical photos and matching aircraft profiles, as well as details of the units that flew them.

Disadvantages:

None noted.

Conclusion:

A great, should have, reference for modellers of all scales interested in the Southern Pacific theatre, especially Allied aircraft, in this case the F4U Corsair during WWII..
Reviewed by David Couche

This book, the "Pacific Profiles Vol 4, Allied Fighters: Vought F4U Corsair Series, Solomons Theatre 1943-1944" describes this aircraft used by the Allied forces, in aerial fighting as well as ground support, and based in the Solomon Islands from 1943 until 1944.
Michael Claringbould, the author, presents this book in chapters on each of the US Marine Corps squadrons as well as the Royal New Zealand Air Force squadrons fighters throughout the Solomons theatre. which operated land-based F4U series Corsair. He looks at the distinctive marking schemes, unit heraldry and nose art which varied considerably between models and squadrons, the latter of which developed their own particular markings and patterns.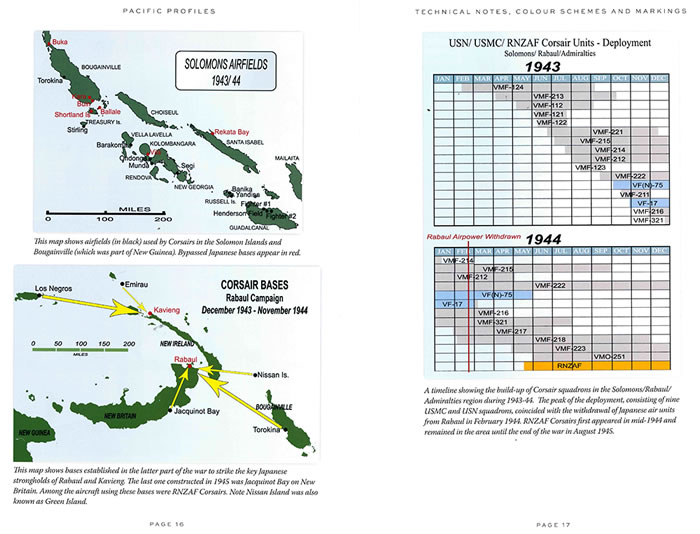 Before getting into each of these US Marine squadrons, he provides a "Technical Notes, Colour Schemes and Markings" overview, in 12 pages with maps, of the locations where the Corsairs were based around the Solomon Islands and nearby islands as well as technical notes covering each of the F4U-1 (birdcage) and -1a (bubble) types that were operated in this area, clearly showing differences with full page drawings. Michael also gives us Corsair units deployment on a monthly timeline for 1943 and 1944. He closes this overview with a page of each of the squadron and service insignia featured in this book, as well as a full page glossary of terms used in the text.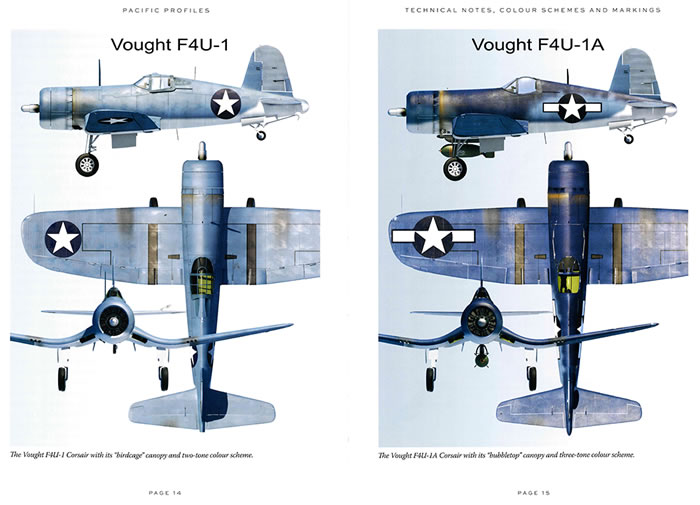 Michael then looks at each of the US Marine Corp squadrons as individual chapters and provides a wide range of reference material which has been sourced to illustrate each profile, including shots from colour movie film, post war wreck surveys, official records, diaries and hundreds of photographs. The book then consists of 21 chapters covering mainly the US Marine squadrons and one chapter on the RNZAF aircraft.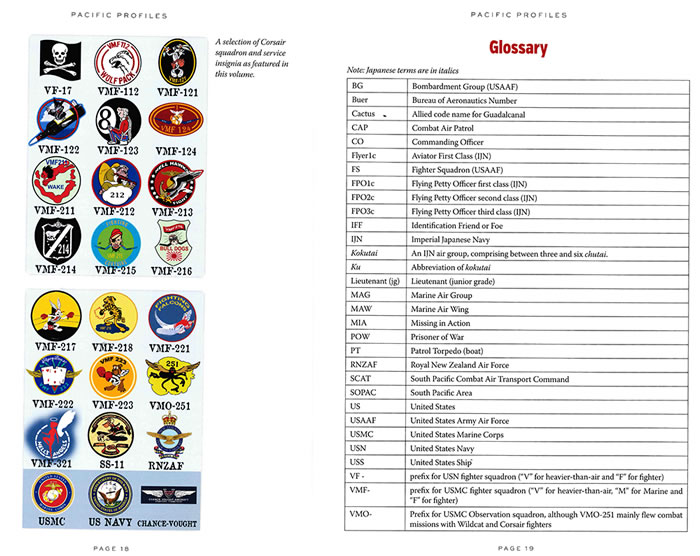 The chapters of the book are:
Introduction

Technical Notes,

Colour Schemes and Markings

VF-17 The Jolly Rogers

VMF- 112 The Wolf Pack

VMF- 121

VMF- 122 Werewolves

VMF- 123 Flying Eight Balls

VMF- 124 Whistling Death

VMF- 211 Wake Island Avengers

VMF- 212 Hell Hounds

VMF- 213 Hell Hawks

VMF- 214 Black Sheep

VMF- 215 Fighting Corsairs

VMF- 216 Bulldogs

VMF- 217 Max's Wild Hares

VMF- 218 Hellions

VMF- 221 Fighting Falcons

VMF- 222 Flying Deuces

VMF- 223 Bulldogs

VMO- 251

VMF- 321 Hell's Angels

Miscellaneous Units

Royal New Zealand Air Force Squadrons
Each of these Squadron's has detailed notes on what variant of aircraft flew, at what time period as well as other valuable information. Each chapter follows the same construction with written text on that Squadron, a page (and often more than one page) of numbered aircraft profiles with more detailed notes on the adjoining page. There are original historical photographs of those aircraft which provides an excellent reference for those of us who are modellers. Some chapters have rare colour photographs of the respective aircraft, with the correlation between original photos and the profiles provided.
The next of the chapter covers some of the miscellaneous Corsairs that were constructed from parts of a number of aircraft to make a whole one, one was longer suitable for a combat unit, without guns and tail hook became a squadron transportthat were used as squadron "hacks" using the empty gun bays to carry various tools, parts and supplies around, and other somewhat famous RNZAF aircraft made up of 2 aircraft halves with different paint schems front and back.
Chapter 21 is a relatively brief chapter on the RNZAF use of the Corsair. Only 2 squadrons flew this aircraft, 18 Squadron initially and then 22 Squadron. The RNZAF, surprisingly, was the third largest operator of Corsairs after the US and Great Britian, with there being 13 Squadrons with them, being No 14 to 26 Squadrons inclusive. Again, profiles support the historical notes and historical phtotographs.
This book, the fourth volume of the Pacific Profiles series, is an excellent reference for modellers with an interest in the Pacific theatre, especially builders of Allied aircraft and a liking for weathered aircraft as these Corsiars were certainly heavily weathered with their operation in the open air and from many coral based airstrips which were particularly abrasive.
I would see this as a highly desireable addition to your library and highly recommend it for its thoroughness of this aircraft.
Having a number of these kits in the stash, I will be definitely using this book for my references in these builds. .
Many thanks to Avonmore Books for the review sample.
---
Review Copyright © 2022 by David Couche
This Page Created on 24 May, 2022
Last updated 25 May, 2022
Back to HyperScale Main Page
Back to Reviews Page