Pacific Profiles Vol 2
Japanese Army Bombers, Transports & Miscellaneous Types
New Guinea & the Solomons 1942-1944
by Michael Claringbould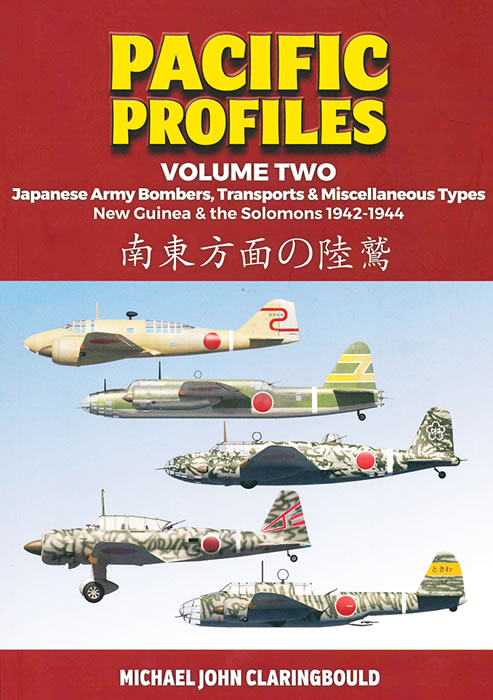 Avonmore Books
S u m m a r y :

Catalogue Number, Description and ISBN:

Pacific Profiles Vol. 2
Japanese Army Bombers, Transports & Miscellaneous Types
New Guinea & the Solomons 1942-1944

by Michael Claringbould

Avonmore Books

ISBN:

978-0-6486659-9-1

Contents & Media:

112 pages, 25cm x 18cm, many colour profiles and photographs of those aircraft.

Price:

AUD$34.95 plus shipping available online from Avonmore Books and hobby book retailers worldwide

Review Type:

First Look

Advantages:

Detailed and comprehensive look at the bombers, transports, and other odd types of the Japanese Army in the South Pacific from 1942 to 1944, with excellent informative text, historical photos and matching aircraft profiles, as well as technical information on the aircraft.

Disadvantages:

None.

Conclusion:

A great, should have, reference for modellers of all scales interested in the early years of the Pacific theatre, especially Japanese aircraft, in WWII.
Reviewed by David Couche

This book, the "Pacific Profiles Vol 2, Japanese Army Bombers, Transports & Miscellaneous Types, New Guinea & the Solomons 1942-1944" describes the aircraft of the Japanese Army, used in aerial warfare, and based in New Guinea and the Solomon Islands from 1942 until 1944, during which air operations by both sides became a daily occurrence.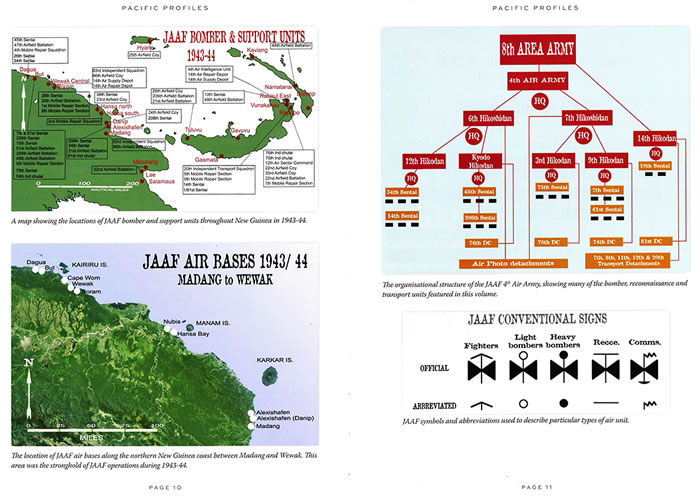 Michael Claringbould, the author, presents this book in chapters on each of the Japanese Sentai (or Squadron in translation).
Before getting into each of these Sentai, he provides an overview, in 6 pages with maps, of the Japanese Army Air Force in the South Pacific and where each of the Sentai are based to set the scene for the rest of the book and a brief historical overview to set the context of the rest of the book. He also has details on the command structure of those Japanese forces.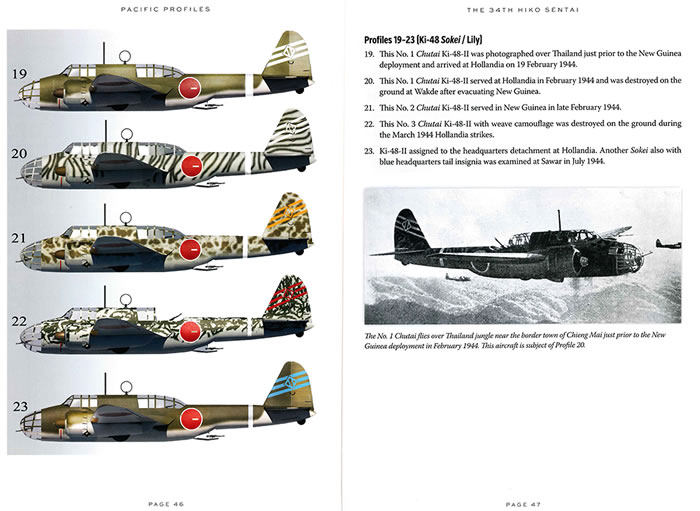 The author then provides technical notes on each of the aircraft types that were operated in this area. For this volume the list of types is quite extensive, covering the following aircraft:
Mitsubishi Ki-21-I & II, Sally, heavy bomber

Mitsubishi Ki-46, Dinah, reconnaissance aircraft

Kawasaki Ki-48-II ko, otsu & hei light bomber, Lily

Nakajima Ki-49-I & II, Helen, heavy bomber/transport

Mitsubishi Ki-51, Sonia, reconnaissance and attack aircraft

Kawasaki Ki-56, Thalia, transport

Mitsubishi Ki-57/MC-20 & MC-21 transport
As you can see this is a wide range of different types of and there are details of a wide range of schemes as you will see.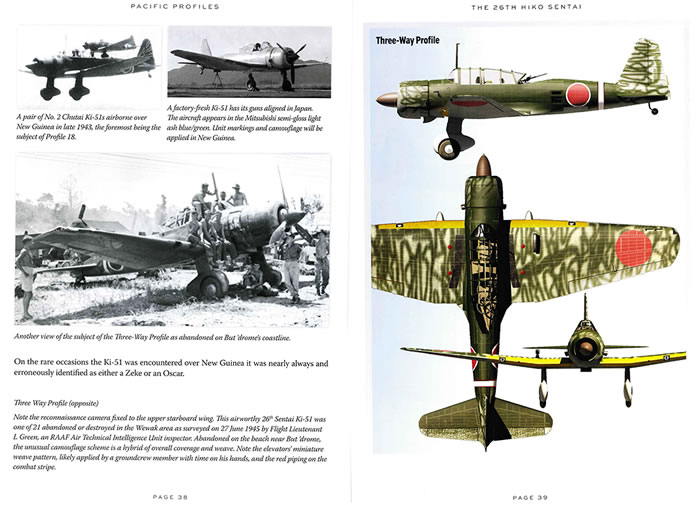 Michael then looks at each of the Sentai individually. The book then consists of 11 chapters on each of the Sentai, listed below and a final chapter on captured aircraft.

The chapters are:
3. The 7th Hiko Sentai (Ki-49 Helen)

4. The 14th Hiko Sentai (Ki-21 Sally)

5. The 26th Sentai (Ki-51 Sonia)

6. The 34th Hiko Sentai (Ki-48 Lily

7. The 45th Hiko Sentai (Ki-48 Lily)

8. The 60th Hiko Sentai (Ki-21 Sally)

9. The 61st Hiko Sentai (Ki-49 Helen)

10. The 75th Hiko Sentai (Ki-48 Lily)

11. The 208th Hiko Sentai (Ki-48 Lily)
Each of these Sentai has detail notes on what type of aircraft flew in that Sentai, at what time period as well as other valuable information. Each chapter follows the same construction with written text on that Sentai, a page (and often more than one page) of numbered aircraft profiles with more detailed notes on the adjoining page. There are original historical photographs of those aircraft which provides an excellent reference for those of us who are modellers. Some chapters have very rare colour photographs of the respective Japanese aircraft. I have also added a few teasers of the various other aircraft covered.
The next of the chapters covers the Headquarters and Command Units. These units flew a wide range of aircraft, basically versions of all of the above aircraft as well as a few Ki-43 Hayabusa single engines fighters. Following on is a chapter of Reconnaisance Units, with the author listing and explaining each of the units used for reconnaisance. These units flew the Ki-46 Dinah's and Ki-51 Sonia's. Transport and Liason Units are the last to be looked at. These units again flew a wide range of aircraft with some very interesting schemes on them. Michael covers everything you could need as a modeller of Japanese aircraft in this book with great profiles and historical photographs, both B&W as well as colour.
This book, the second volume of the Pacific Profiles series, is an excellent reference for modellers with an interest in the Pacific southern theatre, especially builders of Japanese aircraft.
I would see this as a highly desireable addition to your library and highly recommend it for its thoroughness of the Japanese air forces.
Many thanks to Avonmore Books for the review sample.
---
Review Copyright © 2022 by David Couche
This Page Created on 27 April, 2022
Last updated 28 April, 2022
Back to HyperScale Main Page
Back to Reviews Page