Dora Wing's 1/48 scale
Curtiss-Wright SNC-1
by Keith Sherwood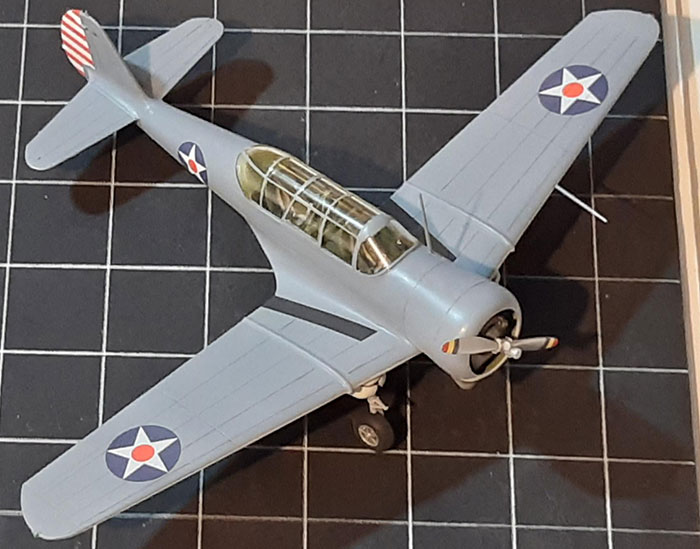 Curtiss-Wright SNC-1 Falcon II
I've been a big Dora Wings models fan for a long time now as they always seem to bring something out that's just a little bit different. This one fitted the bill perfectly.
Moulded in their usual quite hard dark grey plastic which was very smooth and shiny. Surface detail consists of very fine engraved panel lines throughout.The cockpit is very well detailed and is easily seen through the crystal clear canopy. Seatbelts are provided but I decided to use some generic US Navy ones from Eduard as I felt the kit ones were a little simplified. Decals are provided for the embossed instrument panel and are convincing enough.
The fuselage is broken down into 6 parts. The two main halves and then two for the wing root area and two for the top. This breakdown will probably allow for Dora Wings to offer the "fastback" Dutch version of the CW-22 in the future. However, I could foresee a problem if you followed stage 31 as they suggest, so I decided to fit each part (F3 &F4)to its relevant fuselage half first. The wing root parts (E7 & E8) fit without any problem.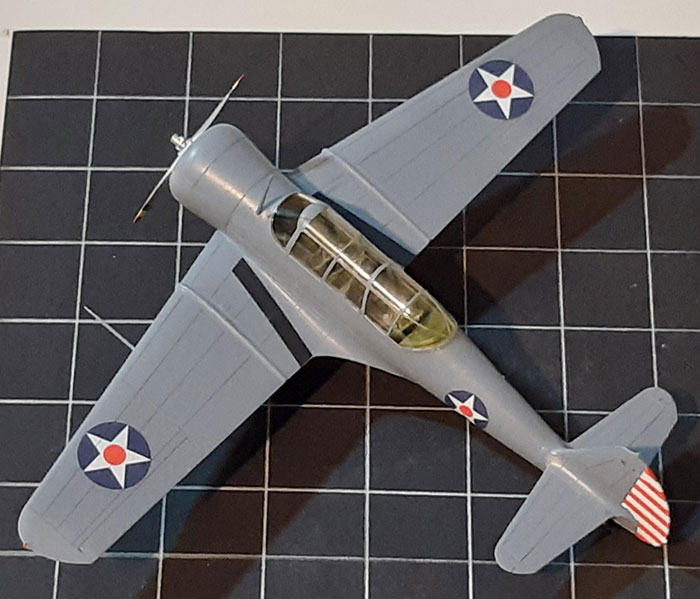 The engine is very well detailed, but I felt the instructions were a little vague regarding fitting some of the smaller details. I found some nice photos of an aircraft in a museum with closeups of the engine so that helped greatly. I must confess I also couldn't get the engine bearers (E12 & E14) to sit anywhere near where I wanted them, and they were also so weak that the assembly kept bending. In the end I cheated and used some 5mm tubing cut to the right length and attached the whole assembly to the bulkhead. You can't see anything anyway within the cowling and it was so much stronger.
The wing to fuselage joint was pretty much spot on and only a small amount of filler was needed at the rear.
The undercarriage is quite unusual on this aircraft but is faithfully reproduced and nicely detailed here. Just be careful you don't lose any of the tiny photo-etched ribs that fit in the sponsons.....enough said.
The clamshell doors are really nice and come complete with PE actuating arms.
Next, it was time to fit the canopy. This, unfortunately is a one-piece affair but as I said before is crystal clear and comes complete with a set of vinyl masks. A godsend with all this framing.
I chose the US Navy example from the 3 options given, the other two being a silver one with yellow wings from Ecuador and an all over blue one from Peru.
I used Xtracolor for the blue/grey upper surfaces and lt. grey undersides.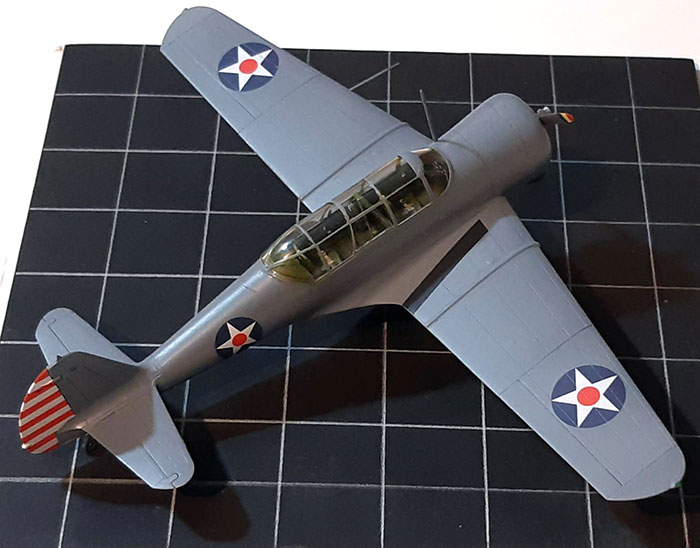 Decals are first rate, although obviously not a great deal of them.
Anyway, a nice addition to anyone's collection of US Navy aircraft particularly the early years.
I'm looking forward to their forthcoming Vengeance.
---
Model and Text Copyright © 2022 by Keith Sherwood
Page Created 24 January, 2022
Last Updated 24 January, 2022
Back to HyperScale Main Page