Hasegawa 1/32 scale
Swiss Air Force Evaluation
F-104 Starfighter
by Hans Peter Tschanz


Swiss Air Force Evaluation F-104 Starfighter
Lockheed F-104 "Starfighter" was designed as a single-engine interceptor, the Lockheed F-104 "Starfighter" was manufactured by Lockheed Corporation, Burbank. From 1956 Lockheed and later Canadian and European licensees built the model in large numbers. It was built purely as a day and interceptor, optimized for high speeds and climbing performance.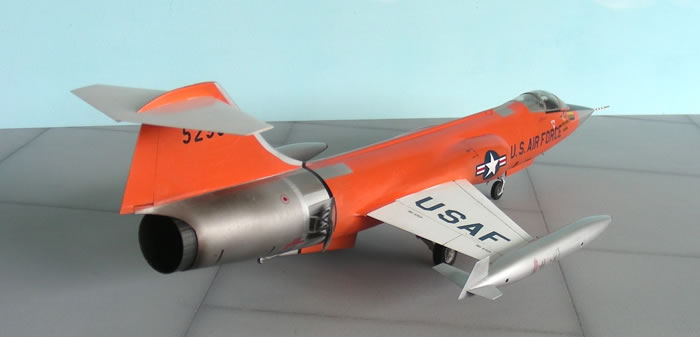 The Swiss Air Force was one of the first countries to test the Starfighter. Colonel Wilhelm Frei, Major Arthur Moll and Captain Hans-Ulrich Weber were allowed to test this aircraft in different phases, i.e. flying with external loads, shooting with on-board cannons and attacks with Sidewinder.
The Starfighter was judged correctly by the Swiss team, and the tactical limitations and low safety margins were also recognized. But the Swiss did not expect that the guy would later become a scandal bird due to a never-ending series of crashes, especially in Germany. The German Air Force lost a total of 262 Starfighters and 116 crew members.
In Germany, the Starfighter F-104 received the nickname "Wittwenmacher" (widow maker).
The evaluation team saved the Swiss Air Force from making this mistake.
"Et optimis optimus keep hic Regrediens"
"The best of the best keep coming back here"
---
Model, Images and Text Copyright © 2022 by Hans Peter Tschanz
Page Created 14 January, 2022
Last Updated 18 January, 2022
Back to HyperScale Main Page