Academy's 1/48 scale
F-4J Phantom II
VX-4 Black Bunny
by Marcello Rosa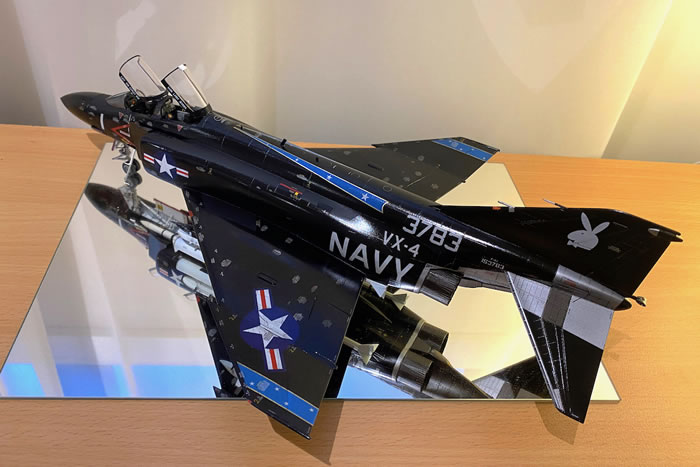 F-4J Phantom II
Here are some photos of my recently completed Phantom, representing the first of the "Black Bunnies" flown by VX-4 in the 1970's (BuNo 153783). This model comes out of the box from the Academy 1/48 kit, except for the decals which are from Furball Aerodesign. The only scratch-built items were some details of the landing gear, and the LAU-10 pods for Zuni rockets, which I felt were needed because they appear frequently in contemporary photos of this plane. I softened the heavy riveting and panel lines to a level which I was comfortable with, by sanding. The gloss black was achieved with Tamiya X-1 enamel, which was then covered with SMS Super Clear, and then hand polished. I found this kit quite enjoyable. The fit is not bad at all, and only minimal filling and sanding was required. For a budget price, you get a reasonably correctly shaped Phantom, with potential to add improvements if you wish to do so.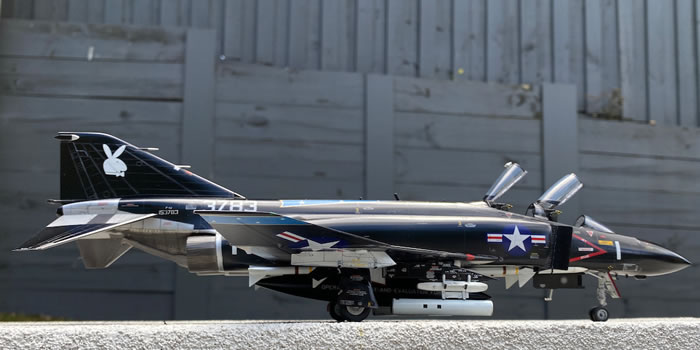 The pictures I could find online suggest that most models of this plane represent it as it would look fresh out of the paint shop, with very white stencils forming a stark contrast with an uniform, glossy black paint. My model started like this, but I really did not like this look, which I found unrealistic. Thus, halfway through the build I decided to try to create *just* a little bit of weathering, in the hope that it would look more like the real thing. This was done mostly by suggesting slight chipping along some panel lines, and by making the stencils less obvious by dry brushing a little bit of black paint on top of them. Most of the time in this build was spent trying to find the correct balance between a little bit of wear and tear, and not going overboard with weathering (and thus preserving the good looks provided by the gloss black).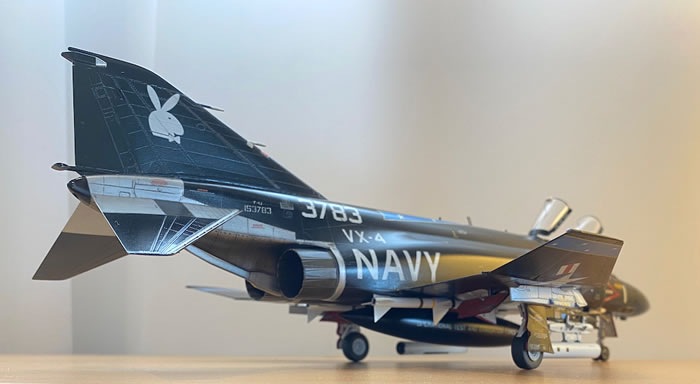 One aspect that demanded correction were the colours of some of the stencils. The lettering for all instructional stencils was provided in white decals. In reality, some of the words were yellow (e.g. all CAUTIONs) and some red (e.g. all WARNINGs words). This was circumvented by creating appropriately coloured "filters", by mixing equal proportions of floor polish and Tamiya clear acrylics (X-24 clear yellow, and X-27 clear red). This mix could be applied carefully over the appropriate words to tint them using a fine paintbrush, in most cases requiring multiple layers. This worked well against a dark background.
For a more complete build report, including photos of the construction steps, feel free to visit my web site(https://www.marcellorosa.com/f-4jphantomblackbunny, or send me a message if you would like any tips or clarification.
---
Model and Text Copyright © 2022 by Marcello Rosa
Page Created 14 December, 2022
Last Updated 15 December, 2022
Back to HyperScale Main Page