Kinetic's 1/48 scale
FMA IA 58 Pucará
by Steve Pritchard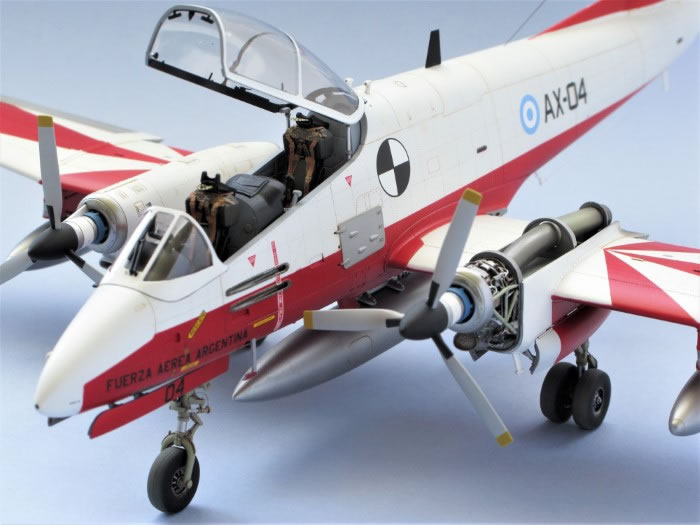 FMA IA 58 Pucará

Kinetic 1/48 FMA IA 58 Pucará (Kit No. K48078)
Aftermarket Accessories:
Eduard IA-58A Pucara Seatbelts (FE 1197)

Quinta IA 58 Pucara Interior 3D Decal (QD48179)

Two Bobs Aviation Graphics IA-58 Foreign User/Special Pucaras decals

Black Dog IA 58 Pucará Engine (A48134)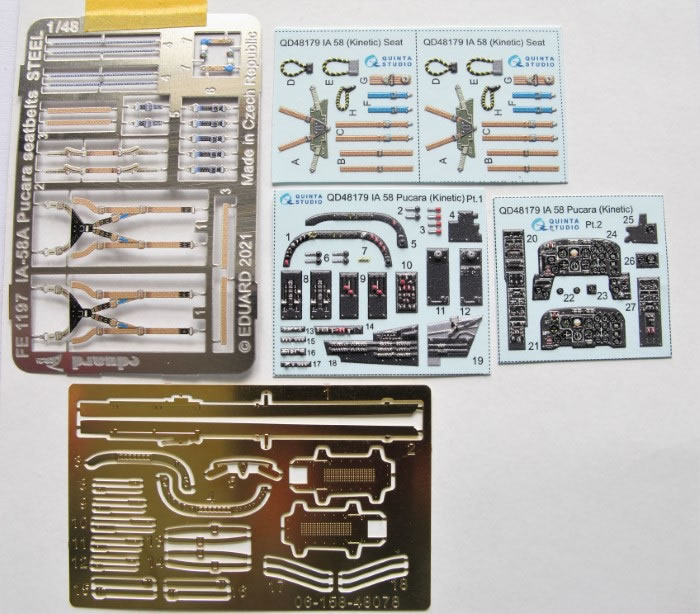 Paints Used:
2 parts Mr. Color C1 gloss white to 1 part Tamiya LP-39 Racing White for the white areas.

6 parts Tamiya LP-21 Italian Red to 1 part LP-18 Dull Red for the red areas.

Alclad Aluminium and Dark Aluminium for the flaps and control surfaces.

Alclad Aluminium and Magnesium for the exhaust.

Mr Color C306 for the cockpit.

Tamiya LP-24 Semi-Gloss Clear overall as the final coat.
Construction was straightforward – hardly any filler was used, just a little Mr. Surfacer 500 brushed onto the wing/fuselage join. I added some rivets – my only reference was the diagrams included in the Two Bobs decal sheet, but it looks reasonably convincing.
Next step was to try out the Quinta cockpit details. I was impressed with the instrument panels and side panels, less so with some of the ejection seat belts and tiny levers. I used a mix of Quinta and Eduard for these in the end, generally securing them with super glue.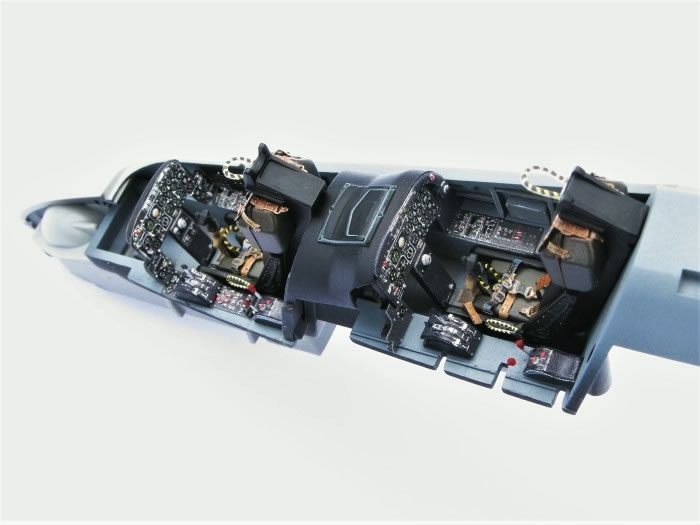 I added a few items of ironmongery just aft of the cockpit for nose weight - at the time I didn't have any lead fishing weights. The nuts and bolts proved not quite heavy enough to hold the nosewheel down, so I ended getting some sinkers - three small ones in the engine nacelle did the trick.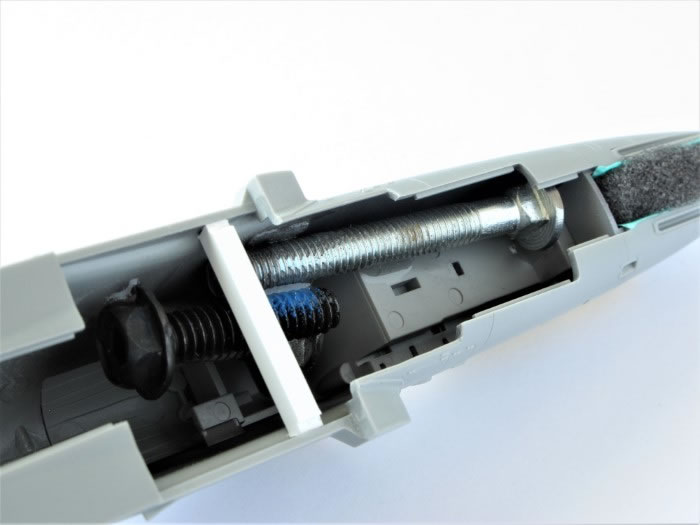 I put a plastic spacer across the fuselage – this was to hold the correct width so there would be little or no filling when the wings where joined. It also helps prevent any flexing and possible cracking of the upper fuselage joint, as this is under a bit of stress when handing the model during construction.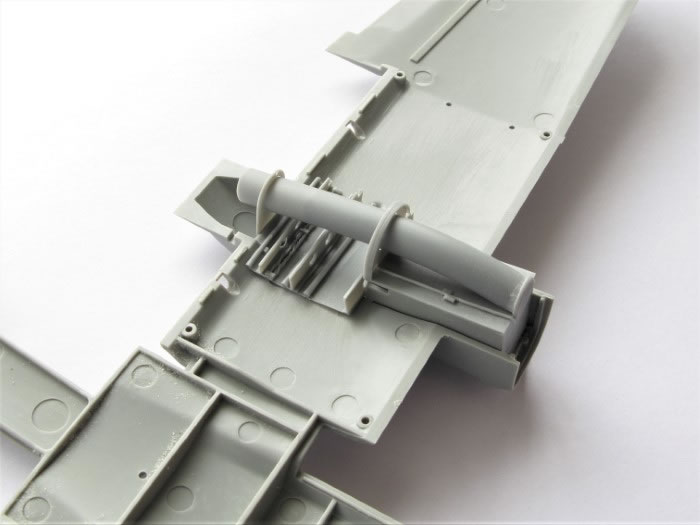 I left the tailplane off until it and the vertical tail had been painted – much easier to mask the stripes that way and the fit was excellent.
The Black Dog engine kit looks good once painted up.
It would have been helpful to have clear instructions on what needs to be cut off the kit parts, and also some colour callouts would be nice. There were some small imperfections in the resin, particularly in the exhaust – nothing a little filler didn't hide.
The Two Bobs decals are excellent.
It was an easy choice to go with the red and white scheme – the finished model certainly brightens up the display cabinet.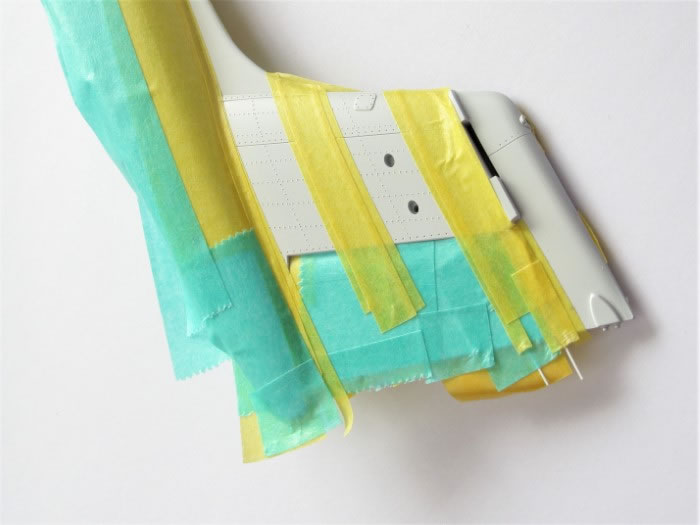 I mixed my own colours, there are few colour photos available so I went with a slightly off white and a dulled down bright red. Quite a nice result, and the Tamiya and Mr, Color Lacquer paints mixed without issue.
This is a fantastic kit from Kinetic, the surface detail is outstanding, the fit superb and construction relatively simple. The variety of schemes possible could well encourage me to get another.
Very Highly Recommended.
Steve Pritchard
Christchurch
New Zealand
---
Model, Images and Text Copyright © 2022 by Steve Pritchard
Page Created 12 May, 2022
Last Updated 12 May, 2022
Back to HyperScale Main Page