DSPIAE Modeling Tools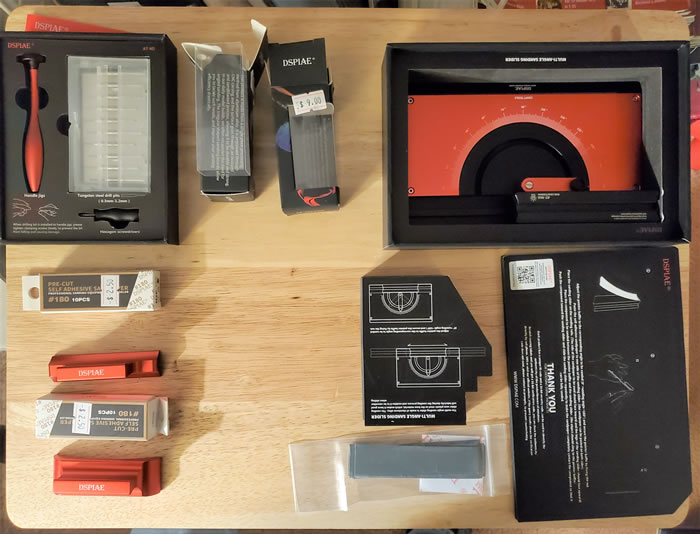 DSPIAE
S u m m a r y

Catalogue Number, Description and Price:

DSPIAE Modeling Tools (made by Shanghai Manxun Trading Company LTD):

plus shipping available online from DSPIAE's online store, hobby shops and tool retailers worldwide

Contents and Media:
Airbrush and compressor
Review Type:
FirstLook
Advantages:
High grade machined aluminum tools will provide a high degree of accuracy in modeling.
Disadvantages:
Not cheap!
Conclusion:

Highly Recommended for all modellers.

Reviewed by Cookie Sewell
Nothing in life stays the same, as the philosophers all tell us. Modeling is certainly subject to that rule.
When I was a kid it was the "big time" when we could afford an Xacto knife and even moreso when we could get new blades for us; parents were never happy to know that Junior was playing around with a scalpel. We swiped emery boards from our mothers or late wives to use for sanding, and other tools were purloined from drafting sets or school supplies.
But as we got older – and our models got better – we advanced to newer and better tools to include dedicated plastic friendly sandpaper sticks and sheets, more knives with specialized blades, tweezers, "rat" and "mousetail" files, and eventually even to spray guns and airbrushes. Later those of us who scratchbuild our own models found the Northwest Short Line section in model railroad catalogues and branched out with their Chopper cutting tool, Duplicutter strip making device, and True Sander for squaring up parts.
Today we are getting even more advanced and sophisticated, and our models show it. The quality at the 2021 AMPS Super Regional Show in South Bend held last weekend verified that with models being of very high quality indeed.
But now to get them to look like that we have also branched out to use newer and better tools better suited to the tasks at hand. Now tools can cost upwards of $100 or more depending on the level of sophistication and flexibility we now seek out to build our creations. (The fact that the kits are more complex and more expensive also figures into needing better tools to build them.) Tools now include specialized jigs for building tank tracks, rigging and bending jigs for wooden ships, multispeed handheld tools for drilling, sanding and shaping, and many others for even more precise and sophisticated work.
This new line – sadly in this day and age and like most other new products of this sort from China – is an excellent example of the new generation of tools. All of them are quite sturdy and made from machined aluminum or steel with a red anodized finish. The larger ones come in very sturdy red and black stowage boxes to keep them safe when not in use. I picked up four of them from John Rauscher of Empire Models at the show and here are my comments.
The AT-MA Multi-Angle Sanding Slider fulfills a similar function to the NWSL True Sander but with a twist; it has an adjustable guide to set the sanding angle from 0 to 180 degrees to permit precise angular measurements for a good fit of parts. The sanding block is mounted on a machined rail so it cannot be offset at an angle either vertically or horizontally to ensure a perfectly square face on the material. You want to sand a part to 68 degrees to fit on the glacis of a Soviet tank it will duplicate that (or 22 degrees to get a right angle fit). It is quite heavy for its size to prevent movement. As a starter set it comes with nine sheets of self-adhesive sandpaper in 600, 1000, and 1500 grit (John noted Chinese grits do not match up with US or other western ones so you may need to order different sizes.) It also comes with four non-skid feet to keep it in place.
The AT-HD Aluminum Alloy Hand Drill is not basically just a pin vise, but a far more precise device for use in drilling holes in plastic, wood, resin or other materials. It comes with a set of 10 tungsten steel twist drills that are firmly held in place by a setscrew. Both a small screwdriver and a small Allen wrench are provided for use in locking the drill bit in place. Reach of the bits is around 10-12mm (3/8ths to ½ inch). While very, very sharp and solid, they are like all drill bits this small fragile when hit with bending or lateral pressure and will snap off. The handle has a nice "bowling pin" shape and is very easy and comfortable to use.
The AS-25PPRD and AS-25CPRD are nicely machine sanding blocks with the PPRD being 75mm long and the CPRD 70mm. The two faces of the PPRD are each 8mm wide and the face of the CPRD is 20mm. Since each of the separately available sanding strips is 73mm x 20mm each block will take one full replacement strip. Strips are available in about ten different grits of which I selected 180 grit. This is a bit finer that US grits and I would make it about 200-220 grit. The PPRD will yield a tight right angle and the native circumference of the CPRD looks to be about 30 cm but it should provide a nice rounded ability to work on gun barrels, aircraft fuselages and engines, and turrets.
In summary, these are not cheap, but they are going to be extremely sturdy and quite useful for many, many years.
Cookie Sewell
---
Text and Images Copyright 2021 by Cookie Sewell
Page Created 23 August, 2021
Last updated 23 August, 2021
Back to HyperScale Main Page
Back to Reviews Page