Republic Thunderbolt Mk.I
Razorback RAF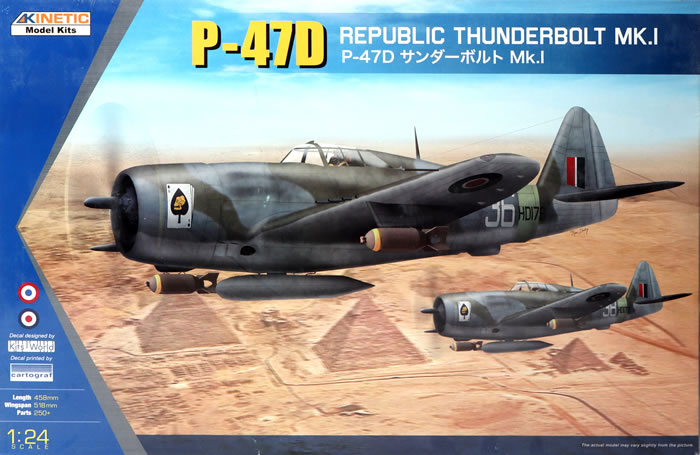 Kinetic, 1/24 scale
S u m m a r y

Catalogue Number:
Kinetic Kit No. K3212 - Republic Thunderbolt Mk.I
Scale:
1/24
Contents and Media:
258 parts in grey plastic; 15 parts in clear; two parts in black vinyl; markings for two aircraft.
Price:
Review Type:
FirstLook
Advantages:
Restrained surface detail; accurate shapes; generally good detail; many useful options, large amount of ordnance and tanks, optional position wing flaps and supercharger vents; excellent decals; thin, clear transparencies; relatively simple engineering for such a large kit.
Disadvantages:

Misaligned tyre tread pattern.

Conclusion:
A big, good looking Jug with potential for more superdetailing. This kit stands up well against the best kits in this scale
Reviewed by Brett Green

Vintage Fighter Series released their 1/24 scale P-47D Thunderbolt Bubbletop back in 2008. Kinetic gave this model a new lease of life later the same year, and in 2005 they released a Razorback version with new plastic parts and decals for two USAAF subjects.
Now Kinetic has extended the fanily further with an RAF Thunderbolt Mk.I, the British equivalent of a P-47D Razorback.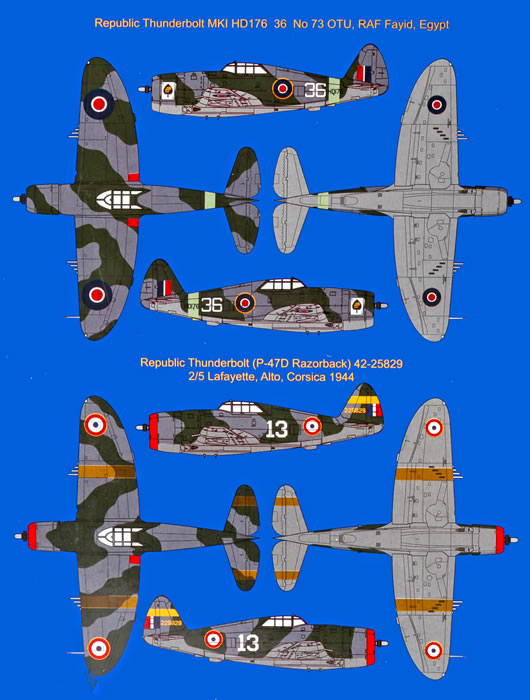 This model features the same plastic parts as the 2005 Razorback release, with new RAF and French marking options - one each.
Kinetic seems to have performed some sort of magic trick by fitting this big model into a relatively compact, almost cube-shaped package.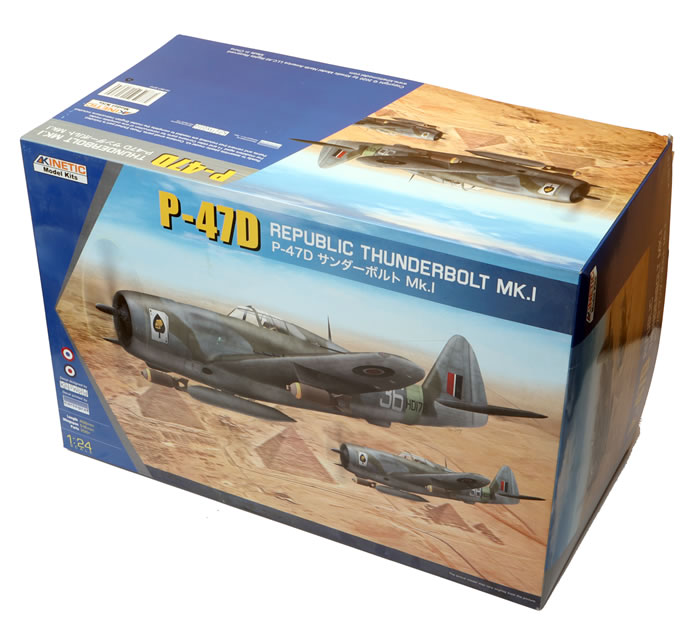 258 grey plastic parts are supplemented by 15 parts in clear plastic, and two parts in pale grey vinyl.
The model will be big when finished, as suggested by this photo of one fuselage half - minus cowls - next to an Airfix 1/72 scale Beaufighter.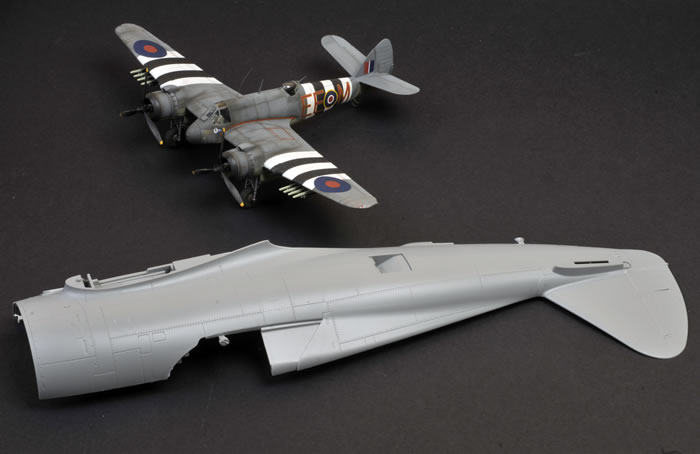 The fuselage halves are brand new mouldings presented in one piece per side. Unlike the bubbletop, the spine and tail are integrated with the fuselage halves, so there won't be any seam lines or inserts to clean up.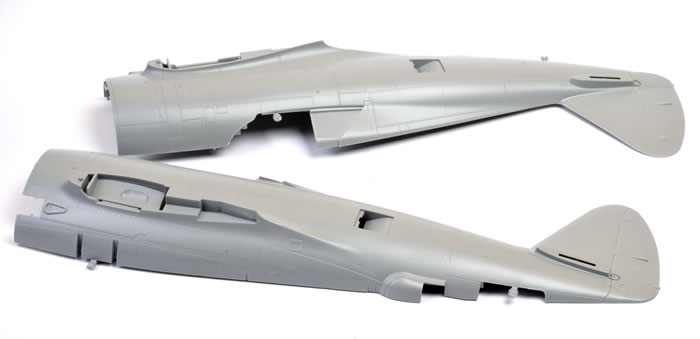 Surface texture is smooth. The exterior surfaces feature crisply recessed panel lines. There are also rows of fine rivets. These are subtle enough that they should not be a distraction from the overall shape of the aircraft.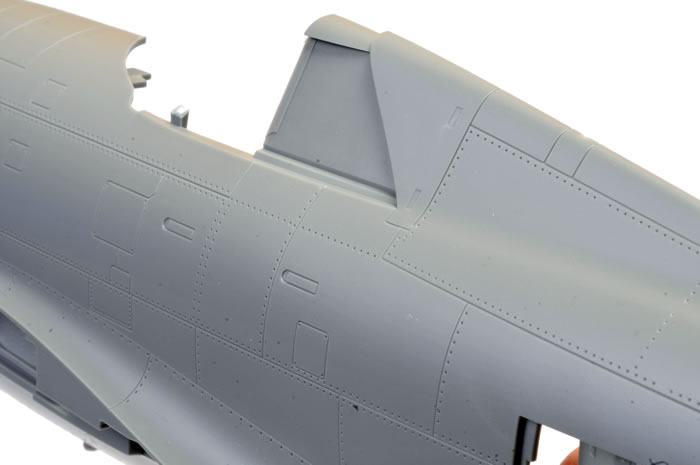 Moulding quality is generally very good. Some of the sprue attachment points are large though, so care will be needed when removing them to avoid damaging the surrounding plastic.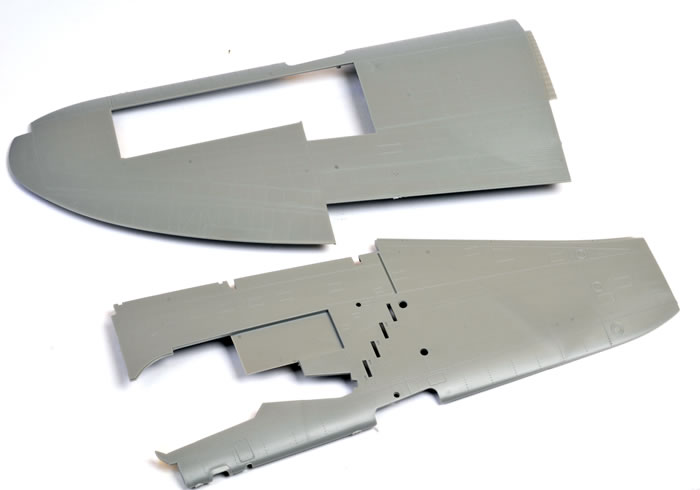 The interior of the model is quite well detailed, but only in areas that can be accessed. For example. we do not see the mass of supercharger plumbing that was supplied with the 1/32 scale Trumpeter P-47 kits. Most modellers will probably breathe a deep sigh of relief, as this will make the construction of Kinetic's Thunderbolt relatively straightforward.
In fact, Mick Evans built the bubbletop kit upon its release and he reported that despite its daunting size, it was an easy build with good fit.
The cockpit is adequate for this large scale, although I think that the sidewalls could do with a bit more detailing. A number of gorgeous after market instrument panels are available from Yahu and Airscale. These will deliver an instand facelift to the cockpit.
Harness straps are not provided, but there are plenty of after market 1/24 scale harness options available these days too.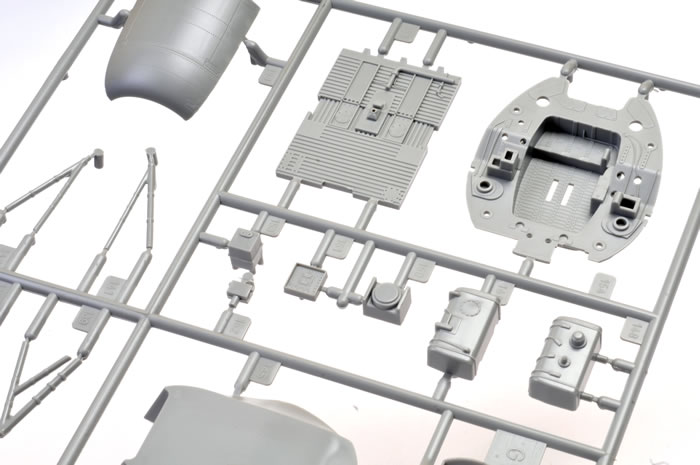 Both the flat and corrugated floors are included, although only the corrugated version is required for this kit. The quadrant with its separate handles is nice too.
The engine is well done, supported by intake ducting, exhaust manifolds and firewall detail. This is a miniature model in its own right (come to think of it, maybe not so miniature!)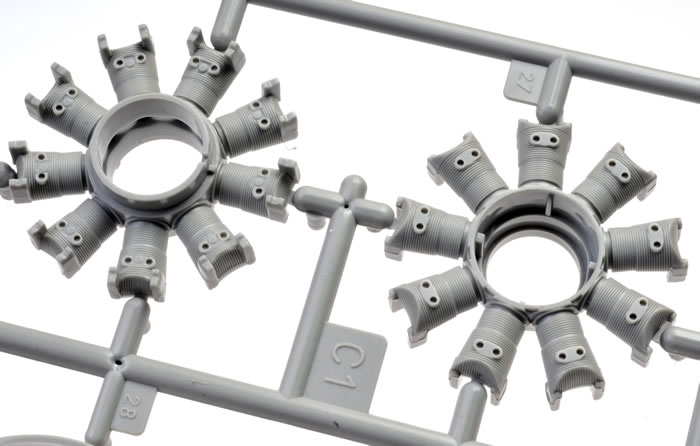 Surprisingly, the cowl does not seem to have been designed to display open, as the cowl ring is moulded to each separate section of cowling side. Some extra surgery will be required to display your Pratt & Whitney masterpiece. Only a single set of closed cowl flaps is supplied.
The modeller is given the choice between spoked and covered main wheels.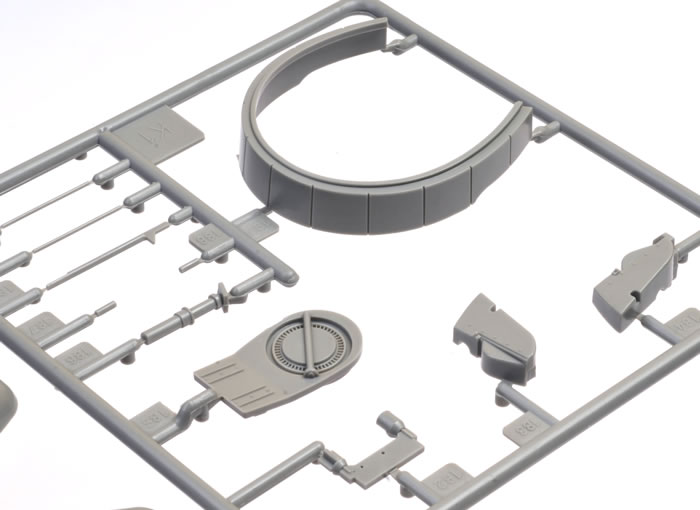 The machine gun hatches are separate on both wings, with detailed .50 cals supplied. The port wing also offers the option of displaying the long ammunition trays, either full of shells or empty (alternate parts are supplied for this option).
A good selection of ordnance options are included, such as bombs, a flat centreline tank, two Lockheed teardrop drop tanks, two paper tanks and underwing bazookas. A full compliment of four different propeller assemblies is also included.
Some of the detail parts are a bit chunky for this scale, notably the sway braces and some of the wheel well interior. If you are a super detailing fan, you might like to weave some magic in these areas.
The clear parts are admirably thin and the large canopy sliding section is completely seamless.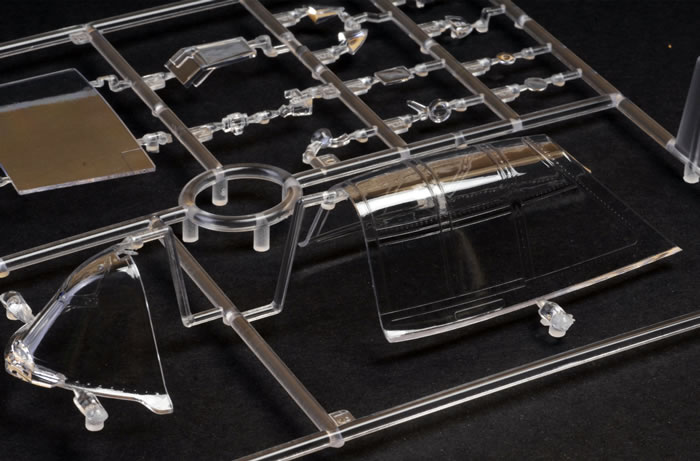 This time around, the main tyres are presented in pale grey vinyl instead of black. Unfortunately though, the tread pattern still overlaps in the middle of the tyres. Once again, there are a number of aftermarket resin replacements are available. DEF Model offers three separate sets of wheels with different tread patterns. Scale Aircraft Conversions also provides white metal landing gear legs.
Engineering of the kit is quite straightforward and, in most respects, appears similar to the Tamiya 1/48 scale P-47 family. Elevators and the rudder are fixed in neutral positions, but the separate flaps may be depicted dropped or raised.
---
Markings
The decals are a real highlight, featuring two options in mid to late war RAF Dark Green and Ocean Grey over Medium Sea Grey lower surfaces.
The decals were designed by Kits World and printed perfectly by Cartograf.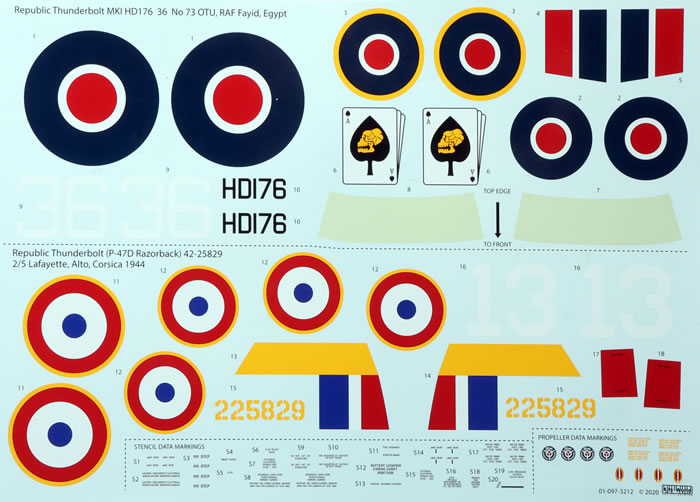 They are glossy and well saturated. The half-tones of the big nose art items are very impressive.
It is great to see Kinetic expanding the 1/24 scale Thunderbolt family further with this Thunderbolt Mk.I variant.
There is a lot to like about this kit. Despite its size and the number of options, the engineering of Kinetic's 1/24 scale P-47D Thunderbolt Razorback is actually quite straightforward, ensuring that any modeller with a couple of kits under their belt should be able to manage this one without any real problems. The number of useful options - props, ordnance, alternative position panels etc - are also very pleasing.
Detail is pretty good but there is scope for adding more, especially in the cockpit and the wheel wells.
I rate Kinetic's P-47D Thunderbolt as a very good 1/24 scale kit, and one that could sit proudly beside your big Airfix and Trumpeter models of the same scale. I think USD$99 is good value too.
If you are a Thunderbolt fan and have plenty of display space, this one is for you!
Thanks to Kinetic for the sample
---
Review Text Copyright © 2021 by Brett Green
Page Created 18 May, 2021
Last updated 19 May, 2021
Back to HyperScale Main Page
Back to Reviews Page