Zlin-26 Trenér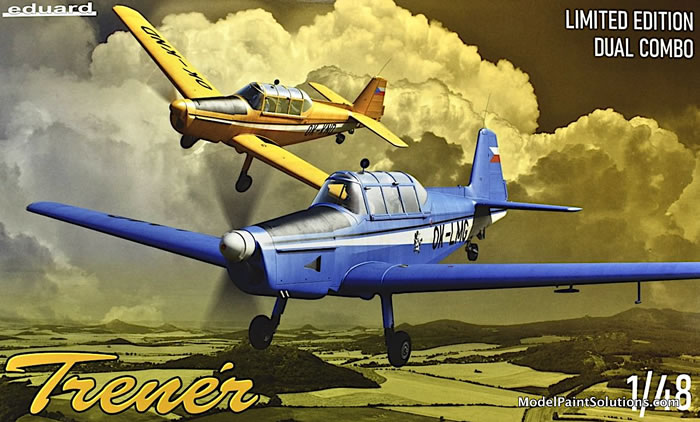 Eduard Limited Edition Dual Combo
1/48 scale
S u m m a r y :

Description and Item No.:

Eduard Kit No. EDK11152 - Zlin-26 Trenér Limited Edition Dual Combo

Contents and Media:

148 parts in grey styrene (x 2; not all are used), 21 clear parts (x 2; not all are used), a full color PE fret (x 2), masks (canopy and partial schemes), one decal sheet with markings for 11 schemes and a smaller sheet with airframe stencils (x 2).

Price:

USD$79.95 plus shipping available online from Eduard's web store

GBP£46.80 EU Price (£39.00 Export Price) Plus Shipping at Hannants

Scale:

1/48

Review Type:

First Look

Advantages:

The kit features sufficient parts for 2 complete models. The inscribed panel lines, rivets, and other surface details are beautifully rendered and scale appropriate. The extensive color-PE fret provides instrument panels and seat harnesses while the crisply printed decal sheet has makings for 11 colorful airframes. This is a lot of quality modeling fun for the price.

Disadvantages:

None noted.

Recommendation:

This is a very nice kit. Considering the kit provides color photo-etch, decals, masks, and sufficient parts for two complete models; it represents a good deal considering the price tag. Highly recommended!.
Reviewed by John Miller

Well, it happened again. I walked into my favorite hobby shop, Skyway Models, vowing to walk out with nothing in my hands. And then I saw this Dual Combo Zlin kit from Eduard! Dual Zlins? Not fair!---that's just too much for a fella, you know? There was no logical course other than to bring one of these home. I know you understand.
---
Background:
The Zlin Z-26 Trenér was a tandem-seat basic training aircraft built by the Czechslovakian company Moravan. A low-wing monoplane of largely wooden construction, it was developed into a series of all-metal trainers. Several were also produced in aerobatic variants, known as the Akrobat.

The original Z-26 was designed in the 1940s and produced in 1946 to meet a requirement for a basic trainer to replace the Bücker Jungmann and Bestmann. It was a low-wing monoplane of mixed construction, with wooden wings and a welded metal tube fuselage, powered by a single four-cylinder piston engine, the Walter Minor 4-III. It first flew in early 1947, proving superior to the competing Praga-112, and was declared the winner, entering production in 1948.
Later derivatives were also optimised to participate in aerobatic competitions and many were owned by private pilot-owners. Both the two-seat Trenér and the single-seat Akrobat were considered highly successful, winning several aerobatic awards in the 1960s.
---
Variants:
The following variants were progressive improvements on the Z-26:
Z-26 – Two-seat primary trainer aircraft. 163 built.

Z-126 – Introduced in 1953, Czech military designation C-105, all—metal wing instead of original wooden wing.

Z-226 – More powerful Walter Monor 6-III six-cylinder engine, C-205.

Z-226A – Single-seat aerobatic aircraft. This and subsequent single-seat variants were named the Akrobat.

Z-226B –Glider tug aircraft.

Z-226T – Basic training version.

Z-326 – Introduced in 1959, with an electrically retractable undercarriage (standard on future models)

Z-526 – Fitted with the Walter 6-III, six-cylinder engine.

Z-526A – Single-seat aerobatic aircraft.

Z-526F – Improved version with an M-137 engine with fuel injection.

Z-726 – Modified 526 with shortened wings and fuselage.

Z-726K –Fitted .with a Walter M-337 supercharged engine
In 1956, deliveries began of the Z326 Trenér-Master and Z326A Akrobat. Many sub-variants were also produced, for example the Z-526A and Z-526AFS were aerobatic specials. The production of the family was terminated in the 1970s with Z-726. The Z-726 Universal had reduced wingspan.
---
Specifications (Z-726):
(Data from Jane's All The World's Aircraft 1976–77)
General characteristics:
Crew: Two
Length: 7.975 m (26 ft 2 in)
Wingspan: 9.875 m (32 ft 5 in)
Height: 2.06 m (6 ft 9 in)
Wing area: 14.89 m2 (160.3 sq ft)
Airfoil: Root: NACA 2418; Tip: NACA 4412
Empty weight: 700 kg (1,543 lb)
Max takeoff weight: 1,000 kg (2,205 lb)
Powerplant: 1 × Avia M-137AZ 6-cyl, air-cooled inverted in-line piston engine of 134 kW (180 hp)
Performance:
Maximum speed: 236 km/h (147 mph, 127 kn)
Cruise speed: 216 km/h (134 mph, 117 kn)
Stall speed: 98 km/h (61 mph, 53 kn) (flaps down)
Range: 440 km (270 mi, 240 nmi)
Service ceiling: 4,500 m (14,800 ft)
Rate of climb: 5 m/s (980 ft/min)
The kit comes in a lidded-type box adorned with nice art depicting two Trenérs flying in close formation. Each model is conveyed on four sprues of grey styrene, and one of clear.
The photo-etched frets (2) come bagged separately as do the multiple decal sheets and masks.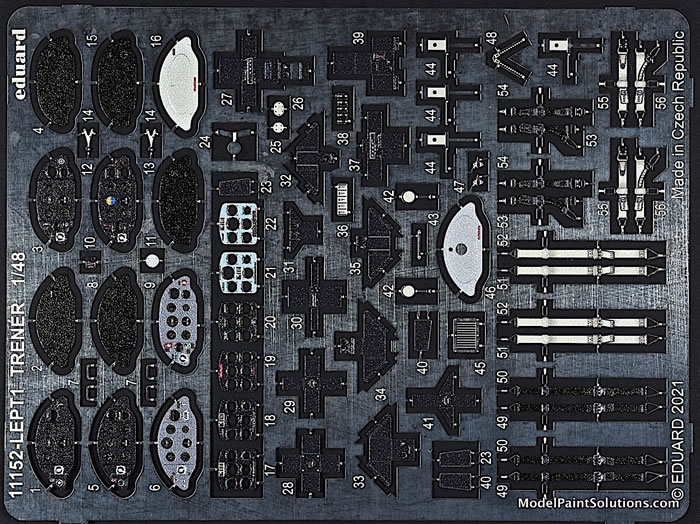 There's a lot to play with in this box.
The surface textures and recessed details are beautifully done and scale-appropriate, especially the rivets and panel fasteners. These details are going to look beautiful under paint and a wash.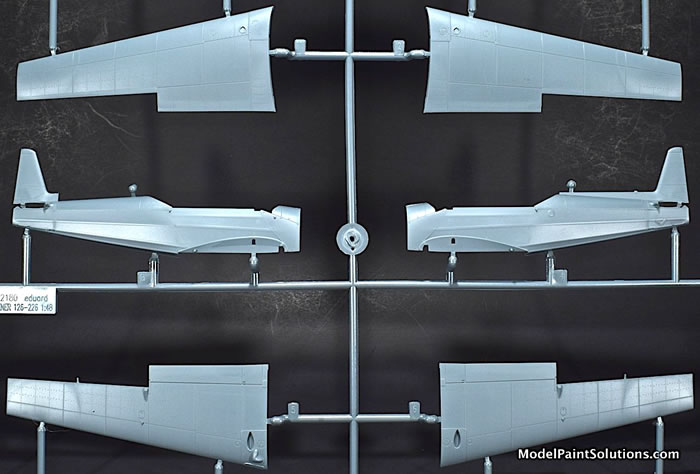 A quick review of the instructions reveals the kit provides sufficient parts to assemble two complete kits in multiple Z-26 variants; each with a high degree of accuracy. Since all of the airframes covered are civilian, there's a lot of variation in how each aircraft was/is outfitted. For example, the first step entails assembling one of 7 different radio/navigation gear options. Likewise, at least 6 different versions of instrument panels are provided, 4 different cowls, 3 different props, and 2 different seats. Thus, from the beginning of assembly, one has to know which particular air frame is the subject of the build. Luckily, you've got two models and 11 themes to choose from.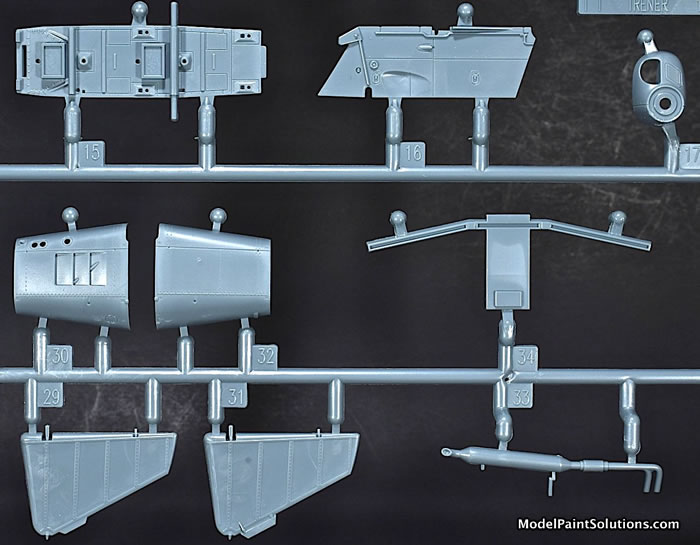 The parts layout and engineering are conventional so, per usual, assembly starts with the nicely detailed cockpit. As mentioned earlier, cockpit parts for many (many) variants are provided so study the instructions carefully before committing with glue. The level of cockpit detail that's provided right out of the box is more than sufficient for a stunning build when complete. Fortunately, the rear sliding canopy, which is crystal clear (below) can be posed opened or closed; very nice.
The assembled cockpit tub is trapped between the fuselage halves along with the turtledeck behind the rear seat. A front spar (part H34) is secured in place and covered with a central belly piece.
The wings are single-span, left and right, and composed of upper and lower halves. As with the fuselage, the surface details are beautifully rendered, especially the riveting. The single-piece, posable ailerons are next followed by the wing end caps. Once assembled, the wings slide onto the spars followed by the horizontal stabilizers (assembled from halves). The remaining control surfaces (elevators and rudder) are all single-piece and posable.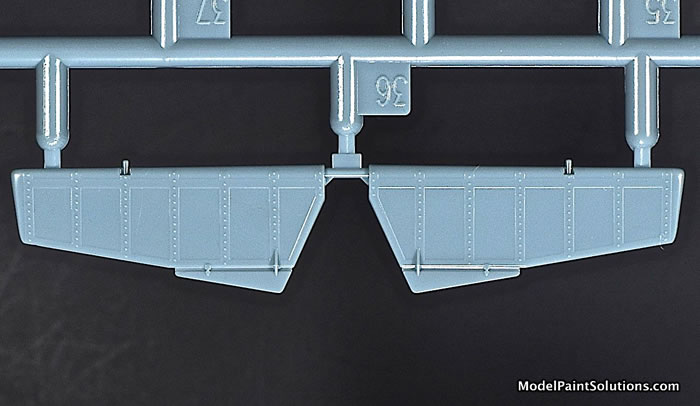 Next up is the nose cowl and here again, multiple variations (4) are provided that are scheme-specific. Addition of the main gear, composed single-piece gear legs and wheels/tires (also single-piece) is followed by the tail wheel assembly thereby completing the airframe.
The canopy parts are crystal-clear with framing that is scale-appropriate.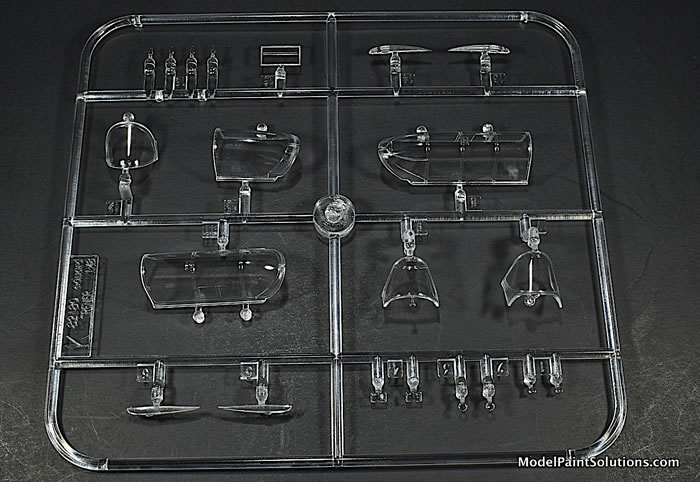 The rear canopy can be posed opened or closed. The windscreen and rear canopy are augmented with PE handles, levers, and rear-view mirrors: very nice. Last up is the nicely molded propellor(s) of which there are three options offered that are scheme-specific.
Die-cut masks are provided for the canopy. In addition there is a small selection of airframe masks intended for some of the more difficult features of the schemes covered.
---
Markings:
The decals, by Eduard, are crisply printed with good color density and hue. In addition to complete airframe stencil data for two aircraft, markings are provided for 11 airframes.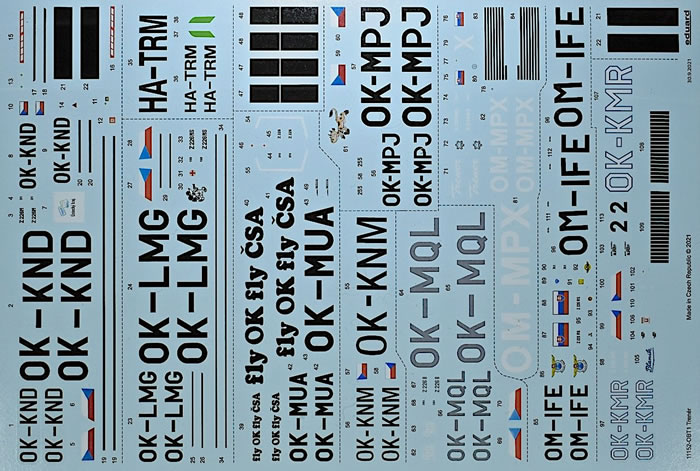 Not that the first two schemes are of same airframe at different times in its life.
Z-226MS, OK-KND, No. 31-09, 2021.

Z-226MS, OK-KND, No. 31-09, circa 1995 following overhaul.

Z-226MS, OK-LMG, No. 135, Czech Republic, 2012.

Z-226T, HA-TRM, No 369, Hungary, 2021.

Z-226T, OK-MUA, No. 370, Czechoslovakia, 1971.

Z-226M, OK-KNM, No. 40-09, Czech Republic, 2019.

Z-226B, OK-MPJ, No. 225, Czechoslovakia, circa 1970's.

Z-226B, OK-MQL, No. 283, Czech Republic, 2010.

Z-226MS, OM-MPX, N0. 264, Slovakia, 2021.

Z-226MS, OM-IFE, No. 741, Slovakia, 2021.

Z-226MS, OK-KMR, No. 19-08, Czech Republic, 2020.
I've long admired the Z-26 and all its variants so it's hard for this reviewer to be objective about this kit(s). That said, this kit will build into a real head-turner as the surface details are beautifully rendered and the level of detail is impressive.
Added to that are 11 colorful schemes to chose from and a wealth of color photo-etch. On that point, after assembling both kits, there will be a nice selection of unused photo-etch left over for your spares box; always nice.
Highly recommended for Zlin fans everywhere!
For more on this review visit Modelpaintsolutions.com.
Kit eagerly purchased by reviewer, again.
---
Review Text and Images Copyright © 2021 by John Miller
Page Created 28 November, 2021
Last updated 29 November, 2021
Back to HyperScale Main Page
Back to Reviews Page