Type 97 Fighters
Parts 4, 5 and 6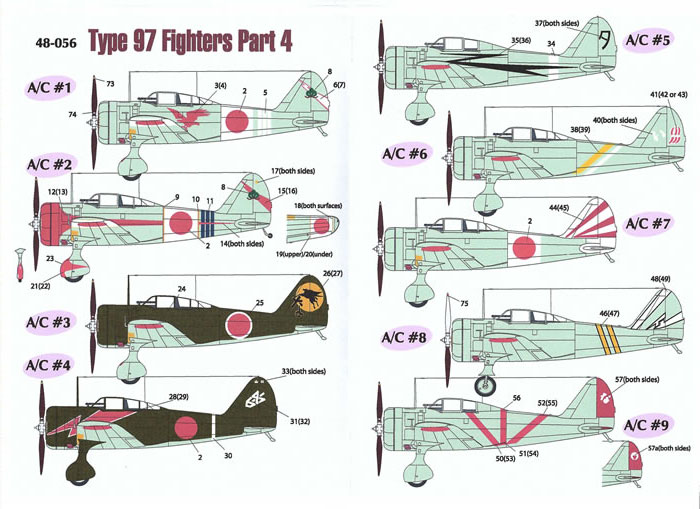 Lifelike Decals, 1/48 scale
Reviewed by Floyd S. Werner Jr.

The Type 97 was an early war fighter used by the Japanese Army.  It was quite the colorful machine as Lifelike Decals has pointed out.  They have produced SIX different decal sheets for the Hasegawa Type 97.  Some of these aircraft were on the earlier sheets but those sheets are sold out and any new information that came to light has been incorporated into these sheets. 
The latest three sheets highlight some of the colors of these machines.  There are NINE aircraft on Part 4, EIGHT on Part 5 and EIGHT on Part 6.  That's 25 airplanes on these sheets alone.  That in itself is amazing, but what's more amazing is the variety of markings.  There are stripes, arrows, eagles, lightning bolts, flashes, and just some cool unit markings.
The decals and instructions come in a resealable baggie.  Each set has four A4 sized sheets.  There are two single sided sheets with the profile views and references in full color.  There are two sheets with double sided typing that gives the history of each aircraft, including the pilot and location.  What I really like about Lifelike is that they not only provide you with the references but they discuss how they came to the conclusions that they did on the markings.  The other really neat thing is that if new information comes to light after the sheet is released they will print a small correction sheet.  I know of very few manufacturers who do that.  That is the level of passion that Lifelike has.
The decals themselves are printed by Microscale and Cartograf, so you know they are the best in the world.  Typically, the easier or less complicated and intricate markings are done by Microscale and the ones that require multiple colors and intricate detail are done by Cartograf.  All the sheets have masking films for you to cut out should you prefer to paint the cowl markings.  48-056 has an extra masking film for one of the lightning bolts so you can paint it.
Most of the aircraft are painted in No. 1 Gray Green which is very similar to RLM 02, but not all of them.  There are aircraft in No.21 Green with No.1 on the belly.  There are also some camouflaged ones that are really colorful.  You'll need to figure out what you are looking for.   
Part 4 has some remarkable paint schemes.  My favorite is #2 flow in January 1943 with the 246th Sentai.  It has some very colorful stripes as well as Home Island defense markings.  This set comes with masks for some markings and for the cowling.  There is also a very small white decal sheet so be careful you don't lose it.  This set comes with four decal sheets of varying sizes.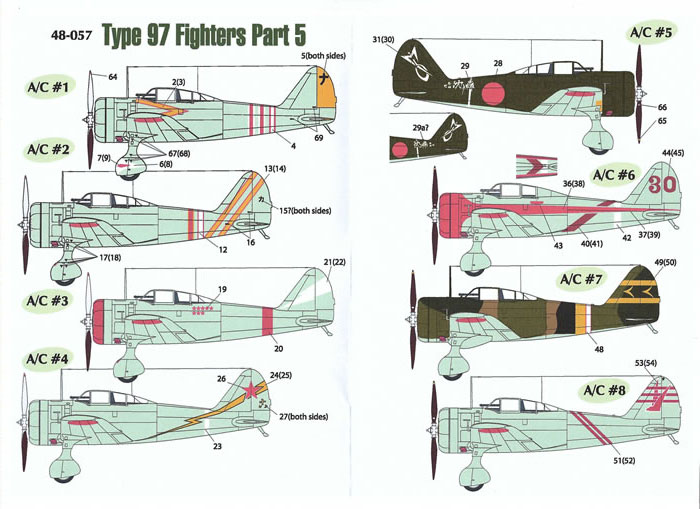 Part 5 (48-057) has a very unique camouflaged Type 97 from Capt. Kuwabara fo the 77th Sentai that would just be cool in model format.  Now you can make that happen.  It even has drop tanks under the wings.  This set also has masks for the cowling markings.  There are two decal sheets included in this set.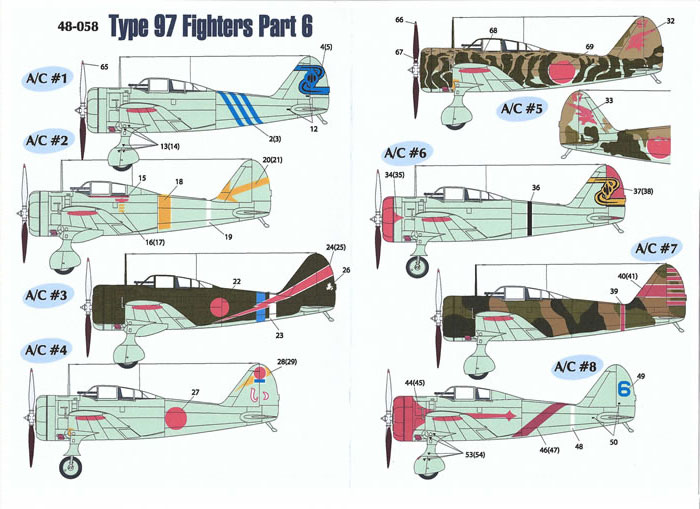 Part 6 has a really unique painted Type 97 from a Special Attack Squadron.  The camouflage is unlike any I've seen before.  Admittedly my knowledge of Japanese aircraft camouflage is not as good as it is for Luftwaffe, but this looks to be a grey green bottom that comes up the sides slightly then a No.21 green patches are added.  There are at least four colors on this airplane.  The drawing shows it as a brown.  There is also a dark, maybe black, on the horizontal surfaces that just makes this plane stand out.  The painting may have been done by American GIs after the surrender but it does make a really unique looking airplane.  This particular sheet has two decal sheets printed by Microscale and masks for the cowling.
It is so hard to decide which paint scheme to build and now you have so many options available thanks to Lifelike.  Thorough research, flawless execution, explanation of findings and world class decals make this another winning package from Lifelike.  You'll be hard pressed to find a better decal manufacturer on the planet.  Top notch from start to finish.  To top it off they are not expensive at all.  Buy with confidence.
Highly recommended
Thanks to Lifelike Decals for the review copy.  You can obtain yours at http://lifelikedecals.sakura.ne.jp .  Let them know you heard about it from this review.
Thanks to Lifelike Decals for these samples.
---
Text and Images Copyright © 2021 by Floyd S. Werne Jr.
Page Created 22 September, 2021
Last updated 22 September, 2021
Back to HyperScale Main Page
Back to Reviews Page