Messerschmitt Me 262
A Complete Guide to the Famous Fighter
by Richard A. Franks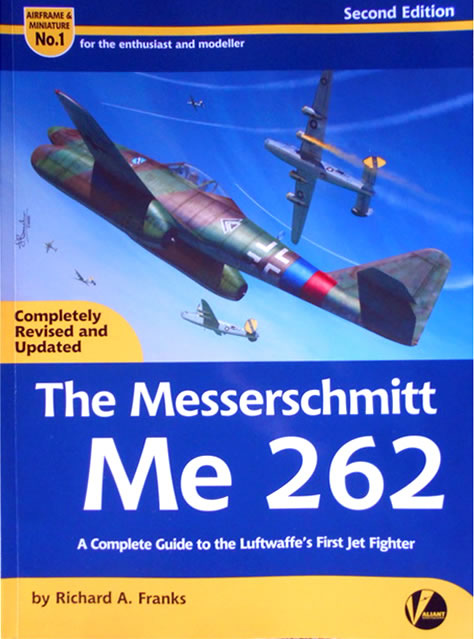 Valiant Wings Publishing
Airframe and Miniature No. 1
Second Edition
S u m m a r y

Publisher and Title:

Valiant Wings Publishing
Messerschmitt Me 262
A Complete Guide to the Famous Fighter
Airframe and Miniature No. 1
Second Edition
by Richard A. Franks

ISBN:
978-1-912932-15-3
Media:
208 pages in A4 portrait mode, many photographs and walkaround ones, colour profiles, historical manual drawings, line drawings and model details.
Price:

GBP£24.95 plus shipping available online from Valiant Wings

GBP£24.95 plus shipping available online from Hannants

and stockists worldwide.

Review Type:
First Read
Advantages:

Beautifully produced on quality paper, well bound so that it can be opened flat, masses of great information - photos, drawings and colour schemes - and excellent lists of all things a modeller needs to produce the next masterpiece.

Disadvantages:
Conclusion:

This really is an exceptionally useful volume that should be in every Me262 modeller's library, regardless of which scale one works in, and I recommend it wholeheartedly.

Reviewed by Graham Carter
This range of superb reference books need no introduction as they have become the go-to sources for modellers and those interested in specific aeroplanes since they first started to appear eleven years ago. First produced in 2010 this volume on the iconic Schwabe was Valiant's first foray into this very popular genre. A note at the beginning of the book mentions that this new edition includes a lot more modelling material since many new kits, accessories and decals have become available in the intervening years. In addition the layout has been revised following the death of Stephen Thompson who did the original, and new colour profiles and stencil placement diagrams by Richard Caruana have been added. It appears that much more use and reference to the Czech SC.92 variants are made. It is a solid A4 208 page volume, well bound with a glossy card cover and printed on quality glossy paper that allows excellent reproduction of images and drawings. While primarily aimed at the modeller, there is much to appeal to the historian and technically-minded person as well.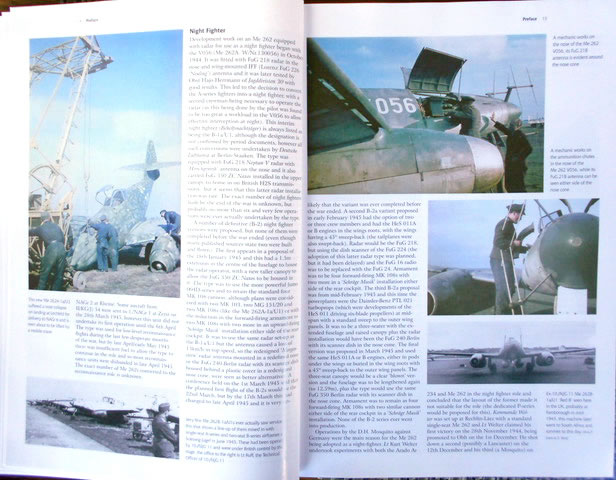 The glossy card cover has a nice bespoke illustration of a Me262 A flown by Rudolf Sinner of III/JG7 attacking B-24s in March 1945 by Jerry Boucher. Inside we find a Preface of thirty two pages tracing the lineage, development, and variants of the aircraft, all illustrated with masses of clear photos (some in colour). Here, also, is an overview of the aircraft's service history with the Luftwaffe and post-war with the Czech Air Force as the SC.92. This section concludes with a detailed coverage of captured airframes in France, the UK, USA and Soviet Union and list of survivors and their locations. This is a very useful section.
The meat of the book is the two sections covering the 'Airframe' and 'Miniatures'. The first looks at a. the 'V' (versuch or prototypes) series in sixteen pages, b. the 'S' (serienflugzeug or production ) series in fifteen pages on the A,B, and C variants , with six pages of photos and side profiles to show the developments of each variant.
There follows a large section on the Camouflage and Markings carried on these different airframes and what a wonderful variety there are, all illustrated by Richard Caruana in full colour. Most have photo to back up the drawings and there are some fascinating model possibilities.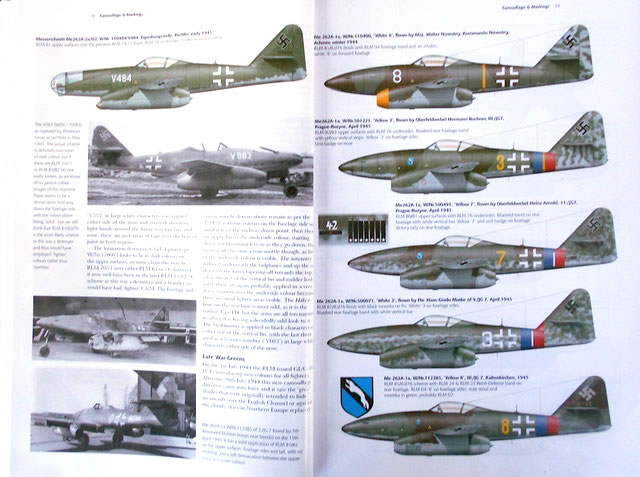 The 'Miniatures' section begins with a list of the available kits in all scales from 1/144 through to 1/24, with an assessment of the pros and cons of each, after which are three very detailed kit builds of an AIrfix 1/72 262 B-1a/U1( Libor Jekl), HobbyBoss 262 A-2a/U2 in 1/48th (Steve A Evans) and the Revell 1/32 262 B-1/U1 (Steve A Evans). Both builders are well known for the quality of their modelling and their clear photos and explanations of how they produce their models are worth a detailed read.
The next section , 'Building a Collection' , is a large one showing in isometric drawings by Jacek Jakiewicz the differences between all the different variants. These annotated sketches are invaluable to the modeller although I occasionally think that it would have been useful to have had some undersurface drawings as well.
The 'In Detail' section occupies 40 pages and give the reader an enormous number of colour and B&W photos from modern and contemporary sources, along with technical manual drawings and excellent notes. Many images are of the SC.92 variants. This is really a highlight of this and other volumes in the series and provides an invaluable source of information for the interested technophile or the super-detailer.
Finally, there are four appendices covering, in alphabetic lists by scale, all of the kits that have been available, accessories, decals and a three-page bibliography of books, official publications and periodicals. The work that has gone into compiling these lists is quite astounding.
The volume concludes with a fold-out double-sided eight-page set of 1/48 scale drawings -including a few period B&W photos - showing side and upper and lower views of a number of variants.
This really is an exceptionally useful volume that should be in every Me262 modeller's library, regardless of which scale one works in, and I recommend it whole-heartily.
This really is an exceptionally useful volume that should be in every Me262 modeller's library, regardless of which scale one works in, and I recommend it whole-heartedly..
Thanks to Valiant Wings Publishing for the sample.
---
Review Copyright © 2021 by Graham Carter
This Page Created on 26 May, 2021
Last updated 26 May, 2021
Back to HyperScale Main Page
Back to Reviews Page