South Pacific Air War
Volume 2 - the Struggle for Moresby
March - April 1942
by Michael Claringbould
& Peter Ingman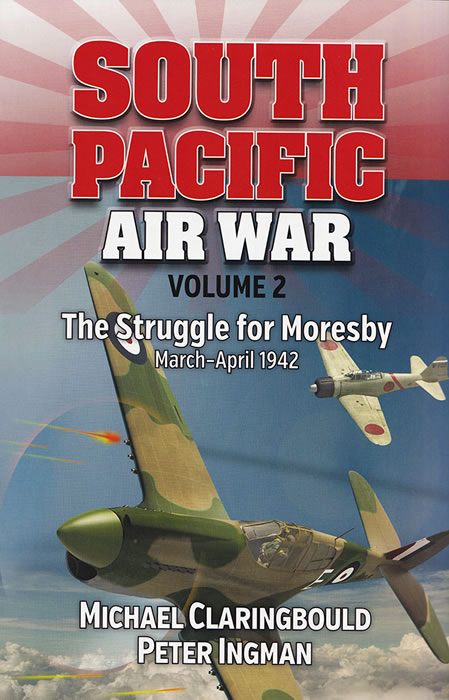 MMP Books
S u m m a r y :

Catalogue Number, Description and ISBN:

South Pacific Air War Vol 2
The Fall of Rabaul – Dec 1941- March 1942
by Michael Claringbould & Peter Ingman

ISBN:

978-0-9945889-7-5

Contents & Media:

231 pages in a soft cover, 25cm x18cm, many historical photographs, maps, colour profiles and aircraft details.

Price:

A$39.95 normally plus shipping available online from Avonmore Books (on special at the moment for A$29.95) and hobby book retailers worldwide

Review Type:

First Look

Advantages:

Detailed and comprehensive look at the air war in the South Pacific from March through April, 1942, with excellent informative text, historical photos and maps, as well as many aircraft profiles.

Disadvantages:

None.

Conclusion:

A great, should have, reference for modellers of all scales interested in the Pacific theatre in early stages of WWII.
Reviewed by David Couche

Avonmore Books is a newer Australian publisher, specialising in military and aviation history, with a particular interest in the Pacific War.
This volume, the "South Pacific Air War Vol 2, The Struggle for Moresby – March- April 1942" is the second in a trilogy that chronicles aerial warfare in the South Pacific, during the critical 6 months from Pearl Harbor in December 1941 until the Battle of the Coral Sea in May 1942. This latter is often depicted as a stand-alone naval action, which it was not. Land based aviation, both Allied and Japanese, substantially influenced the strategies of both sides and explains the condition and disposition of both sides when the carrier battle unfolded.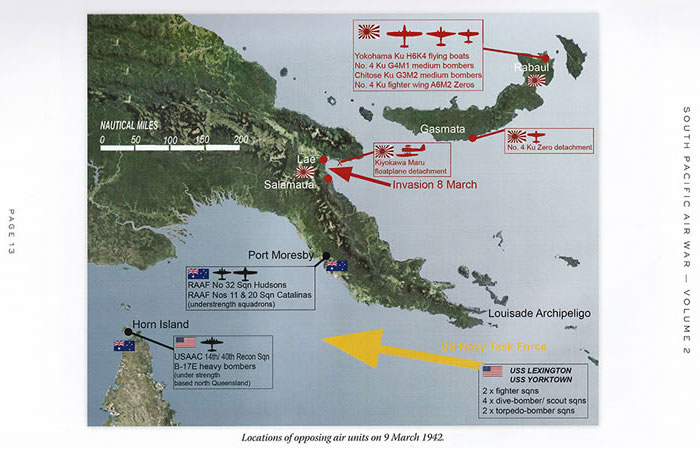 This volume begins with the stunning 10 March US Navy carrier strike against Lae and Salamaua, Which caused the Japanese to pause their advance until their own carriers were available.
By March 1942 the Japanese had landed on mainland New Guinea, and the scene was set for a race to control Port Moresby. This is the full story of both sides of an air war that could have been won by either incumbent, but for timing, crucial decisions and luck.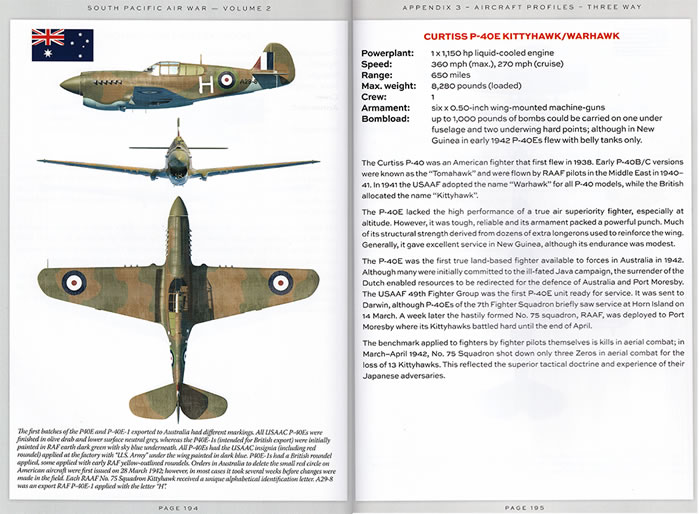 The book consists of 13 chapters that opens with the start of the preparation by the Allied forces for the Carrier attack of Lae and Salamaua on March 10, 1942. The text has been written in an informative manner that is extremely easy to read and actually weaves a good story within it. These chapters follow the development of the aerial tactics from both the Japanese and the Allied forces. These were based around the Japanese major airfields of Lae and Rabaul, and the Allies at Port Moresby and Horn Island. Changes to tactics such as high level bombing by the Japanese which was not overly successful due to smaller weight bombs, the effective use of low level Zero strafing attacks against Seven Mile airfield at Port Moresby. Allied tactics became more directed with low level strafing and bombing by P-40's, B-25's and B-26.s which proved very successful against Japanese shipping. To support the text, are numerous maps and diagrams, explaining visually what was occurring as well as quite a number of historical photographs of both sides through this period at these airfields and on various naval forces.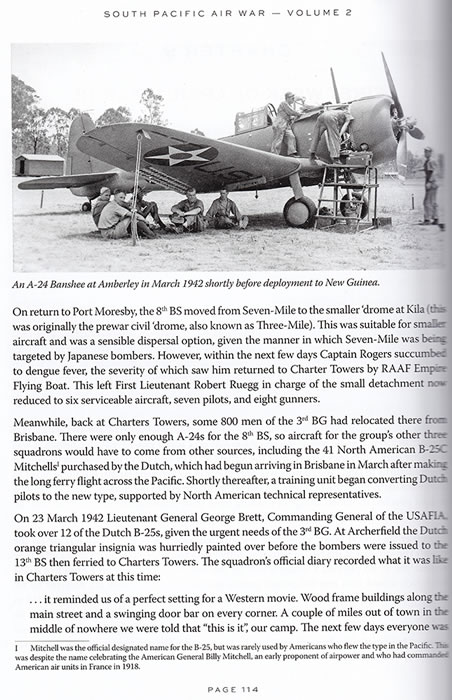 There are several appendices at the end of the book with lists of "Aircraft Losses & Fatalities" for both the Allies and the Japanese. Following on are 10, 3-way colour profiles of aircraft types that took part in that theatre as well as the technical and historical information for specific aircraft. The third section there are 12 pages of side colour profiles of Japanese aircraft from different units and times across that period. These last 2 sections will be extremely useful to modellers with an interest in the period and theatre.
This book has been produced for the aviation enthusiast/history buffs, on the South Pacific theatre of operations involving the Japanese and Allied air units on and around Papua New Guinea.
For the modeller there is plenty of colour reference material in profiles etc supplied as well as some good period photographs of aircraft.
All in all, this book is a good read and useful for the modeller.
Well recommended.
Many thanks to Avonmore Books for the review sample.
---
Review Copyright © 2021by David Couche
This Page Created on 8 November, 2021
Last updated 12 November, 2021
Back to HyperScale Main Page
Back to Reviews Page