Here are Eduard's four latest releases in their range of accessories for the recent Zvezda 1/48 scale Il-2:
3DL48008 - Il-2 SPACE for Zvezda kit. USD$12.95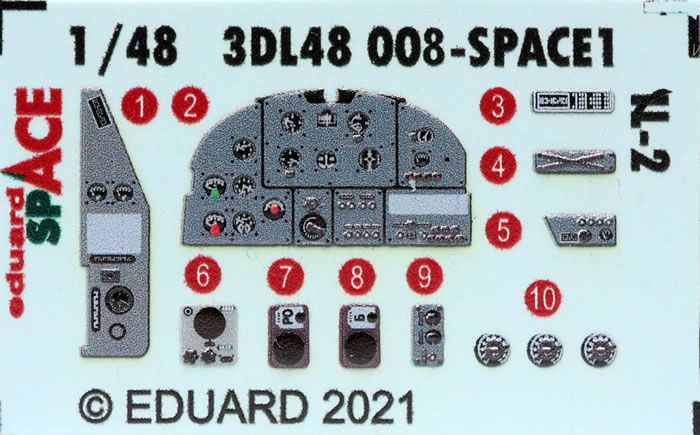 This SPACE set comprises 3D printed decals for the instrument panel, side console and placards, plus photo-etched parts for the two-tone harness straps and other small detail parts.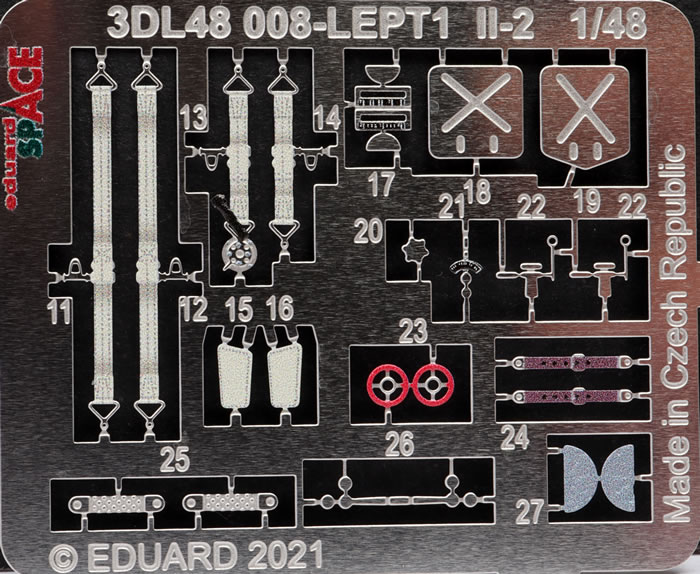 Detailed instructions are included.
I used a SPACE set recently on my Bronco 1/48 scale MiG-15 and I was very pleased with the results.
I found that the 3D decals barely needed to be wet at all before they would slide - or sometimes fall - off the backing sheet. I used Gator's Grip acrylic glue to secure the 3D printed decals to the plastic kit parts.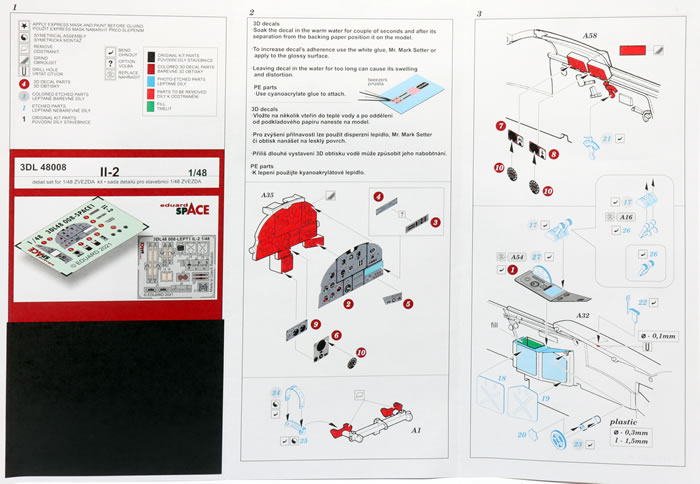 Detailed instructions are included.
For what you get, I think USD$9.95 represents exceptional value.
---
644086 - Il-2 LooK. USD$12.95
Eduard has released a "LooK" set for the Zvezda 1/48 Il-2.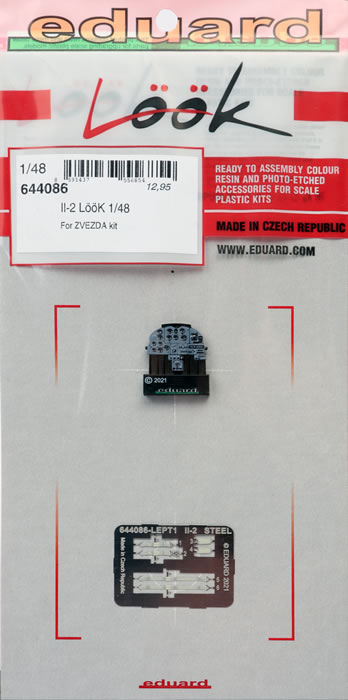 The set comprises the instrument panel cast in three-dimensional pre-painted resin with colour printed dials, bezels, switches, knobs and more.
Printing on my sample is in register but they never seem to look as good in my photos as they do in real life.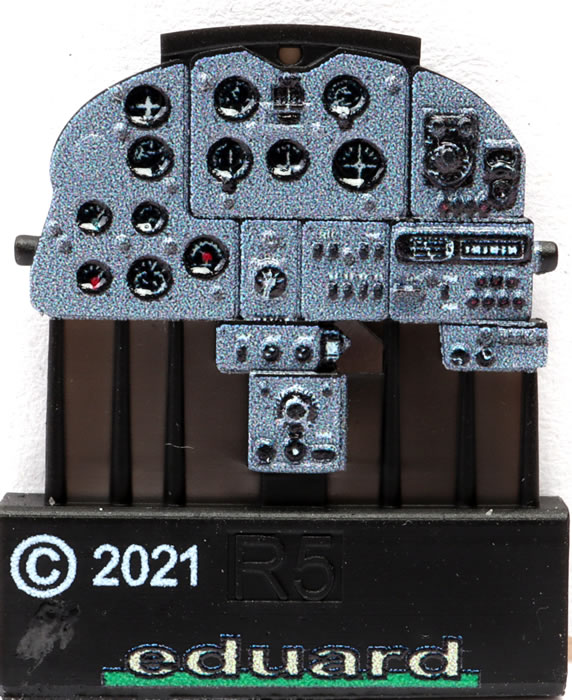 The lenses of the instruments are finished in a glassy, glossy finish. In the case of multi-part panels, the minor parts are located positively in recessed or with the aid of locating circles. Please note that for some reason the sets look better in the flesh than they do in my photos.
As a nice bonus, this set also includes Eduard STEEL harness straps. These are more flexible than the standard Eduard photo-etched straps, and they also feature subtle half tones.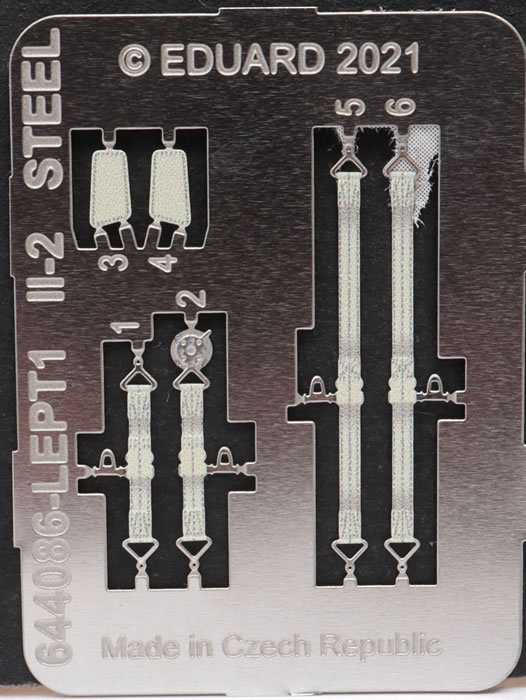 Instructions are included in the package.
---
648617 - Il-2 Wheels for Zvezda kit. USD$9.95
This is a simple drop-fit replacement for the kit's main wheels and tail wheel.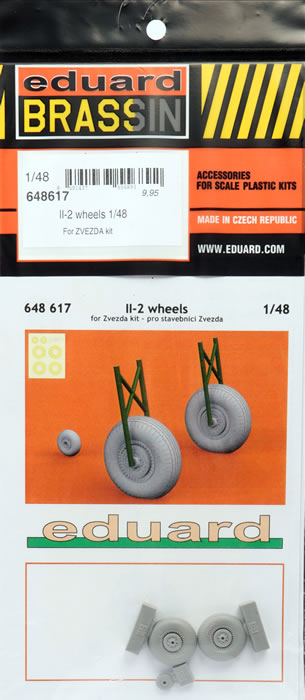 The kit main wheels are four parts each, including a join along the tyre centreline.
Eduard's replacement main wheels are one part each. They are also subtly bulged and flattened, which the kit wheels are note.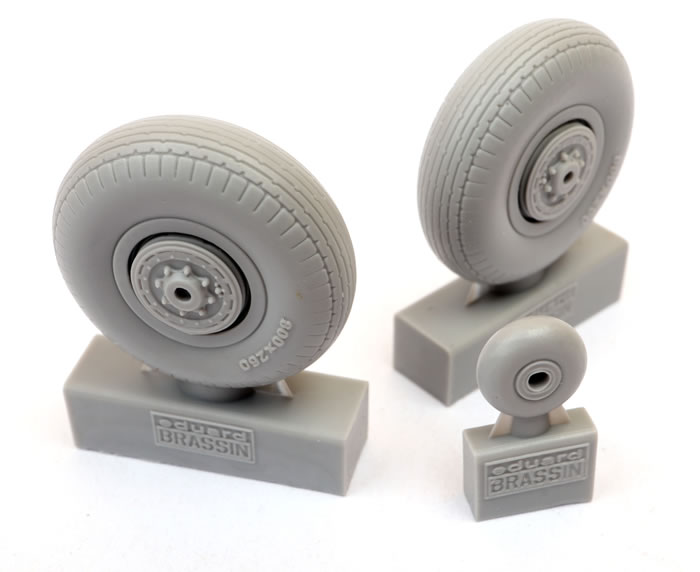 Eduard's resin wheels also feature crisper surface textures including the tread pattern and hub structure.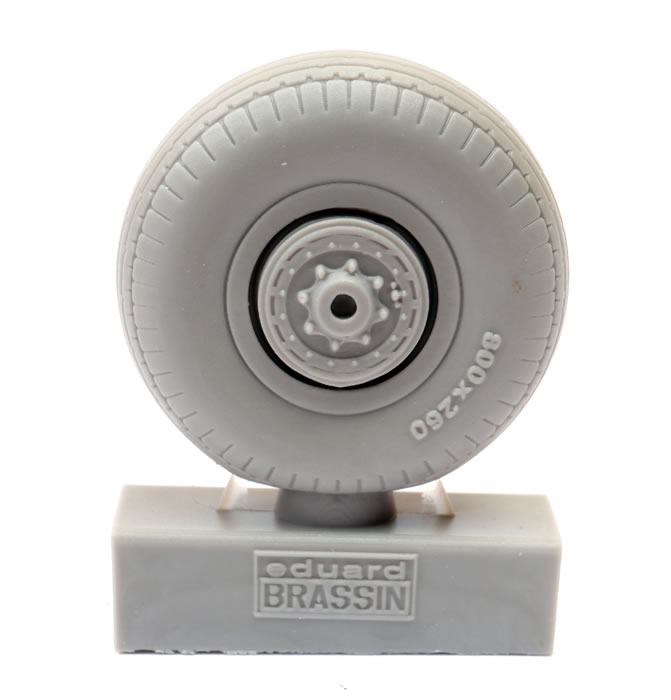 The inclusion of the small tail wheel is a nice touch too.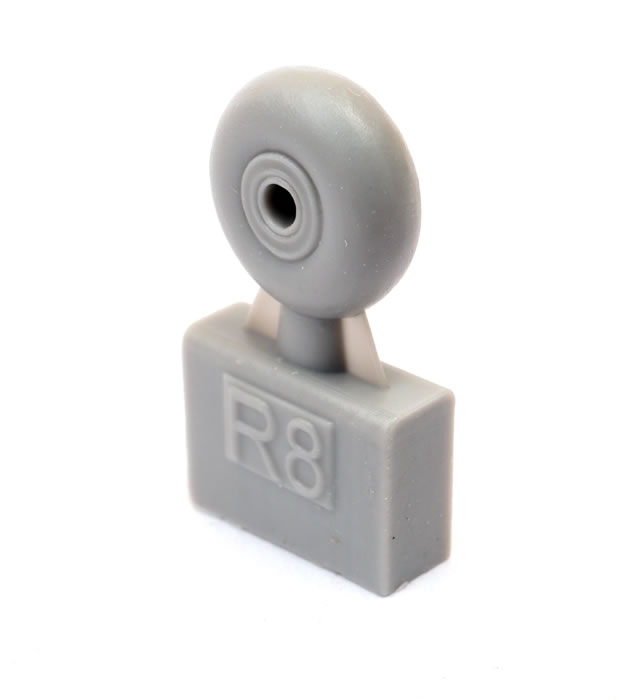 Cleanup should be fast and simple. A few swipes with a razor saw for each wheel should do the trick.
---
648618 - Il-2 Exhaust Stacks. USD$7.95
Our final upgrade from this batch is a set of Il-2 exhaust stacks.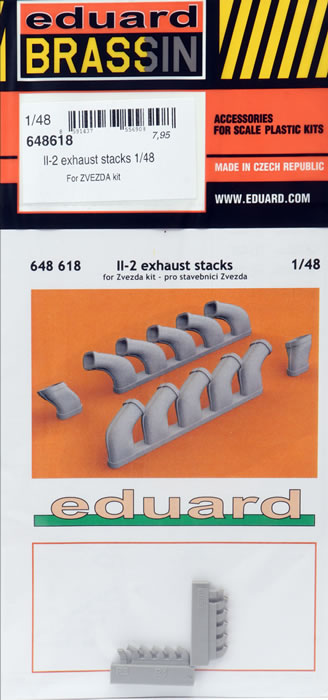 Each side of Eduard's exhausts are made up from one part with five stacks cast onto a strip plus a second part with a sixth separate stack.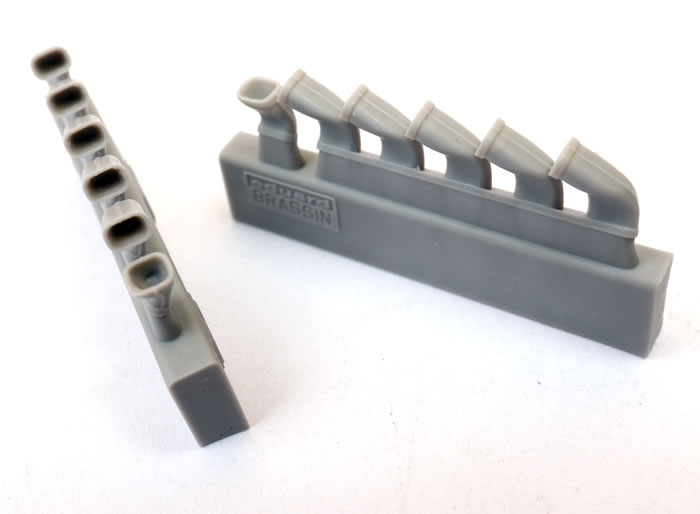 The resin replacement exhaust stacks are hollowed out at the end and feature collar and weld bead detail.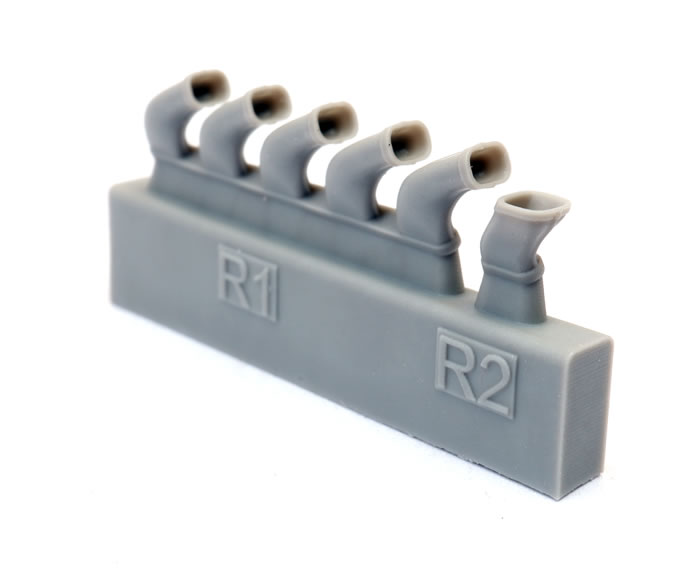 This compares to the kit parts that are solid at the ends and are not moulded with the structural features. Each side of the kit exhausts is made up from four plastic parts.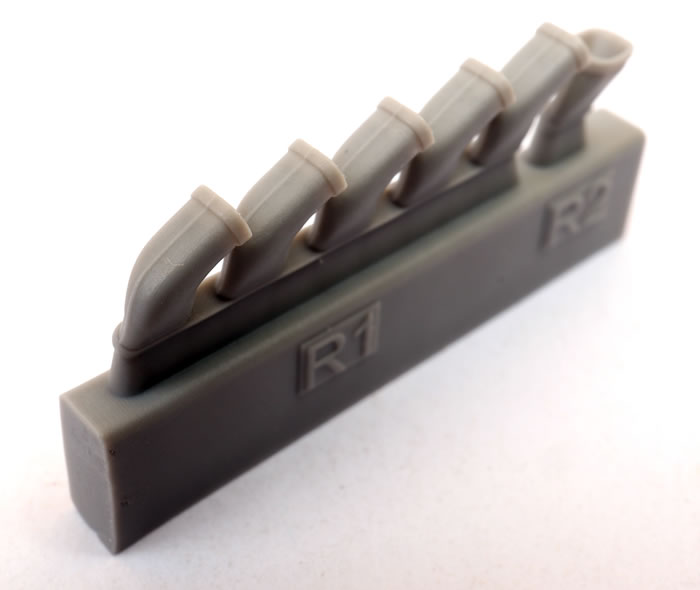 This is another fast and easy upgrade for Zvezda's Shturmovik.
The use of the SPACE or LooK sets will result in a noticeably better detailed cockpit for your Zvezda 1/48 Il-2. The choice is yours!
The BRASSIN wheels and exhausts are visible improvements too.
Thanks to Eduard for the review samples
---
Text and Images Copyright © 2021 by Brett Green
Page Created 5 July, 2021
Last updated 6 July, 2021
Back to HyperScale Main Page
Back to Reviews Page