Matchbox's 1/72 scale
Consolidated
PB4Y-2 Privateer
by Marcello Rosa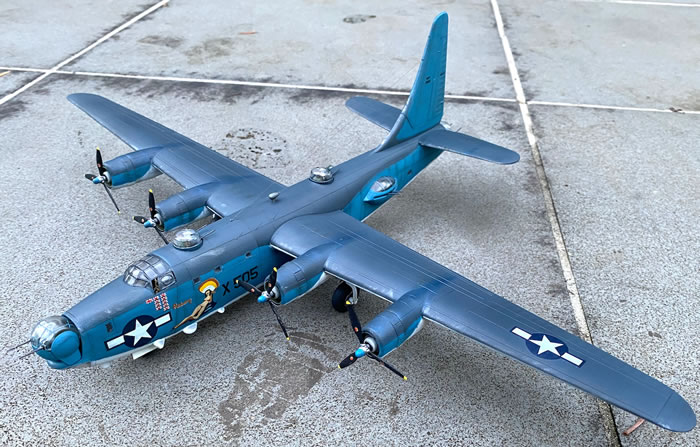 Consolidated PB4Y-2 Privateer

This is the original Matchbox PB4Y-2 (1980 vintage). The model was built out of the box, no paid upgrades, just some home-made improvisations like aerials, ventral recognition lights, and gun barrels (the latter, from hypodermic needles). The 40+ year old decals were recovered by prolonged exposure to sun light. Engine exhausts are home printed decals.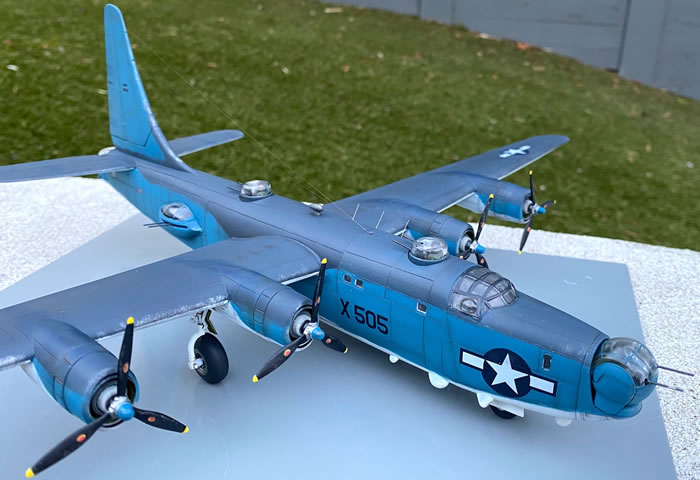 I decided to build a PB4Y-2 after accidentally stumbling on the San Diego Air and Space Museum's Image Collection, which has a huge number of digitised photos of the patrol bomber squadrons operating in the Pacific, including VPB-106. This image collection is a fantastic window to an aspect of World War II that is not well publicised, but worth remembering. To me, the PB4Y-2 Privateer evokes the same reactions as the present day A-10: the aesthetics are best described as controversial, but it surely looks like it means business. Having said that, the PB4Y-2 manages to be a little bit better-looking than its older brother, the B-24 Liberator. After operating modified B-24s in antisubmarine and anti ship interdiction roles (as the PB4Y-1), the US Navy commissioned a fully navalised version. This involved visible differences such as a longer fuselage (to accommodate an extra crew member), a single large vertical stabiliser (for better performance at low altitudes), different engine cowlings (no need for superchargers) and the signature "blisters" (aka Erco tear drop turrets) on the sides of the rear fuselage. I think these changes made the PB4Y-2 look a bit more elegant, at least in flight (nothing can help either the Liberator or the Privateer look graceful on the ground).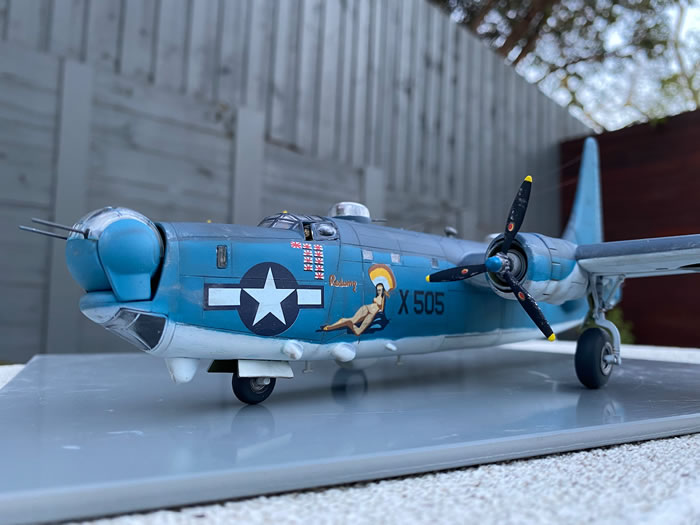 Other than the lack of detail (which is typical of many last century kits), the points of criticism commonly mentioned in Internet forums are the engine cowlings and propellers. I decided that the cowlings were not too bad, for a 1/72 scale, and kept them as out of the box. The propeller shapes were indeed atrocious, and I did my best to re-shape them by sanding.
This was a difficult build, where nothing fitted properly, and (strangely) the plastic did not work well with Tamiya cement. Seams that I thought were long sealed tended to pop up again days later. This created multiple cycles of re-sanding, re-gluing, re-masking and re-painting, particularly along the joint between halves of the fuselage, and half-wings. Still, it is a great looking bird and I do not regret the time spent in adding it to my collection.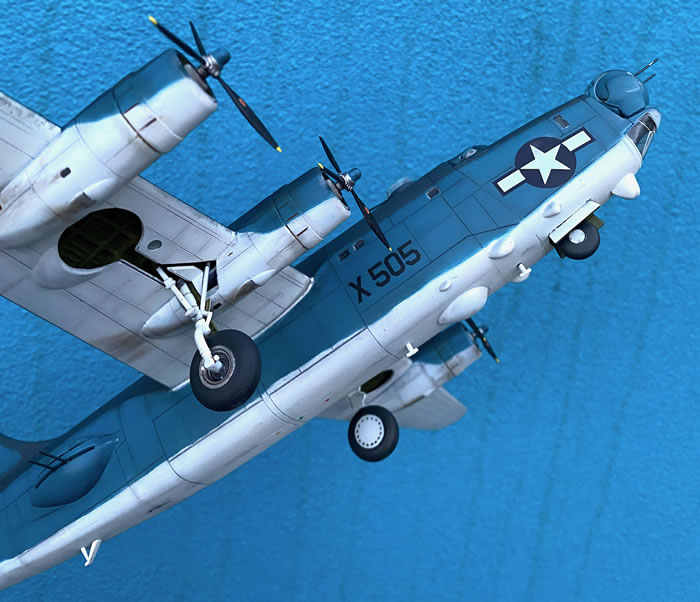 If you are lucky enough to find one of these to build (they have been out of production for a while), there are more details in my web site, which may save you from making some of the same mistakes I made. I have heard that the problems I encountered also apply to the subsequent Revell releases, which use the same plastic mold.
For more images and a few build tips, feel free to visit my modelling web site.

---
Model and Text Copyright © 2021 by Marcello Rosa
Page Created 2 September, 2021
Last Updated 2 September, 2021
Back to HyperScale Main Page