AMP's 1/72 scale
Doblhoff WNF 342
by Andrea Brenco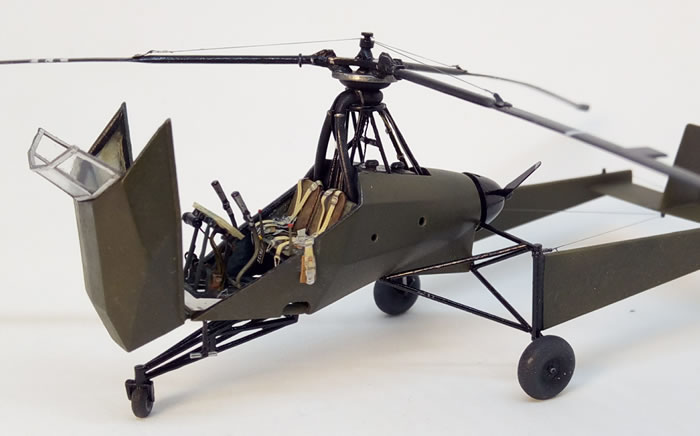 Doblhoff WNF 342
The Doblhoff WNF 342 was the first helicopter to take off and land using tip jets to drive the rotor.
The WNF 342 was designed for a German Navy requirement for an observation platform for use from small ships and submarines.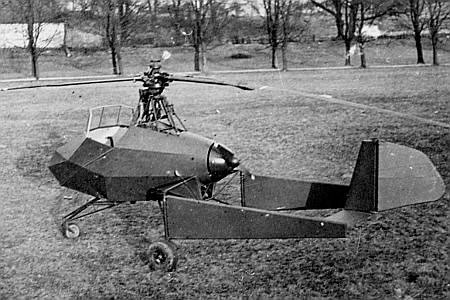 The conventional piston engine drove both a small propeller (to provide airflow across a rudder) and an air compressor to provide air (subsequently mixed with fuel) through the rotor head and hollow rotor blades to combustion chambers at the rotor tips.
---
Variants
V1/V2: The first helicopter was initially powered by a 60 horsepower (45 kW) engine (V1) and then a 90 horsepower (67 kW) engine (V2)—both by Walter Mikron. It first flew in 1943,[3] and was captured with V4 at Zell am See.

V3: The second WNF 342 had a larger rotor and was destroyed during testing.

V4: The last unit produced was a two-seat variant with new collective and cyclic controls. After 25 flight hours it was captured by United States forces and on July 19, 1945, shipped to the US under Operation Lusty on HMS Reaper (D82).
I spent 12 lockdown days building this little rotary wings, and I was constantly amazed by the quality and precision of what nowadays is the state of the art about short run kit!

Some elements, like the rotor trestle, were split in numerous parts that really fit, and cleaning of them was minimal.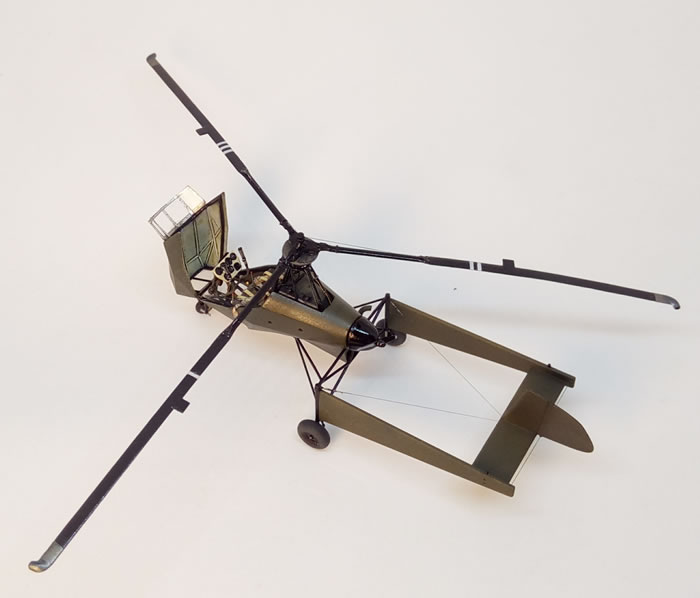 I decided to add some interest to the model putting in more details in the rotor unit and showing the cockpit's "door" open, with some internal structure realized with heated sprue and some Eduard's steel seatbelts (kit's ones are for one seat only). I had to cut a new windscreen from clear plastic sheet because the kit's one is too thick and it would have been too noticeable compared with the amount of nice and fine details from the box.
For some strange reason, downscaling their 3D files AMP couldn't find room in the sprue for the engine exhaust, instead they give us a vague information in the instruction about its shape and location: this is not the only mistake in it, they show you piece #A26 to be fixed in two different places, and piece #A21 to be fixed upside down, forcing you to more mistakes locating the rotor blades, I have enclosed pictures about this.
They don't show us where to place the canopy masks for the cockpit floor that in reality is a window: careful study of the pictures and reference is needed throughout the building process!
I didn't use kit's decals but the instruments dials for the IP, because I couldn't find any picture of the machine with national insignia on it and the ones with a white inscription on the tail rudder are post-war addendum, out of my range of interest.
Painting and Finishing Touches
Paints were Tamiya acrylics, flat off-white and RLM02 for interiors, RLM71 for airframe and gloss black for the tubular structure and rotors gears and blades; Uschi superfine elastic rigging thread and Part PE turnbuckles.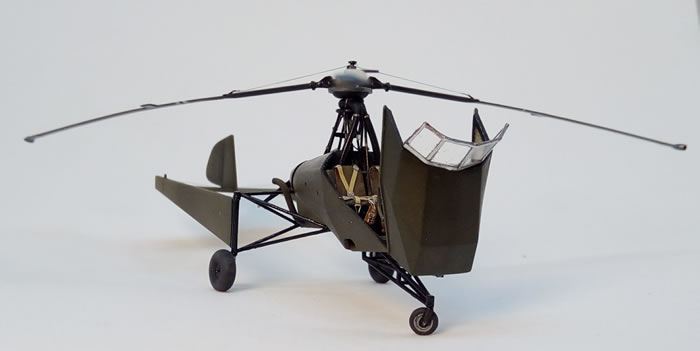 I will certainly build more AMP kits, but will spend some extra time studying the instructions before starting them!

I hope you like it.

Ciao

Andrea
---
Model and Text Copyright © 2021 by Andrea Brenco
Page Created 17 May, 2021
Last Updated 18 May, 2021
Back to HyperScale Main Page